Secret Combinations and Today's Teens
22 And there are also secret combinations, even as in times of old, according to the combinations of the devil, for he is the founder of all these things; yea, the founder of murder, and works of darkness; yea, and he leadeth them by the neck with a flaxen cord, until he bindeth them with his strong cords forever. (2 Nephi 26)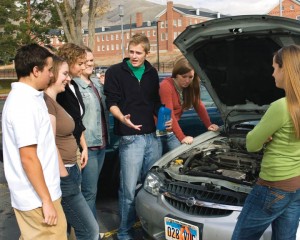 The Book of Mormon talks often of secret combinations. Later in the Book, you'll read about some of these groups and the dangers they posed to even the righteous of the people. These are not just a problem of the past however. There are secret combinations all around us today.
"The Book of Mormon teaches that secret combinations engaged in crime present a serious challenge, not just to individuals and families but to entire civilizations. Among today's secret combinations are gangs, drug cartels, and organized crime families. The secret combinations of our day function much like the Gadianton robbers of the Book of Mormon times. They have secret signs and code words. They participate in secret rites and initiation ceremonies. Among their purposes are to "murder, and plunder, and steal, and commit whoredoms and all manner of wickedness, contrary to the laws of their country and also the laws of their God." M. Russell Ballard, "Standing for Truth and Right," Ensign, Nov 1997, 37
In the talk quoted above, Elder Ballard, a high ranking church authority, reminds us that in the Book of Mormon, these groups are initially only a part of the wicked people in society. In time, however, some good people began to be influenced by them as well. He ties this to our youth culture, where good teenagers begin to wear clothing or use signs popularized by the gang culture. They listen to music and watch videos that glamorize dangerous cultures. Sometimes they're killed by rival gang members for wearing the clothing. Other times, they become so comfortable with the "fun" part of the culture, they find themselves drawn into it for real, and by the time they discover the reality doesn't match the media version, it's too late.
Many people today translate the term secret combination to mean certain terrorist organizations or other large-scale groups. However, for most people, the greater danger comes from the local groups who have daily access to your children through school or the neighborhood.
What can we do to prevent secret combinations from taking our children from us? Clearly, we have to show and teach respect for the law, and do whatever we need to do in our neighborhoods to help preserve those laws.
On a more personal level, we can work to give our children a sense of belonging that keeps them from needing a gang to feel included. By taking them to church and helping them find other worthy communities to belong to, we can give them the inclusion children often want, but within a safe community.
We can work to help our children have goals and dreams that are safe and valuable, before they begin creating goals that put them in danger. We can help them develop self-respect and to internalize our values by spending time with them and by talking with them about dangers, but also about what is good about them.
Would you like to learn more about the programs the Church of Jesus Christ of Latter-day Saints (Mormons) offer their youth to help keep them safe from secret combinations? Explore our Young Men's and Young Women's programs for teenagers.
Comments
Leave a Reply