Lost Cousins.com
LostCousins is a relatively new resource on the web. In the website's own words:
"LostCousins is the only family history site able to match you with cousins researching the same ancestors automatically, accurately & confidentially. Simply enter the relatives on your family tree who were recorded on the US, Canadian, or British Census – then click the Search button!"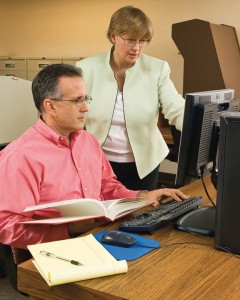 Lost Cousins currently allows you to enter ancestors on the 1841 England & Wales Census, the 1880 US Census, the 1881 Canadian Census, the 1881 Census of Scotland, and the 1881 Census of England & Wales. After you have entered any ancestors whom you know are located on any of those censuses, LostCousins will perform a search to see if any other registered users have entered any of those same ancestors on their account. You can then choose to contact the person researching those same ancestors. And hopefully they'll accept your invitation to make contact with you.
Registration is easy and free. The web site is very easy to navigate and if you run into any problems or have any questions LostCousins has a very thorough Frequently Asked Questions page to help you out. I haven't found any lost cousins yet through this site, but hopefully in time I will. I have been pleased with the sites easy navigation and clear instruction on how to enter census information.
You may be wondering what the benefits are of getting in touch with a distant relative in the first place. I've listed some of the reasons for this in a previous post, Collateral Lines in Family History, which may answer that question.
Even if distant relatives aren't able to provide you with much help genealogically it certainly doesn't hurt to try to get to know your lesser known or previously unknown living relations as well as you might know your deceased ones.
President Spencer W. Kimball, 12th Prophet of the Church of Jesus Christ of Latter-Day Saints said: "It is important for us…to cultivate in our own family a sense that we belong together eternally…We ought to encourage our children to know their relatives. We need to talk of them, make effort to correspond with them, visit them, join family organizations, etc."
It has been a blessing in my genealogical research to have found several "lost cousins" (through other means thus far) who have added to my genealogical research and enriched my life in general. LostCousins is an another great resource that might help you reap the blessings of new found family relationships.
Comments
Leave a Reply