Yes, there are definite things you should avoid doing or assuming when you begin researching your Family History. Here are just four of them.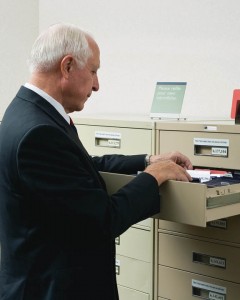 1. Just because it's been published, doesn't mean it's true.
Even professional genealogists can make mistakes, and most of those who publish family genealogies are not professionals. Transcriptions may have been misread or assumptions about certain family relationships may have been made. Take everything you read with a grain of salt.
2. Just because it's on the internet, doesn't mean it's true.
These days, anyone can put up information on the internet. Not all of the genealogical information on the internet is incorrect, but a lot of it is. This is largely because people accept what they see as fact and perpetuate information which may be false, which is in turn perpetuated by others who never seek to verify the truth. Again, take everything you see on the internet with a grain of salt.
3. It's Family Lore, but is it true?
Every family seems to have one or two stories of grandeur. A family story passed down to me declares we are descendants of Pocahontas and distantly related to Edith Bolling Wilson (second wife of President Woodrow Wilson) who wrote one of my ancestors a letter asking about a certain table. The underside of this table has the name Edward Bolling and the date 1714 inscribed into it. It is said the table was given to Edith Wilson by one of my ancestors. As for now I have not been able to prove any of that story true.
Certainly I think it would be neat if I descended from Pocahontas, but I'm not going to assume it's true and spread any falsity in that arena. Nor would I attempt to trace Pocahontas' line of descendancy in hope of finding a connection. It's much better to work backward than forward. My great great grandmother was Minnie Bowling, so it is possible that I may trace her line back to the "red" Bollings, but for now, when and if I tell that story, I will be very careful to make clear the proven and unproven aspects of it.
4. Smith is spelled S-M-I-T-H and that's that!
That a surname should be and was only ever spelled one way would be a very unfortunate assumption to make when doing genealogy research. The lack of education that was so widespread even until the early 20th century made for some very interesting spelling on the part of census takers, probate document recorders and others. Most of the time, your ancestors may not have even known how to spell their own name. In some cases an individual may have changed the spelling of his name on purpose. Perhaps upon arriving in America he found his surname of Ljungren too difficult for Americans to spell correctly and was content to spell it Youngren so he wouldn't need to correct people all the time. Other names may have been translated into English. The German surname Schwarz translated to Black and thus some changed their surname after arriving in America. Always try alternate name variations when searching for your ancestors. This includes First and middle names as well.
"On my Swedish line, my grandfather's name was Nels Monson; his father's name was not Monson at all but Mons Okeson; and his father's name was Oke Pederson, and his father's name was Peter Monson—right back to Monson again; and his father's name was Mons Lustig, which was a Swedish army name to differentiate the Petersons, the Johnsons, and the Monsons from one another as they entered military service." – Thomas S. Monson, The Key of Faith, Ensign, Feb 1994, 2
Most genealogists have this in common – The excitement they feel from finding a new ancestor is so exhilarating and empowering that they want to share that feeling. Thus there are many genealogists doing volunteer work, hoping to help others find out more about their ancestors and to feel that same thrill of discovery. In the next little while we will be taking an in-depth look at some of the main volunteer resources on the web and how best to navigate and use them.
So far we have discussed RAOGK.org, Rootsweb Books We Own (BWO), Obituary Lookup Volunteers and Obituary Depot and The USGenWeb Project.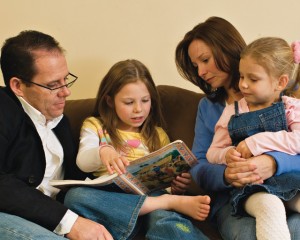 Today we'll be taking a look at DeadFred.com. The site was founded by Joe Bott, whose great-great grandfather lived during the reign of Frederick III, after whom the site is named. DeadFred.com is, simply put, "…a free, fun photo genealogy research web site devoted to helping you visualize your heritage!"
So, who submits the old photos on this site? You do. There are of course certain criteria that need to be followed when submitting a photo. These criteria are addressed on the FAQ Page. You can submit as many photos as you like.
Why would you want to submit old photos to this site? Firstly, if you know the name of the ancestor in the photo, why wouldn't you want to share that photo with other relatives who may not have even known a photo of that ancestor existed?
Secondly, if you have an old family photo in which the ancestor is not identified, perhaps an unknown relation visiting DeadFred.com will be able to tell you who it is. Or vice versa.
Registration is required but there are no fees to submit photographs or to search the site. The photos you submit will appear after 3 to 5 days. If you are submitting photographs that you hope will be identified, it is a good idea not to withhold your contact information. Why wouldn't you want to get in touch with the relation that identified the photo for you? Perhaps they have even more information about that ancestor for you.
DeadFred.com offers 6 easy ways to search the photos on their website. You can do a quick search by typing in a Surname, you can search for Surname alphabetically, you can use the detailed search and type in additional information about the person whose photo you are looking for, you can search through the Mystery (unidentified) photos, you can perform a Keyword search or you can search by Photographer. There is even a large list of Yearbooks (filed under Annuals) under which yearbook photos have been submitted!
This is a wonderful site that you should definitely check out. Keep in mind that the mystery photo section would not be necessary if someone had taken just a few minutes to record the information on the photograph.
Grab a pencil, dig out the family album, and do future members of your family tree a big favor. Record the facts about each photo on the back of your family's precious photographs. It's a simple project that will help enormously in the years to come." – FYI: For Your Information," New Era, Dec 1981, 42–45
One of the most frustrating things for me when doing Genealogy, is gathering information from others, asking them where they got the information and having them tell me, "I don't know."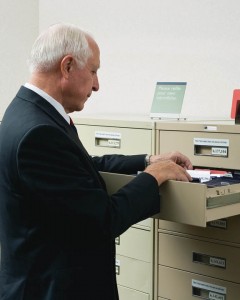 I sometimes feel like tearing out my hair, wondering why no one bothered to write down their source for the information. Because no one knows where it came from, I have to wonder if what I'm reading is truth, simple speculation, exaggeration or complete fabrication. And what if I want to obtain a photocopy of the actual document? I can't even know, without source material, where I might find that document.
Good documentation is something the responsible genealogist will endeavor to accomplish. Whether you do Family History for yourself, your family or for others, part time or full time, documentation will save you and others to come a lot of frustration and time. I'll tell you why.
Firstly, most of us are only able to do research in small increments. I know as a busy mother of three that's how I work anyway. I'm not able to spend long hours researching. I do genealogy as time allows throughout the month, sometimes taking breaks for months at a time because I'm simply not able to get around to it until then. The first thing I do when I get back to whatever it was I was researching is to go through my research and correspondence logs so that I know where I left off. My research logs show me what sources (books, microfilm, etc.) I've already looked into, which keeps me from wasting time searching through things I've already searched. Believe me, it's easy to forget where you've already looked for something in genealogy research as so many resources are available these days.
A research log is any method of keeping track of research. A correspondence log is any method of keeping track of persons with whom you've corresponded and what you've discussed. In genealogical research it's a good idea to record the following:
Book or Microfilm/Microfiche Research
* The date on which the search was performed
* The location of the item searched including call number
* The Title and Author
* The Publication Information
* Specific Reference Information such as a page number, line number, etc.
* Information sought
* Information acquired
Letter or Phone Correspondence
* Date the letter was written or the call was made
* Name of the person queried
* Questions asked
* Information received
Internet Research
* Date the search was performed
* Name and URL (i.e. http://www.familysearch.org) of the web page
* Name of the author of the material on the web page
* Information sought
* Information acquired
Secondly, your documentation may help prevent others from doing duplicate research. Instead of being one of those who doesn't know where their source material came from, you can offer it up to the benefit of future researchers. Your dedication to providing proof of information, will inspire confidence in your research capabilities which may prove an asset as you branch out and network with other distant relations or if you decide to move into the genealogy for hire field.
It's not hard to start recording source material. There are many websites which offer printable Research Logs. You simply print out a copy, make additional photo copies for yourself and then take one with you whenever you do research.
Print out the FamilySearch Research Log
Print out the Ancestry Research Calendar
Print out the Ancestry Correspondence Record
Thirdly, remember that you can't ever have enough documentation. The more, the better!
When my wife, Pam, began looking for documents to substantiate her birth date, she found plenty of them by searching through several drawers in our home, looking through some cupboards in her parents' home, and visiting aunts and uncles. She located her birth certificate issued by the State Bureau of Vital Statistics, another issued by the hospital, and still another given by the doctor. Then she found a newspaper clipping announcing her arrival to the world. She also located an announcement her mother had sent to one of her aunts telling her about the great event. Her mother had written the happenings of that eventful day in a baby book. Her blessing certificate recorded her birth date and a visit to the ward clerk also confirmed it on her membership record. So she found eight sources very quickly proving that she was actually born on a certain date…

…You should go through this same process to verify each date and place on your family group record for each individual member of your immediate family. Some of the information will be quick and easy to find. Some will be more difficult, but can be found with a little perseverance. – George D. Durrant and Noel R. Barton, "To Go Forward, Go Back: How to Complete the Four-generation Program," Ensign, Feb 1978
We are all at different stages of life. Some of us are single, married, parents or grandparents. Some of us are attending school, busy in our social sphere, working or staying home with our children. All of us have various obligations that differ in time and intensity. Mormons, while encouraged to do their genealogy have also been reminded that …"it is not requisite that a man should run faster than he has strength." – Mosiah, Chapter 4, verse 27.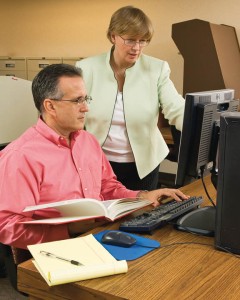 And Elder Oaks in his talk, Family History: In Wisdom and in Order" Ensign, Jun 1989, spoke to Church members about Genealogy saying, "Our effort is not to compel everyone to do everything, but to encourage everyone to do something."
You may feel the desire to do genealogy but are having a difficult time, finding time to even do a little something. So I'd like to offer five time saving tips that might help you fit a little Genealogy into your busy schedule:
1. Check the Library Catalog Online – If you want to visit your local library or genealogical society, you can save a lot of time on your visit there by looking at their catalog on their website (if they have one). You can check it multiple times throughout the day as breaks allow, writing down the names and call numbers of the items you want to look at when you visit.
2. Make To Do Lists – As with most any endeavor, setting goals and writing down exactly what you want to accomplish keeps you focused. You don't want to spend half your time at the library with your mind wandering. Know exactly what you'll be looking for or doing before you go.
3. Get Organized – If you're like me, you know you'll be more efficient in gathering information if you've organized first and have a place to quickly and neatly store the information you gather. Maybe that means creating file folders for family names you plan to research, having research logs at the ready for research trips or more.
4. Write Letters – If you don't have the time required to gather family information from a relative either in person or by phone, write them a letter. It will take just a few minutes to compose a letter asking important family history questions. You could make it even easier for that relative to respond by printing out a fill in the blank question and answer form and enclosing a self addressed stamped envelope. Or you could send a blank tape with your letter for that relative to record their responses onto.
5. Utilize volunteer resources – Even if you live in the area of genealogical interest, if you can't find the time needed to procure certain information or documents, it may only take a few minutes to find someone who can. Websites like Random Acts of Genealogical Kindness offer lists of people willing to look for items of genealogical interest for free, though there may be small fee's for copies or shipping.
There are many more ways to wisely use your time so you can find time for Genealogy. Do you have any you've thought of?
Two days ago my husband and I celebrated our 7th Marriage Anniversary. We commented to each other about how celebrating 7 years made us feel so old. That and 3 children! But we were excited to celebrate one more year of being together. After my husband went to work I pulled out our wedding album and flipped through the pictures. They triggered many memories of that special day, both reverent and exciting.
I remember posing for photographs in below freezing weather, my cheeks and nose red and my skin pale. In between photo shoots my new husband rubbed my gloved hands between his to try to keep my fingers warm. The gloves didn't seem to keep the cold out at all. And I was thankful I had chosen to wear white sneakers instead of high heels. At least I had socks on! Don't worry, my gown kept them hidden. Our ceremony, brunch afterward and reception that night kept us in a flurry all day. I look back on that day and remember most of it as a whirlwind of activity, but there was one portion of that day that plays back slowly and is etched clearly in my memory. It was of the ceremony that united us in marriage for eternity.
We were married in a Temple of God. And as I knelt across the temple altar and looked into the eyes of the man I was marrying, I felt such peace and joy. I looked into the mirror behind him that reflected the mirror behind me and saw our reflections multiplied infinitely, a representation of how our marriage would be if we stayed true to the covenants we were making that day.
I had decided from an early age that I would never be married anywhere other than the temple. I wanted to be with this man and our children to come, forever. By being married and sealed in the Temple I would have that blessing.
"Civil marriage is an earthly contract, dissolved by the death of either party. Eternal celestial marriage is a sacred covenant between man and woman, consecrated in the holy temple by servants of God who hold authoritative keys. It bridges death; it includes both time and eternity. -Spencer W. Kimball, "Temples and Eternal Marriage," Ensign, Feb 1995, 41
Mormons believe that two different qualities of life extend into eternity. We believe all people will one day be resurrected because of the Atonement of Jesus Christ, becoming immortal, but only those who have been proven obedient to the laws and ordinances of the gospel will be able to live as families and within God's presence. The latter is called Eternal life or Exaltation and is a gift God would desire all of His children to have.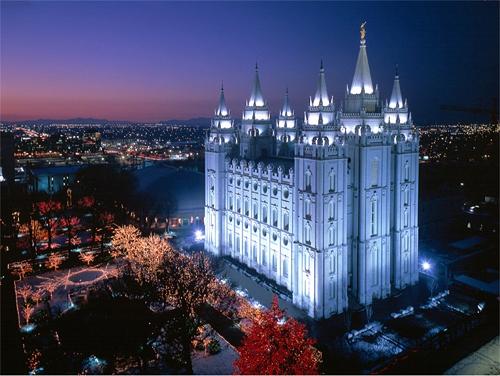 I knew that after having been given that gift myself I hoped my ancestors would accept it as well. Until the time I was married I had not been able to personally perform marriage sealings for any of them as I did not yet have my endowment. The endowment is a spiritual blessing that must be given to a person before that person is able to be sealed to a spouse or sealed by proxy for the dead.
Like the day of my own eternal marriage, I remember the first time I was able to perform sealings of eternal marriage for my ancestors, with my new husband. I'll never forget the overwhelming feeling of joy that came upon me as husband was sealed to wife through us. I felt a joy that was greater than my own and I know those ancestors we're accepting that gift with gratitude, thankful that their eternal marriage had finally begun.
The word Genealogy is derived from the Greek word Genea meaning race, family.
Specifically it refers to the study of Family History and line of descent. Genealogies, recorded accounts of the descent of a person, family, or group from an ancestor, are also referred to as family trees or pedigrees.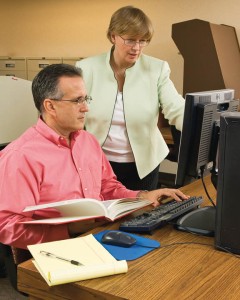 The basic intent of genealogical research is to identify your ancestors and establish where they belong in your family tree. Genealogy becomes Family History research as you begin to learn about and record the lives and doings of these ancestors.
An ancestor is a person from whom you are directly descended such as your grandmother, great grandmother and so on.
A collateral ancestor refers to an ancestor from whom you don't directly descend, but that are still in your ancestral family such as a great aunt.
Now you know exactly what genealogy is, but are you still wondering why you should get started on it?
Mormons have a clear motivation for doing Genealogy based on their belief of the eternal nature of families.
Other motivations for doing genealogy might include:
To preserve family, cultural or ethnic traditions
To learn about your family medical history and what to possibly expect in the way of inherited disease.
To satisfy basic curiosity about where your family came from
To qualify for a lineage society
To publish a family history book either for your family, for profit or both.
Once you begin, it's near impossible to stop it's so exciting and addicting. The promise of Elijah truly is coming to pass:
Behold, I will send you Elijah the prophet before the coming of the great and dreadful day of the LORD:

And he shall turn the heart of the fathers to the children, and the heart of the children to their fathers, lest I come and smite the earth with a curse. – Malachi 4:5&6
Genealogy is one of the most popular hobbies in the world today and it's enjoyable for young and old alike. It is part of human nature to wonder about our roots. In what parts of the world did my ancestors live? What did they look like? Where did I get my red hair? Who are those people in the family album?
How long will we let these questions go unanswered? The more generations that grow and live and die without answering them, the harder the answers will be to find when someone comes along and decides the answers are important enough to go searching for. Perhaps we can make it a little easier for our children and grand children and great grand children to someday know who we were, how we lived and who we loved.
I received my first journal when I was eight years old. It was a gift from my parents in celebration of my birthday and my decision to be baptized a member of The Church of Jesus Christ of Latter-Day Saints.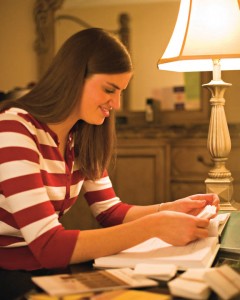 The first half of the journal was filled with recollections of my life that my mother had written. I remember excitedly reading about the day I was born, outings with family and other events. She had covered the first eight years of my life for me. Her final entry was dated 10/13, my eighth birthday and contained a beautiful letter. One paragraph of this letter reads:
"For eight years, we have tried to keep a history of the events of your first years….

…Now you keep this journal as the Lord has commanded us to through his prophets, both now as in the time of the Nephites. Write about your thoughts and feelings, both happy and sad. Write about those things that the Lord will teach you through your diligence in prayer and in the study of the scriptures. Write about your hopes and dreams and goals. Write as often as you can and it will be a great blessing to you and to your family."
So I began. I wrote my first entry that same day, recounting my birthday party. My second entry contains the details of my baptism, the way I felt and the people who were there.
From the time I was 8 to the time I was 14 I wrote in that journal only eight times, but I still read that sloppy handwriting with pleasure today. Sometime in my fifteenth year, my desire for writing was rekindled and this time it kept going strong. For four years I wrote at least twice weekly. This journal, recounting some of the most trying and important events of my life, is now one of my most valued possessions. It has played an important role in my life now, contributing to the fulfillment of a great promise from Heavenly Father. In John Chapter 14, verse 26 we read:
"But the Comforter, which is the Holy Ghost, whom the Father will send in my name, he shall teach you all things, and bring all things to your remembrance, whatsoever I have said unto you."
My journal is a tool for His bringing things to my remembrance. Often when I find my life in turmoil today due to depression or other events, I open my journal and find guidance. As I read over tumultuous past events I hear a soft whispering in my mind, "You made it through back then, you can make it through now."
I am also strengthened when reading past words of testimony regarding Heavenly Father, the priesthood or other things of a spiritual nature, of which I once wrote.
Yes, journal writing is very important for our future selves. It is also important for our descendants. Henry B. Eyring, and apostle of the Lord Jesus Christ, in "O Remember, Remember," Ensign, Nov 2007, 66–69 said:
"When our children were very small, I started to write down a few things about what happened every day. Let me tell you how that got started. I came home late from a Church assignment. It was after dark. My father-in-law, who lived near us, surprised me as I walked toward the front door of my house. He was carrying a load of pipes over his shoulder, walking very fast and dressed in his work clothes. I knew that he had been building a system to pump water from a stream below us up to our property.

He smiled, spoke softly, and then rushed past me into the darkness to go on with his work. I took a few steps toward the house, thinking of what he was doing for us, and just as I got to the door, I heard in my mind—not in my own voice—these words: "I'm not giving you these experiences for yourself. Write them down."

I went inside. I didn't go to bed. Although I was tired, I took out some paper and began to write. And as I did, I understood the message I had heard in my mind. I was supposed to record for my children to read, someday in the future, how I had seen the hand of God blessing our family."
The testimony you record in your journal, or in a letter or other manner may someday influence a descendant whom you never knew while on earth. In addition to that, future descendants doing genealogy work will desperately hope that there is more to you, their ancestor, than just what exists in their imagination.

Spencer W. Kimball, in "President Kimball Speaks Out on Personal Journals," New Era, Dec 1980, 26 said:
Any…family that has searched genealogical and historical records has fervently wished its ancestors had kept better and more complete records…

…People often use the excuse that their lives are uneventful and nobody would be interested in what they have done. But I promise you that if you will keep your journals and records, they will indeed be a source of great inspiration to your families, to your children, your grandchildren, and others, on through the generations. Each of us is important to those who are near and dear to us—and as our posterity read of our life's experiences, they, too, will come to know and love us."
This is true. My most treasured genealogical items are actual accounts of ancestors lives. Whether they be biographical histories, actual journal entries, poems or written works by that ancestor, pictures or other. My greatest desire as I do Family history, is to know these people from whom I descend. How did they live? Who were their friends? What did they believe? Too often, questions of this kind cannot be answered either because a personal history was not kept, or was not preserved carefully enough and has been destroyed or lost. Hopefully this will not happen in your family. Your descendants will want to know you and writing in your journal and keeping it safe will give them that chance.
Most genealogists have this in common – The excitement they feel from finding a new ancestor is so exhilarating and empowering that they want to share that feeling. Thus there are many genealogists doing volunteer work, hoping to help others find out more about their ancestors and to feel that same thrill of discovery. In the next little while we will be taking an in-depth look at some of the main volunteer resources on the web and how best to navigate and use them.
So far we have discussed RAOGK.org, Rootsweb Books We Own (BWO), Obituary Lookup Volunteers and Obituary Depot.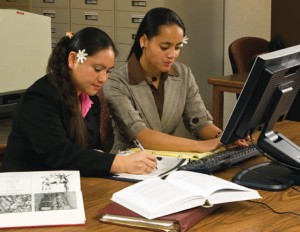 The subject of today's volunteer manned resource is The USGenWeb Project. If you've never heard of or used this resource before, you've been missing out on a veritable Gold mine of genealogical information. The The USGenWeb was established in 1996 and is now one of the larger repositories of all volunteer genealogical and historical data on the internet. The information there is organized by State and then county. You can either choose a county of interest from an alphabetized list or a map.
Because different volunteers oversee the layout and information on each state and county website, it's impossible to know exactly what you will discover, but the search time almost always proves worthwhile. County websites may contain some of the following:
* Wills or other Probate Documents
* Birth, Death or Marriage Records
* Census Transcriptions
* Lookup Volunteers
* Town and County Histories
* Biographical Sketches of long time residents
* Cemetery Lists
* Headstone Transcriptions
* Addresses of local resources
Those are just some of the resources you may be able to find on your county page of interest.
The website is completely free to use and volunteer opportunities are always available. If you have information to submit to a particular county page (will, obituary, etc.), all that is needed is to email the county coordinator. Their email address is provided on the page.
In addition to the State and County pages, the USGenWeb has some wide spread projects going on, again all volunteer based. Perhaps the most well known of these is the USGenWeb Tombstone Transcription Project. In the website's own words:
We need to record these tombstone inscriptions now—before they are lost forever to the winds and the rains. Though many cemeteries have already been recorded by various Genealogical Societies, just as many have not. And, of those recorded, how accessible is that data to the world? If we join together and do this recording, we will guarantee that our ancestors an not forgotten—-that their memorials will live on so that future generations may remember then as well as we do.
Volunteers are always needed to help transcribe tombstone data and submit it to the website for others to find. Other USGenWeb Project projects in progress can be found here
There is a wealth of information available on this site provided by the service of others. If you are able to add to that service by submitting your own family information for distant relatives who seek it, you will be doing a great thing indeed.
"Carry on! We've got a lot of work to do, a tremendous responsibility. We've barely scratched the surface…I hope we can be increasingly recognized as men and women of goodwill who want to make of the world a better place" -Gordon B. Hinckley, interview with Deseret News, Feb. 25, 2000
In a previous post I talked about preserving old photographs. Photographs are of course not the only things we can or should preserve when it comes to family history. And while an original of something is always better, that doesn't mean we shouldn't make copies of it. After all, we can't show or give the original to everyone. That leads me into the topic of this post.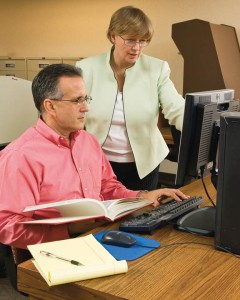 Lyman De Platt in, "Organization Begins at Home," Ensign, Oct 1976, pp.16 said,
"Genealogical activity begins with training the children to appreciate family ties and heritage. Developing a family book of remembrance which is used, along with the scriptures, in teaching children; emphasizing membership in larger family organizations; participating in genealogical research, temple work, and subsequent activities—these are all means to that end."
There are many ways to light the spark of interest in our children. But I would also like to add that children aren't the only ones whom we can inspire to begin learning their Family History.
On my father's side, I am the only one currently doing any genealogical research. How I would love for some of my siblings or cousins to take interest and join with me in discovering our family history. Of course it takes a little more creativity to spark the interest of an adult sometimes. So I am thinking of going with the following Family History gift ideas for Christmas. Maybe these are ideas you can use too:
1) A Family History Calendar – I've thought about creating a calendar filled with photos of ancestors and family keepsakes and including a small box of information on each photo about the ancestor or keepsake featured. An example would be a picture of the sword of my ancestor who fought in the Revolutionary War.
Shutterfly is one website I know of on which you can make your own calendar. They also let you put your photos on mugs, puzzles, mouse pads and more. Maybe you might put your Family coat of arms on a mug for your father in law or a picture of an interesting ancestor on a puzzle for your children to put together and then tell them about.
2) A Digital Photo Frame uploaded with family pictures might be a nice gift.
3) Create a Family History Book with the new service Ancestry Press. Their sample books look beautiful and the site seems very simple to figure out. They also offer Family Tree Charts and Family Tree Prints. They allow you to order a bound book from them or you can print pages out and place them in your own binder. You can design your pages from scratch or use a template.
4) Put together a Military History Binder – I've thought about compiling information on all known service men in our family tree. Muster Rolls, Enlistment records, pensions, photographs, etc.
5) A Family Recipe Book – I would love to compile a book of all the recipes that have been passed down through the generations in our family and give it to those who love to cook and bake. To make it more personal I may photocopy the recipes I have that are originals, written in my ancestors handwriting, along with a transcription if needed.
So for a gift that truly reminds your loved ones of the reason for the season consider giving your Family History for Christmas.
Do you have any other Family History themed gift ideas to recommend?
"Not one of my children has any recollection of my grandparents. If I want my children and grandchildren to know those who still live in my memory, then I must build the bridge between them. I alone am the link to the generations that stand on either side of me. It is my responsibility to knit their hearts together through love and respect, even though they may never have known each other personally. My grandchildren will have no knowledge of their family's history if I do nothing to preserve it for them. That which I do not in some way record will be lost at my death, and that which I do not pass on to my posterity, they will never have. The work of gathering and sharing eternal family keepsakes is a personal responsibility. It cannot be passed off or given to another." -Dennis B. Neuenschwander, "Bridges and Eternal Keepsakes," Ensign, May 1999, 83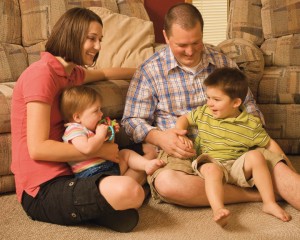 Perhaps you have in your possession a priceless treasure, a keepsake. A collection of family photographs – faded, yellowing, obviously very old. Maybe they are stored in an album, maybe they are loose. Maybe they were given to you by Great Grandma or maybe you found them in a box in the attic. However they came to be in your possession, you know it is important to preserve them for your children and grandchildren.
Yes, we live in a day where we can make copies of any photo, but nothing compares to the feeling of seeing the original. Someday I hope to give my descendants that same feeling of wonder as they look at original photographs of their ancestors and express wonder that at one time, those very ancestors at which they look, once held that photograph in their hands.
It is best of course, to avoid handling old photographs at all, if possible. But if they have not been properly stored before you come across them, then it will be necessary.
If you have clean white cotton gloves, wear them. As with all photograph's, hold each one gently by the edges making sure never to touch the surface even if you are wearing gloves. If you don't have gloves make sure your hands are clean. But remember that oil secretions come even from clean hands. If you need to write identification on the back of the photo, do so very softly using a #2 pencil.
If you plan to frame any of the photos, place them where they will not come into contact with direct sunlight as it will fade the photo over time. Make sure the room is not too humid, as this may encourage mildew or mold growth, and make sure the room is not too dry as this may cause brittleness and breakage. Don't use wooden frames because they emit vapors that will affect the photograph over time. And don't use any plastic photo holders if they are made of Polyvinyl Chloride (PVC). Polyethylene is ok.
Acid contributes to much of the deterioration of old photographs and is usually present in the paper the Photograph was printed on. Or acid could be affecting the photo if it is found in the backing on which the photo is placed. Acid affected photos are usually discolored or darkened. It is possible to neutralize the acid to prevent further deterioration but it is best to give that job to a professional.
Until such a measure can be taken, be sure to store photos properly. This includes the above mentioned temperature precautions. Also, keep photos away from any materials with acid in them. Acid free and Alkaline Buffered storage boxes, file folders and papers are available at most craft stores.