Congratulations! You've joined the Church of Jesus Christ of Latter-day Saints, and have become what is sometimes called a Mormon. Your whole eternity looks different now, but you may be feeling a bit overwhelmed about what steps to take next. With the new year just starting, it's a great time to make some resolutions to help you settle into your new faith. Following are some ideas to get you started:
As a new convert, you probably won't receive, just yet, the so-called "important callings." Most new converts, except in areas where the church is new, aren't chosen to lead organizations or do the jobs that garner attention and praise. One of the wonderful things about the church, though, is that regardless of how certain individuals might perceive a calling, there is no such thing as an unimportant calling. We don't invent work. Every job that is assigned is necessary and important. J. Reuben Clark pointed out,"In the service of the Lord, it is not where you serve but how."
If you've mentioned to others you are investigating the church, or have recently joined it, you may have had someone tell you that you are no longer a Christian. This is, of course, completely false. Why, the very name of your church has the Savior's name in it: The Church of Jesus Christ of Latter-day Saints. Mormon is only a nickname, not the real name of the church.
Are you surprised when your small children—even those who can't read yet—are asked to bring their scriptures to Primary? Your new religion considers scripture literacy very important, and the best way to help children understand and value the scriptures is to begin reading them to your children long before they can understand what they mean. Even when they appear to be playing, they are often quietly listening. One small boy, asked what was in the scriptures, said enthusiastically, "And it came to pass!" Although he was only three, he had heard and remembered that often repeated phrase from the Book of Mormon his parents had read to him since he was born.
We hear much in the church about the importance of leadership, but less about what Roger Merrill calls followership. There is no point in having leaders if there is no one to follow, and followership is an excellent place for new members to provide service in the church. When we learn to effectively and humbly follow our leaders, we show respect for the Lord's choices for leadership. Since we are all asked to follow the Savior, learning to follow righteous earthly leaders is good training for this.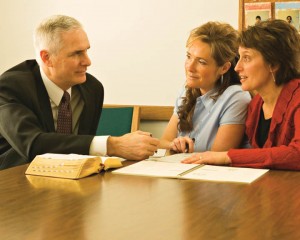 Early in my church membership I discovered I sometimes felt like the new kid in school. Members often talked of a past I knew nothing about. They had lived under prophets I didn't know and experienced church events I'd never heard of. One day, while shopping at the church owned Deseret Industries thrift store, I discovered some very old Ensign magazines. The Ensign is the church's magazine for adults. I sifted through them until I found some that were published long before I joined the church and purchased them. At home, I began to get caught up. I read the words of David O. McKay, a prophet many church members remembered and loved, and began to understand the things he had cared about. I read news stories of past events. After a while, I felt I had a better understanding of the church years I had missed by converting as a teenager.
When you began investigating the church, you followed a carefully created plan that would lead you to the right choices. You accepted an invitation to learn, studied with missionaries and perhaps other members, attended church, read scriptures and prayed for a testimony. You had an interview with someone to declare your worthiness for baptism.
When you joined the church, especially if your entire family joined, you probably became very busy. There were so many new things to add to your new life, and you still kept many of the activities and traditions of your old life as well. How do you fit it all in?
Life is scary. Most of us like to know what lies ahead and what choices we should make. We like to know the results of those choices. The truth is, however, that most of the time, we don't know any of this. We walk through life seeing what is immediately around us, but little more. The best way to cope with the uncertainty of life is to develop a complete trust in our Heavenly Father. We can't see the end of the path, but He can. He knows not only what will happen, but what is best. Faith is an abiding principle of your new religion