March 19, 2011 by
Terrie Lynn Bittner
·
Leave a Comment
Filed under:
Basic Beliefs of Mormons
,
Basic LDS Beliefs
,
Counsel from Church Leaders
,
Discipleship: Following in the Savior's Footsteps
,
Frequently Asked Questions
,
Gospel Principles, Practices & Precepts
,
LDS Practices
,
LDS Q&A
,
Making Decisions
,
Prophets
,
Recognizing Truth
,
Written for Our Day
In 1852, when Hannah Last Cornaby was baptized, she and her husband had to enter the church building through a volley of stones being thrown at them by a screaming mob. She did not turn back. She bravely pushed through the mob, coping with the rocks and insults and allowed her husband to baptize her. Perhaps this event motivated her to later write the LDS hymn, "Who's On the Lord's Side?"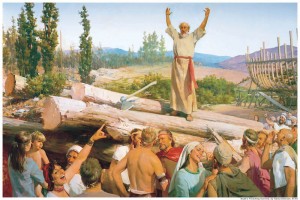 Who's on the Lord's side? Who?
Who's on the Lord's side? Who?
("Who's on the Lord's Side?" Hymns, no. 260)
Hannah didn't just choose the Lord's side when it was easy or popular. She chose it when her very life was in danger. She left her home in England for it and endured many hardships with good humor for it. Hannah chose the Lord's side.
Today, there are many forces trying to get us to choose the other side. Secular forces try to convince us it is old-fashioned to be on the Lord's side. Political parties urge loyalty to them over the gospel. Media mocks the Lord's side on a regular basis. This is reminiscent of a story in the Book of Mormon about a prophet named Lehi. Read more
When people attempt to argue Mormonism, they usually begin with some commentary on proof. They want proof—physical, tangible, and scientific—that it is true. When science or history discovers something that might help to "prove" an aspect of Mormonism, Mormons are generally interested, but these things don't strengthen their testimonies. They are merely interesting.
The Book of Enos, found in the Book of Mormon, is very brief—only 27 verses contained in one chapter. I was once challenged to read it every day for a full month. It seemed an odd challenge to me. How much could I learn from a mere 27 verses, so short it's often covered in lessons with several other books? I went to work though, and after a few days, my mind and heart were suddenly opened. While the first few days, I saw nothing new, after a few days, I found myself noticing things that had escaped me before. Enos became real to me and I began to think about him as an actual person. He was real, but after a full month, I knew his reality in a new way. Questions arose in my mind about the things I read. I began to ponder the small mentions that had previously not seemed worth my thought. I began to apply his life to my own.
I've seen many articles lately suggesting that the Church of Jesus Christ of Latter-day Saints, sometimes incorrectly referred to as the Mormon Church, needs to "get with the times."
As the prophet Lehi, sent from Jerusalem with his family to a land of promise in the Americas, lay dying, he spoke to each of his sons, giving them his final words of advice. Jacob, the second youngest, had never known the life of privilege the older boys had enjoyed before their father led them away, leaving all their wealth behind. He was the first of two sons born in the wilderness. For Jacob, a life in the wilderness was a natural thing, not an unusual trial. The division that was occuring in the family, because his two oldest brothers tried to punish the family for giving up a life of privilege, was forcing people to choose sides. Jacob, young and faithful, sided with his parents and his older brothers, Nephi and Sam. Nephi would become the prophet after his father's death, and Sam, his next oldest brother, humbly accepted Nephi's divinely chosen place.
In my previous entry, I spoke of baptism. Baptism is only one of the steps on the path back home to our Heavenly Father. Often the hardest work comes after that wonderful moment when you've risen from the water and everyone is smiling at you.
Sometimes people wonder why God allows bad things to happen. This is sometimes even used as an excuse for not believing in God. Some people will suggest that if there is a God and He loves us, He will make everything pleasant and happy all the time.
Who is Satan? There are many debates on that subject in the world. Some don't believe he is real. Others believe in him, but can't figure out where he came from. The Bible tells us God created all living. Did God, then, create Satan? If he didn't, then why does the Bible say He created all living? The answers to these questions are answered by the scriptures of the Restoration.
We are here on earth because God chose for us to be here and because we agreed to come here on His terms. We're here because Adam and Eve made the unselfish choice to leave the garden of Eden and start a family. We're even here because Noah was willing to build an ark.
God planned our lives on earth to be filled with choices. While there are always going to be some things beyond our control, the things of eternal significance are always ours to choose or to reject. The world might have some control over our bodies, our actions, and our lifestyles, but no one can control our thoughts but us. We can choose what goes into our hearts and we can choose what to believe.