March 19, 2011 by
Terrie Lynn Bittner
·
Leave a Comment
Filed under:
Basic Beliefs of Mormons
,
Basic LDS Beliefs
,
Counsel from Church Leaders
,
Discipleship: Following in the Savior's Footsteps
,
Frequently Asked Questions
,
Gospel Principles, Practices & Precepts
,
LDS Practices
,
LDS Q&A
,
Making Decisions
,
Prophets
,
Recognizing Truth
,
Written for Our Day
In 1852, when Hannah Last Cornaby was baptized, she and her husband had to enter the church building through a volley of stones being thrown at them by a screaming mob. She did not turn back. She bravely pushed through the mob, coping with the rocks and insults and allowed her husband to baptize her. Perhaps this event motivated her to later write the LDS hymn, "Who's On the Lord's Side?"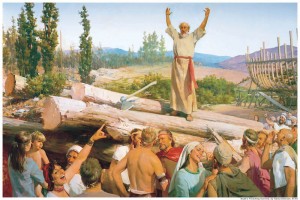 Who's on the Lord's side? Who?
Who's on the Lord's side? Who?
("Who's on the Lord's Side?" Hymns, no. 260)
Hannah didn't just choose the Lord's side when it was easy or popular. She chose it when her very life was in danger. She left her home in England for it and endured many hardships with good humor for it. Hannah chose the Lord's side.
Today, there are many forces trying to get us to choose the other side. Secular forces try to convince us it is old-fashioned to be on the Lord's side. Political parties urge loyalty to them over the gospel. Media mocks the Lord's side on a regular basis. This is reminiscent of a story in the Book of Mormon about a prophet named Lehi. Read more
August 28, 2010 by
Terrie Lynn Bittner
·
Leave a Comment
Filed under:
Basic Beliefs of Mormons
,
Book of Mormon Stories
,
Finding Truth
,
God in the Book of Mormon
,
Inside the Book of Mormon
,
Jesus Christ
,
Jesus Christ in the Book of Mormon
,
Joy in our relationship with the Savior
,
People in the Book of Mormon
,
Recognizing Truth
,
Teachings
,
Written for Our Day
In the previous post, we learned that a missionary named Alma, whose story is found in the Book of Mormon, had gone to preach to an apostate group called the Zoramites. He found the wealthy among them engaged in an arrogant, self-centered form of religion, in which they showed up to the synagogue once a week and each, in turn, climbed onto a tower to recite an identical prayer that simply bragged about how chosen and wonderful they were. They came in their expensive clothing and fine jewelry. Once they returned home, they gave no further thought to God until they returned.
In addition, they kept the poor out of the church. Wealth was, in their minds, proof of their specialness, proof that they had been chosen and all others were doomed. Alma, encountering these poor, realized they had been humbled through their trials and longed to be allowed to worship. He decided not to bother with the arrogant wealthy people and instead to preach to the poor.
In this sermon, he gave one of the greatest sermons on faith ever written. The people were upset about being kept out of the temple because they believed this meant they were unable to worship God. Alma assured them you don't have to be in a church building to worship. Worship was not a once a week event, but a way of life. Read more
In the Book of Mormon, a missionary named Alma went with others to preach to a group of people called the Zoramites. This was an apostate group that had formed around a leader named Zoram. Alma and his missionary companions were shocked by what they saw when they visited the "worship" service of these people. They'd never seen anything like it and they felt sick at what they observed. Read more
When times are hard, the scriptures are a great place to turn for moral support and good attitude role modeling. Not only can you find people who are facing much greater trials than your own, but you can see how they coped with those trials. While they sometimes briefly faltered, they always rallied and learned how to face their trials with faith and gratitude. Read more
4 But thus saith the Lord God: O fools, they shall have a Bible; and it shall proceed forth from the Jews, mine ancient covenant people. And what thank they the Jews for the Bible which they receive from them? Yea, what do the Gentiles mean? Do they remember the travails, and the labors, and the pains of the Jews, and their diligence unto me, in bringing forth salvation unto the Gentiles?

In all the times of history that prophets lived on the earth, those prophets caused new scripture to be created. The words of the prophets were written down and some of them were gathered into books of scriptures. The Bible wasn't just one book initially. It was a collection of writings that in time were gathered together and men decided which writings should be part of the scripture.

Some people reject the Church of Jesus Christ of Latter-day Saints because they have a prophet who continues to share with them God's messages for them. The Book of Mormon, which they read as Holy Scripture hand-in-Hand with the Bible, foretold of this challenge:

Satan's sole purpose in his life is to make everyone as miserable as he is, and the best way to do this is to battle truth. If he can turn people away from God, the Savior, and the saving doctrines, he can make people miserable and win his battle. He has a variety of methods he employs in this battle. Knowing some of them can help us protect ourselves from him. The Book of Mormon suggests several of these methods for us to evaluate and prepare to fight.

The Book of Mormon often prophesied of our day, and warned us of the challenges we would face. One problem foreseen by the prophets was the danger of mingling the word of God with the teachings of men. For a church to be the Savior's church, it must teach only what the Savior wants taught, regardless of how popular or "politically correct" it might seem to be.

Nephi, the second prophet of the Book of Mormon, foresaw our time and described it with unnerving accuracy. His portrayal of it is accurate because it was shown to him by God. The Book of Mormon was written for our day—the people of the Book of Mormon, other than the prophets who kept the records, didn't have it. Nephi offered the prophecies in a talk to his people as warnings to them for their own day as well, but preserved the talk for us, because it was really us he was talking to.