May 20, 2011 by
Terrie Lynn Bittner
·
Leave a Comment
Filed under:
Basic Beliefs of Mormons
,
Becoming More Christlike
,
Blessings
,
Discipleship: Following in the Savior's Footsteps
,
Finding Happiness
,
Finding Truth
,
Fruits of gospel living
,
Gospel Principles, Practices & Precepts
,
Making Decisions
,
Obedience
,
Recognizing Truth
Although anyone can attend most Mormon services and activities without being a member, conversion is required to experience everything the Church has to offer. Mormonism is actually a nickname for The Church of Jesus Christ of Latter-day Saints and the principles of Mormon conversion are based on the teachings of Jesus Christ, whose mission is as central to Mormonism as His name is to the true name of the Church.
A book called True to the Faith: A Gospel Reference, which offers introductions to many Mormon principles, explains that conversion is not an event in Mormonism. It is a process. Simply announcing that we accept Jesus Christ as our Savior does not complete the process. Gaining a testimony that The Church of Jesus Christ of Latter-day Saints does not complete the process. Nor does baptism or confirmation as a member of the Church. Conversion, for a Mormon, is a life-long process, and even an eternal one. It may be why Pew Foundation studies often show Mormon teens and adults score higher than many other religions in various aspects of religiosity. An understanding that conversion requires constant effort and strengthening will naturally lead one to work harder at keeping the commandments, studying, praying, and improving faith. Read more
February 19, 2011 by
Terrie Lynn Bittner
·
Leave a Comment
Filed under:
Basic Beliefs of Mormons
,
Basic LDS Beliefs
,
Blessings
,
Contentment in Motherhood
,
Counsel from Church Leaders
,
Discipleship: Following in the Savior's Footsteps
,
Families
,
Family Traditions
,
Family Unity
,
Finding Happiness
,
Finding Truth in Family
,
Gospel Principles, Practices & Precepts
,
LDS Practices
,
Parents/Leaders
,
Relationships
In this series, we're looking at the reasons people first start looking into Mormonism. By the time they are ready to be baptized they have deeper reasons, including a testimony, but initially, they normally begin searching for a church to join because their lives are lacking something they feel a church might be able to provide. In this article, we're discussing how Mormon beliefs about family appeal to many searchers. The Mormon family has a unique focus.
"In the Church, our belief in the overriding importance of families is rooted in restored doctrine. We know of the sanctity of families in both directions of our eternal existence. We know that before this life we lived with our Heavenly Father as part of His family, and we know that family relationships can endure beyond death.

If we live and act upon this knowledge, we will attract the world to us. Parents who place a high priority on their families will gravitate to the Church because it offers the family structure, values, doctrine, and eternal perspective that they seek and cannot find elsewhere." (M. Russell Ballard, "What Matters Most Is What Lasts Longest," October 1, 2005). Read more
May 28, 2010 by
Terrie Lynn Bittner
·
Leave a Comment
Filed under:
Basic Beliefs of Mormons
,
Becoming More Christlike
,
Blessings
,
Discipleship: Following in the Savior's Footsteps
,
Finding Happiness
,
Finding joy within the gospel
,
Finding Truth
,
Jesus Christ
,
Jesus Christ
,
Joy in our relationship with the Savior
,
Mortal Ministry & Mission
,
Postmortal Life
This article contains many quotes from religious leaders and scriptures. Following the links in the credits will take you to the complete reference, where you can learn more on this eternally significant topic.
The atonement was made for everyone, but perhaps most importantly, it was made for you personally. If only one person had needed the atonement, Jesus Christ would have accepted that responsibility. The sins he took on were not consolidated. He experienced every sin individually, and so the atonement was for you because Jesus loves you that much.
"His Atonement does indeed cover the world and all people from the beginning to the end. Let us not forget, however, that in its comprehensiveness and completeness it is also intensely personal and uniquely crafted to fit perfectly and address perfectly each of our own individual circumstances. The Father and the Son know each of us better than we know ourselves and have prepared an Atonement for us that is fully congruent with our needs, challenges, and possibilities," (Cecil O. Samuelson Jr., "What Does the Atonement Mean to You?," Liahona, Apr 2009, 14–19.) Read more
In 1 Corinthians 12:10, we learn that one spiritual gift God gives to some people is the gift of prophecy. A spiritual gift is given to people in order to do God's work and to bless others, and must not be used for personal gain. The gift comes through the Holy Ghost to those who are worthy and obedient to God's commandments.
Although the Mormon church is headed by a prophet, the gift of prophecy referred to here is not referring to that prophet. The office of the prophet is held by the president of the Mormons. Only one person holds that office, but many people can have the gift of prophecy. Read more
In difficult economic times, it might seem hard to make a Thanksgiving list of things we're grateful for. However, no matter what our circumstances, there are always things to add to our list.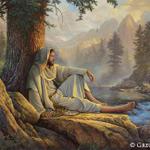 We are children of a loving Father in Heaven. That is the first item to place on any list. The second is that His Son, Jesus Christ, loved us enough to die for us. These two blessings can serve as the foundation for all other blessings on our list. Some things cannot be taken from us, no matter how little income we have or how few our possessions. Read more
There is an old Cherokee tale that you may have heard before. It goes like this.
I've been thinking today, of a favorite hymn. I like it partly because of its upbeat melody, and partly because of its message. This song provides an interesting way to look at a disciple's role in service and helping our fellow man. I appreciate its straightforward reminders of the things that matter most, reminders of how to obtain these goals, and the cheerful manner in which the message is delivered. Service doesn't seem like such drudgery, but a privilege and a joy.
There are many around us, in fact the world seems to be almost entirely focused on achievement, competition, perfection, and material possessions. There are more ways advertised in all the media we encounter every day to be better, have more, and change who we are to fit society's norm, than we could ever humanly conquer.
I've talked a lot about the Spirit that a disciple of Christ needs to carry with him. It's that presence and knowledge of God's will for you that make you the most effective disciple you can be. This Spirit comes in two forms. There is a general presence that testifies of truth as well as gives guidance and direction as it is needed for any and all human beings who have not denied the light of Christ within them. There is also a second step in which the disciple makes specific covenants with God that allow that Spirit to more fully manifest Himself to you. These covenants invite the Holy Ghost's companionship into every aspect of your every day life.
In this blog we talk about many different ways someone can become, and serve as, a disciple of Jesus Christ. To me, this is the most valuable decision any of us can make in this life. Choosing to actively follow Christ can make everything else in our lives fall into place.