With the announcement of the Catholic Pope's retirement, some have wondered if Mormon prophets ever retire. Mormon is a nickname sometimes used to describe members of The Church of Jesus Christ of Latter-day Saints.
The January 2013 issue of the Ensign, a magazine for adult members of The Church of Jesus Christ of Latter-day Saints, contains an interesting article on the subject of faith and intellect. This magazine serves those who are sometimes called Mormons and most of the articles are written by church members who share how they practice their beliefs in ordinary life.
The Journal of Discourses is often quoted by non-Mormons as proof of Mormon doctrine. In actuality, however, it is an unofficial source and cannot be taken as doctrine. Much of what is included is speculative—the opinions of Brigham Young, rather than actual canonized doctrine. Unfortunately, many who use the book as "proof" of doctrine don't understand how doctrine is canonized in the church, how Mormons determine current teachings, and the role of a prophet.
Because Mitt Romney has been a Mormon bishop and a Mormon stake president, and is still a high priest, those terms have generated a lot of interest—and a lot of misinformation. In order to understand how those titles affected him in the past and how they affect him now, it's important to understand what they mean. This is not a political article. It is about explaining Mormonism, not electing a candidate.
Mormons use several volumes of scripture, including the Bible, the Book of Mormon, the Doctrine and Covenants, and the Pearl of Great Price. The Book of Mormon gave rise to the nickname often given Mormons, but the actual name of the religion is The Church of Jesus Christ of Latter-day Saints. The first part tells us whose church it is. In the Book of Mormon, Jesus explains that a church belongs to whoever it is named after, so His church must be named after him. The second part distinguishes the early Saints from those in the restored church today.
For many Christians today, the Sabbath day is a day to go to church…and when that is over it just becomes another day. For Mormons, the Sabbath is an all-day event. Mormon is a nickname for The Church of Jesus Christ of Latter-day Saints. Mormon beliefs take literally the teachings of the Ten Commandments, and one says:
Mormon polygamy was discontinued more than one hundred years ago, but it is still associated with Mormonism and Mormon history, and sometimes incorrectly associated with modern Mormonism. Mormon is a commonly used nickname for The Church of Jesus Christ of Latter-day Saints.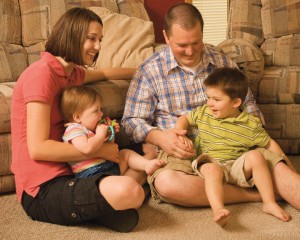 Polygamy—or more correctly polygyny (the proper term for one man having multiple wives) was first practiced in the Old Testament. In Genesis 16, we learn that Sarai asked her husband Abraham to marry her handmaiden in order to produce heirs. This was very difficult and stressful for all three, but God sent an angel to help the handmaiden through the trials that followed. Abraham is the first recorded case of polygamy. Later, Jacob took additional wives, as did Gideon, Elkanah (the father of Samuel), and others. The Bible gave instructions  on the treatment of additional wives and the resulting children. If polygamy were immoral in all situations, God would not give instructions on how to responsibly practice it. Instead, he would have instructed them to end the practice. (See Deuteronomy 21:15-17 and Exodus 21:10-11 as examples in the Old Testament of Biblical instruction on the appropriate practice of polygamy.) Since some practitioners were prophets, it is clear polygamy was acceptable to God. However, it should be noted that polygamy was not the rule in all time periods. It was practiced only when approved by God and for His purposes. Read more
A personal response
Most people are familiar with the sight of Mormon missionaries riding bikes, walking the neighborhoods, or knocking on doors. The men are dressed in suits, white shirts, and ties. They have short hair. The women are in dresses or skirts that fall below the knee. Most are young adults, but some are retired couples. And Mormons don't wait to get called on missions. Many of them just love to share their beliefs with other people.
The correct name for the Mormon church is The Church of Jesus Christ of Latter-day Saints. Mormon is just a nickname once given Mormons by their enemies, but which Mormons themselves good-naturedly use, on occasion. The centerpiece of the church name explains the love Mormons have for missionary work. It is Jesus Christ's church and the Bible commands us to share His gospel. Read more
Ezra Booth, a former minister, became a member of The Church of Jesus Christ of Latter-day Saints, whose members are often called Mormons, in 1831, when the church was still new. He had seen Joseph Smith heal the arm of a church member, and this was his reason for joining. However, Mormons know miracles don't really convert people. The miracle must be followed up with appropriate steps to gain a true testimony, including study and prayer. However, Booth did not do this and so he had only the single miracle to bolster his thin faith.
In the early days of the church, adult men, even those married, could be sent out on missions and often did so when they were quite new to the church. This is not the case today, where missionaries must be well-versed in their religion and have strong testimonies. Ezra Booth left on his mission only a few months after joining. This mission demonstrated his lack of true testimony as he faced his first necessity to sacrifice for his faith. He was angry over having to walk to his destination instead of being given transportation, even though the young church had no money for such things and neither did he. He began to feel upset that he didn't see a continual stream of miracles, not understanding that miracles are miracles precisely because they are rare. Missionary work wasn't the glamorous task he expected it to be.
Recently Michael Otterson, head of Public Affairs for The Church of Jesus Christ of Latter-day Saints (sometimes called the Mormon Church) wrote an interesting On-Faith blog post about the Book of Mormon Musical. The musical's crude and blasphemous language was designed to mock religion and to suggest God and His churches have nothing to offer in a real world of poverty and suffering. "Specifically, I'm not willing to spend $200 for a ticket to be sold the idea that religion moves along oblivious to real-world problems in a kind of blissful naiveté," Brother Otterson said. (See Otterson, Michael. "Why I won't be seeing the Book of Mormon musical." Washington Post [Washington DC] 14 Apr. 2011: n. pag. Washington Post. Web. 21 Apr. 2011.)
He then went on to evaluate whether or not this concept is true. To do so, he thought about the seven years the creators spent making a musical that mocked God and His followers—not just Mormons, but religious people in general. Some have also suggested it should be condemned for its negative and stereotypical portrayals of Ugandans.
Then he looked at what the Mormons spent those same years doing in Africa. While the creators of the musical were spending their time working on a way to make fun of Africans, Mormons were actually in Africa trying to fix the problems the musical mocked. Read more