A Personal Response
Jane Elizabeth Manning is perhaps the most famous black Mormon pioneer. Mormon is a nickname for members of The Church of Jesus Christ of Latter-day Saints. She was the daughter of Isaac and Elizabeth Manning and was born in the late 1810s or early 1820s. She was never a slave but was a servant, sent to live and work in the home of a wealthy white farmer when she was only six years old. The home belonged to an elderly man, Joseph Fitch and his wife. Their daughter raised Jane.
Jane became a Presbyterian when she was fourteen years old, but felt unsatisfied with all they taught. She converted to Mormonism a year and a half later after hearing Charles Wendell teach about Mormonism. She had attended the sermon in direct defiance of her pastor's order to her to not attend. She helped to convert other members of her family. At that time in Mormon history, Mormons were encouraged to gather in one place due to the need for protection during persecution and also due to difficulties in communication at the time. With a newly growing faith, it was easier to have everyone together where they could be taught by their leaders and enjoy the support of others who shared their faith.
Mormon polygamy was discontinued more than one hundred years ago, but it is still associated with Mormonism and Mormon history, and sometimes incorrectly associated with modern Mormonism. Mormon is a commonly used nickname for The Church of Jesus Christ of Latter-day Saints.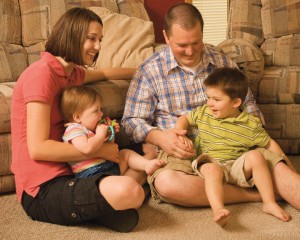 Polygamy—or more correctly polygyny (the proper term for one man having multiple wives) was first practiced in the Old Testament. In Genesis 16, we learn that Sarai asked her husband Abraham to marry her handmaiden in order to produce heirs. This was very difficult and stressful for all three, but God sent an angel to help the handmaiden through the trials that followed. Abraham is the first recorded case of polygamy. Later, Jacob took additional wives, as did Gideon, Elkanah (the father of Samuel), and others. The Bible gave instructions  on the treatment of additional wives and the resulting children. If polygamy were immoral in all situations, God would not give instructions on how to responsibly practice it. Instead, he would have instructed them to end the practice. (See Deuteronomy 21:15-17 and Exodus 21:10-11 as examples in the Old Testament of Biblical instruction on the appropriate practice of polygamy.) Since some practitioners were prophets, it is clear polygamy was acceptable to God. However, it should be noted that polygamy was not the rule in all time periods. It was practiced only when approved by God and for His purposes. Read more
Ezra Booth, a former minister, became a member of The Church of Jesus Christ of Latter-day Saints, whose members are often called Mormons, in 1831, when the church was still new. He had seen Joseph Smith heal the arm of a church member, and this was his reason for joining. However, Mormons know miracles don't really convert people. The miracle must be followed up with appropriate steps to gain a true testimony, including study and prayer. However, Booth did not do this and so he had only the single miracle to bolster his thin faith.
In the early days of the church, adult men, even those married, could be sent out on missions and often did so when they were quite new to the church. This is not the case today, where missionaries must be well-versed in their religion and have strong testimonies. Ezra Booth left on his mission only a few months after joining. This mission demonstrated his lack of true testimony as he faced his first necessity to sacrifice for his faith. He was angry over having to walk to his destination instead of being given transportation, even though the young church had no money for such things and neither did he. He began to feel upset that he didn't see a continual stream of miracles, not understanding that miracles are miracles precisely because they are rare. Missionary work wasn't the glamorous task he expected it to be.
December 1, 2010 by
Terrie Lynn Bittner
·
Leave a Comment
Filed under:
Basic Beliefs of Mormons
,
Basic LDS Beliefs
,
Church Organization
,
Counsel from Church Leaders
,
Gospel & Doctrine
,
Gospel Principles, Practices & Precepts
,
Jesus Christ
,
Joseph Smith: Mormon Prophet
,
LDS Q&A
,
Priesthood
This is the final article in the series on Mormon prophets. It has been based on a talk given by Ezra Taft Benson, who was then a Mormon apostle and who later became the Mormon prophet. In the article, he outlines Fourteen Fundamentals in Following the Prophet.
The final two fundamentals in following a prophet are:
13. The prophet and his counselors make up the First Presidency—the highest quorum in the Church.
14. The prophet and the presidency—the living prophet and the First Presidency—follow them and be blessed—reject them and suffer.
The Mormon prophet is also the President of the Church, just as prophets were in ancient times. He is assisted by two counselors. Together, they form the First Presidency and are the highest governing body of the Mormon Church. The First Presidency works with the Quorum of the Twelve Apostles to run the Church. In this article, we'll explore how the leadership of the Mormon Church works and why it matters that it works this way. Read more
During the General Relief Society Meeting held for Mormon women recently, it was announced that next year, the Relief Society would be making available a history of Mormon women. The General Relief Society President (over all the adult Mormon women worldwide), Julie Beck, explained:
"We study our history because it unites faithful women. The history of Relief Society is a Spirit-filled story of strong, faithful, purposeful women. As a part of the Lord's restored Church, Relief Society can now be found in nearly 170 nations. Everywhere in the world adult women in the Lord's Church can be given serious and important responsibilities." (Daughters in My Kingdom": The History and Work of Relief Society, Julie B. Beck, Relief Society General President)
She suggested that studying the history of the Relief Society will help us to better understand what God wants us to do and to be. When the Relief Society was first organized in the early days of the Church, there were many benevolent societies. Joseph Smith agreed that serving others was an appropriate sphere for women but he felt they could become more than just that, more than just a social club. They could have an important role to play in the growth of the Lord's Kingdom, and so he made them more than just a club or society. He organized them to work under the direction of the priesthood, but also in the pattern of the priesthood. He, like other leaders since then, allowed the women to run their own organization and to choose which projects they felt were best suited to their needs. Of course, from time to time they are asked to take on certain projects, but Gordon B. Hinkley joked that the way the Mormons handle their women is to get out of their way and look at all the good they can do. Read more
In 1 Corinthians 12:10, we learn that one spiritual gift God gives to some people is the gift of prophecy. A spiritual gift is given to people in order to do God's work and to bless others, and must not be used for personal gain. The gift comes through the Holy Ghost to those who are worthy and obedient to God's commandments.
Although the Mormon church is headed by a prophet, the gift of prophecy referred to here is not referring to that prophet. The office of the prophet is held by the president of the Mormons. Only one person holds that office, but many people can have the gift of prophecy. Read more
On April 27, 2010, The Church of Jesus Christ of Latter-day Saints, whose members are sometimes called Mormons, introduced its first solar-powered chapel, located in Farmington, Utah. "It's about creating a place of worship that works in harmony with the environment. For decades we have looked for innovative ways to use natural resources in our meetinghouses that reflect our commitment as wise stewards of God's creations." Said H. David Burton Presiding Bishop of The Church of Jesus Christ of Latter-day Saints at the press conference. The new building is one of five pilot buildings designed to meet LEED certification standards. Read more
In reflecting how many would come and go in the kingdom of God, Joseph would often say, "Brethren I have not apostatized yet, and don't feel like doing so." He called on the Lord, night and day, so that he could remain steadfast in his calling as the prophet of the restoration and accomplish the purposes for which he'd been born.
Members of The Church of Jesus Christ of Latter-day Saints, known as the Mormons, believe that Joseph Smith was a prophet. That is, they see him filling the same role as Moses or Isaiah. He was called of God to teach and lead people, and to be a witness of Jesus Christ and His sacrifice.