J. Golden Kimball was a Mormon leader born in Salt Lake City, Utah in 1853. His father was Heber C. Kimball and his mother was Christeen Golden. He was quite poor as a child and then worked as a cowboy and a teamster, which started him on a path tht led him to be known as the "Swearing Apostle." Kimball became a Seventy in 1886 . Seventies serve as special witnesses of Jesus Christ.  He died in 1938 at the age of 85.
When Mitt Romney was not chosen to be the president of the United States, many reporters began wondering if he would now be offered the job of President of the Mormons in order to capitalize on his fame.
Because Mitt Romney has been a Mormon bishop and a Mormon stake president, and is still a high priest, those terms have generated a lot of interest—and a lot of misinformation. In order to understand how those titles affected him in the past and how they affect him now, it's important to understand what they mean. This is not a political article. It is about explaining Mormonism, not electing a candidate.
A Personal Response
There has been a lot of speculation about Mitt Romey's taxes, particularly the amount of money he donates to the Mormons. Mormon is a nickname for members of The Church of Jesus Christ of Latter-day Saints, the church to which Romney belongs.
Jane Elizabeth Manning is perhaps the most famous black Mormon pioneer. Mormon is a nickname for members of The Church of Jesus Christ of Latter-day Saints. She was the daughter of Isaac and Elizabeth Manning and was born in the late 1810s or early 1820s. She was never a slave but was a servant, sent to live and work in the home of a wealthy white farmer when she was only six years old. The home belonged to an elderly man, Joseph Fitch and his wife. Their daughter raised Jane.
Jane became a Presbyterian when she was fourteen years old, but felt unsatisfied with all they taught. She converted to Mormonism a year and a half later after hearing Charles Wendell teach about Mormonism. She had attended the sermon in direct defiance of her pastor's order to her to not attend. She helped to convert other members of her family. At that time in Mormon history, Mormons were encouraged to gather in one place due to the need for protection during persecution and also due to difficulties in communication at the time. With a newly growing faith, it was easier to have everyone together where they could be taught by their leaders and enjoy the support of others who shared their faith.
Mormon polygamy was discontinued more than one hundred years ago, but it is still associated with Mormonism and Mormon history, and sometimes incorrectly associated with modern Mormonism. Mormon is a commonly used nickname for The Church of Jesus Christ of Latter-day Saints.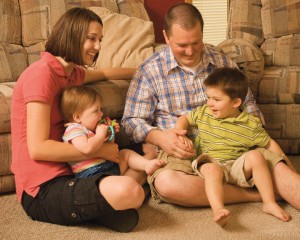 Polygamy—or more correctly polygyny (the proper term for one man having multiple wives) was first practiced in the Old Testament. In Genesis 16, we learn that Sarai asked her husband Abraham to marry her handmaiden in order to produce heirs. This was very difficult and stressful for all three, but God sent an angel to help the handmaiden through the trials that followed. Abraham is the first recorded case of polygamy. Later, Jacob took additional wives, as did Gideon, Elkanah (the father of Samuel), and others. The Bible gave instructions  on the treatment of additional wives and the resulting children. If polygamy were immoral in all situations, God would not give instructions on how to responsibly practice it. Instead, he would have instructed them to end the practice. (See Deuteronomy 21:15-17 and Exodus 21:10-11 as examples in the Old Testament of Biblical instruction on the appropriate practice of polygamy.) Since some practitioners were prophets, it is clear polygamy was acceptable to God. However, it should be noted that polygamy was not the rule in all time periods. It was practiced only when approved by God and for His purposes. Read more
Jon Huntsman is expected to announce a run for the presidency of the United States soon, making him the second Mormon to announce his candidacy for this campaign. Mitt Romney is also a member of The Church of Jesus Christ of Latter-day Saints, whose members are sometimes nicknamed Mormons. This unusual occurrence is leading some to refer to this year as the Mormon Moment. This article will discuss Huntsman's Mormonism , since it is a religious blog and not a political blog. Read more
Mitt Romney is expected to announce tomorrow that he is running for the office of the President of the United States. Much has been made of his religious background and many wonder what impact his religion might have on his term of office if he's elected. In this article, we'll look at his religious background and how his experiences as a Mormon (the nickname for people who belong to The Church of Jesus Christ of Latter-day Saints) might affect his political leadership. We'll also examine whether or not his presidency would give power to the Mormons, as some have speculated. Since this is a religion blog, not a political one, this article is meant only to inform readers about the religious background of Mitt Romney.
Romney comes from a long line of Mormons. His wife, Ann, is a convert. Romney was raised in an active, participating Mormon home and religion was a natural part of his daily life. Read more
Relief Society is the official women's auxiliary for The Church of Jesus Christ of Latter-day Saints. Members of this church are sometimes called Mormons because they accept the Book of Mormon as scripture, a book that testifies of Jesus Christ and is a companion book to the Bible.