Jane Elizabeth Manning is perhaps the most famous black Mormon pioneer. Mormon is a nickname for members of The Church of Jesus Christ of Latter-day Saints. She was the daughter of Isaac and Elizabeth Manning and was born in the late 1810s or early 1820s. She was never a slave but was a servant, sent to live and work in the home of a wealthy white farmer when she was only six years old. The home belonged to an elderly man, Joseph Fitch and his wife. Their daughter raised Jane.
Jane became a Presbyterian when she was fourteen years old, but felt unsatisfied with all they taught. She converted to Mormonism a year and a half later after hearing Charles Wendell teach about Mormonism. She had attended the sermon in direct defiance of her pastor's order to her to not attend. She helped to convert other members of her family. At that time in Mormon history, Mormons were encouraged to gather in one place due to the need for protection during persecution and also due to difficulties in communication at the time. With a newly growing faith, it was easier to have everyone together where they could be taught by their leaders and enjoy the support of others who shared their faith.
Mormon polygamy was discontinued more than one hundred years ago, but it is still associated with Mormonism and Mormon history, and sometimes incorrectly associated with modern Mormonism. Mormon is a commonly used nickname for The Church of Jesus Christ of Latter-day Saints.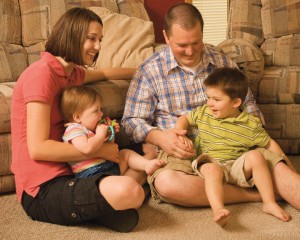 Polygamy—or more correctly polygyny (the proper term for one man having multiple wives) was first practiced in the Old Testament. In Genesis 16, we learn that Sarai asked her husband Abraham to marry her handmaiden in order to produce heirs. This was very difficult and stressful for all three, but God sent an angel to help the handmaiden through the trials that followed. Abraham is the first recorded case of polygamy. Later, Jacob took additional wives, as did Gideon, Elkanah (the father of Samuel), and others. The Bible gave instructions  on the treatment of additional wives and the resulting children. If polygamy were immoral in all situations, God would not give instructions on how to responsibly practice it. Instead, he would have instructed them to end the practice. (See Deuteronomy 21:15-17 and Exodus 21:10-11 as examples in the Old Testament of Biblical instruction on the appropriate practice of polygamy.) Since some practitioners were prophets, it is clear polygamy was acceptable to God. However, it should be noted that polygamy was not the rule in all time periods. It was practiced only when approved by God and for His purposes. Read more
Relief Society is the official women's auxiliary for The Church of Jesus Christ of Latter-day Saints. Members of this church are sometimes called Mormons because they accept the Book of Mormon as scripture, a book that testifies of Jesus Christ and is a companion book to the Bible.
Mary Fielding Smith was the wife of Hyrum Smith. Hyrum was the brother of Joseph Smith, the first prophet of The Church of Jesus Christ of Latter-day Saints, whose members are sometimes nicknamed Mormons. The brothers were murdered at a young age, leaving behind young wives and children.
Mary Fielding Smith did not let the trials she had already faced, or those she would face in the future as a widowed mother in a church under constant threat of persecution and death slow her down or destroy her faith. She accepted that other people would be able to cause troubles for her she couldn't control, and she might be among a hated group, but she could could still take control of much of her life. Like so many pioneer women, she showed extraordinary courage and faith through even the most challenging times. Read more
Eliza R. Snow was a pioneer, an early president of the Relief Society (an organization for Mormon women), president of Deseret Hospital, president of the Women's Department of the Endowment House, and an author. She is considered one of the great women in Mormon history.
While many people pictured Mormon pioneer women as meek and mild, no one ever accused Eliza of such. She repeatedly protested this mischaracterization. One month before the Utah legislature returned to Utah women the suffrage they had lost when they gained statehood, she said: Read more
Emma Smith: Wife, Mother, Helpmeet – Part 1
I travel across America speaking on a variety of topics, some religious, some not. But this year, I've been scheduled to speak about Joseph Smith and his beloved wife, Emma to several wards in The Church of Jesus Christ of Latter-day Saints, referred to as Mormons. Last night was one of those nights.
Throughout history Emma Smith has received a bum's rap. Really, never at any time in her life did she turn on the prophet or not support him in his prophetic calling.
Mormons honor Mother Eve for the sacrifices she made, along with her husband, Adam, to bring forward the plan of salvation as laid out by our Heavenly Father in premortality. Elder John A. Widtsoe perhaps says it best when he describes the choice made in the Garden of Eden:
Sister Julie B. Beck was called to be the General Relief Society president of The Church of Jesus Christ of Latter-day Saints this year. The recognized and ordained leader of over 5,000,000 women worldwide, she is a graduate of Brigham Young University, has 10 brothers and sisters, is descended from a former governor of Utah, Norman Bangerter, and is a loving wife and mother of three and grandmother of eight.