I wanted to follow up on the "Real People Do Get Scared" blog. In it I mentioned the oft-quoted scripture found in the Doctrine and Covenants 38:30,
Okay, it finally happens! When in a crisis or extremely difficult time, it is natural that you will feel anxious and scared. The important thing to do is to try to keep calm. You can reassure your family members with phrases such as, "We are all still together, I won't leave you alone," or "You don't have to worry I will look after you. We will get through this." Tell them what has happened and let them know what you are doing about it, what you can do about it and also what you can't do about it. This is the time when practice sessions for your emergency preparedness really pay off.
In the last few weeks it only took having news releases become news reports with the mention of one word for consumers to go bananas as they headed for the grocery store.(pun intended). The word? Ration!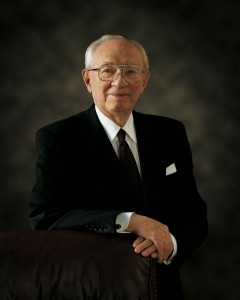 The Lord speaks through his prophets. Not only did He use prophets anciently, such as Abraham, Moses, Samuel, etc., but He also uses prophets today.
Are we living in the "Last Days"? What exactly does the term mean, "Last Days"?
Elder Jeffrey R. Holland serves as an Apostle in The Church of Jesus Christ of Latter-day Saints (nicknamed the Mormon church).
Elder Marvin J. Ashton served in the Mormon church (officially known as the Church of Jesus Christ of Latter-day Saints) as a member of the Quorum of the Twelve Apostles. His service was much loved, as his soul was most gentle and his comments inspired. His teachings blessed the lives of many.
We call upon priesthood bearers to store sufficient so that you and your family can weather the vicissitudes of life. (Bishop Keith B. McMullin, Second Counselor in the Presiding Bishopric, General Conference, April 2007.

Is there any need to fear when events in the world appear at times to be so horrific?

Elder Bruce R. McConkie stated: