I took a weightlifting class my senior year of high school, and loved it! After just a few weeks of working the different machines I discovered new, fairly awesome muscles in places I didn't think muscles existed.
When reading through the Book of Mormon, another testament of Jesus Christ, two particular things seem to happen again and again. As the righteous people in the land, known as the Nephites, follow the Lord's commandments they are blessed. Their lands produce bountiful harvests, they become rich in gold and silver and many precious things, all as a blessing for doing what is right. At times they are living so righteously there are no poor among them.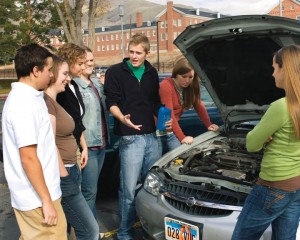 Nephi, an ancient prophet whose emigration from Jerusalem to the Americas is recorded in the Book of Mormon, revered two particular Bible men: Moses and Isaiah.
For those who are members of the Church of Jesus Christ of Latter-day Saints (nicknamed the Mormon Church), the words 'Scripture Mastery' have a double meaning.
I'd like to start off our study of Scripture Mastery verses by looking at the Book of Mormon. For those of you who haven't heard of this book, or have heard a little and aren't certain what it's about, the Book of Mormon is an ancient record of the people who lived in the Americas back before, during, and about 400 years after the time of Christ. Those of us in the Church of Jesus Christ of Latter-day Saints (nicknamed the Mormon Church) believe it to be another testament of Jesus Christ.
In most churches seminary is a college where students are trained to become a minister, rabbi, or member of the priesthood. For youth it can also be a church funded high school, called a 'mini-seminary', with the specific purpose of training young men to prepare to enter the adult seminary.
There is something truly beautiful about taking a portion of one's day and spending it surrounded by others with the same purpose: to be taught about the gospel of Jesus Christ. It stands as a fortifier against the evils Satan constantly throws our way, and reminds us of the truly important things in this life.