John Taylor, the third called prophet of these modern times, has a unique testimony of Joseph Smith, Jr., the prophet of the restoration. President Taylor was in Carthage Jail with Joseph and Hyrum Smith when the mob, faces painted black, charged the jail and assassinated the prophet and patriarch of the Church of Jesus Christ of Latter-day Saints, commonly known as the Mormons.
Before the mob attacked, Joseph asked John Taylor to sing his favorite hymn, "A Poor Wayfaring Man of Grief." As his beautiful tenor voice rose in song, the prophet listened with heavy heart, knowing he would not return from this imprisonment.
The words of this song I will share with you now, imagine the words sung to the haunting notes of the melody, if you can:
A poor wayfaring man of grief
Had often crossed me on my way,
Who sued so humbly for relief
That I could never answer, Nay.
I had not power to ask his name;
Whither he went of whence he came;
Yet there was something in his eye
That won my love, I knew not why.
Once, when my scanty meal was spread,
He entered—not a word he spake!
Just perishing for want of bread;
I gave him all; he blessed it, brake,
And ate, but gave me part again;
Mine was an angel's portion then,
For while I fed with eager haste,
The crust was manna to my taste.
I spied him where a fountain burst,
Clear from the rock—his strength was gone,
The heedless water mock'd his thirst,
He heard it, saw it hurrying on.
I ran and raised the suff'rer up;
Thrice from the stream he drain'd my cup,
Dipp'd, and returned it running o'er;
I drank and never thirsted more.
'Twas night, the floods were out, it blew
A winter hurricane aloof;
I heard his voice, abroad, and flew
To bid him welcome to my roof.
I warmed, I clothed, I cheered my guest,
I laid him on my couch to rest;
Then made the earth my bed, and seem'd
In Eden's garden while I dream'd.
Stripp'd, wounded, beaten nigh to death,
I found him by the highway side;
I rous'd his pulse, brought back his breath,
Revived his spirit, and supplied
Wine, oil, refreshment—he was heal'd;
I had myself a wound conceal'd;
But from that hour forgot the smart,
And peace bound up my broken heart,
In pris'n I saw him next—condemned
To meet a traitor's doom at morn;
The tide of lying tongues I stemmed.
And honored him 'mid shame and scorn.
My friendship's utmost zeal to try,
He asked, if I for him would die;
The flesh was weak, my blood ran chill,
But the free spirit cried, "I will!"
Then in a moment to my view,
The stranger started from disguise:
The tokens in his hand I knew,
The Savior stood before mine eyes.
He spake—and my poor name be named—
"Of me thou hast not been asham'd;
These deeds shall thy memorial be;
Fear not thou didst them unto me."
Source: Joseph Smith, B. H. Roberts, ed, History of the Church of Jesus Christ of Latter-day Saints, 2nd ed. rev. (Salt Lake City: Deseret Book Company, 1974) 6:614-615.
To this day, this song, although not a favorite of President Taylor's, rips at my heart. Would I have recognized my Savior? Would I have helped this man in need, regardless of who he was? Would I have died for him?
I know that Joseph Smith would have recognized Jesus Christ in those circumstances, more importantly, I know that he recognized the lesson to be learned for the listener of the song. And Joseph Smith did die for his testimony of Heavenly Father, Jesus Christ and gospel of Christ restored through this chosen prophet of the restoration.
Of Joseph Smith, President Taylor said, "If there is no other man under the heavens that knows that Joseph Smith is a prophet of God I do, and I bear testimony of it to God, angels and men." ("Chapter 9: Joseph Smith, the Prophet of the Restoration," Teachings of Presidents of the Church: John Taylor, 77)
There was nothing particular about [Joseph Smith], he was a man like the balance of us. But the Lord, for certain reasons of his own, I suppose, selected him to be his mouthpiece to the nations in this age of the world. Perhaps Joseph, as well as many others, was set apart to a certain office before the world was. Christ was the Lamb slain from before the foundation of the world. Abraham was set apart to his office, and a great many others in the same way; and Joseph Smith came to do his work.

We all look upon Joseph Smith as being a prophet of God. God called him to occupy the position that he did. How long ago? Thousands of years ago before this world was formed. The prophets prophesied about his coming, that a man should arise whose name should be Joseph, and that his father's name should be Joseph, and also that he should be a descendant of that Joseph who was sold into Egypt. This prophecy you will find recorded in the Book of Mormon [see 2 Nephi 3:15]. He had very great and precious promises made to him by the Lord. (Ibid)
John Taylor took bullets for his testimony of Joseph Smith, Jr. as a prophet of God on that fateful day the 27th of June in 1844. He, along with the rest of the Mormons, left Nauvoo, Illinois, even the United States, and found peace in the mountains of the Utah Territory. Until his dying day, John Taylor testified of the calling of Joseph Smith as the prophet of the restoration. A highly educated man, let me leave with you with this one last thought by President Taylor:
What could the Lord do with such a pack of ignorant fools as we were? There was one man that had a little good sense, and a spark of faith in the promises of God, and that was Joseph Smith—a backwoods man. He believed a certain portion of Scripture which said—"If any man lack wisdom let him ask of God who giveth to all men liberally and upbraideth not." [See James 1:5] He was fool enough in the eyes of the world, and wise enough in the eyes of God and angels, and all true intelligence, to go into a secret place to ask God for wisdom, believing that God would hear him. The Lord did hear him, and told him what to do. (Ibid)
Yes, Joseph did ask in 1820. The Lord did hear and He answered. Through Joseph Smith, Jr. the restoration of the gospel of Jesus Christ begin to roll forth and before he was assassinated, he had, through revelations from God, restored every principle, practice and precept the Lord needed him to. The testimony of one prophet of God, John Taylor, of another, Joseph Smith, remains strong and inviolate. Joseph Smith was a prophet of God, so testifies President John Taylor.
What is the difference between eternal life and immortality? Each of Heavenly Father's children, every single person born into mortality, and yes, that includes you, will be resurrected regardless of their level of righteousness. This was assured by our Savior, Jesus Christ, when He broke the bands of death and arose in that garden tomb as our resurrected Lord and Redeemer. That is immortality.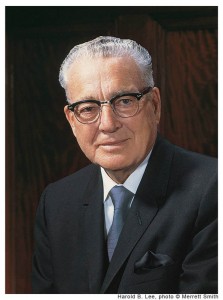 Eternal life, on the other hand, has to be earned. It is something to be greatly desired and every effort, part and parcel of our lives should be dedicated to that end. Harold B. Lee, the eleventh called prophet in these modern times, tells us more, using the events of the Apollo 13 emergency return to earth from the vastness of space:
Some months ago [1970], millions of watchers and listeners over the world waited breathlessly and anxiously the precarious flight of Apollo 13. The whole world, it seemed, prayed for one significant result: the safe return to earth of three brave men.

When one of them with restrained anxiety announced the startling information, "We have had an explosion!" the mission control in Houston immediately mobilized all the technically trained scientists who had, over the years, planned every conceivable detail pertaining to that flight.

The safety of those three now depended on two vital qualifications: on the reliability of the skills and the knowledge of those technicians in the mission control center at Houston, and upon the implicit obedience of the men in the Aquarius to every instruction from the technicians, who, because of their understanding of the problems of the astronauts, were better qualified to find the essential solutions. The decisions of the technicians had to be perfect or the Aquarius could have missed the earth by thousands of miles.

This dramatic event is somewhat analogous to these [troubled] times in which we live. … Many are frightened when they see and hear of unbelievable happenings the world over—political intrigues, wars and contention everywhere, frustrations of parents endeavoring to cope with social problems that threaten to break down the sanctity of the home, the frustrations of children and youth as they face challenges to their faith and their morals.

Only if you are willing to listen and obey, as did the astronauts on the Aquarius, can you and all your households be guided to ultimate safety and security in the Lord's own way. … ("Chapter 1: The Way to Eternal Life," Teachings of Presidents of the Church: Harold B. Lee, 1)
Returning to our Heavenly Father and gaining our eternal reward relies completely on us and our willingness to not only follow in the footsteps of our Savior, Jesus Christ, but to also allow Him to shoulder our burdens when they become too heavy to bear.
To understand eternal life, we must understand the three basic principles of the foundation of the plan of salvation.
First, is free agency. Next to life, this is God's greatest gift to mankind. This critical principle was the basis of the war in heaven. Heavenly Father knew we had to have free agency in order to choose for ourselves "liberty and eternal life through obedience to the laws of God, or captivity and death as to spiritual things because of disobedience." (Ibid, 2 Nephi 2:27)
Second, a Savior had to be provided. In order for the plan of salvation to work a savior had to be provided in order that the atonement might be put in place for the salvation of mankind, in addition to breaking the bands of death. Jesus Christ stepped forward and was chosen by our Father in Heaven to be that Savior. He was born into the world approximately 2,007 years ago and in April 33 A.D. He suffered for the sins of the world in the Garden of Gethsemane, was crucified and resurrected, breaking the bands of death. "For we labor diligently to write, to persuade our children, and also our brethren, to believe in Christ, and to be reconciled to God; for we know that it is by grace that we are saved, after all we can do." (2 Nephi 25:23)
Third, was the provision that all mankind could be saved if they followed the principles of the gospel of Jesus Christ. Harold B. Lee said,
This same teaching was forcibly impressed by the resurrected Savior to the saints on this continent, in what it appears likely was his final message to his disciples. The Master taught his faithful saints that "no unclean thing can enter into his kingdom; therefore nothing entereth into his rest save it be those who have washed their garments in my blood, because of their faith, and the repentance of all their sins, and their faithfulness unto the end.

"Now this is the commandment: Repent, all ye ends of the earth, and come unto me and be baptized in my name, that ye may be sanctified by the reception of the Holy Ghost, that ye may stand spotless before me at the last day.

"Verily, verily, I say unto you, this is my gospel. …" (Ibid, 3 Nephi 27:19–21)
And so Eternal Life is simply this: When we have lived our lives according to the principles, practices and precepts of the gospel of Jesus Christ and to the best of our abilities, then we will gain our eternal reward on that great judgment day. To live, once again, with our Father in Heaven and our Savior Jesus Christ is eternal life.
Harold B. Lee also tells us of the promise given to us if we abide by this:
If the children of the Lord, which includes all who are upon this earth, regardless of nationality, color, or creed, will heed the call of the true messenger of the gospel of Jesus Christ, as did the three astronauts on the Aquarius to the trained technicians at Mission Control in the hour of their peril, each may in time see the Lord and know that he is, as the Lord has promised. …

This promise of the glory which awaits those who are faithful to the end was plainly portrayed in the Master's parable of the Prodigal Son. To the son who was faithful and did not squander his birthright, the father, who in the Master's lesson would be our Father and our God, promised this faithful son: "Son, thou art ever with me, and all that I have is thine." (Luke 15:31.)(Ibid)
Eternal life is the greatest reward any human being can reach for. We have been blessed with a loving Heavenly Father who wishes to see us return home. We have been blessed with a loving Savior, Jesus Christ, who paid the price for our sins, satisfied justice and broke the bands of death. We have been given the path to eternal life and the invitation remains open . . . In my mind's ear, I can hear Him say,
"Come home my little ones, for eternal happiness will be yours if you will but trust in that which your heart knows to be true." Jesus Christ lives. Heavenly Father lives and they have paid the ultimate price in providing that path home to eternal life. Jesus Christ paid with the suffering for the world's sin and crucifixion, Heavenly Father paid in having to watch His Son suffer so that all of us could be redeemed, if we so chose.
I invite you to join me on that path, hard as it may be at times. The rewards far outweigh the cost. And the cost for eternal life? Turn from the ways of the world and embrace that great plan of happiness, for within that plan is your map back to your heavenly home.
As we live the gospel, we receive the light, inspiration, and guidance of the Holy Spirit. ("Chapter 20: The Still, Small Voice of Revelation," Teachings of Presidents of the Church: Heber J. Grant, 181)
This is a beautiful gift given to all members of The Church of Jesus Christ of Latter-day Saints, otherwise known as the Mormons. This gift is personal, two-way communication, with God, who is our Heavenly Father and always petitioned in the name of Jesus Christ, as the Savior taught us to do in the New Testament. (John 16:23-24, 26)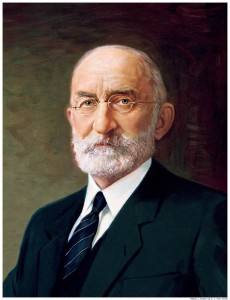 Interestingly enough, I saw a picture on the internet which said, "Don't pray about the Book of Mormon, that's how they get you!" Now, I paraphrased that and it was a funny picture to me. How real it was, I don't know. But it did make me laugh. But let's take that message as if it were real and understand what they are asking you to do.
Don't pray about the Book of Mormon, or anything else for that matter? Oh my goodness, why would I rob myself of the most precious communication Heavenly Father grants unto His children. Why would I pay attention to a sign in lieu of personal revelation from my Heavenly Father? Of this sacred gift, we are told the following by Heber J. Grant, the seventh called prophet of these modern times:
I rejoice … that every Latter-day Saint, every humble son and daughter of God that has embraced the gospel and become a member of the Church of Jesus Christ of Latter-day Saints has received the witness of the Holy Spirit; that the gift of tongues, the gift of prophecy, of healing, and other gifts and blessings, are found in the Church, and are not confined to men that hold responsible positions in the Church. I have listened to some of the most spirited and able, and some of the finest sermons of my life from men who held no official position. …

It is not position, it is not education that gives the Spirit of God; but it is keeping the commandments of Almighty God and being lowly in heart and desiring to fulfill the commandments of God in our daily walk and conversation. (Ibid)
If we are worthy, living the commandments of the gospel of Jesus Christ, then we are able to receive communication from heaven. In the Book of Mormon we are told:
And now, he imparteth his word by angels unto men, yea, not only men but women also. Now this is not all; little children do have words given unto them many times, which confound the wise and the learned. (Alma 32:23, Book of Mormon)
Every worthy man, woman and child, by virtue of living by the principles, practices and precepts of the gospel of Jesus Christ can, and do, receive answers to their prayers.
This is what it boils down to, if someone is telling you their inspiration is more important or better than yours, they are wrong. Each child of God is entitled to inspiration within the bounds of their stewardship. For example:
The living prophet, Gordon B. Hinckley, receives revelation for the entire church, even the world, for all who live on the planet today are within the stewardship of this living prophet of God.
Each apostle or general authority receives revelation for the departments which fall under their care.
Each bishop receives revelation for his ward or congregation for they are within his stewardship.
Each mother or father receives revelation for their family, for each child is within the stewardship and responsibility of those parents.
You are entitled to personal revelation regarding anything you choose. The answers you receive from your Heavenly Father should remain close to your heart and treated as the sacred revelation that it is. These personal revelations you receive are to be shared when you feel prompted to do so and only at those times.
Just so it is completely understood, you are entitled to receive personal revelation or answers from your Heavenly Father regarding anything that effects your life, your mortal probation.
Let us turn one more time to the words of the prophet, Heber J. Grant:
There is nothing else that will bring the same joy to anybody as will doing those things that devolve upon them and that are pleasing in the sight of God. We come upon this earth to do the mind and will of the Lord, and it behooves each and all of us to so live that we will be entitled to the revelations of His Spirit, and that when we receive them we will have the courage and the determination to carry them out. 21

It behooves every Latter-day Saint to seek for the light and inspiration of the Spirit of God, and after receiving that, to use all the ability that he possesses in laboring for the onward advancement of God's work. Never be found among the number that try to see how little they can do; but always be found among the number that try to see how much they can do. Have your aim high. 22

May the light and inspiration of God be our constant guide and companion. May we grow and increase in the Spirit of God and in the testimony of the Gospel, and in power and ability to accomplish the purposes of our Heavenly Father here on the earth; and may we grow in the desire to do so, is my prayer and desire. (Ibid)
This too is my prayer, that each of us, Mormon and friends of other faiths, learn to turn to our Father in Heaven for further light and knowledge. For the path has been clearly marked for our return to our heavenly home. I testify to each and every person reading this that you are loved, you are worried about, you are guided and you are protected if you will but trust that the Lord Jesus Christ lives in all His resurrected glory. Through Him and the life He lived, we learn of the Father who loves us with all the eternal capabilities a father can love.
I testify to you that if you will kneel in humble and sincere prayer, asking with unwavering faith if this be true, He will answer your prayers. You have a right to those answers, just remember, if you ask and receive, you must then act.
Are you thinking of making some resolutions for the new year, and looking for some reasons to give you an incentive to get going? Here are a few good ones.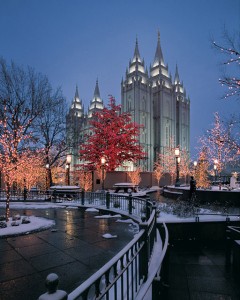 First, perfection is a commandment. The Lord in Matthew 5:48 tells us: "Be ye therefore perfect, even as your Father which is in heaven is perfect." Not to scare anyone, but if the Lord Himself has told us that we need to strive for perfection, that's something we need to do.
Second, we all have things we'd like to accomplish in our lives. Our goals may range from developing qualities in ourselves to visiting an exotic location. Whatever we hope to achieve, we usually do better at that when we have a conscious goal to do so.
Third, our Heavenly Father has given us each gifts and talents to use throughout our lives. We each have a divine and infinite potential. Elder M. Russell Ballard, a modern-day apostle and a member of the Quorum of the Twelve Apostles of The Church of Jesus Christ of Latter-day Saints (commonly known as the "Mormons"), has said:
I am so thoroughly convinced that if we don't set goals in our life and learn how to master the technique of living to reach our goals, we can reach a ripe old age and look back on our life only to see that we reached but a small part of our full potential. When one learns to master the principle of setting a goal, he will then be able to make a great difference in the results he attains in this life. (M. Russell Ballard, "Do Things That Make a Difference," Ensign, Jun 1983, 68)
Fourth, our Heavenly Father has given us each our free agency, or our ability to choose for ourselves and to act on those choices. We have great power within us to do much good in the world. The Lord through the prophet Joseph Smith tells us in the Doctrine and Covenants:
Verily I say, men should be anxiously engaged in a good cause, and do many things of their own free will, and bring to pass much righteousness;

For the power is in them, wherein they are agents unto themselves. And inasmuch as men do good they shall in nowise lose their reward.

But he that doeth not anything until he is commanded, and receiveth a commandment with doubtful heart, and keepeth it with slothfulness, the same is damned." (D&C 58:27–29.)
To "damn" something can mean to stop its progress. And when we refuse to use our agency to do things of our own free will, we literally stop our own progress.
If all of us do what we can to improve our own characters this year, as well as improve the world around us, together we can make a great difference.
The beginning of a new year is intuitively a time that many people choose to evaluate their lives and set goals for themselves. Sometimes temporal concerns such as losing weight or making more money are at the tops of our lists. But perhaps we should be more concerned with developing Christlike qualities: being more patient, or renewing our commitments to be honest in our dealings with others. Or perhaps we want to study the scriptures more regularly, or spend more time in service to others.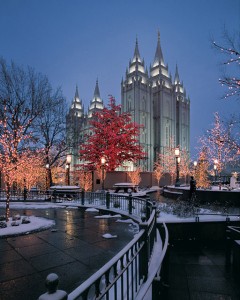 Whatever we feel we need to work on in our lives, here are some ideas for setting and achieving those goals.
1. Pray for help. Our Father in Heaven knows us and loves us perfectly, and He can show us those things that we need to work on most. The Lord tells us in the Book of Mormon:
And if men come unto me I will show unto them their weakness. I give unto men weakness that they may be humble; and my grace is sufficient for all men that humble themselves before me; for if they humble themselves before me, and have faith in me, then will I make weak things become strong unto them. (Ether 12:27)
It's not always fun or even easy to see our own weaknesses, but we can trust in the Lord's judgment and in His promptings as we strive to improve.
2. Write goals down. This accomplishes a couple of things. For one, it helps us clarify what our goals are, at least enough to put them into written language. And the acts of writing them down and reviewing them regularly help us make and keep commitments to achieve these goals. Elder M. Russell Ballard, a modern-day apostle and a member of the Quorum of the Twelve Apostles of The Church of Jesus Christ of Latter-day Saints (commonly known as "the Mormons"), says:
I would suggest that if you want to have success in the goal setting process, you learn to write your goals down. I would even put them in a very prominent place—on your mirror or on the refrigerator door. Keep your goals in front of you, in writing. Then, with the desire to reach your written goals, you will be more willing to pay the price that successful goal-oriented people must pay. (M. Russell Ballard, "Do Things That Make a Difference," Ensign, Jun 1983, 68)
3. Commit to your goals; pay the price to make them happen. All the planning and goal-setting in the world won't help if we don't then put our plans into action. Making excuses for not succeeding doesn't count. Excuses may help us feel justified in not taking action, but they do nothing for bringing us to where we want to be in our lives. Benjamin N. Woodson says:
For my part, I have concluded that the quality which sets one man apart from another—the factor which lifts one man to every achievement to which he reasonably aspires while the other is caught in the slough of mediocrity for all the years of his life—is not talent, nor formal education, nor luck, nor intellectual brilliance, but is rather the successful man's greater capacity for self-discipline. (quoted in M. Russell Ballard, "Do Things That Make a Difference," Ensign, Jun 1983, 68)
With these guidelines in mind, here's wishing all of us a successful new year!
One of the things Mormons are known for is their interest in long-term food storage. The reasons for this are many. In fact, the reasons extend back hundreds if not thousands of years.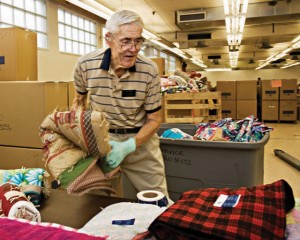 Most people have heard of Joseph in the Bible. Remember the one sold by his brothers to be a slave (this was after they nearly killed him, but decided against it). Eventually Joseph served under the Pharaoh himself, overseeing a broad food storage program. The food storage program evolved because the Lord had revealed to Pharaoh in dreams (which Joseph interpreted) that a famine was coming.
Eventually the famine came and because of Joseph's righteousness and wise provident advice, the Pharaoh was able to sustain not only his family and household, not only his kingdom, but was also able to sell food to neighboring countries and tribes. This prospered Pharaoh greatly and saved thousands if not millions of lives.
The Lord is a loving God. He does not want His children on this earth to suffer. It is why He gives the commandments He does. Those commandments exist in the scriptures and it would be greatly advisable to study His words. This way you, like Joseph, can wisely live after provident ways, being thereby sustained when difficult times come.
The Lord has spoken throughout the ages through his prophets of the difficult times that will come prior to the coming of Jesus Christ. This Second Coming (as it is called) will occur after many acts of wickedness have been perpetrated by the wicked against the innocent. Additionally, acts of nature will convene, resulting in great famines and turbulent weather patterns. Society, we read, will be most unstable – not because of God, but because mankind will have turned a deaf ear to Christ's teachings.
It is not difficult to imagine such a day, for in many ways it might seem that these times are already upon us. So if we want to be well-taken care of during difficult times like those experienced in Pharaoh's time, it seems we should be storing up grains and other long-term food storage, medicinal, toiletry, and other items. Both early prophets and modern day prophets have proclaimed such things as wise and prudent courses to follow.
Our modern-day prophet, President Gordon B. Hinckley has stated:
"…life is fragile, peace is fragile, civilization itself is fragile. The economy is particularly vulnerable. We have been counseled again and again concerning self-reliance, concerning debt, concerning thrift. So many of our people are heavily in debt for things that are not entirely necessary.

"When I was a young man, my father counseled me to build a modest home, sufficient for the needs of my family, and make it beautiful and attractive and pleasant and secure. He counseled me to pay off the mortgage as quickly as I could so that, come what may, there would be a roof over the heads of my wife and children. I was reared on that kind of doctrine. I urge you as members of this Church to get free of debt where possible and to have a little laid aside against a rainy day….

"I cannot forget the great lesson of Pharaoh's dream of the fat and lean kine and of the full and withered stalks of corn.

"I cannot dismiss from my mind the grim warnings of the Lord as set forth in the 24th chapter of Matthew…." ("The Times in Which We Live," President Gordon B. Hinckley, Ensign, Nov 2001, 72).
Just what is contained in Matthew 24? Click on Matthew 24 and read of the great calamities that Christ foretold that would happen before His Second Coming. Read and then determine through prayer and pondering what you can do to get your family safely ready for what is to come. Long-term food storage is an important part of that readiness.
For more information that is free and useful, visit the Provident Living website.
"Jesus taketh with him Peter, and James, and John, and leadeth them up into an high mountain apart by themselves: and he was transfigured before them."
"And his raiment became shining, exceeding white as snow; so as no fuller on earth can white them. And there appeared unto them Elias with Moses: and they were talking with Jesus" (Mark 9: 2-7).
Matthew's account of Christ's transfiguration adds these details:
"And [He] was transfigured before them: and his face did shine as the sun, and his raiment was white as the light. . . . behold, a bright cloud overshadowed them: and behold a voice out of the cloud, which said, This is my beloved Son, in whom I am well pleased; hear ye him" (Matt. 17: 2, 5).
At the mount of transfiguration, the exceeding shine of the Lord's white light gives us a glimpse of the radiant glory in store for all who follow Jesus.
"Then spake Jesus again unto them, saying, I am the light of the world: he that followeth me shall not walk in darkness, but shall have the light of life" (John 8: 12).
In a vision of "new Jerusalem," John the Revelator foresees this shining city upon "a new heaven and a new earth" (Rev. 21: 1, 2). So powerful and bright is the Lord's exalted light, that the "new Jerusalem" is illuminated by the light of the Son:
"And the city had no need of the sun, neither of the moon, to shine in it: for the glory of God did lighten it, and the Lamb is the light thereof. And the nations of them which are saved shall walk in the light of it" (Rev. 21: 23, 24).
The very earth upon which we stand will be glorified by the light of the Lord, and will become the Celestial Heaven–the highest of three Heavens. Seven centuries before John the Revelator recorded his vision of the earth's transformation to Celestial glory–becoming like a "sea of glass"–Isaiah saw the same future vision of "new earth."
"The sun shall be no more thy light by day; neither for brightness shall the moon give light unto thee: but the LORD shall be unto thee an everlasting light" (Isaiah 60: 19-20).
It is fascinating to note that earthly opposition will cease in the Celestial heaven, to include the ending of evening as we know it–"for there shall be no night there" (Rev. 21: 25). Thus, the following words of Jesus will ultimately and literally be fulfilled in terms of spiritual and visual light:
"I am come a light into the world, that whosoever believeth on me should not abide in darkness" (John 12: 46).
Every scriptural Testament contains the theme of the Lord's light. From the Old Testament comes this delightful imagery:
"For thou wilt light my candle: the LORD my God will enlighten my darkness" (Psalm 18: 28).
In the New Testament, the Apostle Paul gives this description of Divine light:
"For God, who commanded the light to shine out of darkness, hath shined in our hearts, to give the light of the knowledge of the glory of God in the face of Jesus Christ" (2 Cor. 4: 6).
Contained in Another Testament of Christ, revelations recorded by prophets of ancient American offer this account of the Christ's clarifying influence:
"For behold, my brethren, it is given unto you to judge, that ye may know good from evil; and the way to judge is as plain, that ye may know with a perfect knowledge, as the daylight is from the dark night. . . . And now, my brethren, seeing that ye know the light by which ye may judge, which light is the light of Christ, . . . I beseech of you, brethren, that ye should search diligently in the light of Christ that ye may know good from evil" (Moroni 7: 15-19).
The guiding influence of the Lord's light is the theme of beloved Mormon Hymns:
Hymn #89, The Lord is My Light

"The Lord is my light; then why should I fear?
By day and by night his presence is near."

"The Lord is my light, His is my joy and my song.
By day and by night he leads, he leads me along."

Hymn #97, Lead Kindly Light

"Lead kindly light amid the encircling gloom; Lead thou me on!
The night is dark and I am far from home; Lead thou me on!"

"Keep thou my feet; I do not ask to see
The distant scene–one step enough for me."

Hymn #305, The Light Divine

"The light of god rests on the face Of brook and flower and tree
And kindles in our happy hearts The hope of things to be."

"The light of faith abides within The heart of every child;
Like buds that wait for blossoming, It grows with radiance mild."
The Remedy for Apostasy: The Lord's Unifying Light
In the garden of Gethsemane, the Lord of Light prayed to the Father "that they may be one as we are one." Today, with diverse doctrines taught by a myriad of differing denominations, the Lord's prayer for unity is far from being realized. But this is precisely why Christ has given light to the world: the Lord's light shines bright as a guiding beacon to "the way, the truth, and the life"–the way to unity and oneness! As we all "fall short," His light leads us back . . . to Him.
"Jesus said unto them, Yet a little while is the light with you. Walk while ye have the light, lest darkness come upon you: for he that walketh in darkness knoweth not whither he goeth. While ye have light, believe in the light, that ye may be the children of light" (John 12: 35, 36).
So that seekers of truth might be supported in their quest, the Lord of Light has revealed His truths through prophets from the beginning. However, because of the world's disbelief and refusal to receive the perfecting message of repentance and obedience, the prophets of God have been killed time after time.
During His mortal ministry, the Savior established His Church so that the "saints" would not be "tossed to and fro, and carried about with every wind of doctrine" (Eph. 4: 11-14). Sadly, the prophets and apostles that Christ called to lead His Church were murdered, just as the prophets of old.
After the crucifixion of Christ and the death of the Lord's chosen leaders, there was a gradual apostasy from the Lord's light–a "falling away" from Christ's pure doctrines. With no living prophets to preach and protect the Lord's truth, the inhabitants of the earth were eventually tossed to and fro by the doctrines of men.
Happily, The light of Christ that has shined in all the world from the beginning, continues to shine brightly today. After centuries of apostasy as prophesied by Paul (2 Thes. 2: 1-3) and Isaiah (Isa. 24: 5), the Lord of Light has begun the "times of refreshing"–Christ has commenced His "restitution of all things" (Acts 3: 19-21).
This is the "marvelous" message of the Church of Jesus Christ of Latter-day Saints (the "Mormon" Church): that the Lord of Light has personally appeared in these latter days, and has again called prophets to proclaim His unifying gospel of love and light.
Be sober, be vigilant; because your adversary the devil, as a roaring lion, walketh about, seeking whom he may devour…(1 Peter 5:8)
It is time for everybody to awake and be aware that there is an Adversary in our midst. The Adversary I am speaking about has many names and has many layers. He has been known as Lucifer, Satan, and the devil. He has always been around in some form, generations among generations. But, for the people born in our lifetimes, his methods of leading us off the path of spiritual enlightenment towards our Heavenly Father are now more sophisticated and also simplistic. He is ruthless, cunning, diabolical, methodical, and his power comes from preying upon the weaknesses in our mortality. His desire is to erase our free agency for his own purposes. It is important for everyone on earth, no matter what choice of faith they pursue, to be warned that he is out there and is always at work against you, regardless if you believe in him or not.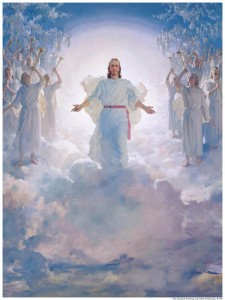 As members of The Church of Jesus Christ of Latter-day Saints (often referred to as Mormons) we learn much about the Pre-Mortal realm and what happened during the War in Heaven. Lucifer, now known as Satan, rebelled against Heavenly Father and was cast out of Heaven, along with one-third of our spirit brothers and spirit sisters who sided with him. Mormons are counseled in the ways to live righteously so that we are better able to defend against his influences, and see clearly the methods that he would use against us. He is the master of deception. Because he knows and remembers us from the Spirit World, he knows certain things about us that he uses to his advantage. Those things may be what we are not aware of ourselves. But as Mormons, we have the opportunity to have the comfort and protection of the Holy Ghost as a constant companion.
Every one of every faith and even unbelievers are able and entitled to receive promptings from the Holy Ghost on occasion, but Mormons receive the Gift of the Holy Ghost as a constant companion upon Baptism into the church. So long as we do our part and are obedient to the teachings of the gospel and counsel of church leaders, the Holy Ghost resides within us. When the Holy Ghost is within us, Satan has no power over us. Having the Holy Ghost as a constant companion allows us to increase our perception of the many ways in which Satan works, and also increases our resistances to his influences. However, we are just as susceptible to his temptations if we choose to ignore the promptings of the Holy Ghost. But the knowledge of the protection that is offered us and the truthfulness of the gospel makes it more difficult for Satan to destroy our agency.
In these times, it seems that Satan is especially fond of using the coercion tactics of popular opinion to increase his foothold on humanity. He leads more and more people away from Heavenly Father through justification and rationalization of sinful behavior.
Elder James E. Faust, of the Quorum of the Twelve Apostles, wrote,
Who has not heard and felt the enticings of the devil? His voice often sounds so reasonable and his message so easy to justify. It is an enticing, intriguing voice with dulcet tones. It is neither hard nor discordant. No one would listen to Satan's voice if it sounded harsh or mean. If the devil's voice were unpleasant, it would not entice people to listen to it.
He further explains that,
Some of Satan's most appealing lines are "Everyone does it"; "If it doesn't hurt anybody else, it's all right"; "If you feel all right about it, it's OK"; or "It's the 'in' thing to do." These subtle entreaties make Satan the great imitator, the master deceiver, the arch counterfeiter, and the great forger. (James E. Faust, "'The Great Imitator'," Ensign, Nov 1987, 33)
Satan is the ultimate Adversary. He lives, just as our Lord, and Redeemer, Jesus Christ, lives. Only, his goal is to make us as miserable as he is. It is important for everyone to be aware and warned that he and his fellow compatriots exist and are at work against us. To have this knowledge will assist in greater control over what the Adversary would throw at you. Those experiences that he would contribute in are those that are unnecessary in our lives and could be avoided altogether. Satan wants us to turn away from Heavenly Father like he did. He wants us for his own purposes. He will employ every method available to him to achieve his misdeeds. But we need not fear him. We can receive power, comfort, and protection from the eternal gospel of Jesus Christ.
Here is a great quote as we contemplate the New Year upon us and any possible resolutions we might make.
"We seldom perform to the level of our knowledge. This brings me to the subject of resolutions—resolutions to conform our lives more closely to what we already know about the gospel. While many of us take seriously our New Year's resolutions, some of us may not have made any because of our prior problems in keeping them. We must not overlook the power that making good resolutions can have in helping make our lives happier and more successful—regardless of our past performance" (Elder Joe J. Christensen, "Resolutions," Ensign, Dec 1994, 62).
I love that, don't you? "We must not overlook the power that making good resolutions can have in helping make our lives happier and more successful – regardless of our past performance." Wow. What a powerful thought.
Isn't it just like the adversary Satan [see footnote (1)] would want – to have us give up in discouragement? What a potent tool to keep good folks from striving to do more. Discouragement works to keep many from attaining self-improvement.
The whole point of a Christ-like life is to make ourselves more whole, more complete, more like Him. We don't have to do it overnight. Life is a process, so is growth. As you contemplate possible goals or resolutions for this new year, remember that a flower doesn't bud overnight from a slender stalk.
Here are several suggestions for New Year's resolutions or areas for growth during 2008 – at least for the category of "Preparedness" that this blog discusses.
Preparedness can encompass "emergency preparedness", "job preparedness", etc. so take your pick from the following suggestions:
Completing your family's 72-hour kits
Finding/reading excellent preparedness books
Aiding your community to become more prepared (i.e. establish a CERT group)
Educational preparedness (take a class to build your work knowledge or resume)
Learn a living-off-the-land skill (i.e. growing medicinal herbs, foraging for food, chopping wood)
Increase your physical preparedness (i.e. eat healthier foods, exercise)
Incorporate new food storage recipes (set a goal for a certain amount by the end of the year)
Increase your spiritual preparedness (i.e. read your scriptures a certain amount during the new year)
Add medical supplies to your year's supply by the end of the next year
Add pet supplies to your year's supply
Add toiletry supplies to your year's supply
Complete either your three months or one year's food supply.
These are simple suggestions. You might have better ones. Don't plan on accomplishing them all; just pick one. Decide on a goal that is simple, straightforward and easily achievable – so that by the end of next year you will have done it! You will have actually accomplished one of your New Year's resolutions! And in a life-saving category. The important thing is that you do it.
Your family will count you most blessed for it.
~~~~
(1.) "Satan lives. We must realize that he lives just as certainly as God lives and as we live. Those who teach that there is no devil are either ignorant of the facts or are deceivers" (ElRay L. Christiansen, "Power Over Satan," Ensign, Nov. 1974, 22).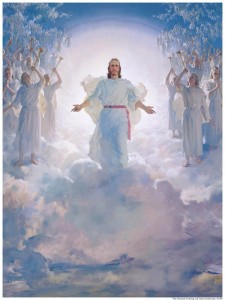 Many of us are setting resolutions for the new year. Some call the resolutions goals; others call them themes. Regardless of the title, aspiring to better ways of living – and setting goals to achieve them – is a good thing.
For example, some people want to get healthy. For others, they want to build their bank account. For others still, they want to travel to some new and exotic place.
Just remember as you are setting your New Year's resolutions, that there are "good" things in life, there are "better" things, and there are "best" things in life (a good discourse on this subject is Elder Dallin H. Oaks' talk, "Good, Better, Best").
As you set your personal goals for the new year, one goal that would be important to add is that of personal preparedness. Run some of these scenarios through your head:
ice storm
wind storm
tsunami
earthquake
job loss
community or civil unrest
drought
death of wage earner
None are pleasant, but they are happening or have happened in recent times to people — and not just a small number of people, but to thousands and thousands. The likelihood of one of these events happening in a community near you seems statistically sure. If not those above, then perhaps these:
fire
strike
flood
etc.
Such unpleasant things! Yet even in unpleasant things, good things can surface. One woman on television, while being interviewed after evacuation from Hurricane Katrina, said that for the first time in her life she'd turned to God. Another said that they'd begun seeing goodness in people due to the amount of service they'd received. So out of tragedy some good can arise.
So let's discuss preparedness. For I think most of us at least imagine we'd like to be prepared for the bad things that might happen.
Walk over to your pantry. I'm serious. Do it now. Take a moment and look in your pantry. How many days could you go if the stores suddenly shut down around you? Three days? Two weeks? A month?
And a good question to ask is: how does one know how much food/supplies are enough for an unknown and unpredicted emergency?
The government in the United States used to recommend having a 72-hour kit. Now they've changed that to recommending a 2 WEEK kit. Anything is better than nothing. And many things stored are certainly better than a few things.
It's actually easier than you might think to get started in putting up a few things for an emergency. The Mormon church (officially known as the Church of Jesus Christ of Latter-day Saints) has a website called Provident Living.org. Why not visit the site and learn a little bit of what you can do to prepare your family. That way if one of the unpleasant events mentioned above comes your way, you'll be able to fare better and feel at greater peace – both before, during, and after!