Our dear President Hinckley, prophet for The Church of Jesus Christ of Latter-day Saints (sometimes called the Mormon church), passed away Sunday, January 27, 2008.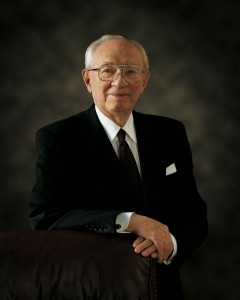 President Hinckley's passing was marked by many people around the world. For example, youth in certain portions of the United States went to their high schools the next day in their Sunday best – simply as a tribute to a prophet who was known for loving the young.
President Hinckley's love for the youth was felt and seen in many ways. One of those manifestations was his well-known talk given to the youth now nicknamed "The 6 Bs."
Another manifestation of that love was a prayer he offered for the youth during that same meeting. The words to that prayer are:
"O God, our Eternal Father, as Thy servant I bow before Thee in prayer in behalf of these young people scattered over the earth who are gathered tonight in assemblies everywhere. Please smile with favor upon them. Please listen to them as they lift their voices in prayer unto Thee. Please lead them gently by the hand in the direction they should follow.

"Please help them to walk in paths of truth and righteousness and keep them from the evils of the world. Bless them that they shall be happy at times and serious at times, that they may enjoy life and drink of its fulness. Bless them that they may walk acceptably before Thee as Thy cherished sons and daughters. Each is Thy child with the capacity to do great and noble things.

"Keep them on the high road that leads to achievement. Save them from the mistakes that could destroy them. If they have erred, forgive their trespassea and lead them back to ways of peace and progress. For these blessings I humbly pray with gratitude for them and invoke Thy blessings upon them with love and affection, in the name of Him who carries the burdens of our sins, even the Lord Jesus Christ, amen."
As a tribute to the prophet, a young Mormon vocalist has put President Hinckley's words to song. This was as per the request by her Stake Presidency to do so. To listen to "A Prophet's Prayer," visit this link.
But as you can tell, many have been touched by his words. I think my life has been moved the most by his dear kindness to all he traveled with and saw. No matter how fatigued our dear prophet was, traveling around the world and teaching about Jesus Christ, he did not get cranky.
His topics that he has addressed have ranged from warning against the dangers of gambling to testifying of the prophet of the restoration, Joseph Smith. President Hinckley has spoken on preparing our lives in such ways that we can call on the Lord for guidance and protection. And his many discourses on the beauty and power of forgiveness are legendary.
I pray that as I go through my life, I can remember the impact of President Hinckley not only in my life, but in the many lives of others. As President Hinckley said, may we all be led to ways of peace and progress.
In my previous blog, "Antemortal Appearances of Jesus Christ," I shared some exciting Biblical accounts of those who saw the risen Lord after His crucifixion. In this blog, I desire to share additional witnesses, both immediately after the Lord's resurrection and in modern-day. For the exciting news is that Jesus Christ lives and leads His church today!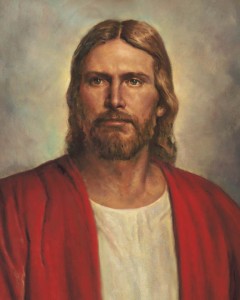 One of my favorite stories from the New Testament is the following. Mary had just seen the risen Lord. I can only imagine the joy that flooded her heart as she looked upon His face and presence. In fact, she apparently went to embrace Him in that same joy, for He had to caution her not to – he had not yet gone to meet the Father (see John 20:16-17).
Instead, Mary did as Jesus bid. She ran to tell the disciples. And in the evening of that same day, when they were assembled in private "for fear of the Jews", the following occurred (just imagine the emotions that flooded their souls!):
"Then the same day ate evening, being the first day of the week, when the doors were shut where the disciples were assembled for fear of the Jews, came Jesus and stood in the midst, and saith unto them, Peace be unto you.

"And when he had so said, he shewed unto them his hands and his side. Then were the disciples glad, when they saw the Lord" (John 20:19-20).
Later on Thomas, who had been absent earlier, was given the opportunity for an amazing experience:
"And after eight days again his disciples were within, and Thomas with them: then came Jesus, the doors being shut, and stood in the midst…

"Then saith he to Thomas, Reach hither thy finger, and behold my hands; and reach hither thy hand, and thrust it into my side [this was where the spear had pierced Him while on the cross]; and be not faithless, but be believing…" (John 20:26-27).
Thomas had the opportunity to actually thrust his hand into the mark left by the spear and to touch the Savior's hands! Can you imagine looking into the face of the Savior, who had gone through so much to pay for humanity's sins?
But the ancient witnesses weren't the only ones to testify that Jesus lives. There have been modern witnesses called to testify to our weary world that Jesus actually is real. He really does live!
Joseph Smith recorded:
"We saw the Lord standing upon the breastwork of the pulpit, before us; and under his feet was a paved work of pure gold, in color like amber.

"His eyes were as a flame of fire; the hair of his head was white like the pure snow; his countenance shone above the brightness of the sun; and his voice was as the sound of the rushing of great waters, even the voice of Jehovah, saying:

"I am the first and the last; I am he who liveth, I am he who was slain; I am your advocate with the Father" (D&C 110:1-4).
When my days get difficult, as they sometimes do, all I need to think about are the many witnesses, both ancient and modern, of Jesus Christ. He is live. He is present in our lives. And one day, we too will have the opportunity to worship at His feet and thank Him for what He has done.
To learn more of Christ's church and about Him, visit Mormon.org.
As Mormons (or members of The Church of Jesus Christ of Latter-day Saints) we believe in Jesus Christ. We worship Him and are grateful for His grace toward us. We know that through no other means can we return to the Father save by Jesus Christ.
In the Book of Mormon, a companion volume to the Bible of scripture, we read of Jesus Christ:
"Yes, every knee shall bow, and every tongue confess before him. Yea, even at the last day, when all men shall stand to be judged of him, then shall they confess that he is God;…" (Mosiah 27:31)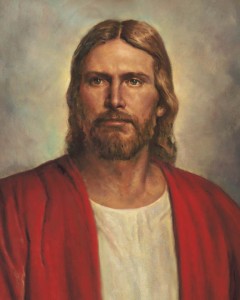 Certain people at the time of Christ's crucifixion may have thought they'd ridded the world of the Lamb of God. But they didn't. On the third day after the crucifixion, Christ rose! He rose from the tomb, a resurrected being! Oh, what glorious thought.
Here is an easy to understand definition of resurrection, as stated at the LDS.org site:
"Because of the Fall of Adam and Eve, we are subject to physical death, which is the separation of the spirit from the body. Through the Atonement of Jesus Christ, all people will be resurrected and saved from physical death (see 1 Corinthians 15:22). Resurrection is the reuniting of the spirit with the body in an immortal state, no longer subject to disease or death" ("Resurrection," LDS.org).
There were many after Jesus Christ's resurrection who testified they had seen the risen Lord. One of Jesus Christ's antemortal appearances was recorded in Matthew 28:1-9. For sake of brevity, I will just share a few verses:
"And the angel answered and said….Fear ye not: for I know that ye seek Jesus, which was crucified.

"He is not here: for he is risen, as he said….

"And go quickly, and tell his disciples…"

"And they departed quickly…and did run to bring his disciples word.

"And as they went to tell his disciples, behold, Jesus met them, saying, All hail. And they came and held him by the feet, and worshipped him" (Matthew 28:1-9).
They held him by his feet! This is a resurrected Christ, complete with a resurrected body – never to feel death again.
Another witness was Mary.
"And when she had thus said, she turned herself back, and saw Jesus standing, and knew not that it was Jesus…."
As soon as Mary discovered it was the Lord, she went to embrace him. But here is what Christ said:
"Jesus saith unto her, Touch me not; for I am not yet ascended to my Father: but go to my brethren…" (for the complete account, see John 20:1-18).
There were many more antemortal appearances of Jesus Christ, where individuals saw and (eventually) were able to touch the Savior. They all witnessed of the miracle of the Resurrection. This link will take you to a listing of many of Jesus' postmortal / antemortal appearances. Simply click on the references at that linked page to read the many witnesses of the resurrected Christ!
Jesus Christ broke the bands of death; he vanquished sin in our behalf. And He still lives! Joseph Smith, the prophet of the restoration of Christ's gospel and church, bore witness to this himself. This is why as Mormons we worship the risen Lord.
To learn more, visit the Mormon.org website.
Some say that children should come with little instruction manuals tied to their wrist when their born. Something that would tell parents how to raise a particular child so that they become a happy, productive, well-adjusted adult in the end. Without costing us our sanity in the mean time.
Not me. I firmly believe that children should be born with a warning label tattooed on their cute little bums. Something like:
"Caution. They may look cute now, but watch out when they learn to use words like 'no' and 'why'. Eventually they'll embarrass you in public, keep you up all night, take advantage of your generosity, and take control of the car keys, the phone and the fridge. One moment they'll break your heart, then the next it will burst with joy…"
I could go on and on, but that wouldn't all fit would it? I guess "Caution" would be enough.
Parenthood is a tough road, but it's also one of the greatest blessings Heavenly Father can give us. So what do we do with these little bundles of joy He's placed in our care? What is our role as disciples of Christ when it comes to our children?
Fortunately, discipleship comes with a special knowledge: we are not left alone to raise our children. We have an instruction manual, a mentor, and a surveillance system all at our disposal if we choose to take advantage of them.
Read the instruction manual.
When we absorb ourselves daily in the scriptures, the words of God have a chance to imprint themselves on our hearts. His will, His instructions, can lead us through the most difficult paths. Even parenthood.
Sometimes the answers are directly given, like:
"Train up a child in the way he should go: and when he is old, he will not depart from it." Proverbs 22:6
– and –
"And ye will not suffer your children that they go hungry, or naked; neither will ye suffer that they transgress the laws of God, and fight and quarrel one with another, and serve the devil, who is the master of sin, or who is the devil spirit which hath been spoken of by our fathers, he being an enemy to all righteousness.
But ye will teach them to walk in the ways of truth and soberness; ye will teach them to love one another, and to serve one another." Mosiah 4:14-15
Sometimes their a little more general, like:
"Remembering without ceasing your work of faith, and labour of love, and patience of hope in our Lord Jesus Christ, in the sight of God and our Father;" 1 Thessalonians 1:3
– and –
"Wherefore, my beloved brethren, let every man be swift to hear, slow to speak, slow to wrath:" James 1:19
They may not specifically say, "Jimmy would do better in karate than basketball" but, they will tell you how to decide.
"But, behold, I say unto you, that you must study it out in your mind; then you must cask me if it be right, and if it is right I will cause that your bosom shall burn within you; therefore, you shall feel that it is right.
But if it be not right you shall have no such feelings, but you shall have a stupor of thought that shall cause you to forget the thing which is wrong…" Doctrine and Covenants 9:8-9
Learn from the example of the teacher.
As with everything, Jesus Christ is our perfect example. The more we become like Him and try to emulate His actions they closer we become to Him and to those we love.
"Verily, verily, I say unto you, this is my gospel; and ye know the things that ye must do in my church; for the works which ye have seen me do that shall ye also do; for that which ye have seen me do even that shall ye do." 3 Nephi 27:21
Listen to the Spirit for daily updates.
When we are trying our best: learning from God's words, learning from Christ's life and love, praying and developing our relationship with our eternal Heavenly Father and our Elder Brother, Jesus Christ, we open our hearts to the presence of the Holy Ghost. We are entitled to his guidance and inspiration from day to day and moment to moment. He comforts, He teaches, He warns, He inspires, He leads us (and those we love) to Christ.
"Whoso receiveth you, there I will be also, for I will go before your face. I will be on your right hand and on your left, and my Spirit shall be in your hearts, and mine angels round about you, to bear you up." Doctrine and Covenants 84:88
Does that mean we'll have perfect children? Not at all. Just like us, they have agency. Just like us they can choose Christ or not. Even when they are trying their best, they'll still make mistakes. Just like us.
Apostles serve as very special witnesses for Jesus Christ. As such, they have responsibility to carry the gospel of Christ to every nation. They also, just like the ancient Apostles, are responsible for clarifying gospel truths whenever misunderstandings arise.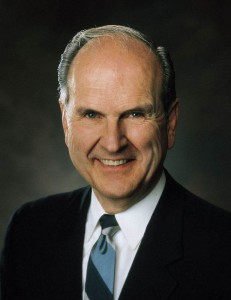 Elder Russell M. Nelson is an Apostle for The Church of Jesus Christ of Latter-day Saints (sometimes nicknamed the Mormon church). Elder Nelson gave a talk to the church November 2007 in a special setting called General Conference. His message was titled, "Scriptural Witnesses."
The theme from Elder Nelson's talk was essentially that "the scriptures of the Restoration do not compete with the Bible; they complement the Bible." The talk serves as an aid to help people, whether inside the church or out, to understand why the Lord has given more scripture than that just contained in the Bible.
Why would it be necessary to clarify this? Perhaps people have misunderstood the difference between the Bible's purpose and the purpose of the "scriptures of the Restoration."
The Bible as a Witness
Essentially, we as Mormons believe the Bible to be the word of God, as it is translated correctly, of course. There are countless translations of the Bible and some are closer to the original text than others. As Mormons, we love the Bible. We revere its teachings. We testify of its importance. Its message is urgent, as it contains witnesses from many different prophets to God's children on the earth in the ancient area of Israel.
The Book of Mormon as a Witness
But we as Mormons believe that God loves all of His children. And just as the Lord called prophets to the Jerusalem portion of the earth, the Lord called ancient prophets in the Americas to testify of Christ to those people also. These prophets' words make up the book of scripture called The Book of Mormon. We as Mormons testify of that book's authenticity and urgent message; it stands as a companion to the Bible testifying that Christ really IS the Lord and Savior of the earth – and that salvation can only come through Him and of Him. People may be able to ignore one witness, but add another witness and the testimony becomes that much more insistent. Together the Bible and the Book of Mormon make it pretty hard to deny that the Savior is real, with so many ancient prophets testifying of Christ's reality.
Additional Witnesses
We also as Mormons believe that God is all-powerful and capable of calling prophets now, just as He did then. And He has done so, beginning first with Joseph Smith and proceeding through fourteen other prophets (President Gordon B. Hinckley was the 15th prophet for the Mormon church and passed away January 27, 2008). A sixteenth prophet will soon be called through inspiration from God.
It is precisely because of the power of witnesses for Jesus Christ that we do NOT feel the Book of Mormon competes with the Bible, nor do any of the other prophetic utterances given in these latter days. They all work together much as three hinges on a door – those hinges keep a door securely in place and allow it to swing functionally.
The Bible, the Book of Mormon, the Doctrine & Covenants, etc. all act as scriptural "hinges" to teach God's children that He is there and acts on behalf of ALL God's children. God's power is not shortened in His ability to talk with His children. He does so today through prophets as He did back then. And good thing! Can you think of any other time with as many conflicting thoughts, beliefs, and lifestyles? Surely God has an opinion and loves us enough to share. He does so through prophets. What a thing to celebrate!
Additional Reading Material:
"Elder Nelson's talk, Scriptural Witnesses."
"Mormons' Reverence for the Bible
Recently, I have pondered the second verse of the classic hymn, sung by early members of the Church of Jesus Christ of Latter-day Saints (referred to as the Mormons) as they journeyed across the plains.
Why should we mourn or think our lot is hard?
'Tis not so; all is right.
Why should we think to earn a great reward
If we now shun the fight?
Gird up your loins; fresh courage take.
Our God will never us forsake;
And soon we'll have this tale to tell—
All is well! All is well!

(Come, Come, Ye Saints, Hymns 1985)
MP3 Recording of Come, Come, Ye Saints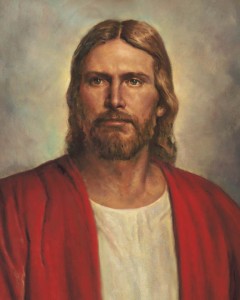 Courage is a principle of the gospel of Jesus Christ, and it is perhaps an overlooked virtue. In a modern world in which we have challenges less physically demanding than our ancestors, we have a greater need of courage. Yet we seem to have a less sure view of what true modern courage is.
We can agree that great acts of faith require courage, like crossing the United States on foot for the freedom to worship without persecution. We can also look back at the acts of early Christian martyrs and admire their courage. However, these great things are not asked of all of us, and they are perhaps less important than the little courageous ways we demonstrate our faith daily.
The refrain of another popular hymn by noted Latter-day Saint composer Evan Stephens (1854-1930) proclaims:
Fear not, courage, though the enemy deride;
We must be victorious, for the Lord is on our side.
We'll not fear the wicked nor give heed to what they say,
But the Lord, our Heav'nly Father, him alone we will obey.

(Let Us All Press On, Hymns 1985)
MP3 Recording of Let Us All Press On
Perhaps courage does not consist so much of heroic acts as it does obeying God. Of course we will improve the world, sometimes in seemingly heroic ways, as we keep the commandments of the Lord. However, seeming brave is not the goal; living as He would have us live is enough. As Elder Richard G. Scott, a member of the Quorum of the Twelve Apostles, said:
True, enduring happiness, with the accompanying strength, courage, and capacity to overcome the greatest difficulties, will come as you center your life in Jesus Christ. Obedience to His teachings provides a secure ascent in the journey of life. That takes effort. While there is no guarantee of overnight results, there is the assurance that, in the Lord's time, solutions will come, peace will prevail, and happiness will be yours.

("The Atonement Can Secure Your Peace and Happiness," October 2006)
May we each take fresh courage through obedience to God's commandments.
Me encanta el Antiguo Testamento. En la actualidad es uno de mis libros más favoritos. Pero no fue temprano en mi vida. En ese entonces pensé que era nada más que cuentas aburrido de las tribulaciones de polvo de las personas de Moisés. Página tras página de Levítico y Números de Internet utilizado para aburrirme hasta que yo no podía soportar la lectura del Antiguo Testamento más! Yo renuncié a mi esfuerzo.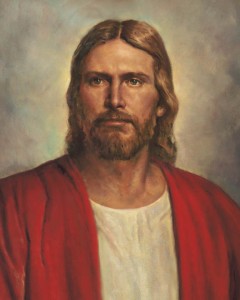 Eso fue, hasta que tomó un Mormón clase Instituto cerca de mi universidad. (Instituto es una religión para los niños de clase que ofrece la universidad.) Un semestre decidí tomar una clase de Antiguo Testamento. A día de hoy no estoy seguro por qué.
Recuerdo la primera noche también. El profesor del Instituto se apareció ante nosotros y declaró con absoluta certeza que al final del semestre se sintió nos encantaría el Antiguo Testamento tanto como lo hizo.
Me entraron ganas de reír. No es así, pensé. El Antiguo Testamento es un libro de historias de polvo y listas aburrido. Qué equivocado estaba!
A lo largo de ese semestre me enteré de que el Antiguo Testamento existe básicamente para dar testimonio de que Jesús es el Cristo Señor, sus sufrimientos, y su esperanza de que vamos a aceptar de su ofrenda por nosotros.
Imagínense mi sorpresa al leer versos como estos a continuación (a partir de un volumen de escritura me pareció mucho polvo). Me dolía el corazón de Cristo y sus sufrimientos como los leo, la escritura era tan poderoso. El Antiguo Testamento al parecer era un importante reservar con más de lo que esperaba:
"Despreciado y desechado entre los hombres, varón de dolores, experimentado en quebranto: y como que escondimos nuestras caras eran de él, fue menospreciado, y no lo estimamos.

"Ciertamente llevó él nuestras enfermedades, y sufrió nuestros dolores; y nosotros le tuvimos por azotado, por herido de Dios y abatido.

"Pero él fue herido por nuestras rebeliones, molido por nuestros pecados: el castigo de nuestra paz fue sobre él, y por su llaga fuimos nosotros curados …." (Isaías 53:3-7)
Para leer estas palabras fueron conmovedora para mí. Y continuó:
"Todos nosotros como ovejas erramos, que cada cual se apartó por su camino, y el Señor cargó sobre él la iniquidad de todos nosotros.

"Fue oprimido, y afligido, no abrió su boca: es llevado como un cordero a la masacre, y como oveja delante de sus trasquiladores, enmudeció, y no abrió su boca …" (Isaías 53:3 -7).
Voy a parar aquí. Pero hay más en este capítulo que describe los sufrimientos que Jesucristo pasó por … para nosotros! Es una pena leer el capítulo. Y yo había leído que una vez, me di cuenta de que el Antiguo Testamento no es un lugar seco viejo libro polvoriento que nada tenía para mí.
Por el contrario, el Antiguo Testamento, me ha llevado a una comprensión más profunda y más clara de mi Señor y Salvador Jesús Cristo, y especialmente a la comprensión de los sufrimientos de Jesucristo pasó para mí.
[Para leer el Antiguo libre en línea, haga clic Testamento en el enlace del Antiguo Testamento. Para acceder a materiales de estudio gratuito en línea, haga clic en el antiguo seminario de enlace estudio Testamento y el Antiguo Testamento instituto de estudio de enlace A o B.]
Debt. Ugh. What an ugly word.
Just roll that word around on your tongue. Not only is it an ugly word, its impact in a person's life is heavy and unpleasant.
Why is it that getting into debt feels so much easier to get into than to get out of? And yet in some ways that is an illusion. Debt can be a simple thing to remove from our lives.
Here are a few suggestions:
1. Make "debt" hard.

I knew a friend who froze her credit cards in a brick of ice. She kept the cards in her freezer. This way, if she really needed them (i.e. to rent a car on a trip), she could let the ice melt. But keeping them frozen prevented too-easy use from occurring.
Personally, I've not tried this. I'm not sure I could even recommend it, since I'm not sure how freezing might impact the security strip on the back of the card. But her point was well-taken. In other words, make getting INTO debt harder than getting out of it. I'm sure there are many creative suggestions for this! If you have one, I'd love to hear it.
2. Make "freedom" a goal.

Getting out of debt can be simple – if you love freedom. If you love freedom enough, you will live for that moment when you can tear into pieces the final credit card statement! Keep that moment ever most in your mind as you make your credit card payments each month. Just close your eyes and literally imagine that moment. If you imagine it clearly and distinctly enough, it will help your mind get you to that destination – freedom from financial bondage!
Along these lines, double your credit card payments. Did you know that this will more than cut in half the time to freedom (as long as you don't use that credit card again).
3. Make "change" from the cracks.

A fun new trend is taking over. There are clubs of friends who support each other in one-month-of-no-spending. Oh, of course they pay their bills. But they swear off of spending a single penny (that is not earmarked for bills) for one month. The more the merrier, it is said. And doing this in teams helps you control those urges to otherwise spend. Do this often enough during the year (say, every other month) and you will find so much extra "loose change" that paying down that debt may even triple in speed!
Summary.
In summary, listen to these words spoken by Joseph Smith, the Lord's prophet of the restoration of the gospel of Jesus Christ – and the founder of the Mormon church (officially called The Church of Jesus Christ of Latter-day Saints). The Lord says:
"Wherefore the voice of the Lord is unto the ends of the earth, that all that will hear may hear:

"Prepare ye, prepare ye for that which is to come, for the Lord is nigh…

"Wherefore, I the Lord, knowing the calamity which should come upon the inhabitants of the earth, called upon my servant Joseph Smith, Jun., and spake unto him from heaven, and gave him caommandments" (D&C 1:11, 17).
How amazing that the Lord would love us enough to once again use prophets to guide, teach and instruct us? The world is crazy. The financial institutions are reeling currently from the housing crisis, etc. But for those who heed the words of the prophets to get out of debt and to store up for a "rainy day," those are the ones who will be prepared for that which is to come preceding the Second Coming of the Lord!
[To learn more about living in provident ways, with easy tips, visit the Provident Living website, sponsored for free by the Mormon church.]
Yo pensaba que no podía cultivar nada. De hecho, la única planta que se mantuvo con vida para mí fue un helecho. Yo recibí ese helecho de un grupo de niños de corta edad el año que hice acciones teatro de verano en Jackson Hole, Wyoming. Me dieron el helecho como un regalo de despedida de la primaria (niños de una organización en la Iglesia de Jesucristo de los Santos de los Últimos Días – los "mormones").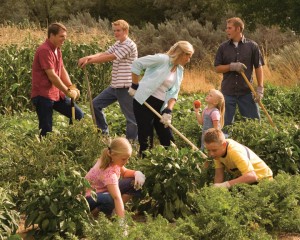 Ese helecho me acompañó en todas partes. No es broma. Incluso me lo llevé conmigo a volver a la universidad. Yo no podría matar a la cosa! (No es que lo intenté, pero ya sabes, todo lo demás que había crecido murió.)
Incluso cuando me casé y me mudé a mi pequeño apartamento de recién casados, que helecho vino conmigo. Mi marido aprendió a llamar a Fred. Eso es correcto. Había llamado mi planta – porque usted ve, en ese momento se sentía como si fuera una parte de mí.
¿Por qué? Sí, lo has adivinado. Debido a que sólo siguió creciendo – incluso durante un semestre ocupado cuando creo que sólo se riega dos veces.
Así que cuando en la iglesia mormona que solía escuchar la sugerencia de hacer crecer un jardín como una parte de la preparación personal, tuve que reír. ¿Yo? Cultivar un jardín? Sí, claro!
Sabía la importancia de las habilidades de jardinería. Esas habilidades son la misma parte de la sabiduría que la vida prudente general está hecho. Si las cosas se pusieron difíciles y tuve un jardín a la marea sobre mí, yo sabía que se lo agradezco. El Señor desea nuestra felicidad, después de todo. Además, el precio de las verduras en el supermercado parece que no hacen más que aumentar.
Pero nunca podría crecer un jardín hasta que realmente decidido a poner mi mente en ello. Fue entonces cuando me di cuenta de que la jardinería en realidad sólo toma un par de cosas: semillas, tierra, agua, sol … y FE!
La fe no es nada más que estar dispuestos a tomar acción hacia un resultado deseado. Es así de simple. Y cuando combinamos nuestra fe con el poder de la oración, el Señor bendice nuestros esfuerzos con resultados milagrosos.
Ahora mi familia ha tenido la oportunidad de comer lechuga de cosecha propia, los tomates, e incluso tomó un sorbo de té de menta chocolate (oh, tan delicioso!). No sólo es el alimento más saludable, que sabe a mucho mejor.
Así que la moraleja de la historia? Nunca dice que algo es demasiado difícil. Si el Señor profeta sabiduría amonestar en alguna acción u otro, escuchar y probar. Con fe se puede hacer cualquier cosa – incluso la jardinería!
In a previous blog title, "Emergency Preparedness Tip – Inventory" I shared how having a supply of food and essential living items are so important in today's world.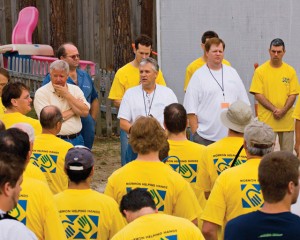 This is all well and good. In fact, having a supply of living necessities is so important in today's world. For example, my husband some years back was part of a company layoff. He did not have a job with benefits for nearly a year. The Lord helped us though.
It is precisely for times like that that a food storage system can be so helpful. Or for a situation like a friend of mine is currently facing in the state of Washington. Schools are closed due to snow. In some areas, this might not be out of the norm. But for her area? Her area has not had to close the schools due to snow for over a decade. The situation currently is that bad! But now schools are closed, roads are closed, power is out, and snow plows are working long hours to free people from their homes.
If you were in a situation like this, would you be prepared? If the situation went on for more than two weeks, would you be starving?
Prophets for the Mormon church (officially called The Church of Jesus Christ of Latter-day Saints) have for some time admonished people to wisely store up food, money, clothing, etc., for any difficult time that perchance may come. And how prudent this advice! Those who, like my friend, took the warning, listened to it, and obeyed eons ago now are doing fine – even though they are snowed in and people all around them are without power.
BUT there is a big difference between storing wisely in systematic fashion, and between "hoarding." Prophets have never advised to hoard our goods. Instead, the instruction has come – to every month of every year simply have a preparedness mentality.
In essence, a person with a preparedness mentality understands that true preparedness is a lifestyle, not a one time event! That is why a person with a preparedness mentality does not go into debt building their food storage, etc. Instead, they take a little bit of money every month to recycle their food, medical needs, toiletries, etc., easily replacing in small quantities what was used during that month.
On the other hand, a "hoarder" is someone who sporadically stashes stuff and then is afraid to use it. Not only are they perhaps stingy with others, but they're stingy with themselves in using their "hoard." They're afraid to use it!
Truly prepared individuals have acclimated to simply thinking in prepared ways. So why not try it this month? Why not do an inventory of your food, your toiletries, your medical needs, etc. Make a list and then a simple plan.
Decide to set aside $5, $20 (or whatever your budget suggests) to begin building your food storage to about three months supply. This way if the government were to quarantine everyone to their homes because of the bird flu, you will be ready.
Second, once you have about three months of normal food stuff, etc., begin storing long-term grains like wheat, rice, etc. When the depression hit in the 30s, people in Europe resorted to eating rabbits, etc., simply because there was no food!
Third, decide today that you will share. Share your knowledge, share your perspective on the importance of a prudent lifestyle, and if needed, share your food with others.
Jesus said:
"Greater love hath no man than this, that a man lay down his life for his friends" (John 15:13).
The Savior set the example in this. And we can too. Once we grasp the wisdom of prudent living and a preparedness lifestyle, we can lay down our lives in the service of others – teaching them the joy that comes from being prepared!
Here is a great website to that instructs how to live a provident lifestyle. It's called Provident Living.