Years ago, as I was preparing to serve a mission for the Church of Jesus Christ of Latter- day Saints, I was told a story that had a powerful influence upon not only my mission, but also the rest of my life.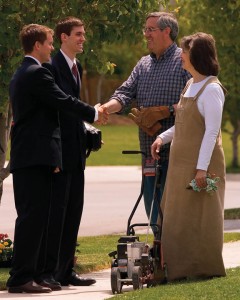 A young man, whom I knew, was called to serve a mission in Italy. He was so excited to go and teach the gospel of Jesus Christ to his brothers and sisters in the great country of Italy. He knew that the message he was going to share was true. The Church of Jesus Christ had once again been restored to the Earth the same church that existed in the New Testament. The Priesthood power and Authority were once more upon the Earth which had been lost with the death of those Ancient Apostles. We have a living Prophet upon the Earth. Along with the Holy Bible, we have been blessed with another Testament of Jesus Christ, called The Book of Mormon. This is a record of the Lords dealing with the inhabitants of ancient America. Through the restored gospel we can understand many lost truths including whom we are, why we are here, and where we are going.
This young missionary felt he was ready to go and teach and serve. Soon he found himself at the airport with other missionaries all headed for Italy. While waiting for his plane to arrive, a man came near and asked this missionary who he and his companions were. When the missionary answered, the man started asking him questions of what his mission was to do, and what he was going to teach. Though the missionary answered all the questions, he did so haltingly, shifting from foot to foot, continuing to look down, or at his companions a few feet away for his friends.
The plane arrived and the Missionary started to say goodbye when the man asked one more question, "Are you ashamed of the Church you belong to?" The missionary quickly and empathetically responded, "No!"
"Are you ashamed of the message you are going to share?" The man asked. Again the young missionary gave the same response, "No!"
"Then why," asked the man as he turned to leave, "Are you acting like it?"
As the young missionary was left to face the answer to this pointed question he was filled with shame and sorrow. He was not ashamed, was he? If not then why was he acting in a way that gave that impression? He thought of Paul's long ago declaration in the New Testament,
"For I am not ashamed of the gospel of Christ: for it is the power of God unto salvation to every one that believeth…" Romans 1:16
At that moment that young missionary set aside the fear that had driven his previous behavior, and made the decision that he would live so that no one would ever again doubt that he was not ashamed of the gospel of Jesus Christ, nor that he knew that the Church of Jesus Christ of Latter-day Saints is in fact Christ's Church.
When my friend told me of his experience (for he was the young missionary), I began to ask myself if I ever gave the impression from my words or behavior that I was ashamed of the gospel of Jesus Christ. I hoped that the answer was no. Even so that day I too made the same promise to myself as my friend had: that I would live so that no one would ever again doubt that I was not ashamed of the gospel of Jesus Christ.
As I was sitting in the temple, the other night, I saw a copy of The Book of Mormon on the table next to me. I picked it up and randomly began to read. I had opened to the Book of Alma. Captain Moroni had just torn his coat and written upon it the famous Title of Liberty:
"…In memory of our God, our religion, and freedom, and our peace, our wives, and our children…" Alma 46:12
As I continued to read, the next few verses stood out to me in a powerful way. For after Moroni fashioned this Title of Liberty upon a pole he,
"…Bowed himself to the earth, and he prayed mightily unto his God for the blessings of liberty to rest upon his brethren, so long as there should a band of Christians remain to possess the land—

For thus were all the true believers of Christ, who belonged to the church of God, called by those who did not belong to the church.

And those who did belong to the church were faithful; yea, all those who were true believers in Christ took upon them, gladly, the name of Christ, or Christians as they were called, because of their belief in Christ who should come." Alma 46:13-15
Those who belonged to the Church of Christ were scornfully given the nickname of Christians, by the nonbelievers. Yet they embraced this name for they understood that they had covenanted to take upon themselves the name of Christ and all it entailed when they were baptized.
As I thought about this, my mind turned to a familiar complaint among some of my young adult friends that the church micromanages our lives. Why did the Prophet care how many pairs of earrings we wear or, what length our skirts are? Why can't we drink coffee and tea, or watch "R" rated movies, or become intimate with those we love before marriage? What does it matter what we say, or watch, or think?
It matters because like those Nephites of old, we too have made covenants to take upon ourselves the name of Christ.
So what does it mean to take upon ourselves the name of Christ? It means that we seek to always remember Him. It means that we follow His commandments. It means that we act so that those who know us, but don't know Christ, will want to know Him, because they know us. We are His living breathing representatives to the world. This means that we have to live a higher standard. This means that more is expected of us.
Yet no matter how much is asked of us in making and keeping this covenant we have made, to take upon ourselves the name of Christ, it is always worth it. For the Lord's side of the Covenant is that we may always have His spirit to be with us. The gift of the Holy Ghost is one of the most precious gifts our Father in Heaven could give us in this earth life, next to the gift of His Only Begotten Son Jesus Christ, to enable us to return to Him and ultimately become like Him.
Those ancient Nephites understood this principle. And that is why they took this covenant upon themselves gladly. When we understand as they did, then we too will be filled with gladness in taking upon ourselves the most Beloved name of Christ.
June 30, 2008 by
Donna G
·
Leave a Comment
Filed under:
Childcare
,
Discussion of General Relief Society Meetings
,
Discussion of Relief Society Lessons
,
Furthering our Education
,
Home and Family
,
Homemaking Skills
,
Marriage
,
Mother-Daughter Relationships
,
Provident Living
,
Running a Household
,
Service
As women of the Church of Jesus Christ of Latter-day Saints (LDS), we are dedicated to "strengthening marriages, families, and homes." We live in a day when more than 50% of marriages in our country fail, dividing families, and wrecking homes. Latter-day Saint women are not left to their own devices, or the offerings of a crumbling culture, to fortify the marriage, family, and home. We have a prophet and God uses him to help us strengthen our marriages, families, and homes. We also have the Holy Ghost to help us apply this general counsel to our specific family's needs.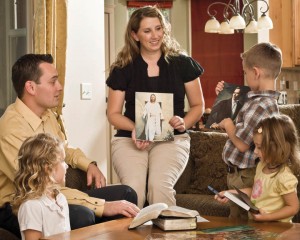 I have been working on my Master's Degree in Education. A few days ago, a friend asked about my thesis/project. I shared that as a society, parents have pushed their children into education, with little thought of teaching them how to build a happy marriage, manage family, and home. Education is important, but not to the exclusion of home and family. The result has been high divorce rates, broken homes, and dysfunctional families. Many fathers do not seem to know how to be fathers, many mothers do not seem to know how to be mothers, most struggle with debt, and few know how to maintain a home. I became LDS when I was a senior in high school, and had been raised in a home broken by divorce. The woman I was talking to is a divorcee. She said that her son needed a man in his life to help teach him how to be a man. Then she asked, "Donna, what is the solution?" Though my thesis deals primarily with the lost arts and relationships that were once nurtured in the home, I feel the best solution is found in gospel living.
Where can a person learn what they need to be a better spouse and parent, especially if they were never taught? Some of the resources the Lord has blessed us with are:

The Scriptures teach about healthy family relationships and standards of gospel living, and when the counsel found in scriptures are heeded, bring happiness into our lives.
The Family: A Proclamation to the World teaches us principles of happy families.
General, Stake, and Ward Conferences are where we are taught standards of gospel living and we receive counsel for families, marriages, and relationships.
Relief Society and Young Women's organizations help women strengthen testimonies through gospel teaching and teach women how to be good daughters, sisters, wives, mothers, and neighbors, as well as, skills that can help us with home, family, personal enrichment, and with provident living.

Visiting Teaching is a way to strengthen each other as women and give encouragement to women in their roles as sisters, daughters, wives, mothers, and neighbors.
The Priesthood and Young Men's organizations teach men how to administer the temporal affairs of the God's Kingdom on earth, and how to be good sons, brothers, husbands, fathers, and neighbors.
Home Teachers can be a great blessing to single mothers, widows, families, and individual women. They teach, assist, and bless.

The Primary organization reinforces the teachings of the home and helps children be better, sisters, brothers, sons, daughters, and neighbors.
The home is the schoolroom and laboratory where these core values and skills are learned and refined. The Lord has provided families with additional helps:

The Family Guidebook teaches parents principles of establishing a happy home.
A Parent's Guide helps parents understand good parenting practices.

The Family Home Evening Resource Manual is an excellent resource for families to use to teach gospel principles in the home, in weekly family home evenings.
With all of these wonderful examples and resources, I feel God's love and guidance in my life and I feel strengthened and guided to be a better mother.
A few days ago I was attending a luncheon with a handful of my blogging sisters. Near the end of the luncheon one of the women asked my mother and me how we felt about my little sister's marriage. Now this is not the first time we have been asked this question. This is probably due to how unique my sister, and her husband's story are.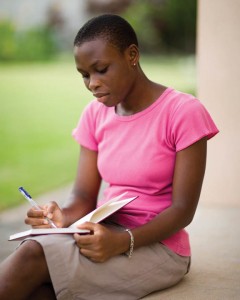 After sharing the details of how they came to be together, my mother and I assured our friends, that we are so happy and totally supportive of my sister's marriage. All you need is to see them together to know that the Lord brought this union about. That is what is so beautiful.
Next thing I knew, every one of the women present shared their own sweet story of how they were united with their own true love. As I listened to the various stories, I found myself wondering what my story will someday be. Will it be romantic, or funny, or almost heartbreaking? My mind stopped right there with the solid realization that I was the only one present without a story of my own.
It is times like these that I feel my single status like a scarlet letter on my chest. Only I have this mark against me not for something I have done, but for something I have not done (namely get married).
This feeling only increased when the women in the group started talking about their children. I felt a yearning so strong within me that it almost hurt. I know that I am not alone in feeling the way I do. Many of my single friends have shared similar feelings. That is why it is increasingly hard for many of them to continue to attend weddings, and baby showers, and family wards.
Thankfully though real and painful these feelings may be, they do not last long. For whenever they try to drag me down I am reminded of what the Prophet Gordon B. Hinckley said,
"Somehow we have put a badge on a very important group in the Church. It reads,'Singles.' I wish we would not do that. You are individuals, men and women, sons and daughters of God, not a mass of 'look-alikes' or 'do-alikes.' Just because you do not happen to be married, does not make you essentially different from others. All of us are very much alike in appearance and emotional responses, in our capacity to think, to reason, to be miserable, to be happy, to love and be loved.

You are just as important as any others in the scheme of our Father in Heaven, and under His mercy no blessing to which you otherwise might be entitled will forever be withheld from you.

You are precious and important to Him. You are precious and important to the Church. You are precious and important to all of us." To the Single Adults, June 1989 Ensign, Gordon B. Hinckley
When I remember these words, I feel the pain ease, and the scarlet mark of singleness, fade. Then I am able to once more be happy for those around me, and have faith and hope for my future. Someday I too will have a story to share. And perhaps when that time comes, I will be more sensitive to my single friends in my life. In the mean time I can continue on in my life as Elder Dallin H. Oaks of the Quorum of the Twelve Apostles has counseled,
"If you are just marking time waiting for a marriage prospect, stop waiting. Don't wait for happiness to be thrust upon you. Seek it out in service and learning. Make a life for yourself. And trust in the Lord. Your dedication of a lifetime should follow King Benjamin's advice to be "calling on the name of the Lord daily, and standing steadfastly in the faith of that which is to come" (Mosiah 4:11)." The Dedication of a Lifetime, CES Fireside for Young Adults May 1, 2005, Elder Dallin H. Oaks
A lot of people are interested in either obtaining or creating a kit to "grab and go" in case they must be evacuate.
A key point that I make is that "all kits are not created equal." With headlines blaring about the natural disasters taking place world wide more and more newspapers and TV ads are touting their solutions for the best evacuation kits on the earth. For that reason I thought today's blog should contain some words of caution to help you make your decisions – or even re-make – your evacuation kit decisions.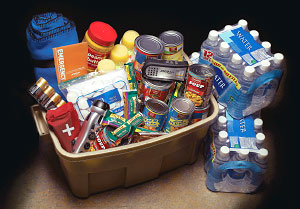 Emergency preparations can easily be driven by rumor, fad or panic. Before you let yourself get all stirred up, use your head and think!
For example, not too long ago I heard a very opinionated person in a store declare: "Never use a bucket as a kit container if you have small children because you can't carry a bucket and carry your child – you'll have to leave one or the other behind." Talk about absurd! It was all I could do to keep quiet.
First, if your kits are ready and waiting to be grabbed in an emergency, you'll have plenty of time to put both your kit and your kid in the car, stroller or wagon, or whatever mode of transportation you've already decided on.
Second, it is one of my recommendations that buckets make much better kit containers than many other options.
In "personal preparedness," the operative word is personal (unless of course you are making a different point, and then the operative word is preparedness). You choose which container – of all the good choices – will best fit your needs and find the ways to make it work. (It sounded to me like someone had something to sell – and it wasn't a bucket!)
Before you jump on any faddish bandwagon, think it through first and then sensibly make up your own mind.
To illustrate this point I just had to share the following story with you. It is a true one. For a long time "they" (and you know who they are) have continued to recommend that garbage cans should be used as a container to hold the contents for an evacuation kit. Read on:
During a mock disaster and evacuation drill in the summer of 1985 the following "garbage can incident" was reported by a Red Cross director in Provo, Utah. The mock evacuation center was established. As the drill progressed, it was brought to the attention of the authorities that an elderly, disabled lady who lived across the street from the command center, required help to evacuate. Three male volunteers were sent to "rescue" her. It took several more volunteers to bring out her evacuation kit. Their response was, "It weighed a ton!" "It" was a thirty-gallon garbage can, filled to the brim." (Excerpt from Preparedness Principles, Salsbury, Horizon Publishers, 2006, p. 240)
We have been counseled many times to do what is necessary to be prepared. In the August 2007 Ensign, President Gordon B.Hinckley was quoted as saying, "Let us do all in our power to 'walk in obedience' and be prepared."
And again I would add, in your preparations, "use your head and think."
How many of us have a clear purpose in life? How many of us can say we have a vision of who we are and what we were meant to be in this world? Some of us may have more knowledge than others.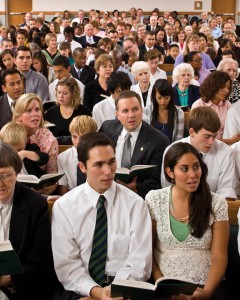 Within The Church of Jesus Christ of Latter-day Saints, we have a little more knowledge about such things than the general population. What is it we know? We know we are literal sons and daughters of a Heavenly Father that loves us and wants the best for us. We know that we lived with Him before we were born into this world. We know that we were sent here to learn, to grow, to obtain a body, and to experience trials that would test our dedication to our Heavenly Father's teachings.
We know that Heavenly Father does not leave us completely alone during our mortal stay. We know that He understood that mistakes would be made that would take us further away from Him. We know that the Savior was sent to be our example and Redeemer. He provides each of us with a firm set of parameters for our behavior and choices. He makes forgiveness and eternal life possible through His atonement and resurrection. We know that the best way to return to live with our Heavenly Father when we die is to become disciples of Jesus Christ.
We know a few other things. Members of the LDS church often enjoy a measure of testimony that is founded in God's knowledge and care for them on a very personal level. He knows, understands, and loves each of us, better than we know ourselves. As part of this, He also understands just exactly what experiences we will need here on earth to reach our greatest potential as His child. In fact, there are many of us who may have specific goals they need to reach or tasks they need to complete. Here comes the tough part. Not all of us have an easy time figuring out what tasks we have been assigned or what roads we need to travel to become who Heavenly Father sees within us. Aside from understanding that Jesus Christ is our guide and Savior, we may feel lost when it comes to finding our own special place in God's plan. I've talked before about the many good choices we each face every day. This is where those choices really matter.
It's the little choices, sometimes things like rushing to get in a grocery line before someone else. It's the big choices, like whom we should marry. It's the sum of our lives and where we want to be when it comes to an end.
When I was a little girl I was essentially going to take over the world. I was determined to grow up to be a great scholar, an inspiring gospel teacher, a chef, a veterinarian, a linguist, a best-selling author, a concert pianist, an artist, a model mother and a model, and a few other things I now can't remember. Though all of these are good and worthy goals, I'm not meant to be all of them and quite possibly not any of them. That's up to God and me.
It's important to remember that though we may lack a full vision and purpose for our lives that God does not have the same restrictions of mortality that we do. He does know us. He does know our mistakes, hurts, joys and aspirations. He does know exactly what it takes to have the sum of our lives equal unfathomable happiness. The disciple of Christ uses this tool as well as the others we gain from Christ's example in order to keep his feet pointed in the right direction. We know that it within our privileges to ask God what our goals and aspirations should be. We know that no matter how difficult the road is, there is something worth the work waiting for us.
That's the important part about making choices and living our every day lives. Each day adds another page to our story, another brick to our eternal mansion. Nothing we do goes without a consequence. There are specific laws of cause and effect that govern this life. No matter how we labor it is leading to some outcome.
All our labors are for the purpose of becoming something. What? Hopefully it's exactly what God wants us to become. For some this process takes longer than for others, we can't understand anyone's journey but our own. But the real question is what do we want to become? Have we approached Heavenly Father with this question? Have we looked at our lives and willingly placed our hand in His? Then, have we become distracted and pulled away from the one person who knew the road we were to take.
Every day with every choice we are becoming something. Is it more like the Savior and more true to our own divine nature, or not?
Families are intensely under attack in today's society. As courts try to alter the definition of marriage, as schools refuse to teach students that children need both a mother and a father, and as media undermines the proper structure of the family unit, those who hope to keep the family intact fight a constant battle.
The Book of Mormon says in 2 Nephi chapter 13:
12 And my people, children are their oppressors, and women rule over them. O my people, they who lead thee cause thee to err and destroy the way of thy paths.
In this scripture, Nephi is quoting Isaiah (see Isaiah 3:12), who was prophesying of events clearly happening in our own time. Our leaders and our culture are causing God's children to err and leading them down false paths.
One common complaint about family or children's television programs is that they have a tendency to portray parents as idiots and the children as the wise ones. Parents are ridiculed and made fun of and children rule their homes. In real life, we see children emulating this pattern. Many children are spoiled and the parents reduced to the role of servant. This is not how God intended families to operate. From the beginning, when He created Adam and Eve, He put the parents in charge—two of them, working together to raise the children.
He also placed Adam at the head of the household. This doesn't mean he was "the boss." Instead, Adam was told Eve was to be his helpmeet, an equal partner in operating the home. Each had specific roles and duties, but neither was superior to the other. However, Adam was the head of the household. What does this mean?
The Church of Jesus Christ of Latter-day Saints, sometimes incorrectly referred to as the Mormon Church, issued a proclamation on families which includes the following explanation:
"… By divine design, fathers are to preside over their families in love and righteousness and are responsible to provide the necessities of life and protection for their families. Mothers are primarily responsible for the nurture of their children. In these sacred responsibilities, fathers and mothers are obligated to help one another as equal partners."
These roles aren't assigned because men are by design better at providing and women are better at nurturing. Even if it works out in a family that the woman could earn more money or the father is better with caring for children, God has chosen specific roles for each. They are assigned, not earned, and they were assigned and agreed to long before we came to earth. It doesn't mean a woman can never earn any money or a man can't give a child a hug. It means that the primary responsibility, in normal circumstances, fall as God intended.
Unlike the world, women don't feel it is degrading to allow the man to be the head of the household, if he heads it righteously and in harmony with the teachings of God. Nor do they find their assigned role degrading.
"Woman is God's supreme creation. Only after the earth had been formed, after the day had been separated from the night, after the waters had been divided from the land, after vegetation and animal life had been created, and after man had been placed on the earth, was woman created; and only then was the work pronounced complete and good.
"Of all the creations of the Almighty, there is none more beautiful, none more inspiring than a lovely daughter of God who walks in virtue with an understanding of why she should do so, who honors and respects her body as a thing sacred and divine, who cultivates her mind and constantly enlarges the horizon of her understanding, who nurtures her spirit with everlasting truth." (Gordon B. Hinckley, "Our Responsibility to Our Young Women," Ensign, Sept. 1988, 11)
Women who belong to the Church of Jesus Christ of Latter-day Saints have a declaration that states that they find nobility in womanhood. This attitude sustains them during long, tiring days, and reminds them to think beyond the basics of the chores and look instead to the eternal purposes of their tasks. They understand there is nothing at all unimportant in the work of maintaining a wonderful home, raising upstanding children, and supporting a good husband in his work. Women who understand the privilege they've been offered are not unhappy at home. They know that those who put down a woman for putting home and family first devalue children and marriage, seeing them as less important than worldly pursuits. Who among us didn't value—or long for—a loving and special childhood? Do our children deserve less than we ourselves wanted?
When we put the family into its God-designed pattern, the world is a peaceful place where values are honored and everything is prioritized by eternal values.
In 2 Nephi 12:8, we read:
8 Their land is also full of idols; they worship the work of their own hands, that which their own fingers have made.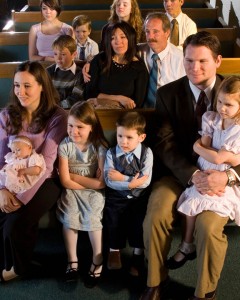 In this passage, Nephi, the second prophet of the Book of Mormon, is quoting from Isaiah 2. Isaiah is chastising those who worship false gods. Today, many people skim over these passages, thinking they don't apply to them since they don't worship statues. However, modern leaders of the Church of Jesus Christ of Latter-day Saints, sometimes incorrectly called the Mormon Church, warn us that many today are idolatrous. They may not worship Baal, or other ancient false gods, but they often put materialism into a place of honor, even over God in their own lives.
Many people today choose to follow the examples of celebrities instead of God. When they need advice or want to know what to believe, they don't turn to the scriptures, but to the latest popular self-help book, their political party, or their social organizations. These people or groups who have achieved worldly fame can be considered today's idols, a name even used in popular culture.
Too many have allowed moneyto become their false idol. The longing for wealth—not for enough to sustain a decent life, but enough to sustain a life of luxury—is a modern idol. Some have allowed money to become so important it is their god, and matters more than anything else. A love of money quickly takes people away from a focus on the true God. The need, or rather the perceived need to earn excessive income, can overshadow the need to visit God's home for Sunday services. It can overshadow the need to serve others and to treat them kindly. It can overshadow even the need to care for our families through time and attention. In short, it becomes the center of a person's world, and so becomes their god.
Spencer W. Kimball, a previous prophet, wrote often on this subject. He said,
"The Lord has blessed us as a people with a prosperity unequaled in times past. The resources that have been placed in our power are good, and necessary to our work here on the earth. But I am afraid that many of us have been surfeited with flocks and herds and acres and barns and wealth and have begun to worship them as false gods, and they have power over us. Do we have more of these good things than our faith can stand? Many people spend most of their time working in the service of a self-image that includes sufficient money, stocks, bonds, investment portfolios, property, credit cards, furnishings, automobiles, and the like to guarantee carnal security throughout, it is hoped, a long and happy life. Forgotten is the fact that our assignment is to use these many resources…to build up the kingdom of God…to raise our children up as fruitful servants unto the Lord; to bless others in every way, that they may also be fruitful. Instead, we expend these blessings on our own desires, and as Moroni said, "Ye adorn yourselves with that which hath no life, and yet suffer the hungry, and the needy, and the naked, and the sick and the afflicted to pass by you, and notice them not." (Morm. 8:39.)" (Spencer W. Kimball, "The False Gods We Worship," Ensign, Jun 1976, 3)
In some ways, modern day idolatry is harder to avoid than the earlier worship or gold or silver statues. Those statues could simply be avoided by those who wanted to repent of their ways. Today's idols are all around us, and it can be challenging for people to know where the line is drawn. When do you stop needing more money to provide a decent life and start worshipping money, seeking after more than is needed? How do you decide what to keep and what to share?
Avoiding idolatry of worldly goods requires constant vigilance and prayer. God knows how much you and your family really need, and by paying close attention to the answers you receive in prayer, you will be able to balance the various parts of your life and keep your center where it belongs. While there is nothing wrong with seeking advice from other human beings, that advice should be part of the research you do as you make a decision to present to God. Then let God make the final choice. Avoid becoming too dependent on the advice of those who aren't taking their advice from God.
Avoiding modern idolatry is a challenge, but one that helps us to stay on the path back to our Father in Heaven.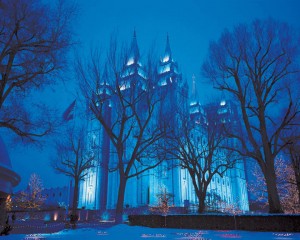 The temple in Salt Lake City, Utah has become a well-known symbol of the Church of Jesus Christ of Latter-day Saints, sometimes incorrectly known as the Mormon Church. This temple was prophesied by Isaiah in the scriptures. In 2 Nephi 12, Nephi, the second prophet of the Book of Mormon, quotes Isaiah (See Isaiah Chapter 2 for the King James translation of these verses.)
2 And it shall come to pass in the last days, when the mountain of the Lord's house shall be established in the top of the mountains, and shall be exalted above the hills, and all nations shall flow unto it.

3 And many people shall go and say, Come ye, and let us go up to the mountain of the Lord, to the house of the God of Jacob; and he will teach us of his ways, and we will walk in his paths; for out of Zion shall go forth the law, and the word of the Lord from Jerusalem.
The saints had built temples before, but had been forced to abandon them when persecution forced them from their homes. Now the Saints had arrived in Salt Lake City, Utah, a place chosen by Brigham Young under God's direction, a place they hoped to stay in safety. And so, on July 28, 1847, Brigham Young, the second prophet of the modern Church, announced: "Here we shall build a temple to our God."
He, along with Wilfred Woodruff, who would later become a prophet, had seen visions of this temple built on a hill. It was Wilfred Woodruff's vision that provided them with an understanding that the temple must be built of granite, although Brigham Young preferred other materials.
Construction of the temple began April 6, 1853. The railroads had not yet come to Salt Lake City and materials and tools had to be hauled into the temple site by ox team for many years. There were various interruptions to the work due to persecution from the outside. Ten years after the Saints arrived in Salt Lake, during a celebration of that day, they learned Johnson's army was coming to settle the "Mormon question." All work on the temple stopped and signs of construction, which was almost to ground level, was hidden, so the site appeared to be an empty field. This was to protect the site from the problems the Saints had faced in the past.
In 1887, the United States government decided to take ownership, without payment, of all church properties, forcing the Saints to pay rent for eight years on their own property, in order to continue building the temple. They did so and kept building, even though there was no sign at that point they'd ever be allowed to own and operate the temple.
The temple was finally dedicated in 1893, forty years after work began. Its building required great sacrifice among the people, even to the level of sending men to other countries to learn some of the skills needed to make the temple perfect.
Elder J. Golden Kimball, a church leader at the time of the temple's completion, said:
"When I think about [the temple], every stone in it is a sermon to me. It tells of suffering, it tells of sacrifice, it preaches—every rock in it, preaches a discourse. When it was dedicated, it seemed to me that it was the greatest sermon that has ever been preached since the Sermon on the Mount. … Every window, every steeple, everything about the Temple speaks of the things of God, and gives evidence of the faith of the people who built it."
To learn more about the construction of the Salt Lake Temple, please read, "A Temple to Exalt," by Boyd K. Packer Ensign, Aug 1993, 7, which was the primary resource for this article.
The Book of Mormon is given a subtitle that explains it is another testament of Christ. A careful reader of the Book of Mormon will be impressed by how many verses talk about the Savior. It's been said that on average, He is mentioned once every 1.7 verses.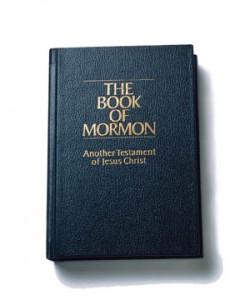 The Savior is discussed long before He is born by Book of Mormon prophets and future prophets. Lehi, the first Book of Mormon prophet, saw Him in visions. His son, Nephi, who became the prophet after his father's death, told his people:
2 And now I, Nephi, write more of the words of Isaiah, for my soul delighteth in his words. For I will liken his words unto my people, and I will send them forth unto all my children, for he verily saw my Redeemer, even as I have seen him.

3 And my brother, Jacob, also has seen him as I have seen him; wherefore, I will send their words forth unto my children to prove unto them that my words are true. Wherefore, by the words of three, God hath said, I will establish my word. Nevertheless, God sendeth more witnesses, and he proveth all his words. 2 Nephi 11
Both Nephi and Jacob had seen the Savior. They knew without question He was real, and they wanted their people to know it also. Their testimonies, joined with that of Isaiah's, whom both Jacob and Nephi loved to quote, made a testimony of three, fulfilling prophecy that God would establish his word by three witnesses—at least. (See 2 Corinthians 13:1)
Nephi focused on the Messianic scriptures when he quoted Isaiah, because, as he said, he delighted in proving the Savior to his people. Following this example, future Book of Mormon prophets would also testify of the Savior. Nephi would later tell his people:
26 And we talk of Christ, we rejoice in Christ, we preach of Christ, we prophesy of Christ, and we write according to our prophecies, that our children may know to what source they may look for a remission of their sins. (2 Nephi 25:26)
Although many people find Isaiah difficult to understand, Nephi loved Isaiah. He felt the prophet, who lived just one hundred years before Nephi, was a powerful resource for learning to believe in Jesus Christ. He instructed his people with great passion in Isaiah's prophecies of the Savior, mingling them with his own and the teachings of his brother Jacob, who would also become a prophet after Nephi's death. From the mouths of three great prophets, the Nephites, as Nephi's people were called, were led to their own personal and powerful testimonies of the Savior.
Today, as we study these words ourselves in the Book of Mormon, we too can know, as Nephi, Sam, and Isaiah knew, that Jesus Christ is our Savior. Just as they knew He would come to earth to redeem us, today, we can know He has been here and will come again. Nephi was not alive when the Savior paid a prophesied visit to Nephi's descendants, but he waited with joy anyway for the promised day, just as we wait with joy for the Second Coming.