One of my favorite stories of Jesus' many services to those in need is that of his healing of the blind man, Bartimaeus.
46 And they came to Jericho: and as he went out of Jericho with his disciples and a great number of people, blind Bartimaeus, the son of Timaeus, sat by the highway side begging.

47 And when he heard that it was Jesus of Nazareth, he began to cry out, and say, Jesus, thou Son of David, have mercy on me.

48 And many charged him that he should hold his peace: but he cried the more a great deal, Thou Son of David, have mercy on me.

49 And Jesus stood still, and commanded him to be called. And they call the blind man, saying unto him, Be of good comfort, rise; he calleth thee.

50 And he, casting away his garment, rose, and came to Jesus.

51 And Jesus answered and said unto him, What wilt thou that I should do unto thee? The blind man said unto him, Lord, that I might receive my sight.

52 And Jesus said unto him, Go thy way; thy faith hath made thee whole. And immediately he received his sight, and followed Jesus in the way. (Mark 10)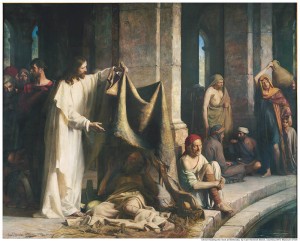 We usually read this story and focus on the healing, but it's the other parts of the story that capture my attention. To fully understand the power of this moment in the Savior's life, we must remember that Bartimaeus was begging because a man who was blind was not normally allowed to earn a living in those days. Treatment of those with special needs was very different then. They were believed to be unimportant and incompetent to do anything of value, and so they begged and relied on others for their care. It was for this reason, this lack of perceived importance, that people tried to stop Bartimaeus from "bothering" Jesus as he came through town.
We can see his great faith, however. He didn't stop calling to Jesus because he knew Jesus could give him his sight, and his sight, in that day, was not just physical vision, but a way into dignity and a life of purpose that society wouldn't give him otherwise.
Jesus heard his call and asked his disciples to call the man to him. Bartimaeus may have hesitated because he had to be reassured that it was okay to approach. Notice what the Savior did when the man came to him. He spoke to the man respectfully, probably not something commonly done to him, and asked, essentially, "How can I serve you?"
Then, Jesus said, and certainly many were listening to his words, that the man's faith had made him whole. Remember this is a man society felt to be unimportant and incapable of great things. Jesus informed those around him that Bartimaeus did indeed have value and skills—he had the gift of faith so great it could heal him. This gave the man instant credibility to those around him, and perhaps caused those who watched to wonder about their previous assessment of the blind man. Did they go home and feel guilty about how they had treated him in the past? Were they sorry they'd tried to keep him from approaching the Savior? Did they treat the next blind man they saw with greater respect because of the example the Savior set for them that day?
There is much more to this story than a healing, as great as that healing was. We have here a powerful example of how the Savior expects us to treat everyone around us, whether or not we can see their value. The Savior sees it and God sees it. The Savior is no longer on earth to walk up to the modern day Bartimaeus'. It's now up to us to treat everyone with dignity and respect and to see in them what God sees.
When I was in high school, some placement tests gave the school the idea that I should be in classes for gifted students in every subject. While I was quite advanced in some areas, such as English or history, I had very little background information in science. The class syllabus was based on the presumption that you loved science and knew a lot about it, so the basics were never taught. The class started right out with advanced concepts, and I quickly found myself floundering. Possibly because of that traumatic experience, I ended up hating science and spent as little time in science classes as possible.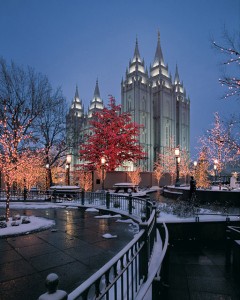 Temples, for Mormons (the nickname for members of the Church of Jesus Christ of Latter-day Saints), are like the advanced class. While the information learned isn't really new, it's taught at a higher level, so you begin to understand the information better.
In addition, members are asked to make covenants. Covenants are two-way promises with God. If we do our part, God will always do His. These covenants involve caring for our families and keeping God's commandments, the same commandments any church member or person learning about the church learns in church meetings or by studying the church's websites. Similar covenants were made at baptism, but now they are much more serious, with greater consequences for not keeping the covenant we made. God holds those with greater knowledge to a higher level of commitment and obedience and will judge accordingly when we stand before Him.
These are two reasons the Mormon temples aren't open to the general public or even to members who haven't reached a certain level of knowledge, testimony, and commitment to their religion. God is always fair, and He does not want us to be accountable for things we're not yet ready to be accountable for.
Throughout a person's church membership, he progresses gradually, as he's ready to make higher commitments and is able to understand more complex teachings. Before a person is baptized, he's required to know a little about the religion and be living at a certain beginner's level of religious life. This is a starting place.
Adults who join the church or who are visiting often attend a special Sunday School just for newcomers. They can, in this case, attend the other class, but this beginner's class, called Gospel Principles, helps them learn the basics and be prepared to understand what is taught in the regular adult Sunday School. It's a preparatory program for the regular Sunday School, which is called Gospel Doctrine.
In the same way the lessons taught by the missionaries prior to and just after baptism prepare a person to become a member of the church, the Gospel Principles class prepares a student to understand the Gospel Doctrine class. In the same way, all the programs of the church prepare someone to go to the temple, to learn more and to make a higher level of commitment to God.
Adults who became members of the church at a young age generally go to the temple for the first time before they go on a two-year mission, before they're married, or at any point in adulthood when their church leaders feel they're ready. Those who join as adults must be a member in good standing for one year, which gives them sufficient time to learn what they need to know and gain experience living the teachings of God.
Just prior to attending the temple the first time, they take a preparation class that helps them prepare for this new experience, and reviews with them the levels of obedience they must obtain in order to attend. This is yet another step in their progression.
The Mormons like to refer to the scriptures in the Book of Mormon that say we learn "line upon line, precept upon precept." This means we gradually progress through life and through God's kingdom, always improving, always learning, always progressing. Standing still is not the Mormon way.
For behold, thus saith the Lord God: I will give unto the children of men line upon line, precept upon aprecept, here a little and there a little; and blessed are those who hearken unto my precepts, and lend an ear unto my counsel, for they shall learn bwisdom; for unto him that creceiveth I will give dmore; and from them that shall say, We have enough, from them shall be taken away even that which they have. (2 Nephi 28:30)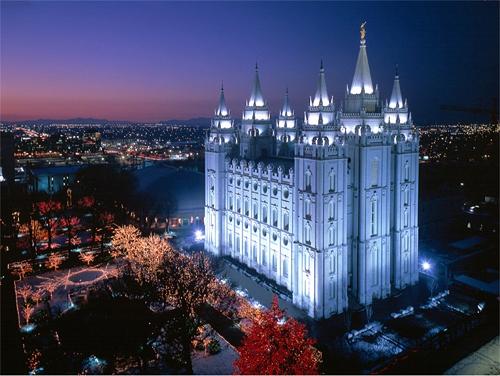 This line upon line pattern helps strengthen testimonies so we don't lose our way before we're strong, and to be certain we understand what we're promising before we take on these promises. Just as taking a science class I wasn't ready for caused me to lose my way in science, leaping into a level of religious life we're not prepared for can cause us to lose faith in God.
The temple is a step in the eternal progression God asks of us. We do the preparatory steps to get there and then the temple prepares us for future steps, including a time when we will be so comfortable with living all the commandments and teachings God has given us that we are comfortable in God's presence.
There is an old Cherokee tale that you may have heard before. It goes like this.
An elder cherokee was teaching his grandchildren about life. He said to them, "A fight is going on inside me. It is a terrible fight and it is between two wolves.

One wolf represents fear, anger, envy, sorrow, regret, greed, arrogance, self-pity, guilt, resentment, inferiority, lies, false pride, superiority, and ego.

The other stands for joy, peace, love, hope, sharing, serenity, humility, kindness, benevolence, friendship, empathy, generosity, truth, compassion, and faith.

This same fight is going on inside you, and inside every other person, too."

The children thought about it for a minute and then one child asked his grandfather, "Which wolf will win?"

The old cherokee simply replied,"The one you feed."
This tale started a period of serious introspection. What things did I do for entertainment? What books, movies, music, and television did I enjoy and seek out? How did each affect my spirituality? I started to see that when I chose less than worthy material my spirituality declined and it was easier to make other poor choices. When I chose good wholesome entertainment my spirituality increased and it was easier to choose other uplifting entertainment.
However, there was always the constant pull from each direction and I felt like I was always moving. Unfortunately it wasn't always in the direction I wanted to go.
It is much like navigating a hot air balloon. A balloon pilot can make horizontal movements by changing altitude. Wind blows in different directions at different altitudes. Balloon pilots need to make sure their balloons maintain the appropriate altitude or they will not arrive at their planned destination.
Hot air balloon navigation makes a great spiritual analogy. Hot air is needed to make the balloon rise much like prayer, reading the scriptures, and obeying the commandments make our spirituality rise. No heat, inaction and spiritual lethargy, makes us sink. If you sink you will be blown in a different direction and arrive at the wrong destination. If you sink too far you are in danger of hitting something and being injured or destroyed.
As I prayed and contemplated this further I came across an address by Melvin J. Ballard (1873-1939), an apostle for The Church of Jesus Christ of Latter-day Saints, known as the Mormons. He gave the address in the Salt Lake Tabernacle in Salt Lake City Utah on May 5, 1928.
"all the assaults that the enemy of our souls will make to capture us will be through the flesh… The approach he makes to us will be through the lusts, the appetites, the ambitions of the flesh. All the help that comes to us from the Lord to aid us in this struggle will come to us through the spirit that dwells within this mortal body. So these two mighty forces are operating upon us through these two channels. …

But you never can tell how the battle is going to go unless you are taking good care of the spirit. We know that unless one takes proper food and exercise, speaking physically, there is no growth. If you would have a strong spirit which has dominance over the body, you must see to it that your spirit receives spiritual food and spiritual exercise." (Melvin J. Ballard, "Struggle for the Soul," New Era, Mar 1984, 32)
The analogy of feeding your spirit is mentioned several times in the scriptures. In the Book of Mormon, Another Testament of Jesus Christ, there is a prophet named Jacob. He plead with his people to feed their spirits rather than the lusts of the flesh.
"Wherefore, do not spend money for that which is of no worth, nor your labor for that which cannot satisfy. Hearken diligently unto me, and remember the words which I have spoken; and come unto the Holy One of Israel, and feast upon that which perisheth not, neither can be corrupted, and let your soul delight in fatness. " (2 Nephi 9:51)
My goal is to feed my spirit since that is the force I want to win. With my spirit strong I can withstand the temptations that are constantly before all of us. With a strong spirit I will reach the desired destination which is to return to our loving Heavenly Father.
How do the choices you make affect your spirituality?
When Joseph Smith was a teenager, he longed to know which church he should join. He found himself confused because each church he looked into had contradictory doctrine. How could they all be right, as some claimed? Rightly so, he sensed that truth was absolute and unchanging.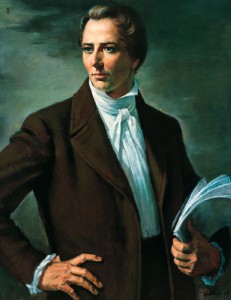 If God is the source of truth, and God is not a God of confusion, then there can't be conflicting truths. If baptism is required to enter the kingdom of God, then it's always required. If children infants shouldn't be baptized, then they must never be baptized. Saying that baptism both is and is not required can both be true leads to confusion about important issues, and God doesn't create confusion.
There are those who expect churches to be fashionable and "tolerant." They feel churches should take no real stand on any issue, even those that affect salvation. There are churches which have done that, have kept up with the times and not worried too much about what the Bible actually says. However, this is not what God has taught us about truth.
And ye shall know the truth, and the truth shall make you free. John 8: 32
John demonstrates the importance of knowing what is true. In order for us to know what's true, there must be truth to know. Certain things must be so, whether we like them to be or not. We, as mortal beings, do not get to choose truth. Only God can do this. Our job isn't to intellectualize truth or judge it, but to know it, live it, share it, and love it. The truth can then make us free.
So, when people accuse your church of being out of touch with the "real" world or the modern world, say it's out of style or old-fashioned, measure your doctrine against God's. If you find it's in tune, then take their criticism as praise. It takes moral courage to stay with truth, and not wander off to the demands of fashion and those who are intolerant of God's truths.
The Book of Mormon records a vision of the prophet Nephi. In this vision, there was a tree. Lehi understood that the tree had a wonderful fruit, which could bring joy to anyone who partook of it. The tree represented God's love. Lehi naturally wanted his family to join him at the tree and eat the fruit. His wife and two youngest sons did, but his two oldest were rebellious and refused to come. Lehi watched others set out on the road that led to the tree. One group got sidetracked along the way. The next group found the iron rod that ran alongside the road after a while and held onto it so they wouldn't get lost, even though a heavy mist had arisen. They stayed on the path, got to the tree, ate the fruit…and then made an eternally fatal error.
This group started looking around to check out how the rest of the world was viewing their wonderful accomplishment. To their surprise, the world wasn't largely cheering them on. Instead, the people who had not entered the road or who hadn't stayed on it mocked them, told them they were foolish, and called them names. The people who had successfully navigated the path couldn't seem to tune out the mocking. They wanted to be loved and accepted, and so, humiliated by the mocking, they rushed off the path to join those who were elegantly dressed and very popular, but who were without truth.
There were other groups, but only one group was successful. Those people chose to take the path. They persevered until they reached the iron rod, which represented God's word, and then held tight, allowing the rod to guide them to the tree. When they partook of the fruit, they enjoyed the blessings that came from it without taking an opinion poll to see what others thought of them. They didn't care what others thought. They knew what was right and good, and they were content to have that, regardless of the jeers and persecutions of those less wise.
Today, those who choose to stay on the path and partake of God's truths are jeered at and mocked. It takes real courage to stay firm and tune out the mockers. However, truth is truth. While it might seem temporarily more provident to follow those who have abandoned God, in the eternal scheme of things, those who honor God will have the best outcomes.
Those who truly know and love God do not expect him to alter truth for their convenience. They understand that truth is unchanging, and that it's worth the hardships.
It's easy enough to do the right thing when everyone agrees it's the right thing and is also doing it. It's another to make the right choices when the world is against you and you are standing alone, or at least in the minority. This requires moral courage.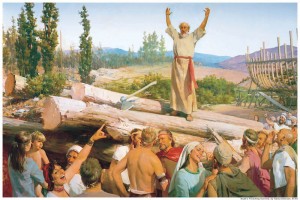 In the scriptures, we see many examples of people doing the right things, even though the world disapproves. In the Bible, we learn of Noah, instructed by God to call the people to repentance. When they refused to listen, God instructed Noah to build a boat. Take a moment to imagine how the people reacted when they saw Noah building a boat in the middle of the desert. Surely they thought he was out of his mind, and most certainly, he and his family endured a great deal of taunting as they worked. There would have been those who felt he was intolerant of them, given that he was spending a fair amount of time telling them they were sinning and needed to repent. They are likely to have believed he should accept their right to have different values than he had, and that he should back off and let them live as they had chosen to live.
Noah could have done so, of course. He could have been very quiet and felt it was their lives and he had no right to interfere. But clearly, Noah had a different way of looking at things. First, of course, his first loyalty was to God. Knowing as he did that God was real, he had to respond to what God told him to do and he was willing to do this even though it meant being ostracized by others.
Have you ever wondered what he thought about as he built his ark, working hard while mockers stood in the background, jeering, calling him names—calling him intolerant, perhaps… Did he wonder at all about why he had to do this? Did he have moments where he thought it might be better to let everyone have his or her freedom and he could just quietly live his own life in his own way?
If so, he would certainly have remembered, then, what God had said was going to happen. Noah was building a boat not for entertainment, but as preparation for a future he perhaps had trouble envisioning. It was to be a place of refuge when the promised future came. God didn't suddenly send the flood without warning. He gave everyone ample chance to listen, pray to know if it was true, and then to repent. The fact that they didn't believe they were sinning, that they didn't believe in God or in the prophecies didn't make them any less true. Whether or not they believed couldn't change truth.
Noah's prophecies and pleas for repentance might have seemed like persecution of some kind, but in reality, they were the ultimate kindness. He was trying desperately to save both their mortal and eternal lives. Had any of them repented, they would have been allowed on the ark. It was their own decision that they preferred what they were doing to what God wanted them to do. They had their agency, and they were required to accept the consequences of their agency, just as we are today.
It is not easy to be in the minority, fighting for what we know God wants, knowing what will happen to those who reject the message. I'm sure Noah's heart ached for those who ignored him. Among those people might have been friends and family he loved. But he chose the higher ground, no matter how hard it was and no matter how others treated him for it.
Today, many who choose the higher ground are persecuted or accused of intolerance. Today we, as did Noah, have to hold our heads high and keep building the ark. The rain is coming. All we can do is to plead with others to find out for themselves how to prepare—and not be ashamed of what we know.
Proverbs 31:9 Open thy mouth, judge righteously, and plead the cause of the poor and needy.
The Bible devotes a great deal of time to teaching us our responsibility toward the poor. There are those who read the scripture that says the poor will always be with us, and feel that means God wants us to have poor people and therefore they have no responsibility toward them. Such an attitude, however, requires us to ignore large portions of the Bible.
The scripture above tells us to judge the poor righteously. It's not our place to decide if their poverty is their own fault. This is God's job. Ours is to reach out and help in whatever way we're able. Let's look at the Bible to see what else it tells us about poverty.
The book of Proverbs seems especially fond of talking about poverty.
Whoso stoppeth his ears at the cry of the poor, he also shall cry himself, but shall not be heard. (Proverbs 21:13)
He that oppresseth the poor to increase his riches, and he that giveth to the rich, shall surely come to want. (Proverbs 22:16)
This would seem to be a warning to business owners and government on the responsibility of those in power. If a business owner is keeping his employees poor not because he can't afford to pay more, but because he wants a mansion and a limo, it would seem that God will even things out in the end.
The Savior, in the New Testament, often spoke of the need to care for the poor. His teachings left no doubt that we are responsible for those in need, and that we should serve them out of love.
The Mormons have several programs that work to meet this charge. One is a program designed to help its own members. By caring for their own, they prevent community programs from having to care for those people, and therefore leave more resources for those who don't have a church that can help. One program gains its funds from a monthly fast. Each member who is able to do so goes without food or drink for twenty-four hours. Members then donate the cost of the two missed meals or more to a special fund, called fast offerings. This money is used to provide food, help with utilities and other needs for those in the congregation who are struggling. Those who need temporary help have helped others in the past, creating a revolving fund of sorts. In addition, those who receive are asked to help out if they're able—assisting at the storehouse where they receive food, or taking on other church assignments. Although the amount of service they give will not likely equal what they receive, it allows recipients to maintain their self-respect by earning what they've received.
Another program assists people of all faiths. This is the Humanitarian Services Program and it reaches out to people world-wide. You often read of them arriving during major crises, such as Katrina, with food, water, cleaning kits and personal hygiene supplies. They also work in a variety of areas, including developing clean water resources in developing nations, providing wheelchairs, and helping with vaccine efforts. They participate in smaller projects in the United States, often through the efforts of local congregations.
To learn more about humanitarian relief services, visit Humanitarian Services.
There are Mormons in top positions in many companies and in government. Mormons learn leadership from a young age through church service and training.
At the age of eight, Mormon boys join the Cub Scouts (part of the Boy Scouts of America) and Mormon girls join the Activity Day Program, (an LDS program.) In these programs, they learn how to set goals and achieve them, and they learn how to spend their free time in meaningful ways. They develop skills that will make them productive, successful adults.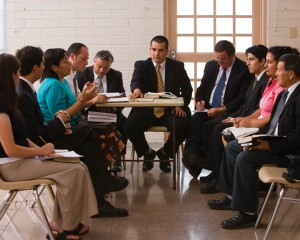 When they turn twelve years old, they move into the Young Women's and Young Men's programs. Using their ability to set goals and meet them, they are now given much harder goals to set and achieve. The boys work through the Boy Scouts program where available, and the girls—and boy who live where Scouting isn't the approved program—work in a Personal Progress program.
They also begin to take an active role in leading their own programs. The program is overseen by an adult president, her counselors, and three scout leaders or advisors, plus a secretary. However, each class, consisting of youth of two ages, also has a youth presidency. The youth president and his or her two counselors and secretary lead the program. They learn the rules, receive training in leadership skills, set goals, and select activities that meet those goals. The adults provide shadow leadership. This means they are always present, and guide gently by asking questions that lead the youth to understand how to achieve their goals and by helping them learn to evaluate activities for effectiveness. However, it is the youth who are in charge, with leaders only assisting where needed.
The youth are taught Planning With a Purpose. This means they begin by asking what they want to have happen in the lives of those they lead. For instance, they may be concerned about the dress standards of the youth, or worried that some youth don't have many friends. Then they develop an activity that will address that need, rather than coming up with a fun plan and squashing it into the program. Afterwards, they evaluate how effective the activity was in achieving the goal, determine what follow-up is needed, and decide how to improve based on what they learned.
With six years of leadership training, the youth are well-prepared to move into the adult LDS world, with its many leadership opportunities. The Church of Jesus Christ of Latter-day Saints—the real name of the church—is a lay church, and it has a very extensive program. Everyone is able to work who wants to do so, as an unpaid volunteer. Assignments are made and positions are frequently changed, so its members have opportunities to do many different things, each job bringing with it its own set of skills.
Both men and women have opportunities to lead. There are a number of auxiliary organizations, all of which have three member presidencies. Some church positions are filled only by men, others only by women, and some are open to either. There are no promotions—the adult president of the children's Primary Organization might be the assistant in the baby nursery the next week. However, most people do learn leadership by serving as a counselor to someone with more experience. On the other hand, sometimes a completely inexperienced person is placed in the position of president and chooses an experienced counselor to provide the shadow leadership mentioned above to help her rise to the responsibility.
Unlike the world, the church presumes that if God calls you to a position, He will also qualify you to do it. Members learn leadership, making mistakes, but always progressing until they become skilled leaders. This is one of the ways the church fulfills its responsibility to help God's children become everything He planned for them to become.
There is one word used by Julie B. Beck, General Relief Society President of the Church of Jesus Christ of Latter-day Saints (nicknamed Mormons), in reference to how women of this Church might fulfill their purpose in this worldwide organization: revelation.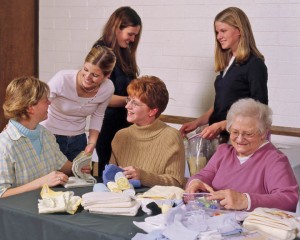 "We can do the work of the Lord in His way when we seek, and act on personal revelation. Without personal revelation, we cannot succeed. If we heed personal revelation, we cannot fail."
In Joel 2:28-29, we are given a prophecy concerning revelation and the women of the latter day:
And it shall come to pass afterward, that I will pour out my spirit upon all flesh; and your sons and your daughters shall prophesy, your old men shall dream dreams, your young men shall see visions: And also upon the servants and upon the handmaids in those days will I pour out my spirit.
Personal revelation is attributed to righteous men and women, and must be used with wisdom according to the inspirations of the Holy Spirit.
But what is revelation? How can we know we're receiving it if we don't fully understand what it is?
"Revelation is communication from God to His children. This guidance comes through various channels according to the needs and circumstances of individuals, families, and the [Latter-day Saint] Church as a whole…According to our faithfulness, we can receive revelation to help us with our specific personal needs, responsibilities, and questions and to help us strengthen our testimony" (Gospel Topics, Revelation).
Personal revelation does not come easily. Neal A. Maxwell, late latter day apostle, tells us that revelation "requires serious mental effort on our part….Revelation is not a matter of pushing buttons, but of pushing ourselves, often aided by fasting, scripture study, and personal pondering. Most of all, revelaion requires us to have a sufficient degree of personal righteousness, so that on occasion revelation may come to the righteous, unsolicited" (Neal A. Maxwell, "Revelation," First Worldwide Leadership Training Meeting, Jan. 11, 2003, 5).
How does revelation assist the women of the Mormon Church in making the most of this Relief Society organization? I hope in sharing a rather personal experience I might be able to help you understand.
Several weeks ago I began to feel listless. Certain things hadn't come together as I'd hoped, and I suddenly found myself with a lot of time on my hands. I'm the sort of person who will knit scarves while watching television, so suddenly finding myself with so much free time felt beyond daunting.
I began to pray and to fast about finding a purpose and good use for all this extra time. I received two answers, both of which I know were revelation.
First, to take care of my children. This seems like an easy thing to do, and I was giving my little ones a lot of my time already. So why the extra emphasis?
Over the past weeks I've come to realize these children, and all the precious spirits who have come to earth at this time, need more attention, more teaching, more preparing to deal with the wickedness now present. I was doing a good job, but I needed to do better.
The second revelation came to me as I felt strongly inspired to take some leftover dinner to a sister in our ward (local congregation). This particular woman was in dire circumstances, and my husband as bishop could not do as much as he'd wanted to help.
I went to the sister's house, gave her the food, and we talked. She was feeling very low at the time, and, as many of us have felt at one time or another, frustrated that even when she was trying to get her life back together things still kept going wrong.
In that moment words came to my mind, words I was supposed to tell her, words she needed to know. This had never happened to me before. Among those words were these, "The Lord sent me to you tonight. He loves you so much He sent me to you."
As I drove away a truth settled over me, one I believe illustrates what one individual can do in fulfilling the grand and beautiful purpose of Relief Society: we are called upon to minister to sisters in need. We are given revelations on how we might best serve, or comfort, or teach those who are lacking.
Just yesterday this was done for me by Sister Averett in my ward. I'd had a really rough day, and couldn't understand why. She felt strongly inspired to come to me. We talked, and an answer was given. How grateful I am for loving sisters like herself who are daily working for righteous purposes, so that she was ready to give help when I needed it.
For anyone who reads this I leave you my testimony. I know Heavenly Father put this remarkable organization of women in place because He knows the power of a righteous woman. I also know that if we desire to obtain personal revelations, we must be ever striving to deserve such blessings. We need to keep our lives in sync with the Lord's ways, and our hearts open. Only then can truth be bestowed upon us.