Sometimes, when a caring person looks around and sees how much need there is in the world, he can become discouraged. It might seem like it's hardly worth helping, when your help would barely even touch the hardship the world is facing. A person who can afford to give only three cans of soup to a food bank might wonder if those three cans could make any difference at all when so many are hungry.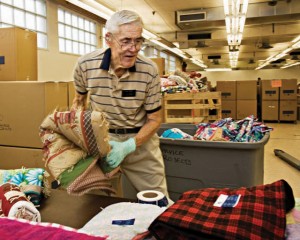 There is an often told tale of a man tossing starfish back into the ocean. Starfish that become stranded on the beach will die. A young man comes along and watches the older man for a few minutes. He looks around the beach at the hundreds and hundreds of stranded starfish lying on the beach and knowing the older man can't possibly rescue them all, asks, "Why do you bother? It's not going to make a difference."
The older man picks up another starfish and throws it into the water. He turns to the younger man and says gently, "It made a difference to this one."
There is a quote on my desk from Gordon B. Hinckley, the previous president of the Mormons. It says, "I believe in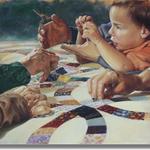 the principle that I can make a difference in this world. It may be ever so small. But it will count for the greater good. The goodness of the world in which we live is the accumulated goodness of many small and seemingly inconsequential acts." (Gordon B. Hinckley, "I Believe," Ensign, Aug 1992, 2)
Our three cans of soup might not do very much to end hunger. However, our three cans of soup might feed six people. Then, if our neighbor also contributed three cans of soup, twelve people would be fed. If enough people donated soup, and all the other foods necessary to sustain life, no one would be hungry. The accumulated donations would be enough to take care of everyone who needed them, even though ours alone can't make a dent in the problem.
In order for this to work though, in order to be sure everyone who is hungry gets fed, and everyone who needs a place to live has one, everyone has to help. This doesn't mean we can all sit around and wait for a handout. It does mean that those who have done the best they can do and still can't quite make it will receive what they need. Anyone could unexpectedly find himself in a situation where he is dependent on others for his well-being. No one is immune from hardship. If we've helped others, we've earned the right to be helped without feeling guilty when we've truly exhausted our other resources.
The Mormons have a number of programs designed to help make our small contributions count for the greater good. One such program is the bishop's storehouse. The storehouse resembles a small grocery store with one big exception-there is no cash register. Mormons meet with their church leaders to evaluate whether or not the member has done everything in his power to take care of himself. Has he cut his expenses down, and gotten rid of the luxuries? The church doesn't help people maintain their lifestyles. It only helps them live. This means if a member wanted food assistance, but was keeping up a gym membership and a nice boat, he would be turned down.
The church leaders would also help the member learn to live more frugally if necessary. Then, when they were determined to be eligible for help, they would be able to fill out, with help from a leader, a form that lists all available food and personal care items available. They'd select what they need and go to the storehouse every other week to pick it up.
A member receiving this help would be expected to "pay" for it with work that might not entirely cover the cost, but would be tailored to that person's individual circumstances. A member might come to the church building on Saturday evening to help clean it for the next day's services, or mow lawns for elderly church members. Those who can come early to the storehouse and work there for an hour or two before filling their order. This maintains a person's self-respect and dignity, because he's not taking charity.
The money for this program comes from Mormons, who go without food for twenty-four hours, ending the first Sunday of each month. They skip two meals this way and then donate at least the amount they saved by not eating, drinking, or snacking during this time to a special fund called a Fast Offering. All the money from this fund goes to care for those in need. This allows the person who could normally only afford to donate two cans of soup to donate more once a month. Again, while the amount of money saved from two meals might not be a lot, when combined with the money from all the other skipped meals, it feeds and cares for a great many people around the world.
Each Mormon congregation has a woman's Relief Society. This Relief Society has a woman assigned to be the Compassionate Service Leader for her congregation, working with assistants if needed. The compassionate service leader makes certain the needs of the congregation are met in terms of service. For instance, a grieving family will receive meals for a few days from members of the church. A woman with a broken leg might driven to the doctor by another woman, and a single mom with a critical job interview might have her children watched while she's away. In this case, the accumulated goodness is in the form of time, rather than money. Not all needs can be met with money, and Mormons are taught to respond to those needs with their own time and resources.
The Savior Jesus Christ taught us to serve each other. He told the story of a time he was hungry and wasn't fed or homeless, but was turned away. When his followers wanted to know when they had done that, he reminded them that what they do to others is what they do to the Savior. When we feed a hungry person, it's a gift to Jesus Christ.
We may not be able to change the world alone, but when we combine our small but loving efforts with those of others, the world does get changed.
Mormons teach that God's prophets today, like those we read of in the Bible, are authorized to speak on God's behalf for the entire church. Often, people who are not LDS find this concept amazing or even alarming. They wonder how we know if they're telling us the truth. We are often asked silly questions like, "If your prophet told you to only wear blue, would you?"
Brigham Young had an answer for this question. He's said to have told people his greatest fear was that people in the church would start to take what he said as the will of God and not take the time to go to God personally to receive confirmation of it.
Although Mormons are taught to honor their prophets and to follow them, it's not a blind following. Only God can be completely trusted to always tell you the truth, and only God knows the truth of all things. Mormons are taught even before they join the church to pray and ask God if the current prophet really is God's prophet. Then, afterwards, at any time, th
ey can return to God and ask about specific teachings the prophet has given.
In the case of the hypothetical situations Mormons are always being asked about, a member who reads an article by a church leader will generally follow the following pattern:
Before reading or listening, they pray for the spirit. This will often tell them what is true while they're receiving the information. Once they received the counsel, they place it in context of other teachings they've received. For instance, if the prophet said to store food away so you'll have enough to eat if you lose your job, a member would say, "Oh, I've heard that many times before and already know it's true." He wouldn't likely take time to pray about this, since it's repeated often.
If it's new counsel, he might compare it to see if it fits in with previous teachings. For instance, prophets often tell us to store wheat. If this were the first time we'd been told to store wheat, we might think to ourselves, "Well, that's the first time wheat's been mentioned, but we've often been told to store food in general, so I'll just add that to it." It fits into previously given counsel.
However, if a member heard entirely new counsel, and just couldn't quite feel comfortable with it-maybe because it would require him to stop doing something he loved-he could then take it to God in prayer. Following the established pattern for prayer, he would study the problem in his mind, come to a decision, probably based on what he already knows about God and the gospel, and then come to a conclusion. He'd then kneel in prayer and ask God if he's made the right choice.
Spencer W. Kimball, a past prophet, spoke on the subject of blind faith. "When men obey commands of a creator, it is not blind obedience….God's every command is righteous, every directive purposeful, and all for the good of the governed. …
Is it blind obedience when one regards the sign "High Voltage-Keep Away" or is it the obedience of faith in the judgment of experts who know the hazard?

Is it blind obedience when the air traveler fastens his seat belt as that sign flashes or is it confidence in the experience and wisdom of those who know more of hazards and dangers?

Is it blind obedience when the little child gleefully jumps from the table into the strong arms of its smiling father, or is this implicit trust in a loving parent who feels sure of his catch and who loves the child better than life itself? …

Is it then blind obedience when we, with our limited vision, elementary knowledge, selfish desires, ulterior motives, and carnal urges, accept and follow the guidance and obey the commands of our loving Father who … created a world for us, loves us, and has planned a constructive program for us, wholly without ulterior motive, whose greatest joy and glory is to "bring to pass the immortality and eternal life" of all his children? [See Moses 1:39.]

It is not blind obedience, even without total understanding, to follow a Father who has proved himself. ("Chapter 13: Obedience Born of Faith in God," Teachings of Presidents of the Church: Spencer W. Kimball, (2006),135-44
In the case of the hot stove, it's likely a child touched a hot stove against the advice of a parent at some time in his childhood. Having done so, he learned first that stoves can be hot, and secondly, that parents can be trusted. Over time, as his parents continued to be right about physical danger, it's likely he stopped feeling the need to touch every stove or try out every dangerous thing. Whereas, as a toddler, he might have heard a parent say the stove was hot, but he had to find out for himself. As an eight-year-old, if his parents told him it was too dangerous to go outside in the current weather conditions, he might obey without first testing, having learned his parents were usually right.
In the same way, Mormons learn to trust their prophets, and they learn to trust God. A new member is likely to pray about every individual doctrine, but a later member, having learned that when he does so, God always says yes, the prophet is right, no longer needs to do this. He can spend his limited life doing more important things. He saves his confirmation prayers for those situations which leave him uncertain, or which require greater sacrifice to carry out.
Being able to turn to God is one way God protects his children from unscrupulous leadership. They need never take anyone's word for any part of the gospel, but can always go directly to the source. The prophet delivers God's message and guides the church, but each member is individually responsible for confirming the truthfulness of what they're being told.
Someone just learning about the church through Mormon missionaries will be taught how to pray almost immediately. Then, after each lesson, he will be asked to pray about it privately to know for himself it's true, rather than taking the word of the missionaries. This is a critical step in the member's progression, because someone who does this is far less likely to fall away from the church in the future. His testimony will be based on a firm foundation-God.
Even if you aren't a Mormon, you may find the Book of Mormon a valuable tool for learning to read in a new language. I'm currently using it to learn Portuguese, and I've discovered even people who aren't Mormon are using the book as a valuable tool.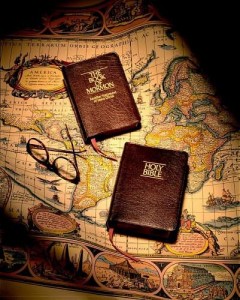 The book, like the Bible, is divided into chapters and verses. This makes it very easy to keep track of where you are. There is only one translation for each language, so the wording will be very similar. It's not, of course, a word for word translation, because it can't be. Languages don't always have equivalent words or structure.
Mormons begin their language study by praying for the gift of tongues as they study. They believe God will always help them when they are learning about Him, and so, when they read about Jesus Christ or God, He is guiding their study, allowing them to learn faster than they would otherwise.
Work chapter by chapter through each book. Begin by listening to the chapter being read by a native speaker. This will help you become familiar with the sound of the language. You can use this to help you understand how to pronounce the words you're learning. At first, you will just hear a stream of words. After a short time, you'll be able to tell where words begin and end, and eventually, you'll pick up a word here and there.
You can listen to the Book of Mormon free online in many languages. Just download the files into your computer-no registration is required. English, Spanish, and Portuguese are available on LDS.org. For other languages, go to the Language pages on LDS.org and search for the language you want. Audio isn't available for every language yet, and you may have to explore to figure out how to find the link on the pages, which are written in the language chosen.
After listening, open both books. You can find copies on the Internet, or obtain an English one from a Mormon or a missionary. I usually open the English version of the Book of Mormon on the Internet and the Portuguese version in print, but either way works. You can also just open two windows on your computer and only use the online versions.
Read the summary or verse out loud as best you can in your new language.  Then study it out and see if you can figure out what the verse means. You may not know every word, but you may be able to figure out the basic meaning of the verse. At first, if you have no experience, you'll have to look up every word, but over time, certain words will become familiar. There tends to be a great deal of repetition within chapters in this book. There are many free translation programs on the Internet, although they aren't perfect. You can also buy bilingual dictionaries. Use these to look up a word you can't figure out from context, or that you want to know the exact meaning of.
When you see the same word occurring over and over, look up the exact meaning if you can't figure it out. Then post it on your computer or desk until you've memorized it. This allows you to memorize a few words at a time in a more formal way. However, you'll also begin picking up words without effort.
You can read the book straight through or reread sections until you know the vocabulary. If you read straight through, you should allow about a year. I'm told that about a third of the way through the book, you'll realize you're actually understanding it in the new language, and translating is slowing you down. I'm already finding some words are understood without the need to think of them in English.
As often as possible, figure out the meaning from context, rather than just looking them up, or at least figure it out before you look it up. Once you've gotten a general idea of the meaning of the verse, turn to the English version and check your understanding. This is the time to look up specific words. Reread the verse if you need to, now that you have the meaning in mind.
Measure your progress generously. I keep track of how many verses I can read without having to check the translation. At first, I just noted how many verses I could read in the allotted time. It was only a few verses a day at first, but now I'm reading about thirty to fifty verses a day.
You will learn to read the language this way, but to learn to speak it, you'll need to go further. Find friends who are native speakers and begin practicing with them. Buy a textbook to help you learn grammar and usage rules. But always start your study by reading the Book of Mormon. In about a year, you'll be surprised how much of your new language you can read.
Michelle Obama announced this week the White House was planting a garden and growing its own food. While it will be cared for largely by the staff, a group of local school children will also be helping out, as will all members of the Obama family, including the president. This is the first full vegetable garden since Eleanor Roosevelt planted a victory garden and encouraged others to do so as well. The purpose of that garden was to make sure there was enough food during wartime.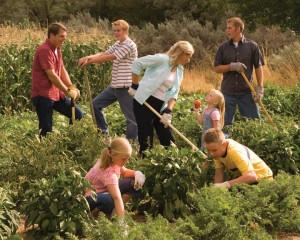 Today's garden announcement was made to encourage healthy, organic, and locally grown eating, and the garden, placed near the Obama children's swing set, is especially meant to encourage children to eat well. However, when the country is in the midst of a recession, a garden is also a way for families to cut food costs without resorting to cheap, but unhealthy alternatives.
The Mormons have been promoting gardening for many decades. They teach their members to build a food storage against hard times, and a garden is a part of that plan, creating a renewable food source that cuts costs and provides fresh food even in difficult times. A former Mormon prophet named Spencer W. Kimball said, "We encourage you to grow all the food that you feasibly can on your own property. Berry bushes, grapevines, fruit trees-plant them if your climate is right for their growth. Grow vegetables and eat them from your own yard. Even those residing in apartments … can generally grow a little food in pots and planters. Study the best methods of providing your own foods. Make your garden … neat and attractive as well as productive. If there are children in your home, involve them in the process with assigned responsibilities" (in Conference Report, Apr. 1976, 170-71; or Ensign, May 1976, 124).
President Hinckley, having spent his childhood summers on the family farm, was a strong advocate of gardening, but other leaders have also encouraged it. Growing your own food allows you to eat a healthier diet with food grown locally and in season. After the initial start up costs, which can be small, the costs are minimal. In a time when you might be too ill or too poor to shop, it's reassuring to have fresh food right outside your door. Even if you keep a supply of food for hard times, people in this situation often find themselves longing for fresh produce.
In addition, gardening is good for children. It teaches them hard work and responsibility, since a garden cannot be neglected. It's meaningful teaching with very tangible results the children can actually eat.
To get children excited about the new family garden, let them participate in the planning. When my children planted their first garden, each of them chose one food to plant and care for. Because it was something they enjoyed, they were eager to take care of it and to share the harvest with their siblings and parents.
If you're able, grow enough for yourself and a little to share with your neighbors, a food bank, or someone in need. By doing so, you increase the value of your garden. Now, you're not only teaching hard work, responsibility, and respect for nature, you're also teaching Christ-like service. Document the project in pictures and make a fuss over the results. When a child grows his own food, he is more likely to eat it, and there is great pride in watching everyone else enjoy the food the child grew. Follow the harvest with cooking lessons, allowing the child to create a product from seed to table.
If you're Mormon, teach your children the song, "The Prophet Said to Plant a Garden." If you're not, you might substitute the words "the prophet" with the words First Lady and sing the song anyway.
The Mormons have a new website about disabilities. While it was developed for church members, much of the information is valuable to anyone who has or cares for someone with a disability. The website says:
"This Web section on disabilities has been created to offer support, comfort, and an increased level of acceptance toward those with disabilities.

Those individuals who live with a disability, their caregivers, as well as leaders, teachers, and members may find within this site additional understanding of specific disabilities and some of the difficulties faced by those involved."
The website offers basic church guidelines for working with people who have disabilities, as well as suggestions for teachers who have students with special needs. The site also has a page of scriptures and quotes related to disabilities or caring for those in need, to serve as a comfort and a guidance. Another page has a list of the resources the church makes available for those with disabilities.
Other pages are less church-specific. One page offers guidelines for parents, for assisting the siblings, and for grandparents on helping a person with disabilities. The page for siblings is particularly helpful. There is often a lack of material on how to help a child accept and understand a disabled sibling. This page explains that siblings often go through the same grieving process as the parents do, and that they have a right to be children. They should be allowed to express their true feelings, even if they're hard to hear, but then be guided gently to an appropriate attitude in time.
Following these pages, there are pages for a few specific disabilities: autism, chronic illness, hearing loss, intellectual disability, learning disability, memory loss, mental illness, physical disabilities, speech and language, and vision loss and blindness.
As an example of the type of information available, let's look at the autism topic. The page begins with an overview of autism, including symptoms and causes. Below this, the article outlines three main areas in which an autistic person might have challenges. It then outlines how to help, with the focus centering on teachers and leaders in the church. The article also includes a list of teaching tips, so that even a person with no experience can help a student get the most of the class.
Finally, the page offers a list of additional resources, both on the church's website, and on non-LDS websites as well.
Because those with special needs are most often integrated into a regular ward program, this is a valuable resource for parents and leaders. Teachers may feel uneasy about having a special child in their class at first, but when they approach the assignment with love and realism, they soon realize the experience enriches everyone's life.
I once had a four-year-old with the abilities of an eighteen-month-old in my Primary class. I gave the children a simple explanation and told them that while she had a family and teachers and a Heavenly Father who loved her and helped her, what she didn't have was friends her own age. I explained that she would need extra care and help and asked them if they'd like to be her friend and help her. They agreed, and that set off what I call my Miracle Year.
The children eagerly watched for opportunities to serve the little girl, and also cheerfully helped each other so I could work more closely with her. If we made something they assisted each other, leaving me free to help her. As they learned to watch for service opportunities, they expanded it into all aspects of the class, leaping to help one another at all times. They became very compassionate about individual differences. When one child was upset because he was the only one who couldn't ride a bike, the others reminded him of what we always said about our special classmate: Everyone has things he's good at and things that are harder, and we all learn at our own pace. In the past, I'd seen other children teasing a child in this situation, but these children were learning to respect individual pacing.
Throughout the year and three months I worked with these children, I not only saw a dramatic increase in their compassion, but in their spirituality. We witnessed a number of spiritual miracles, including a reactivation of a parent. I had no doubt, as I looked back on an extraordinary year, that it all started because they had the opportunity to serve a child with special needs and learn to be more like Jesus Christ.
The Mormons have a new video explaining why Mormons build temples. This clip includes the late Krister Stendahl, a former Lutheran Bishop of Stockholm and Dean of Harvard Divinity School, speaking about Mormon temples. Stendahl was never a Mormon, but is often remembered for a speech he gave defending Mormons.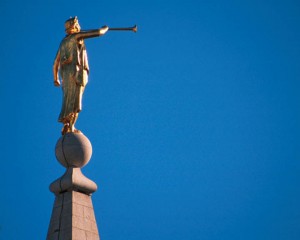 According to FAIRLDS, controversy built up around the Mormons' desire to build a temple in Stockholm, Sweden in 1985. Stendahl contacted Truman G. Madsen and offered to hold a press conference in a Mormon church building endorsing the building of the temple and also suggesting the appropriate way to treat religions other than your own.
In this speech, he outlined three rules, now called, "Stendahl's three rules of religious understanding. These are good rules for anyone to follow, regardless of their faith.
The first rule is that if you want to know about a religion, you should ask the faithful members, and not the enemies. Anyone who follows partisan politics knows that those who feel so strongly about something sometimes think it's okay to lie as long as it helps you "win." If someone is trying to learn about you, it's likely you'd rather they ask you personally, rather than rounding up your enemies for a hearty bashing session. When Jesus was living on the earth, he taught that we should treat others as we want others to treat us, which makes responsible fact-gathering a Christian responsibility. When learning about another religion, stop to think how you want people to learn about your own religion. Go to the source.
The second rule is to not compare your best to their worst. This is a very basic principle of fairness. Imagine, for instance, a person were to say, "Well, I know this church is bad because last week, the newspaper had a story about someone from that church who got arrested. In the very same paper, there was a story about a person from my church who works for the poor." While that's a rather stark example, it does make a clear point. It's very likely both churches have people who get arrested and people who serve the poor. To selectively point out the worst person, and compare that person to another congregation's best is hardly a balanced way to evaluate a faith. A fairer way to do this is to look at Congregation A's work with the poor and compare it to Congregation B's work for the poor. Of course, poverty relief is only one aspect of Christianity, but we have to compare things on an equal basis-as the old saying goes, don't compare apples with oranges.
The third rule is to leave room for "holy envy." Stendahl suggests it's perfectly okay to admire something in a church you don't actually want to join. Every church has it's good and it's not necessary to trample it just to make your own church look better. It's even okay to admit that another church does one particular thing better than yours, or maybe just differently than yours but in a way you like. Stendahl was able to picture himself going through the temple ceremonies, even though he didn't want to become a Mormon. He didn't have to think we had it all right to admire that aspect of the Mormon faith. He wasn't threatened by the fact that we had something he personally admired.
These rules reflect basic Christian principles, but they also demonstrate Stendahl's comfort in his own religion. His testimony of his Lutheran faith was strong enough that he didn't need to trample another religion in order to feel okay about his own, nor did he feel the need to eliminate or blockade another religion to keep his safe.
If you are sure your own faith is true, you won't be worried about what other religions are doing. You'll be too busy sharing the wonders of your own faith to devote your life to trampling the beliefs of others.
While we might not agree with everything Stendahl did in his religious life, we can find wisdom in these three rules that are right for any religion.
Watch the video on why Mormons build temples.
Mormons believe you're never too young to learn, so classes for children begin at eighteen months. The nursery is for eighteen month olds to three year olds. In January, a child who will be four by the end of the year moves into the regular children's program, known as Primary.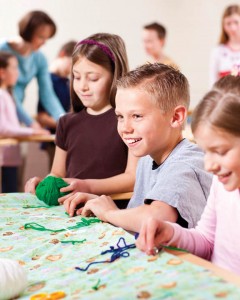 The nursery is not merely a babysitting service. It's a real class, with a structured schedule and meaningful gospel learning opportunities. Previously, the nursery used the manual for the next class up, with suggestions for adapting it. This year, a new manual just for toddlers was introduced, which reinforces the educational and spiritual aspects of the nursery program.
The nursery is staffed with at least two adults, either a married couple or two adults of the same gender. Attendance is voluntary, but it is an important step to preparing children for the higher demands of the rest of the Primary program.
The new manual is called "Behold Your Little Ones." The title is taken from a powerful story in the Book of Mormon, when Jesus Christ appeared to the Nephites after his death. Jesus asked the people to bring their children to him. When they were gathered, He stood in their midst and prayed. After the prayer, he gave each child an individual and personal blessing-a special personal prayer to God for the child.
22 And when he had done this he wept again;

23 And he spake unto the multitude, and said unto them: Behold your little ones.

24 And as they looked to behold they cast their eyes towards heaven, and they saw the heavens open, and they saw angels descending out of heaven as it were in the midst of fire; and they came down and encircled those little ones about, and they were encircled about with fire; and the angels did minister unto them. (3 Nephi 17)

The title reminds us of how special children are to the Savior and that miracles can occur through and to children. They are never too young to learn to love their Savior.
The manual contains thirty lessons, including lessons for Easter and Christmas. Each lesson is a complete resource. Spiral bound so it can be set on a table, each lesson includes songs, scriptures to be read directly from the scriptures themselves, scripture stories, repetition activities, and pictures. There are full-color pictures, as well as a simple line drawing to be used for coloring or other activities. The lessons also include optional activities leaders can choose from, such as activity verses, crafts, or games. The pictures are in the actual lesson, not a separate packet, making it easy to show them to the children and to keep track of them.
Along the margins are teaching tips to help leaders understand children or learn to improve their teaching skills. They also outline the church rules for teaching.
As an example, lesson two's theme is "Heavenly Father Has a Plan for Me." The lesson flows from the children's song, "I Am a Child of God." The points of the lesson are taught as children learn one or two lines of the song. Pictures of Jesus Christ and of families make the topic more understandable for small children, and restlessness is avoided, as the children are also learning to sing the song throughout the lesson. This lesson is an excellent way for music leaders to learn how to teach a child a song.
Because each lesson has a picture and craft idea, leaders are less tempted to use materials that aren't produced by the church. Everything needed is right in the lesson, and teachers are instructed to supplement, if needed, with materials from other lesson manuals or church magazines.
Nurseries are counseled to include in their schedule:
Lesson
Free Play time with books, toys, and puzzles. Toys are to be out only during playtime.
A healthy snack.
Music lesson.
Transition activities to help children move from one activity to the next. This is the schedule I am using in my nursery:
Gathering activity-10 minutes. This is a craft based on the lesson or a few educational toys, just something to get them engaged while they're arriving.
Lesson: 15 minutes
Snack: 15 minutes ( a nice break after all that structure.)
Music: 15 minutes
Free Play: 30 minutes. Toys are put into four or five stations, not all over the room. One station is rotated out each week, but books and toddler toys always stay. A teacher sits on a blanket reading to those who want to listen. Educational things are at another station, also with an adult. Remaining adults watch over the nursery. We usually have parents around to help with that.
Closing Activities: A review of songs and action rhymes from the lesson, and then coloring or crafts based on the lesson, games. I set out the flannel boards and maybe one other thing for children who don't do crafts or coloring.
As you can see, the children are busy and learning the whole time. There is only a half hour of toys, and it's a selected number of toys to avoid overstimulation.
The new manual makes it very easy to build everything but the free play around your lesson and to use only church produced materials. It's an amazing work, and I hope the next round of manuals for older Primary children will follow the example of this one. It's also designed to be used in the home, and is so simply written, a child could plan family home evening from the lessons. Take a look and see for yourself:
Mormonism is in the news quite a lot lately, and often people have questions. Although it's likely you know a Mormon, you may be unsure of how to start a conversation, or may be worried about starting a conversation that leads to debate or pressure. Mormons love to talk about Mormonism, and most welcome sincere questions. With a few simple tips in mind, you can have an enlightening conversation with your Mormon friends.
The first thing you should know is that Mormons are taught not to "scripture chase." This is a Mormon term that refers to each party pulling out scriptures to prove their point. Anyone who has tried it knows it's a useless activity. I once had someone "prove" Martians were secretly living on the earth using the Bible. You can prove almost anything with scriptures if you try hard enough. If you start a scripture chase, your friend will most likely back away from the discussion. It is, however, a reasonable request to ask to be shown a Bible scripture or two the church might use to back up a point. (Mormons believe in and use the Bible.) Seeing the scriptures the way your friend sees them will help you to understand his faith better. Just don't turn it into a contest. Mormonism is proven through faith, not scripture chasing.
In the Book of Mormon, we read, "And it came to pass that there was no contention in the land, because of the love of God which did dwell in the hearts of the people." (4 Nephi 1:15). Mormons are taught not to contend about Mormonism, but to simply answer questions factually and share their testimony of the topic, but not with an argument. Arguments don't convert, they don't make friends, and they chase away the Spirit of God. While, of course, Mormons aren't perfect in this, it is the goal, and arguments really won't solve anything. Mormons get their testimonies by praying to God, not by intellectual games. When talking to a Mormon about Mormonism, seek information in a non-contentious way.
The second point to remember is that Mormons take sacredness very seriously-both the sacred in their own religions, and the sacred in others. Mormons consider certain parts of Mormonism sacred-not secret, but not to be talked about lightly or to people who don't have the background or testimony to understand. (Think of it as being put into an advanced physics class before you've even had a beginner's course.) When people attack their sacred things, they pull away. It's important to respect the sacredness with which they hold certain aspects of their religion. If they prefer not to talk about certain things, it is because they are taught to "trifle not with sacred things." (Doctrine and Covenants 6:12). Often they will be willing to answer your questions in general ways, but not in the detail you might seek. Most people of all faiths have certain things in their lives that are too sacred to speak to speak of lightly, and just as you would not want your sacred things brought out into the world, neither do your Mormon friends. Show them the respect you want shown for those things you consider sacred. No one is obligated to share every detail of their personal lives, and while there is nothing shocking in what they consider sacred, it's not meant to be held up to outside conversation or analysis.
Language sometimes becomes a challenge when speaking to Mormons. They have a unique vocabulary, as does any culture. You may find they use words you've never heard, or they use them in different ways. Often, when someone thinks Mormons believe something different than they themselves believe, it turns out that they simply use a different term or use it a little differently. For instance, some people call themselves born-again Christians, meaning that at a single moment in their lives, they took Jesus as their Savior. Mormons don't often use that term, even though they've also accepted Jesus Christ as their Savior. When Mormons talk about being born again, they aren't referring to a moment in time, but a lifetime of love, commitment, and service to their Savior. So, while they might well be called born again, they don't use the term. For them, this is a way of life, not a once in a lifetime event. Don't be afraid to ask your friend for a definition of terms. Often, Mormons forget others don't "speak the language" or even fail to realize others use the words differently. Figure out what role semantics plays in your misconceptions.
Another important point to keep in mind is that what you read on certain websites, known as anti-Mormon sites, may not be true, or may not be doctrine. One point many outsiders fail to realize is that not everything a Mormon-even a Mormon leader-has ever said is doctrine. Our leaders don't choose religion as a profession. They come from the private sector and eventually end up serving God full-time. They therefore arrive at their stations with opinions and sometimes they state those opinions publicly. This was especially true in the earlier days of the church, when conferences were less structured and more conversational. If a question was asked, and God had not revealed an answer, sometimes the prophet would express his personal opinion, which was never canonized, but which many have either come to believe is true, or claim is true. It would take a great deal of study for you to understand what is doctrine and what is not. When you tell your friends they believe something, and they say they don't, take their word for it.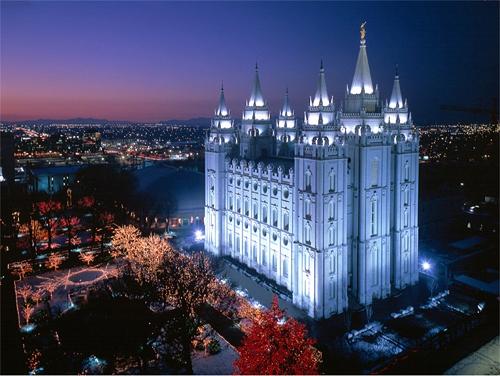 In addition, many things these sites hold up as critical doctrine are really outside the core. Mormons believe that only those things which affect your salvation are important. The rest is just interesting. It doesn't matter, in terms of our eternal salvation, whether the earth was created in seven twenty-four hour days, seven one-thousand year periods, or some other time frame. It has nothing to do with our eternal lives. What does matter about the creation is who created the earth. That is a core doctrine. When you read what Mormons are supposed to believe, ask yourself if that information would affect the salvation of a Mormon. If not, it's okay to ask, but don't make a fuss over it. Mormons don't.
Essentially, all of this boils down to two very easy to remember words: Be respectful. If you're respectful and friendly in your conversation, your Mormon friends will be happy to answer your questions and clear up any misconceptions you might have about their interesting but less well-known faith.
Some people think the Mormon concept of self-reliance is a sign of having no faith. They quote scriptures that say to trust God and suggest that if we do anything to prepare for hard times, we're not trusting God or are even violating commandments. Is there Biblical evidence that God expects us to take care of ourselves as far as we're able?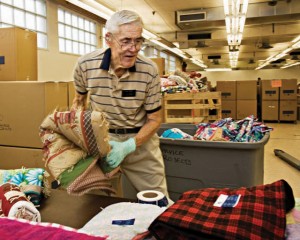 Mormons do teach people to trust God. However, God is a parent and a perfect one at that. Those of us who are parents know that if we wait on our children hand and foot, doing everything for them, we ruin their lives. They will never be able to live on their own, cook their meals, clean their homes, or do their own laundry. God loves us too much to do this to us. He wants us to become everything we are capable of being.
Of course, there are some things that are beyond us. No matter how carefully we prepare, we may find ourselves unemployed for too long, or ill and unable to work. At those times, we trust God, and God does His work through others, which is why we're commanded to serve. However, before God steps in, He needs to know we were willing to make a few sacrifices to prepare ourselves as best we could. Before we make others sacrifice for us, we should be certain we did as much as we could.
To believe otherwise, to think we can plop ourselves onto a patch of ground and expect God to build us a home, put food on our table, or money into our bank account is to turn God into our personal servant, taking direction from us. This is not what the Bible teaches. It says we are to serve God, not the other way around. It is God who gives us everything, but He expects us to earn what we have as far as we're able to do so, and then He makes up the difference. We can never repay God for what He's given us, but we have to put in an honest day's work for it.
"Well God, thanks for this great job you've given me. After paying the bills, there's a lot left over, so I'll buy a big screen television, a fancy car, and an overly large house, and when I lose my job, you'll have to take care of it. I have no intention of sacrificing my pleasure when it's your job to take care of me." Would you talk to God this way? Of course not, and yet, this is what we do when we spend our money on extras without taking a moment's thought to being responsible human beings.
Those who feel we must trust God and not prepare usually have jobs. They don't expect God to pay the mortgage this month. If it's okay to get a job so you can care for yourself, then it is equally okay to set aside food and money for a rainy day. It has nothing to do with trust, and everything to do with being a responsible child of God.
Let's look at the Bible for some examples of this. When Adam and Eve lived in the Garden of Eden, they had everything provided for them without effort on their own part. This was the very last time God ever did this. It gave them time to adapt to mortal life and to build their relationship, taking the place of the childhood the rest of us enjoyed.
Once they left the Garden, they were told, "In the sweat of thy face shalt thou eat bread, till thou return unto the ground." (Genesis 3:19 ) Adam was told he was to work for his food, not sit around waiting for manna to fall from the sky. This is self-reliance, learning to grow his own food and take care of his own family. God made up the difference.
When it was about to rain for forty days and forty nights, God didn't hand Noah an ark ready-made and filled with animals and food. He instructed him in how to build it. Now, it wasn't raining at all. Noah trusted God-that's where the trust scriptures come in to play. He did trust. He didn't know how to build an ark, but God did. Noah did his part-he followed instructions. However, he had to have help in the form of instructions. Noah did his part and God made up the difference. Noah practiced self-reliance. He built the boat, gathered the animals, and stored away food. Manna didn't rain down from Heaven with the water. Noah had to store food away, enough to last the entire time he was on board.
The story of Joseph emphasizes the need for self-reliance and preparation. Joseph interpreted the Pharaoh's dream to mean there would be seven years of plenty followed by seven years of famine. The Pharaoh put Joseph in charge of using those seven years of plenty to prepare for the lean years. They stored away food, and when everyone else was starving, they had food. Because of this, Joseph was able to save the lives of his own family, as well as the lives of some people who didn't prepare. But someone had to be self-reliant for any of this to happen. If no one had stored food, everyone would have starved.
1 Corinthians 16:2 says: Upon the first day of the week let every one of you lay by him in store, as God hath prospered him, that there be no gatherings when I come."
Jesus taught the parable of the Ten Virgins. While this is, on one level, about spiritual preparation, it is also about temporal preparation. The women needed to have enough oil on hand to meet their needs even when something unexpected happened, in this case, the delay of the bridegroom. When the need arose, it was too late.
Mormons believe it is irresponsible to buy luxuries with our excess and then to expect others to use their hard-earned money to take care of us in times of unemployment or illness. If we've done what we can, then it's appropriate for others to come and help us. While the giver must never decide who is or is not worthy of help, the receiver must be certain he isn't living on someone else's work when he could have taken care of himself with a little preparation and sacrifice of comfort.
Being prepared to care for ourselves as far as we're able is one way we show our gratitude to God for all He has given us. He's given us the ability to have a job and to plan. He gave most of us what we need to care for ourselves, and we use those gifts wisely, not asking of Him what we could do for ourselves or wasting the gifts. Then, in times of need, we go to Him for help and trust Him to make up the difference between what needs doing and what we were able to do ourselves. As a wise parent, this is what God wants of us.
There is a beautiful children's hymn for young Mormons called, "A Child's Prayer." The song is written for an adult and child to sing together. In the song, a child asks God if he's really there, and if he's really listening to and answering the prayers of children. The child notes that many people feel Heaven is too far off, but when he prays, he feels heaven is very close by. With that, the child remembers that Jesus Christ said to bring the children to Him, referring to the story in which the disciples tried to send away a group of children who came to see the Savior late in the day. The Savior stopped them and invited the children to come to Him to be blessed and to talk with Him. Reassured, the child in the song goes to Heavenly Father in prayer.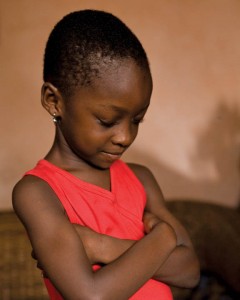 This is followed by an adult verse. The adult shares his testimony of God with the child, reassuring him God is listening, because the child is God's own child, and is loved. The adult encourages the child to pray and promises he will be heard.
This is a lovely song which addresses an important issue for both adults and children. Sometimes it can be hard to keep our faith strong when times are hard.
When we left God's presence, He created a way for us to stay in touch with Him through prayer. Prayer allows us to talk to God, but it isn't a one-way communication. He also arranged for us to be able to "hear" his answers to us. The answers aren't really a voice, most of the time. Usually, it's more of a feeling, an impression in our minds, or a strong feeling of good or bad in our hearts. This comes to us through the Spirit of Christ or through the Holy Ghost.
Each person has the Spirit of Christ available to Him. We can also receive visits from the Holy Ghost, which is the only source of truth. Once we're baptized, we can receive the Gift of the Holy Ghost from a priesthood holder with the proper authority. This gift can be with us around the clock if we live worthily.
However, it takes practice to learn to recognize the promptings of the Holy Ghost. I first felt it when I was ten years old and was listening to a missionary at a Mormon temple visitor's center talk about the Book of Mormon. I was not Mormon and didn't attend church regularly, so I had no idea what I was experiencing. Over the next several years, I felt the same feeling, and gradually began to notice it always occurred in religious settings, and most often in situations where Mormons were involved. When I began to visit the local Mormon church, a friend explained to me this was the Holy Ghost.
Even then, it took time to recognize it as an answer to specific prayers. I learned to first study out the issue in my mind, and then to ask God if I had made the right choice. When I'd done my share of the process, God always did His. I learned to recognize the warm, peaceful feelings as being signs of confirmation or approval from God, and the confused, uneasy feelings as God's way of warning me I was on the wrong track, and needed to think it through more carefully.
Every talent requires practice. No one expects to pick up a paint brush for the first time and paint a masterpiece. The same is true of prayer. If we want to recognize God's "voice" in our lives, we need to train and to practice. When we live the way God teaches us to live, study the scriptures, and spend time praying, we are training. When we resist the temptation to pray and then leap up and run off without waiting for an answer, we're improving our ability to receive the answer. When we trust the answers we receive and act on them, we demonstrate our faith in God. The stronger our faith, the better able we are to recognize His presence and understand how He guides us from day to day. As the song says,"Pray. He is there. Speak-He is listening."
Listen to A Child's Prayer.