In this series of articles on virtue, we've been exploring the Young Women's program for Mormon teenagers. The girls-and in some countries, the boys-participate in a program called Personal Progress, in which they set and achieve goals. Some are chosen for them, and others are of their own choosing. The goals are centered around a series of values God wants the girls to achieve. The newest value is that of virtue. We are studying, in these articles, the requirements for completing the Virtue value.
The second requirement focuses on the Holy Ghost, called by some the Holy Spirit. Read more
The hymn "Come, Come, Ye Saints" is possibly more closely identified with the Mormons than any other. It was written in the morning of April 15, 1846, which was the day its composer, William Clayton, learned his wife had given birth to a son.
The time was after Joseph Smith, the first prophet of the Church of Jesus Christ of Latter-day Saints, sometimes called Mormons, had been murdered. Brigham Young had assumed leadership of the church. Unfortunately, the murder had not led to safer conditions for the Mormons, and they were forced to travel west to escape persecution and death.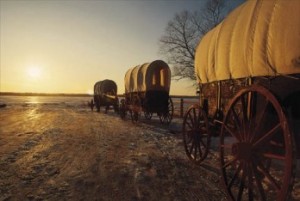 William Clayton was among those who traveled west. He had become a Mormon in the early 1880s in England, a convert from the Church of England. He was only 24 years old when he joined, but was well-educated and skilled at numbers, writing, and record keeping. He quickly become a trusted leader in the little group of Mormons there.
At the age of twenty-four, he and his wife immigrated to the United States and went to Nauvoo, Illinois, a city founded by the Mormons. He served as Joseph Smith's secretary, sometimes transcribing revelations from the prophet. When Joseph died, there were disagreements over who should run the church. Clayton wisely supported Brigham Young and was soon serving President Young in much the same way he had served Joseph Smith. His reputation as one who was intelligent and trustworthy led to his assignment to lead a group of pioneers. His wife, pregnant, stayed behind in Nauvoo during this first trip.
William Clayton was a talented musician who played the violin. During the preparations for the move, Brigham Young assigned Clayton to purchase instruments and form a brass band. A gifted leader, Young understood morale would be a challenge during a long and dangerous trek, and music would help to keep up spirits.
The journey to Utah was slow and discouraging and the Mormon pioneers made little progress each day as they slogged through the rain and mud. By the time they reached Iowa, many were discouraged.
Clayton spent the trip worrying about his wife and their unborn child, and because communication was so difficult, he did not know for quite some time the baby had come. The child was born healthy, although the mother was very ill with ague and mumps. That evening, the company sang and played music until midnight. Early in that morning, Clayton celebrated by writing the hymn he would be best known for. He named it All is Well and set it to an English tune. It became immediately popular and soon, if anyone began to sing it, everyone was expected to join in. It provided comfort and hope to those making the dangerous journey.
"This morning Ellen Kimball came to me and wishes me much joy. She said Diantha has a son. I told her I was afraid it was not so, but she said Brother Pond had received a letter. I went over to Pond's and he read that she had a fine fat boy on the 30th ult., but she was very sick with ague and mumps. Truly I feel to rejoice at this intelligence but feel sorry to hear of her sickness. . . . In the evening . . . [several] persons retired to my tent to have a social christening. . . . We named him William Adriel Benoni Clayton. . . . This morning I composed a new song-'All is well.' I feel to thank my heavenly father for my boy and pray that he will spare and preserve his life and that of his mother and so order it so that we may soon meet again" (William Clayton's Journal [1921], 19). Quoted on The Pioneer Story
The song, as Clayton hoped, brought hope to the weary pioneers and reminded them God was with them and in the end, no matter what happened on the journey, they were in God's hands and all was well. Today, the song continues to inspire and uplift members of the Church.
Boyd K. Packer said, "There are many examples, both ancient and modern, that attest to the influence of righteous music. Discouragement disappeared and minds were filled with peace as the words to "Come, Come, Ye Saints" gave the pioneers courage to face their trials. This same song has been an inspiration to many over the years. At one time I was talking to a pilot who had just returned from a hazardous flight. We spoke of courage and of fear, and I asked how he had held himself together in the face of what he had endured. He said, "I have a favorite hymn, and when it was desperate, when there was little hope that we would return, I would keep it on my mind, and it was as though the engines of the aircraft would sing back to me."

Come, come, ye Saints,

No toil nor labor fear;

But with joy wend your way.

Though hard to you

This journey may appear,

Grace shall be as your day.

From this he clung to faith, the one essential ingredient to courage." (Boyd K. Packer, "The Message: Worthy Music, Worthy Thoughts," NewEra, Apr 2008, 6-11)
This song is also included in the hymnbooks of the Seventh Day Adventists and the United Church of Christ, with variations to replace the references to heading west.
The Young Women's program, for Mormon teenagers, recently added a new value to the list of values the girls strive to integrate into their lives. This is the value of virtue. Today, virtue is in great danger, as teenagers are often taught, even by those in authority, that it isn't realistic, practical, or valuable. Because they won't learn about it in school or in the media, the church has stepped up its efforts to encourage its youth to live virtuous lives.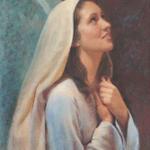 "Virtue is a pattern of thought and behavior based on high moral standards. It encompasses chastity and moral purity. Virtue includes modesty-in thought, language, dress, and demeanor. Virtue provides an anchor on the path leading to our Heavenly Father's presence. The paths of virtue lead to happiness in this life and in the life to come. The paths of virtue lead to strong families. The paths of virtue contain the foundation stones for the blessings of eternity. They lead to the temple. No wonder Joseph Smith said, "If there is anything virtuous, lovely, or of good report or praiseworthy, we seek after these things" (Articles of Faith 1:13).
Elaine S. Dalton, "Cherish Virtue," New Era, Mar 2009, 16-17
Within the church, virtue is not mocked or seen as outdated or unrealistic. Sister Dalton points out there are millions of young men and women around the world leading lives of virtue of their own choosing. Despite the pressures of the world, and the "assurances" of some irresponsible adults, these teenagers know it is entirely possible to live a life of moral purity if you are careful in your choices and if you plan for the standards you want to live.
LDS teenagers are taught to guard against anything that might cause them to risk their virtue. They are taught to carefully consider the videos and music they spend time with, to avoid locations that invite temptation, and to choose friends who respect their values. They learn not to date too soon, and then to avoid dating situations that can cause them to falter.
Teenagers are helped by a booklet given to them when they turn twelve, called "For the Strength of Youth." In this booklet, they are given guidelines for living a virtuous life. A card with the highlights is placed in their wallets for instant reference when needed.
Following are some of the advice the youth are given in this book:
1. Do not date until you are at least 16 years old. Dating before then can lead to immorality, limit the number of other young people you meet, and deprive you of experiences that will help you choose an eternal partner.
2. Have the courage to walk out of a movie or video party, turn off a computer or television, change a radio station, or put down a magazine if what is being presented does not meet Heavenly Father's standards. Do these things even if others do not.
3. Never lower your dress standards for any occasion. Doing so sends the message that you are using your body to get attention and approval and that modesty is important only when it is convenient.
Some advice is general in nature, other advice is very specific. Taken as a whole, it gives a teenager a clear understanding of what God expects of them and of how to guard their virtue. The rules apply to both boys and girls. The Lord does not have different standards of virtuous behavior for one gender over the other. Both boys are girls are given full responsibility for their own virtue, while at the same time, they're taught to help others maintain their virtue as well.
Over the next few weeks, we'll take a look at the virtue and how the girls will be learning to implement it into their lives through the Personal Progress program.
The Mormons have a program for teenage girls called Personal Progress. It allows girls to set and carry out challenging goals in several areas of personal development. In some parts of the program, they choose their own goals. In others, they carry out goals set for them. Both help them learn to spend their time in meaningful ways, learn self-discipline, and develop the habit of always progressing.

Each section of the program is defined by a value the church would like the girls to develop in their own lives. Currently, the values are: Faith, Divine Nature, Individual, Worth, Knowledge, Choice and Accountability, Good Works and, Integrity. Recently, virtue was also added as a value.
The motto for this program is "Stand for truth and righteousness." The logo is a lit torch, representing the light of Christ. The girls are encouraged to remember, through this logo, to keep the commandments of God, thus holding up the light of Jesus Christ.
The girls participate in the program between the ages of twelve and eighteen. During the program, they complete six value experiences and one value project for each of the values. They are also required to keep a journal, maintain high moral standards, and put their testimony in writing.
Experiences are smaller activities the girls choose from to help them improve their ability to follow the Savior. Following are some examples of experiences the girls can choose from:
Girls can plant, grow, and harvest a vegetable garden. As the do so, they're to focus on the teaching that faith is like a seed. They are to study how this is so as they work in their garden.
Girls can choose to spend two weeks strengthening their relationship with a family member, including refraining from criticism.
Girls can record their goals for their life, and then make a plan to help them reach those goals.
Girls can perform a three hour service project that benefits people outside their own home.
In addition to the experiences, girls also plan a series of more complex projects. They do one project for each value and each project must require ten hours or more to complete. This means that over the course of their teen years, they will devote eighty hours to these projects. Project possibilities include:
1. Receive training in first aid or other emergency response skills.
2. Plan a dance or activity that includes dance training and wholesome music, atmosphere, and lighting.
3. Learn how to be admitted to college and how to pay for it. Apply at the appropriate time.
4. Learn a homemaking skill and then teach it to someone else.
Girls work with their youth leaders and parents in planning and carrying out the program. They're expected to follow appropriate patterns of planning so they emerge from the program ready for adulthood and its responsibilities. If they finish the program early, they can continue to work on additional projects. They can also offer to help another girl with her program, which again teaches leadership and service.
Because the Mormons have a lay church, everyone serves. By beginning to train our young women to serve others, to lead, and to be independent and self-reliant, we prepare them for all the demands of adult life, marriage, parenthood, church leadership, and community service, as well as careers.
Mormon women are regularly asked why they don't demand to hold the priesthood, which is given only to worthy boys and men. This is sometimes seen as proof that Mormon women are not considered equal in the church.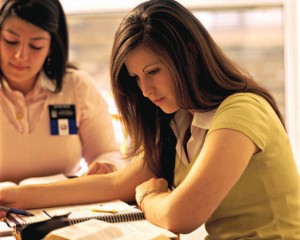 The truth is that faithful Mormon women devote very little time to contemplating this subject, and don't consider themselves mistreated in any way over it. There are several things an outside observer must understand in order to see why this is so.
Let's begin with an explanation of what the priesthood is. The priesthood is the power and authority of God. It is the tool God used to create the earth and administer the work of the gospel. He delegates keys to worthy men to assist in this work.
The priesthood is given to young men beginning at age twelve and they receive increasing levels of responsibility as they advance through the offices. The first priesthood they receive is the Aaronic Priesthood. In the Old Testament, we see the Aaronic Priesthood was given only to men, under direction from God. The first office of this priesthood is the office of a deacon. Deacons are twelve or thirteen years old, or older if they've joined the church later. At fourteen, they become Teachers, and at sixteen, Priests. Priests are not the equivalent of a Catholic priest.
When they are adults, they can receive the Melchizedek Priesthood. Priesthood holders are specifically called to watch over the church and to serve. They bless and pass the Sacrament (similar to the communion), heal the sick, visit members in their homes to check on their well-being, and perform many other acts of service for the church.
Some church positions of leadership can only be held by priesthood holders, and this is where the controversy arises by those who don't understand the priesthood or the culture.
It should first be noted that those who hold the priesthood cannot use it on themselves. If a priesthood holder is ill, he cannot give a special blessing of healing to himself. Just as a woman must do, he must find two other priesthood holders to come and administer that blessing. Everyone in the church can receive all the blessings and gifts of the priesthood, whether or not they hold the priesthood themselves, and all must receive those blessings from others.
They receive no extra rewards in Heaven, no special privileges, and no financial paycheck.They have a greater responsibility, but no additional rewards. The Mormons operate a lay church, and everyone volunteers. This is one reason women aren't demanding to hold it. Most women consider themselves far too busy already, with more opportunities to lead and serve than they have time for. They see no special benefit in taking on the work of the priesthood as well as their own.
One question often asked of Mormon women is whether or not they object to not being allowed to become a bishop, which is the ecclesiastical equivalent of a pastor or minister. The general wisdom among Mormons is that no one who is worthy to do the job and who understands what it entails wants that job. Women are quite happy to know they can't be given it. As mentioned earlier, it is not a paid position. The bishop holds a full-time job, and has a family. In between all the various aspects of his personal life, he does nearly everything a full-time pastor must do. He serves for about five years, and during this time, bishops generally have no time to themselves and spend a great many hours away from home.
Mormon women consider their first responsibility to be to their families. They are given the sacred gift of bearing and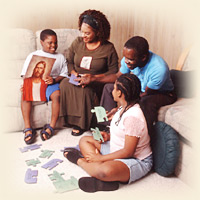 raising children, and of maintaining a pleasant and spiritual home. While not all women are able to marry or to have children, these women find other ways to serve, often spending time caring for extended family, or serving in demanding church leadership roles. They carry out the commandment to care for their own homes well, even if they live alone. Mormon women do not see this role as demeaning, but as an honor. What could be a greater privilege than to care for God's children? Mormon women don't feel the need for a paycheck to prove their worth. Their paycheck comes from the pleasures of being able to raise their own children or care for their families. They reach beyond cleaning and cooking and work to create a home at the highest levels. Parents don't just bathe and feed children. They teach them and lead them.
Although their priorities are in the home, Mormon women do have many opportunities to be leaders and to serve. They can head up the Primary, which is the children's auxiliary, the Young Women's Organization, which is for teenagers, and the Relief Society, which is for the women of the church. There are other church jobs that do not require the priesthood and are open to either gender. Mormon women serve in their own congregations and all the way up the church structure to lead in the international church for these same organizations. The General Relief Society president, for instance, has a responsibility for all the women in the church, and oversees a worldwide organization larger than most corporations. Ample opportunities to lead are available to women in the church, and the priesthood is not necessary to give them the opportunities they need.
The bishop does not deliver the weekly sermon. In the Sunday services, known as Sacrament Meeting, men and women can give the prayers and the sermons. Each meeting has an opening and a closing prayer, and two to three speakers chosen from the congregation. This gives women many opportunities to preach and to pray. This service is followed by classes which are often taught by women. During the week, other meetings are held, also often run by women.
The Mormon women are not concerned about holding the priesthood, largely because they're simply too busy with home, community and church service, and leadership, as well as a career for some, to give it much thought. They find complete satisfaction in the roles already available to them and do not in any way feel limited. Although the priesthood does provide opportunities to serve others-the entire function of the priesthood-women have many other, often more important ways, to serve.
The most important reason Mormon women don't demand the priesthood, however, is that God has chosen that role for the men and another role for the women. With the great faith Mormon women are known for, they trust God and focus on the roles given them.
At the April 2009 General Conference of the Church of Jesus Christ of Latter-day Saints (sometimes called Mormons), history was made with the calling of Joseph W. Sitati to the First Quorum of the Seventy. He is the first black person from Africa to be called as a General Authority-the leading body of the church. There have been other black General Authorities, and other African authorities, but no one who was both black and a native of Africa.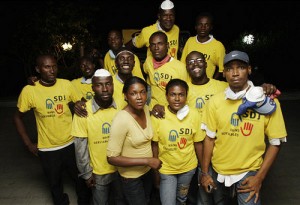 The first General Authority of African descent was Helvécio Martins. Although he descended from African slaves, he was born in Brazil. The first African General Authority was Christoffel Golden Jr., of Johannesburg, South Africa.
Elder Sitati was born in Kenya. He's an engineer by trade, having graduated from  the University of Nairobi. He worked in the oil and gas industries. He also served on the board of Reach the Children, a non-profit organization that works to improve opportunities for African children by strengthening self-reliance and improving communities.
Elder Sitati is a convert to the church. He and his wife were looking for something to help them raise a strong family. He was baptized in 1986. Only three years later, he was a district president, similar to overseeing a Catholic diocese. He was, in fact, the very first district president of the newly formed district in Kenya. Organizing a new district is a daunting task for a long-time, experienced church leader. For someone who had only been a member for three years, this was an amazing feat.
The task was made more complicated because that year, the government of Kenya had made it illegal for more than nine adult members to meet together, and had asked all full-time missionaries to leave the country. He organized all the members into small nine-person groups and ensured at least one priesthood leader oversaw each group. However, there weren't many church members, and the restrictions, and lack of missionaries, made it difficult to carry out the normal programs of the church causing them to lose many of their members. However, Elder Sitati, a man of great faith, saw it as nothing more than a passing phase that could be overcome.
To this end, he asked all the church members to fast (go without food or drink for twenty-four hours) and pray that the church would become officially registered in their country, which would lift the restrictions. His leadership was so great that small children were reminding their parents to pray again. Their prayers were answered early in 1991. A few months later, Uganda was also registered, and James E. Faust, an apostle, was sent there to dedicate both countries to the preaching of the gospel. Elder Sitati and his family were the first Kenyans to go to the temple, following the lifting of apartheid, where they were sealed as a family. This is a Mormon ceremony that joins a family not just until death separates them, but for all of eternity.
In 2001, the district, under his direction, had grown large enough to be called a stake, similar to the district, but demonstrating a larger LDS population. He was then selected to lead as the first stake president of the newly formed stake. He was later called to be an area seventy, overseeing a large portion of the area in which he lives. He next oversaw church public affairs, working with the news media, for all of Africa. This was followed by time spent overseeing the Nigeria Calabar Mission, where he supervised the work of all missionaries assigned to that region. This was his assignment at the time of his call to the First Quorum of the Seventy, a designation that makes him a General Authority, serving under the direction of the apostles. They are often asked to speak at General conferences, and more than twenty of them have gone on to become apostles.
Mormons celebrated the naming of a new apostle at the April 2009 General Conference. This vacancy occurred at the death of Joseph B. Wirthlin the previous December.
The new apostle is Neil L. Andersen, who had been serving as the senior member of the Presidency of the Seventy, where he had been serving since 1993. He has spent ten of the last twenty years outside of the United States and has traveled extensively for the Church, which is excellent preparation for his new calling (church job) as an apostle. He lived in France as a young adult serving a mission, and returned to spend three years as the mission president. He was released from that assignment nine months before becoming a General Authority in 1993.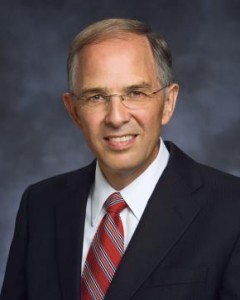 Elder Andersen led the church's work in Brazil, Europe, and various parts of the United States. He speaks four languages: English, French, Spanish, and Portuguese.
He was born in Utah, but was raised in Idaho on a farm. Many of his childhood experiences helped prepare him for a life of church service. When he was three, his family lived in Wyoming and had to drive 90 miles to attend church each week. The fact that they did so helped him develop an attitude that church was worth that sort of sacrifice. At about the age of seven, he had the opportunity to shake hands with Spencer W. Kimball, who would later become a prophet. When he was nine years old, he went to General Conference, but was unable to get a seat inside. He stayed outside listening, and afterwards, went to the exit, where he was able to be close to many of the church's leaders. These two experiences gave him a testimony that the leaders of the church were called of God.
He raised his children in Tampa, Florida when they weren't living elsewhere on church assignments.
Elder Andersen is a graduate of Brigham Young University and Harvard University. He currently has four children and twelve grandchildren.
Many who follow the church's semi-annual General Conference will be familiar with Elder Andersen through the talks he's given. One popular talk, currently featured on Mormon Messages, is "You Know Enough."
"Challenges, difficulties, questions, doubts-these are part of our mortality. But we are not alone. As disciples of the Lord Jesus Christ, we have enormous spiritual reservoirs of light and truth available to us. Fear and faith cannot coexist in our hearts at the same time. In our days of difficulty, we choose the road of faith. Jesus said, "Be not afraid, only believe."
Through the years we take these important spiritual steps over and over again. We begin to see that "he that receiveth light, and continueth in God, receiveth more light; and that light groweth brighter and brighter until the perfect day." Our questions and doubts are resolved or become less concerning to us. Our faith becomes simple and pure. We come to know what we already knew." (Neil L. Andersen, "You Know Enough," Ensign, Nov 2008, 13-14)
In 2008, Elder Andersen told the story of a Christmas Eve when he and his family were living in France. He had taken his family to visit each city in the mission, where they presented a special message to the missionaries serving in each place over the course of a week. They were happy and fulfilled as they began the long drive home in a large van containing Elder Andersen, his wife, their four children, and four  missionaries.
The children were excited about the Christmas Eve dinner being prepared for them by a missionary couple back home, and the gifts that awaited them. However, they began to have serious car trouble when they were still a good distance from home. After failing to find a train station or rental place open in the small towns they were in, his wife Kathy suggested they pray. They did so and continued on. When the van finally stopped running, they found themselves outside a lovely inn. They went inside, hoping to find a meal in the pleasant restaurant and rooms in the inn until businesses reopened. However, the innkeeper, seeing the tired and sad faces of the children, instead offered to drive them ten miles to his farm, where he would loan them a large van they could use, so they could be in their own home for Christmas. He refused money and simply told them to return the van when they could. They arrived home in the borrowed van shortly after midnight, through the power of prayer and the kindness and trust of a complete stranger. (Neil L. Andersen, "Room in the Inn," Liahona, Dec 2008, 8-11)
Elder Andersen comes to his new assignment as an apostle with a deep understanding of other cultures and a powerful testimony of the gospel.