March 19, 2011 by
Terrie Lynn Bittner
·
Leave a Comment
Filed under:
Basic Beliefs of Mormons
,
Basic LDS Beliefs
,
Counsel from Church Leaders
,
Discipleship: Following in the Savior's Footsteps
,
Frequently Asked Questions
,
Gospel Principles, Practices & Precepts
,
LDS Practices
,
LDS Q&A
,
Making Decisions
,
Prophets
,
Recognizing Truth
,
Written for Our Day
In 1852, when Hannah Last Cornaby was baptized, she and her husband had to enter the church building through a volley of stones being thrown at them by a screaming mob. She did not turn back. She bravely pushed through the mob, coping with the rocks and insults and allowed her husband to baptize her. Perhaps this event motivated her to later write the LDS hymn, "Who's On the Lord's Side?"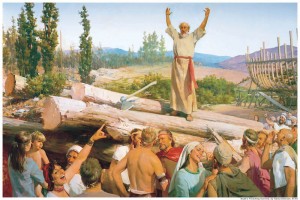 Who's on the Lord's side? Who?
Who's on the Lord's side? Who?
("Who's on the Lord's Side?" Hymns, no. 260)
Hannah didn't just choose the Lord's side when it was easy or popular. She chose it when her very life was in danger. She left her home in England for it and endured many hardships with good humor for it. Hannah chose the Lord's side.
Today, there are many forces trying to get us to choose the other side. Secular forces try to convince us it is old-fashioned to be on the Lord's side. Political parties urge loyalty to them over the gospel. Media mocks the Lord's side on a regular basis. This is reminiscent of a story in the Book of Mormon about a prophet named Lehi. Read more
March 14, 2011 by
Terrie Lynn Bittner
·
Leave a Comment
Filed under:
72-Hour Kits
,
Basic Beliefs of Mormons
,
Basic LDS Beliefs
,
Counsel from Church Leaders
,
Gospel & Doctrine
,
Gospel Principles, Practices & Precepts
,
LDS Practices
,
LDS Q&A
,
Preparedness
The recent Japanese tsunami has brought attention to the fact that in an emergency, it is often difficult to purchase food and water. Because normal deliveries are halted and many stores are closed, people find themselves running short of critical supplies in a crisis.
Mormon beliefs include storing enough food, water, money, and other supplies to be used in emergencies. Many people misunderstand this belief, considering it hoarding or a last-days scenario. However, many people use these supplies during critical times in their lives, such as natural disasters or unemployment.
You might remember that in the Old Testament, Joseph (famous for his coat of many colors) was freed from prison after interpreting Pharaoh's dream about seven years of plenty followed by seven years of famine. He suggested the Pharaoh needed to prepare for the famine by storing food ahead during the years of plenty and that God had been teaching him this through the dream. God has often taught his people the importance of preparation.
Mormons don't stockpile the food in the basement and forget about it. They use what they store and rotate it. When grocery day comes around, they shop from their food storage for non-perishables and then replace it when they shop at a regular store. This allows them to cut food costs. Since they have everything they need, they can shop only when items are on sale. They can also purchase in bulk, which helps keep costs lower. If poor weather conditions cause the price of sugar to rise, they can use their stored sugar and not replace it until prices go down again.
Mormons have three types of storage. The first is a 72-hour kit. This portable storage has what they might need to take with them if they have to evacuate suddenly and need to care for themselves for 72 hours. This includes food, hygiene materials, blankets and pillows, scriptures, and other necessities. It can also include entertainment items for children who may get bored quickly in a shelter.
The second type of storage is a three-month supply. This includes everything a person needs to survive for three months. It often includes the most common foods the family eats, cleaning and hygiene materials, pet food, and anything else that would be useful in helping a family spend no money for three months. Read more
The Bible teaches the law of tithing beginning early in the Old Testament. The word tithing means tenth and so Mormons, as do others who follow the Bible, pay one-tenth of their increase (see Deuteronomy 14:22). Increase refers to income. It is left to individual Mormons to decide what income involves. Various Mormons interpret it in different ways, but we are asked only to take it to God for clarification.
The first mention of tithing is in Genesis, when Abram paid his tithes to Melchizedek. From that time on, if not before, God's children have been asked to pay tithes. "And all the tithe of the land, whether of the seed of the land, or of the fruit of the tree, is the Lord's: it is holy unto the Lord (Leviticus 27:30).
Although it can feel challenging to suddenly begin turning over so much of your income to God, it is important to remember that without God, we have nothing at all. When I teach little children, I often tell them I will give them ten pennies. I then ask if they would be willing to give one back—but not to me. I ask them to give it to God. We spread the pennies out and each child sees that he gets to keep a lot more pennies than God does, even though it is because of God they have the pennies. (I wouldn't be giving them out if I weren't teaching God's commandment.) They consider that quite fair. Read more
March 3, 2011 by
Terrie Lynn Bittner
·
Leave a Comment
Filed under:
Basic Beliefs of Mormons
,
Basic LDS Beliefs
,
Families
,
Finding Happiness
,
Gospel Principles, Practices & Precepts
,
LDS Practices
,
LDS Q&A
,
Relationships
,
Temples
It is a central part of Mormon beliefs that families are meant to last forever. Although many religions teach that death also leads to forced divorce, Mormons believe that God created families and counseled against divorce. Therefore he would not force people to get divorced at any time, even after death, without a chance to keep their families forever.
Mormons refer to being married forever as being "sealed." In other words, they are joined together forever, along with their children, parents, and other family members. This sealing can happen only in a temple, which is different from an ordinary Mormon meetinghouse. Read more