For many, the belief that God is a loving Father seems to suggest He ought to save all His children, regardless of their choices during their lifetime. They find it hard to see a loving Father as one who will deny his children any of his blessings or eternity with Him. Let's look at how the gospel works to see why it is not possible for God to return everyone to His presence.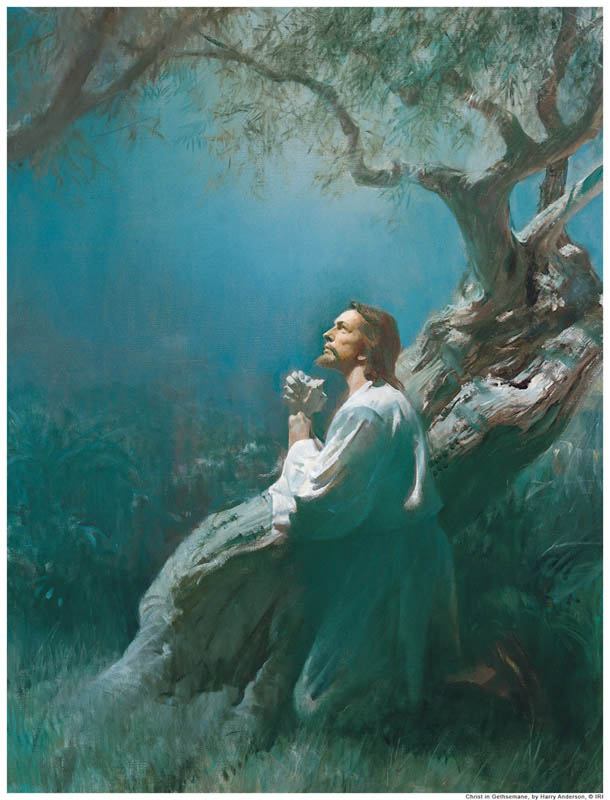 First, we need to examine what is meant by the word "saved," which differs from religion to religion. Since I am writing as a member of The Church of Jesus Christ of Latter-day Saints, whose members are sometimes called Mormons, I will give you our definition of the term. It may surprise some to find out Mormons do believe in being saved by grace. We do, but it may not mean exactly what you mean by the term. Once we understand what it means to be saved and why we were born in the first place, we can begin to understand why God can't save you regardless of your choices.
For we labor diligently to write, to persuade our children, and also our brethren, to believe in Christ, and to be reconciled to God; for we know that it is by grace that we are saved, after all we can do (2 Nephi 25:23).
Grace, to a Mormon, is the result of the mission of Jesus Christ. None of us are able to live a sinless life, and therefore, if only the law were used to judge us, we would be unable to be saved. However, Jesus Christ voluntarily came to earth, lived a sinless life, which he could do because He had a divine father, and then took our sins on Himself in the Garden of Gethsemane. He died on the cross for us, overcoming death when he was resurrected. This voluntary sacrifice allowed us to also overcome death and to live forever. It made it possible for us to repent if we sin, which means we can be forgiven and we can return home to God without being perfect every moment of our lives. Grace is an extraordinary gift, and it is one we could not possibly give ourselves. It comes only through Jesus Christ, because no one else meets the requirements for the role of Savior.
Most people who love God want more than to just live forever, however. They want to live forever with God. This is called exaltation and it requires a little more than just existing. Everyone who has ever or will ever live on earth will live forever, but only a few will be able to live with God in His presence. What is required to be exalted? Once we understand that, we can look at why God doesn't just automatically save everyone.
There are some who say that no acts of any kind are required to be saved—that grace alone is sufficient. Interestingly, however, these same people will say you must accept Jesus Christ as your Savior to be saved. Doing so is, of course, an act. The discussion is really, then, not about whether acts are required, but about how many acts are required and what they are. Some also say you must be baptized in order to be saved—in fact, the Bible says this also. Baptism is an act.
He that believeth and is baptized shall be saved; but he that believeth not shall be damned (Mark 16:16), Jesus told his disciples.
So we see that both faith and baptism are required to be saved—both of which are acts that must be deliberately taken by the person wishing to be saved, if to be saved is to be exalted. What else does the Bible say we must do to return to God's presence?
"Not every one that saith unto me, Lord, Lord, shall enter into the kingdom of heaven; but he that doeth the will of my Father which is in heaven" (Matthew 7:21).
This, then, is where the Book of Mormon scripture quoted early in this article comes in:
For we labor diligently to write, to persuade our children, and also our brethren, to believe in Christ, and to be reconciled to God; for we know that it is by grace that we are saved, after all we can do (2 Nephi 25:23).
Now we can look at the scripture and find out what it means. Then we are ready to understand why God can't just bend this rule and let us all in. Mormons believe that only through Jesus Christ can a person be saved. We could not have saved ourselves because we could not have lived perfectly. If Jesus Christ had not atoned for our sins, we would have been unable to repent. Why would this matter?
Imagine Heaven for a moment. What do you picture? While we don't know a great deal about how life will work there, we do know it will be a safe and spiritual place, where everyone loves God and shares the same values. We will all have the same goals and the same moral lifestyle. If this were not true, it would be just a continuation of life on earth, with its stresses, crimes, cruelty, and unhappiness. When we die, we take with us what is in our hearts and minds—in other words, we will still be ourselves. We will be the person we have chosen to become during our lifetime. This is the person who will live in Heaven. In order for God's personal kingdom to be one of joy, peace, and love, all who live there must share the same vision for life and must have already learned to live that way.
Mormons do not believe all people can divided into two categories—good and evil. As we look around us on earth, we see people approach morality at many different levels. In the Bible, Jesus told his disciples that in Heaven there were many mansions. This means there is not just one place for those who are not entirely wicked. While Mormons believe a very few of the very worst—those who have a sure knowledge of Christ (one who received a personal visit from Christ, perhaps) and later deny Him, for instance—will be forced to live with Satan for eternity. Most however, will be allowed to live in a kingdom accessible to visits from Jesus Christ and where they will be happier than they have ever been. However, only those with the highest level of obedience and faith—because our level of obedience done for the right reasons—are a demonstration of our faith—will be able to live in God's presence. This kingdom is reserved only for those who are Christ-like in their hearts and who have committed to put God first.
All of us have agency. This is the right to choose. It was given to us from the moment we were created and even Adam and Eve had a tree placed right in the center of the Garden of Eden, where they could see it every day. The decision as to whether or not to partake of the tree was theirs. The consequences of their choice, however, was not up to them. God is always truthful, always dependable. He always obeys the laws. We committed before coming to earth to a set of guidelines concerning our lives here on earth.
Mormons believe we lived with God as spirits prior to coming to earth. "Before I formed thee in the belly I knew thee; and before thou camest forth out of the womb I sanctified thee, and I ordained thee a prophet unto the nations" (Jeremiah 1:5). During this time, God told us about our lives on earth. We were allowed to choose whether to accept Jesus Christ as our Savior—a necessity in order to come to Earth—or to reject Him, in which case we would be denied life on earth and would have to live out eternity with Satan. One-third chose Satan. Anyone who has ever lived on Earth chose Jesus Christ. Part of the plan we agreed to involved having agency. We would not remember our previous life and would have to find truth on our own. We would have the Holy Ghost to prompt us if we were willing to listen to those promptings. We understood that some of us would reject the truth or refuse to live the life He taught us to live, and would not be allowed to return home. We accepted these terms.
We understand that good parents must let their children suffer the consequences of their choices, even when those choices cause pain and suffering. God is a perfect parent. He does everything in His power to help us make the right choices and is always there when we need Him. However, in the end, the choice is ours to make.
We might say, then, that God does save everyone, but only if they are willing to be saved by humbly seeking truth and accepting it, even if they find it where they did not expect it to be. They must be willing to pray and ask God to confirm what they think might be the truth and then to act on the answer He gives us.
God trusts us. Now it's up to us to live up to that trust.
In the Book of Mormon, a prophet named Nephi advised his readers to "liken the scriptures" to their own lives. This means to take what is taught and ask yourself, "What does this mean for me? How can I work on applying the gospel of Jesus Christ to my own life?"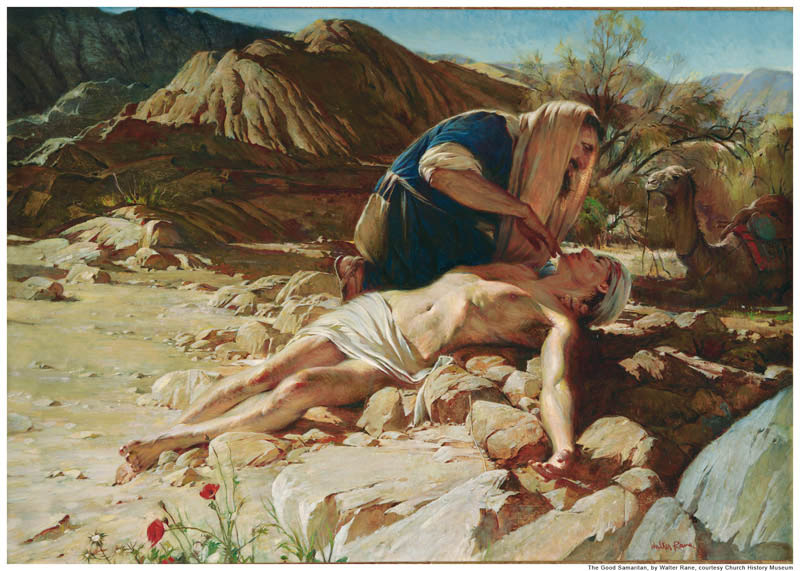 Members of The Church of Jesus Christ of Latter-day Saints, whose members are sometimes nicknamed Mormons, use both the Bible and the Book of Mormon as scripture. The Book of Mormon serves as a second testimony of the divinity of Jesus Christ, who was known to the Book of Mormon prophets, even though they lived on the American continent. Jesus Christ visited them briefly after his resurrection, leaving no doubt to the world that He must be divine and that He is the Savior of all mankind, not just of those who lived in his community.
God inspired the authors of the scriptures to put stories and sermons into the books for our benefit. They are not just offered for entertainment or to make nice samplers to hang on the wall. This means we have a responsibility to understand what God wants us to learn from the stories and teachings we reading and then to apply what we learn.
Let's take a look at a well-known teaching offered by the Savior Jesus Christ. "Love one another," he taught. He also taught to love our neighbors as ourselves and to treat others as we want to be treated. When we look at the complete set of messages, rather than pulling them out of context, we begin to have a better understanding of the scope and meaning of the message.
The first step to applying the gospel of Jesus Christ, then, is to actually read the scriptures—not a few assigned verses from Sunday School, but all of them, in order. This gives us a wide view of what Jesus Christ taught and how things progressed over time. As we read what Jesus taught, we're better able to understand the meaning and impact if we know the Old Testament, which set the stage for the events in His life.
As you read, watch for themes. It can be instructive to read the Bible with a particular theme in mind. If you wanted to study the Bible's teachings on how to treat others, you would take special note of anything related to that topic, marking scriptures, making a list of those that apply, and keeping a journal about what you learn on the subject as you study.
Once you've completed your reading, gather all your scripture references and journal thoughts and put them together. What do they tell you about applying the gospel of Jesus Christ to your own life? You'll want to pay attention not just to specific instructions, but also to the example Jesus gave through his own actions.
Now take what you've learned and look at specific situations in your own life. Applying the gospel of Jesus Christ in your life means looking at every situation in your life and making it fit into Jesus' teachings.
For this specific example, make a list of all the people with whom you regularly associate. How are you treating them? Are you treating them the way you want to be treated? Are you meeting their needs—do you even know what their service needs are?
Now think about the wider definition of neighbor that Jesus offered. He said everyone is our neighbor. While we can't serve everyone, we can think and speak respectfully of others, both those we know and those we don't know. We can look for people to serve who might be outside our normal circle. And perhaps, in order to make love easier, we might decide to make an effort to get to know some people outside our comfort zone. It is harder to attack a group when you know real people in that group and know their stories. This makes it easier to love everyone, even those not of your faith, nationality, race, or educational level.
Of course, study is only the first part, and the easiest part, of applying the gospel of Jesus Christ. The harder part is to actually put it into practice. Learning to live the gospel is an ongoing process that can require many restarts. It also requires constant refining. While you might start working on this specific counsel with just one aspect—perhaps treating your family better—over time you'll expand the circle of people you are treating with love and respect. As doing so becomes more natural, you'll find yourself fulfilling the commandment at a higher level—what Mormons call obeying the spirit of the law as well as the letter of the law.
Applying the gospel of Jesus Christ is a life-long process that helps us to become more like the Savior, as we find ourselves living the gospel and not just borrowing the Savior's name.
Because Christians believe God created everything, they sometimes ask, "Did God create evil?"
God did not create evil; everything He created was good. However, God believes in agency, considering it essential to our eternal salvation. Agency is the right to choose for ourselves. Some people choose to be evil and so evil was created through the choices of men, not by God. How we choose to use the great gift of agency tells God, the world, and ourselves what sort of people we are.
Mormons believe that we were created as spirits before we came to earth. We lived in that form for a while, and even there we had agency. We had our own personalities and began the process of deciding who we wanted to be. When it was time for us to come to earth to live, God explained the program to us. Since justice required us to be perfect in order to return, and that, of course, wasn't possible, He planned for us to have a Savior. Jesus Christ volunteered for this position. The atonement had to be a voluntary act. He was willing to live a sinless life, suffer extraordinary pain in the Garden of Gethsemane, and die on the cross for us, to be risen three days later. All this He would do out of pure love for us, and He wanted nothing in return. He asked that we give the honor and glory to God.
Satan, however, hated that plan. He tried to overturn it and to convince us to refuse God's plan for us. He suggested instead that we come to earth completely controlled by him, making no choices for ourselves. In that way, we would never sin—he would make all the choices for us. This, he assured us, would guarantee we could return to God, and do so in a way that let him suffer no pain. He was willing to work hard, but not to suffer for us, because love had nothing to do with his plan. He explained that in return, we had to promise to worship only him. This idea was all about him, not us and our eternal well-being. His way would have rendered life on earth meaningless and would have overthrown essential eternal truths and requirements. He would have tried to replace God.
Unfortunately, a third of the spirits liked his idea and were happy to give up God in exchange for what they thought was security. They declared their loyalty to Satan and so God sent them to follow him forever—but not on earth. They were denied the right to go there, to get bodies, and to benefit from the atonement they didn't agree with.
Satan is now spending eternity miserable. His goal is to make all of us as miserable as he is, so he devotes his life to getting people to fail in their life's mission. Evil is his tool.
Did God create evil? No, He gave us agency and then we choose to create it ourselves with Satan as our cheerleader. When evil is in the world, mortals have only themselves to blame, since even Satan can't make us do evil. We choose to do so.
The prophets have warned us from the beginning of time to avoid Satan's plans for evil. James E. Faust, a modern apostle who died recently, said:
"There have always been two great competing forces in the world. These began before the world was created. These opposing forces are the forces of good and evil. Between these two powerful forces each of us is caught in a tug of war. In simple terms, that which is good comes from God, and that which is evil comes from the devil. You can't have it both ways and find true happiness; some have tried, but in the long run all have failed. If any of you young men think you can have it both ways, you are only deceiving yourselves. It doesn't work that way. It never has. It never will" (James E. Faust, "The Devil's Throat," Ensign, April 2003).
Although Satan encourages the world to be evil, our responsibility is to constantly fight his advice and temptations. The more we do so, the easier it becomes to hear God's promptings to do good and to make choices that protect us from the evil of the world. As President Faust said, good comes from God and evil from Satan. Which we follow is our choice, but it is a choice with eternal consequences.