A Personal Response
Mitt Romney's candidacy has once again caused the media to pull out the Mormon White Horse Prophecy. Despite its popularity among the media and other sources, the prophecy is nothing more than a fabrication, the work of a church member who told the story years after the death of the Joseph Smith and after the death of the other person he claimed was a witness to it. It was officially denounced in 1918 by the church but two church officials visited the man who circulated the legend before he died and questioned him extensively about it. The results of the interview are unknown.
The source of the legend is Edward Rushton, a teenager who joined The Church of Jesus Christ of Latter-day Saints (the proper name for the church). Joseph F. Smith, the prophet in 1918, called the story ridiculous and  "a lot of trash." He believed the story was created about ten years after Joseph Smith died. One modern researcher, Don L. Penrod, believes Rushton told the story as a way to make himself important, a closer friend to the prophet than he really was. Historical research shows Rushton was not on Joseph Smith's list of appointments for the day the prophecy was supposed to have been given to him and to one other man, Theodore Turley; nor was he present on the second date, two weeks later, when the prophecy is said to have been repeated. The written version of the event is in the shaky hand of an elderly man, whose family, believing him, may have pressured him into writing it down. Penrod also found there are additions and changes in another handwriting. The revised copy is the one we currently have. Read more about what Mormons actually believe concerning the Constitution and the Mormons.
The White Horse Prophecy was supposed to concern horses of various colors, each color representing a group of people. The white horses represented the priesthood of God—Mormon men—who would save the nation when the constitution hung by a thread. (Prophets have spoken of the Constitution hanging by a thread, but not in the context of this so-called prophecy.) People would gather in the Rocky Mountains, where they would become wealthy while everyone else coped with wars, anarchy, and suffering. It said a Russian Czar would lead the charge against the righteous of the world.
While this is merely odd, other portions of the document were obvious fabrications. The word Jap was used, but this word was not used in the United States at that time. Nor would Joseph Smith said the blacks were worried about being re-enslaved, since they had not yet been freed and the prophecy didn't say they ever would be. Nor were France and England fighting Russia at the time the prophecy was said to have been given. Vocabulary is also an issue in the revelation. The revelation used the word "Mormon" to refer to members of the church, a term Joseph Smith disliked and refused to use—he preferred the word "Saints," which Mormons today continue to prefer. He also never used the term "Heathen Chinese."
More importantly than all these incidental clues, however, is the statement made by Elder Joseph Fielding Smith at the same 1918 conference in which the prophet denounced the legend. He explained that the method in which the so-called revelation was given was simply out of line with the way revelation is received. He pointed out that anyone who had studied the scriptures and church teachings would not even need to ask him if it were true. Revelation is not revealed in darkness and kept secret.
The purpose of revelation is to help God's children prepare for the future. For a prophet to receive a revelation and keep it a secret, except from two men who had no reason to be told, would render the revelation useless. It is never given merely to entertain or to inform the prophet alone. Revelation must be presented through the proper channels.
An article by George Cacobe (The White Horse Prophecy) demonstrates that according to Mormon scriptures, prophecies, to be considered valid, must meet three unbendable standards:
1.    They must come from the prophet himself.
2.    They must be told to and approved by the First Presidency and the Quorum of the Twelve. The First Presidency consists of the prophet and his two counselors. The Quorum of the Twelve is made up of twelve apostles. Together they are the highest-ranking body of the church.
3.    They must be presented to the entire church for approval.
Obviously, those procedures were not met in this situation, automatically invalidating the claim. Cacobe points out that only two revelations have been canonized in more than 100 years. Although prophets can present new revelations from God, most often their primary responsibility is to testify of Jesus Christ and to receive revelations concerning the direction of the church.
Mormons accept the Biblical teachings on prophets. In the Bible we learn that God will do nothing except through His prophets and that His church is built on a foundation of prophets and apostles. God has always communicated to His children through His prophets, in order to avoid the confusion that comes when a multitude of people claim to know what God wants the church to do.
From time to time God has spoken on the role of government through revelation. Mormons believe in supporting and honoring governments. In a statement of thirteen articles of faith, Joseph Smith wrote:
 "We believe in being subject to kings, presidents, rulers, and magistrates, in obeying, honoring, and sustaining the law (12th Article of Faith)."
Mormons believe the churches must remain politically neutral except in areas that directly impact the normal areas of religious concern, such as morality and freedom of religion. They do not support or reject candidates for office, nor do they support a specific party. Mormon leaders at the highest levels have belonged to both major US political parties in modern times.
As part of a detailed statement on political neutrality, the official church leadership says,
"The Church does not:

Endorse, promote or oppose political parties, candidates or platforms.

Allow its church buildings, membership lists or other resources to be used for partisan political purposes.

Attempt to direct its members as to which candidate or party they should give their votes to. This policy applies whether or not a candidate for office is a member of The Church of Jesus Christ of Latter-day Saints.

Attempt to direct or dictate to a government leader.

The Church does:

Encourage its members to play a role as responsible citizens in their communities, including becoming informed about issues and voting in elections.

Expect its members to engage in the political process in an informed and civil manner, respecting the fact that members of the Church come from a variety of backgrounds and experiences and may have differences of opinion in partisan political matters.

Request candidates for office not to imply that their candidacy or platforms are endorsed by the Church.

Reserve the right as an institution to address, in a nonpartisan way, issues that it believes have significant community or moral consequences or that directly affect the interests of the Church. (See

Political Neutrality

.)
 While some have tried to portray the White Horse Prophecy as some sort of proof that the church is behind the Romney candidacy, it is important to note that neither Romney nor his father believed in the prophecy and the church itself does not believe in it. The church is a world-wide church with world-wide interests, none of which include placing Mormons in office. Their focus is on doing God's work, and that is done through religious means, not by placing people into political positions. There are Mormons in office who represent both political parties and among those, some hold political views that align with the few political stances of the Mormons and some hold opposing viewpoints. (Immigration is an example of this.) The church does not control these leaders and they do not punish them for opposing Mormon stances on issues. Mormons are far less involved in government issues at the official level than are many churches. They do not invite political candidates to speak in church meetings and full-time, high ranking church officials are prohibited from openly supporting a candidate, in order to avoid influencing the votes of members.
A recent Pew survey of Mormons showed that many Mormons were somewhat concerned about having a Mormon president. They are aware they will be held accountable by the public for every decision a Mormon president would make, even if it had nothing to do with their faith. His choices could make international missionary work more complicated. Mormons generally prefer to be defined by their religious leaders and their own beliefs, not by church members who have no authority, but who are mistakenly perceived as having authority within the church. For that reason, few are anxious to vote for a Mormon just because he is a Mormon—most Mormons evaluate the Mormon candidates in the same way they evaluate other candidates.
"The need for civility is perhaps most relevant in the realm of partisan politics. As the Church operates in countries around the world, it embraces the richness of pluralism. Thus, the political diversity of Latter-day Saints spans the ideological spectrum. Individual members are free to choose their own political philosophy and affiliation. Moreover, the Church itself is not aligned with any particular political ideology or movement. It defies category. Its moral values may be expressed in a number of parties and ideologies.

Furthermore, the Church views with concern the politics of fear and rhetorical extremism that render civil discussion impossible. As the Church begins to rise in prominence and its members achieve a higher public profile, a diversity of voices and opinions naturally follows. Some may even mistake these voices as being authoritative or representative of the Church. However, individual members think and speak for themselves. Only the First Presidency and the Twelve Apostles speak for the whole Church." (See The Mormon Ethic of Civility.)
There has been a lot of speculation about Mitt Romey's taxes, particularly the amount of money he donates to the Mormons. Mormon is a nickname for members of The Church of Jesus Christ of Latter-day Saints, the church to which Romney belongs.
Mormons are taught to pay ten percent of their earned income in tithing. This is a commandment taken directly from the Bible. The word tithe means tenth and God commands His followers to pay a tithe to Him. This, of course, is done by donating it to the believer's church.
"Bring ye all the tithes into the storehouse, that there may be meat in mine house, and prove me now herewith, saith the Lord of hosts, if I will not open you the windows of heaven, and pour you out a blessing, that there shall not be room enough to receive it" (Malachi 3:10). In Genesis 14:18-20, we learn that Abraham, who was still known as Abram at that time, paid tithing on all he owned. Throughout the Bible, from that time on, we read of people being commanded to tithe.
Jesus Christ praised the widow whose tithing amounted to a mite, a very small amount of money. He pointed out that for her to pay her full tenth required a much greater sacrifice than it did for a wealthy person who might be paying more, but sacrificing less to do it. While a tenth is always required, God does not value the tithe of a wealthy person more than He values the smaller tithe of the poor. The important thing is that we are keeping the commandment.
Since Mitt Romney is a practicing Mormon, he pays a full tithe. He also pays additional donations and because he can afford them, it is likely his donations will be fairly sizable. Anyone who believes in God will naturally be eager to participate in His work in every way possible—through tithes and offerings and through time spent in service.
Mormon tithing is used to further God's work. It does, of course, pay for the basic costs of running a church—buildings, teaching supplies, missionary work, utility costs, and congregational expenses. Since Mormons have a lay ministry the money is not used to pay salaries to church leaders. When Mitt Romney served as a bishop (lay pastor) and a stake president (a leader over a number of congregations who assists and leads the bishops in their service) he was not paid. He supported his family through his secular employment and did his church work in his "spare" time. Although some apostles and prophets receive a modest living stipend since their work is full-time and some started too young to receive pensions or lack other sources of income, that money is paid through other resources. Unlike many religions, the Mormons do not put all their businesses under the umbrella of a ministry. They operate profitable businesses separately and pay taxes on them. This money is used for the small stipends. No matter how much tithing is paid, the leaders cannot benefit financially. Although many religions have leaders who become wealthy through their ministry, Mormon leaders who have wealth gained it in the their private employment prior to full-time church service.
Tithing is used to educate church members and visitors about the gospel. Teachers are provided with lesson manuals and in some classes, students are as well. Since everyone volunteers, members are told not to use their own money for their volunteer work, known as callings. This means expenses for activities and programs come from tithing funds. Doing so ensures those who can't afford to donate are not tempted to spend money they can't afford and don't feel uncomfortable because they can't do as much as others.
In addition to Sunday worship, the Mormons run a number of other programs for its members to help them learn and progress and to provide meaningful activities for young people. Children ages eight to eleven participate in Cub Scouts or Faith in God programs, in which they set and meet goals that put their spiritual teachings into practice or improve their ability to live a meaningful life. Teenagers have a weekly program as well. Boys participate in Boy Scouts and Girls have a program of their own, again focused on setting goals and living lives of meaning. They also attend a class each school day in which they study the scriptures in-depth. Two years of the four-year rotation teach the Bible and one year is dedicated to the Book of Mormon. The final year is about church history and a book of modern revelations, known as the Doctrine and Covenants. College students have a program of college level scripture and gospel study.
Although missionaries pay their own expenses during their volunteer missions, the supplies they use are paid for through church funds. Mission costs are the same for all missions, so more expensive missions require supplemental support by the church.
Tithing money helps to build Mormon temples. These are considered to be the literal home of God and so Mormons demonstrate their love for God by creating lovely homes for Him. Throughout the Bible, we see that God periodically commanded His children to create special places to perform sacred ordinances. Eventually, He commanded them to create temples. These were so important that when David wanted to build one because it seemed wrong that David lived in a palace while God's home on earth was a tent, God refused. David had not been forgiven for his serious sin. God allowed David to begin preparing materials, but his son Solomon was the one allowed to build it. When Solomon too became wicked, the temple was no longer sanctified and approved by God.
Jesus Christ, understanding the sacredness of the temples, was understandable angry at seeing them mistreated by profiteering sellers, turning the highly sacred into an ordinary marketplace. His work in clearing the temple shows the extreme importance of treating these temples and the work done within them with the greatest respect and sacredness. Mormons take great care to build a home for God that shows great love and to treat these temples with the respect Jesus commanded us to give temples built to honor God.
The Mormons also use funds to carry out humanitarian work. There are a number of programs to help those in need. Some assist those who are members of the church and others help people regardless of faith.
The humanitarian aid program helps people and communities world-wide. When a disaster strikes, Mormons are often on the ground before others. In other situations, they wait to find out what is requested first. They bring in food, medical and hygiene supplies, and other equipment as requested. This always goes to anyone in need, regardless of faith. The program also provides humanitarian relief in ways that encourage self-respect and self-reliance. For instance, often a humanitarian group will come in, build a clean water system and leave. If it breaks, the people return to using dirty water until the donor returns. When Mormons create such a system, they expect the villagers to assist. These people are then helped to find a way to finance the necessary maintenance and learn how to care for it themselves. The system is then truly theirs and they are no longer dependent on outsiders. Often, this leads to employment for those responsible for caring for equipment. It also allows the church to move on to help a new village, which means they can assist the greatest number of people possible, rather than focusing on only a few locations.
In addition to clean water, there are ongoing programs in a variety of humanitarian areas, including wheelchairs, immunizations, neonatal resuscitation, and efficient farming. All donations made to this fund go directly to help those in need. Administrative costs are paid through other funds.
In a unique program designed to help members of a Mormon congregation, Mormons are asked to fast for twenty-four hours. This is a complete fast without food or drink of any kind, even water, and is asked of anyone physically able to do so. At the end of the fast, the members donate at least the amount they saved by not eating or drinking and donate it as a "fast offering." This money goes to people in their own congregation who are facing temporary hardships. It is used to provide basic necessities of life—food, shelter and medical assistance—while the member is helped to return to self-sufficiency through various church programs. Those who receive assistance are encouraged to donate their time to various service projects, in order to help them maintain their self-esteem and contribute to their own support.
When Mitt Romney's tax returns are analyzed, they are likely to show he participates in God's work and humanitarian efforts world-wide by paying his full tithe, as commanded in the Bible and honoring his promise to God.
For more on Mormon finances, see Encyclopedia of Mormonism.
Yesterday, in my weekly religion class, we talked about Abraham, of the Old Testament. God instructed Abraham to leave and get away from his family and homeland, where idolatry was being practiced.. (See Genesis 12.) We noted this is a common practice in the scriptures. Both the Bible and the Book of Mormon contain such stories.
Throughout scriptural history, we find God sending people to other places for their own safety or to fulfill God's plans for them. In the Old Testament, we read of Moses leading his people into the wilderness. In the New Testament, God sends Mary and Joseph to Egypt to protect the baby Jesus. Noah was instructed to build and board an ark to save his life and the lives of his family. In the Book of Mormon, a prophet named Lehi was warned to take his family, leave behind his wealth, and flee into the wilderness because people wanted to kill him for prophesying about God. Another group, the Jaredites, were among those who dispersed following the Tower of Babel events. They were permitted to retain their language, but were instructed to leave and travel to a new homeland.
However, God doesn't reserve these instructions or warnings just for prophets and future prophets. Every day we receive multiple warnings or helpful suggestions from Him. Unfortunately, we are often so wrapped up in what we are doing we don't pay attention or we shrug them off as our imaginations or needless worries. Sometimes these quiet messages tell us to move somewhere new, as they were for Moses or Abraham. Sometimes they warn us to start preparing for danger or opportunity, as they did for Noah. Other times they are about helping someone else. We might have a thought flit across our minds to call someone or to bring a meal to someone. We may not know of that person's need, but God does, and He meets the need through others who are listening.
These thoughts come from the Holy Ghost, sometimes called the Holy Spirit, and they are messages relayed from God. They are often misunderstood as intuition or ideas, but as we learn more about God, we learn how He helps His children. God communicates with each of us daily, but we have to pay attention. The more we pay attention, the better we become at recognizing when He is speaking to us because we become aware of how often the thoughts that entered our minds turned out to be important.
When God asks you to go somewhere or to do something, what is your reaction? Do you hesitate, try to talk Him out of it, stop to do seemingly more important things, or do  you get right to work doing what you've been asked to do? Our choices have consequences we can't control, and sometimes, even a moment's hesitation can be "expensive" in terms of our well-being, or even in terms of someone else's well-being.
Sometimes our impressions come as feelings or thoughts. Less often, they come as though someone were talking to us or planting very specific thoughts in our minds. In a real emergency, people occasionally hear a voice. Most of the time, though, the thoughts are very gentle and can be mistaken for our own thoughts if we aren't paying attention.
An experience I had a few years ago illustrates how this principle works.
My family had considered moving to a larger home for some time after my son returned home to attend college nearby. Every now and then I'd search online but found nothing of interest. I hoped to stay in the same area so I could stay in my congregation. (Mormons attend church based on set boundaries, rather like school districts). I didn't put much time into it, however. One day, I was working on my computer when a thought came into my mind to search right now. It wasn't a voice, just a thought, but I recognized it as more than a thought so I stopped my work and started to search. Unlike previous searches, I immediately found several possibilities. My husband was out of town on business, so the house hunting was left to me. I eventually chose a house I wanted a few blocks from our current home. It seemed to have everything we needed. That was the first prompting of the spirit—being told to look now.
However, after choosing the house, I felt uneasy. I could barely sleep that night because of it. I felt cranky and uncomfortable. The next morning,  I talked to a friend about it. She pointed out my odd reaction might be inspiration. She reminded me there was another house we had been interested in that I'd been unable to get an appointment to see. She suggested I simply show up and ask to be allowed to view it, since it wasn't occupied and I had seen signs of people working there. I did and as soon as I toured it, the uneasiness went away. The house was not perfect—it was old and drafty and it was in another congregation's boundaries, but I knew God wanted me to take that house for reasons of His own. I called my husband, who was still out of town, and he agreed I needed to follow the inspiration.
After moving into the house, we went to church in our new congregation. Minutes after walking into the building, I was asked to be an aid to a child with cerebral palsy who was in the toddler nursery. They had heard from a friend I was moving in and wanted to work with children. The leaders and family had been praying for someone to move in who could take on that task. They did not know then that I had a grown child with cerebral palsy and had worked with many children who have special needs, but God did. When they heard I was coming, they'd had an impression I should be given the task. Once everyone knew of my personal experience with special needs children, it was clear to us all why we'd had the impressions we did. God carefully orchestrated everything…but His plan could only work if we all paid attention to the promptings and if we agreed to do as asked.
I wasn't asked to travel many years in the wilderness or to flee to a new country. I was only asked to move a few miles, into a less than perfect house, to help a little girl God loved. God doesn't save His requests for the big, dramatic, history-making events. He has everything all planned out, but He asks us to carry out the work. Sometimes that means agreeing to pack up our belongings and moving to a new place. Sometimes the journey just involves changing some details of our lives so they fit the planned pattern, even if we don't physically move somewhere. It can be easy to ignore an instruction because it seems too insignificant to be inspiration, but we just never know what might turn out to matter.
Whether the journey is long or short, literal or figurative, it is important to take it when God asks, without hesitation or delay. Always, the journey requires faith, trust, and a daily effort to listen to God as He gives His instructions. Not doing so can have serious consequences. Sometimes when I hear someone ask why God didn't help in a certain situation, I wonder if He tried—but none of the people He sent for answered the call. When I've ignored promptings, trying to convince myself they were my imagination because I'm a natural worrier, I am always sorry later. I remember the prompting and understand why it was given and how it would have changed the outcome.
When God asks you to take a journey, how do you respond? Do you have an experience of your own to share about your own God-given journeys?
A recent Pew survey of Mormons found the majority of Mormons, 87 percent, consider polygamy immoral. Mormons believe one wife is God's normal standard, but that polygamy is acceptable when called for by God for His purposes.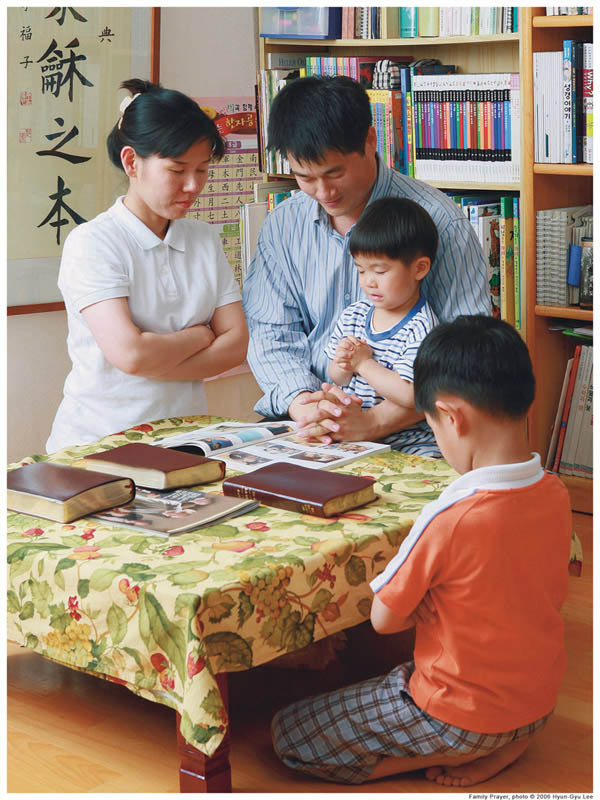 In addition, 25 percent believe divorce is immoral. Officially, Mormons (a nickname for the members of The Church of Jesus Christ of Latter-day Saints) believe that divorce is immoral except under certain circumstances, such as abuse or infidelity.
54 percent of Mormons believe drinking alcohol is immoral. Mormons practice a health code, called the Word of Wisdom, long admired by experts which includes avoiding alcohol, tobacco, tea, coffee, and illegal drugs. It encourages eating fruits, vegetables, and whole grains and advocates the sparing use of meat. It does not, despite common belief, prohibit caffeine, although many Mormons do avoid it as a matter of heath and a desire to avoid addictive substances. It also does not prohibit herbal teas, which are not actually tea. While these are common sense suggestions today, they were considered entirely odd in the time the Word of Wisdom was first revealed and most people treated meat as their primary food and tobacco was no more than an untidy pastime. While Mormons do not drink, they seldom have negative feelings about others who do, when done so responsibly. Their feelings about alcohol concern how they choose to live their lives.
74 percent of Mormons consider abortion immoral. Mormons do not approve of abortion as a form of elective birth control, although it is permitted, when prayerfully considered, after rape or incest or when the mother's life is in danger.
Sex between unmarried adults is considered immoral by 79 percent of Mormons. Mormonism has strong rules regarding the sanctity of marriage and concerning how we show respect for our bodies, which are a gift from God and are made in His image. They teach that we must dress modestly (a standard which still allows them to shop in ordinary stores and blend in, but which covers the body responsibly). Mormons also reserve intimacy for marriage.
65 percent of Mormons feel homosexuality should be discouraged. Officially, the Church differentiates between homosexuality and homosexual practices. It is not a sin to be a homosexual, but practicing homosexual behavior is. In a similar vein, it is not a sin to be an alcoholic, even though it is a sin to drink alcohol. The Church takes no stand on what causes homosexuality because it makes no actual difference in the eternal scheme of things. Mormons do not believe homosexuality will exist after death, which is one reason they oppose homosexual marriages. Mormons believe marriages are meant to last eternally, not just for this life.
Polygamy was discontinued more than 100 years ago. It was always a minority practice, with a small number of members practicing it. Just as Protestants are not Catholics just because they are a breakaway sect of the Catholic religion, modern polygamists are not members of the mainstream church. Some polygamist sects broke away from the mainstream church, but the Church today has no control over them and anyone practicing polygamy today is excommunicated.
It should be noted the survey involved those who self-identify as Mormons, but who have differing levels of commitment, religious activity, and testimony. Some who took the poll accept all the teachings of the church, and some do not.
Polygamy is the part of this survey which seems to most interest people. In 2 Samuel 12:8, we learn that God himself gave David multiple wives, but warned him he had done wrong in the case of one of his marriages. However, the other wives were not the result of sin, since God Himself gave David those wives. Abraham, of course, had a number of wives, and we know God considered him a highly righteous man. His several marriages fulfilled prophecies. Other prophets also practiced it under commandment.
 "There shall be weeping and gnashing of teeth, when ye shall see Abraham, and Isaac, and Jacob, and all the prophets, in the kingdom of God, and you yourselves thrust out. (Luke 13:28.) This demonstrates God did not find fault in the polygamy of His servants, who were practicing it in a time God gave instruction to do so. However, practicing polygamy when it is not commanded is a sin, even if it is legal in the person's country.
Polygamy, as practiced in Mormon history, is very different from the polygamy we see in today's breakaway sects. In the Bible, Abraham's wife chose the second wife. Polygamists in Mormon history were not allowed to take on additional wives without the permission of the Church and without permission from the first wife, who also had approval of the woman chosen. Some Mormon women were actually the instigators, convincing their husbands to take on another wife and sometimes even choosing the wife they felt would fit best into their family. Brigham Young did not select wives for men unless asked to do so. Every family chose its own members.
Women were not required to enter into polygamy and members were not taught that refusing to participate would prevent them from being saved after death. It was a voluntary program for both men and women. A woman who chose polygamy and then realized she couldn't cope with it after all was nearly always given a divorce by Brigham Young. Men, however, were told to return home and work on their marriages. If they asked a woman to marry them, they were expected to make the marriage work.
Thirty percent of women in polygamous marriages were previously married. In the 1800s, women had few legal rights and many were not prepared to support themselves or their children if their husbands died or abandoned them. Polygamy offered protection and legal security for many of these women. Most Mormon marriages involved only two wives, and only one-third of all Mormon women who were of marriageable age were in polygamous marriages.
It should be noted that in a time when women felt a need to be married, polygamy offered more choices to do so. There were more Mormon women than men. Men, now having to compete for the available women, had to demonstrate they would be good husbands. Prospective brides were able to look at how a man treated his first wife and to decide if she was comfortable in that sort of relationship. Women had full control over their choice of husband, and men had to demonstrate they were good choices.
Mormon women objected to the idea that they were victims in these relationships. They—and blacks—had the right to vote in Utah and in previous Mormon communities. They were allowed to own property. Brigham Young encouraged them to take up careers normally held by men, saying there was no reason at all they couldn't be doctors, bookkeepers, or even politicians. The first female state senator was a Utah women, a doctor, who ran against her polygamist husband and won. Women who were in polygamous marriages were encouraged to return to school or take up a career if another  wife was prepared to care for the home and children.
When the federal government took over Utah, it removed all those legal rights. Mormon women lost the right to vote and other aspects of suffrage. They fought strenuously to regain these rights, running their battles through the Relief Society, an official Mormon auxiliary for women. This battle was led by one of Brigham Young's wives. Some traveled to Washington DC with the support of their husbands to work with Susan B. Anthony and other leaders. Once women's suffrage became legal, Utah was the second state to give it to women.
To read more about the Pew study on Mormons, visit Deseret News' analysis of the morality portion of the study.
Mormons say polygamy morally wrong, Pew poll shows, by Amy Choate-Nielsen, Deseret News, Published: Sunday, Jan. 15 2012 7:00 p.m. MST.
Pew Research Center's Forum on Religion & Public Life has completed a survey of more than a thousand Mormons in an effort to understand how Mormons see themselves and their place in the United States. The study included only members of the mainstream church, which is properly called The Church of Jesus Christ of Latter-day Saints. Mormon is a nickname sometimes applied to the members of this church.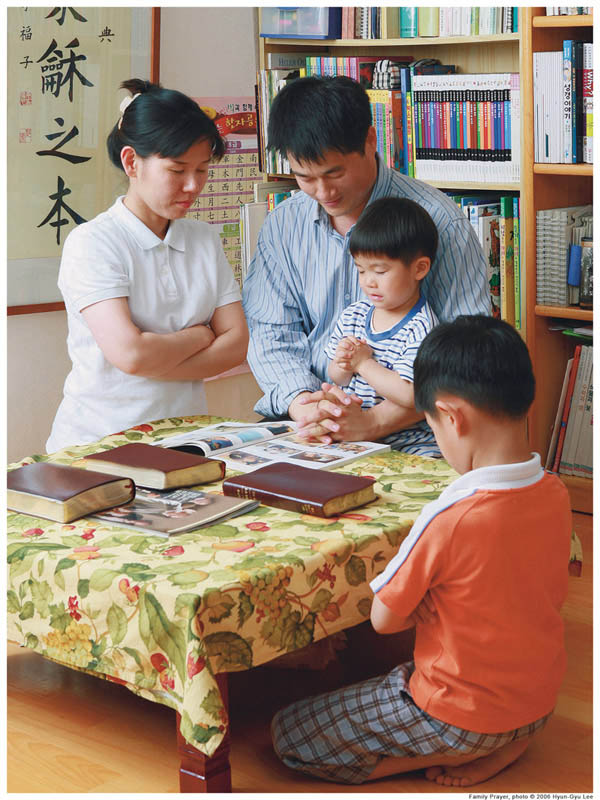 The study involved people who consider themselves members of the mainstream church, but they are of varying levels of testimony and practice. Despite this, the study showed that those who self-identify as Mormons tend to have unusually high levels of testimony concerning the validity of their religion. 77 percent of them attend church every week. 82 percent consider their religion very important to them and 83 percent pray daily. The report states that using these three factors as measures of religiosity, Mormons score higher than many other religions, including, the report says, white evangelical Christians.
One aspect of the study was unusual when compared to other religions. The study found that the more educated a Mormon is, the more likely he is to have a strong testimony and to practice his religion. In most religions, the reverse is normally true. The study showed that 85 percent of Mormons who are college graduates believe wholeheartedly in their religion, compared to 77 percent overall and 82 percent of adult Mormons younger than fifty. This is an important point to ponder.
When outsiders talk about what makes a Mormon, they normally focus on things that aren't that important to Mormons themselves. The study asked Mormons to list what they considered essential in order to be a good Mormon. The most popular answer was to have a testimony that Joseph Smith saw a vision of God and Jesus Christ. This is the founding event in the church's history and must be accepted to truly have a testimony. The second most popular answer was to care for the poor. Mormons have a strong tradition of humanitarian work. A humanitarian aid program assists people world-wide without regard to religion. Other programs are designed specifically to help members of the congregation who are experiencing temporary hardships. Of course, Mormons spend considerable time in small and even unofficial acts of service as well.
The report offered a glimpse into the religious commitments of those surveyed in other ways. It was noted that 65 percent had current temple recommend. A recommend gives a person permission to enter a Mormon temple to make covenants with God and to perform special ordinances. To receive one, a member must be an adult in good standing, have been a member of the Church for one year, and be obedient to the most important commandments. The member must also have a testimony of the truthfulness of the Church and of God and Jesus Christ. They must support their church leaders at all levels. Holding a recommend is a strong indicator of commitment to the faith.
79 percent of Mormons pay a full tithe of ten percent of earnings, the amount specified in the Bible—the word "tithe" means a tenth.
While Mormons share many beliefs in common with other religions, they have some beliefs that are unique in modern Christianity, even though they were the normal practice and belief in Biblical times. In these areas, Mormons had very high levels of testimony as well. 94 percent believe that God and Jesus Christ are separate beings, as shown in the Biblical vision of Stephen and in the Biblical baptism of Jesus Himself, when His Father said He was pleased with Jesus and identified Jesus as His Son. It is, of course, also demonstrated in the vision the first Mormon prophet, Joseph Smith, saw in the 1800s.
94 percent believe that Thomas S. Monson is a prophet of God, demonstrating, thereby, that they believe God leads His church through prophets, as demonstrated in the Bible. 91 percent believe in the authenticity of the Book of Mormon. A previous study showed 91 percent also believe in the authenticity of the Bible as God's word.
What is it that gives Mormons a higher rate of testimony and practice than most other religions? One reason is that prospective members are given a basic introduction to their religion by the missionaries and then taught to pray to know if it is true. This advice is based on James 1:5 in the Bible and on Moroni 10:4 in the Book of Mormon. The Bible verse tells us that if we need wisdom, we can ask God and He will give it.
Prospective members are taught that while it is helpful to hear the testimonies of others, we must not rely on them as the source of our own. Any mortal person can be misled, but God knows which church really is the true church. To know with certainty, we must ask Him. Once we've done so and received an answer, there can be no doubt in our minds as to the validity of our choices. This is why Mormons who have done this are not "convertibles." Children, who may be baptized and confirmed at age eight, are also expected to do this prior to their baptisms. Older children and teens are encouraged to pray for confirmation more than once as they grow up and have questions or doubts. They are taught they must have their own testimonies gained through the confirming witness of the Holy Ghost.
Mormonism is not a religion that asks only that you show up for church on Sunday. Although Mormons live in ordinary communities and hold whatever career they choose, they are expected to live their religions at all times. One of the covenants they make at baptism is to take on the name of the Savior, Jesus Christ, and honor His name. This means they are Mormons and Christians all the time, not just on Sundays. This is why Mormons have a strong reputation for living clean lives—and, the study found—happy ones.
"'Ultimately, I suppose other Americans will judge our church — and perhaps all churches — by their relevance in how they touch and improve human lives right here on Earth as well as what they offer in the life to come," wrote Michael Otterson, Public Affairs director for The Church of Jesus Christ of Latter-day Saints, in his "On Faith" blog in the Washington Post. "Meanwhile, we welcome the friendship and regard of all groups, even as we retain our commitment to a unique identity. In the end … Latter-day Saints will strive to be good Mormons, true believers, kind neighbors and faithful friends.'" (quoted in "LDS religious commitment high, Pew survey finds," By Joseph Walker, Deseret News, Published: Friday, Jan. 13, 2012 6:48 p.m. MST).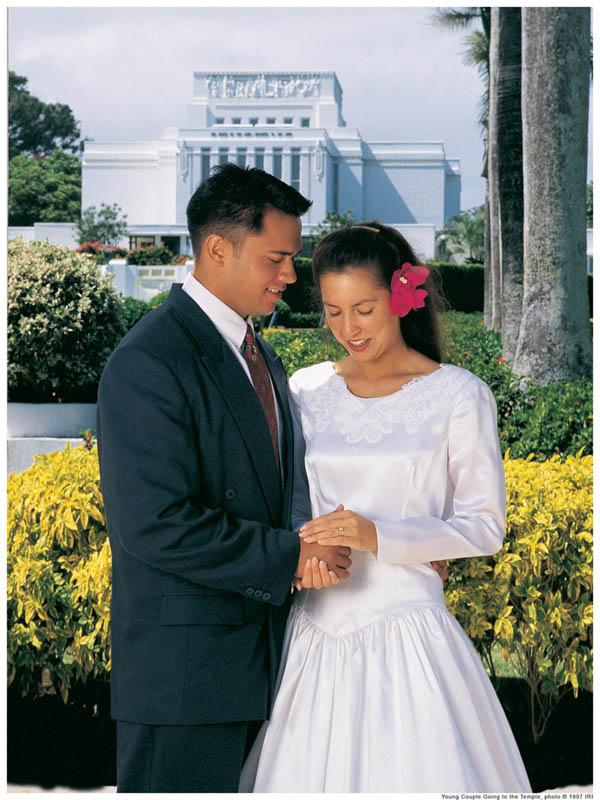 A new Pew Forum study surveyed more than 1100 Mormons to find out what they believe about their faith, society, and their place in it. One section of the survey focused on Mormon beliefs about families and marriage. Mormon is a nickname sometimes applied to members of The Church of Jesus Christ of Latter-day Saints.
The survey showed Mormons attach a very high priority to family life. 81 percent say that good parenting is one of the most important parts of life. This is far above the national average of 50 percent. 67 percent of all Mormons in the survey were married. Only about 52 percent of the general public is married. Six out of ten Mormons prefer a traditional structure in which the man is employed and the woman cares for the home and children. 73 percent of Mormons consider having a good marriage to be one of the most important things in life, compared to 34 percent in the general public.
Mormonism has always placed a high value on family life. The study shows that 95 percent of Mormons accept the Mormon teaching that families can be eternal. Mormons do not believe God intended His children to divorce at death, but that they could choose to live in such a way as to be worthy of an eternal families. Mormons who marry in the Mormon temples are joined not for this life only, but for "time and all eternity." This is called being sealed. Children born to these parents will also be theirs for eternity, a special comfort to parents whose children die young. When a child is adopted, the adoptive parents can be sealed to this child when the adoption is final. Mormons who join the Church after they are married can be sealed in the temple after one year if they are worthy. To be worthy, they must be honoring their responsibilities to their families and living the teachings of Jesus Christ. The blessing of eternal families is contingent on personal worthiness and obedience to the commandments.
Because a Mormon marriage can last forever. Mormons are highly motivated to build strong, lasting families. In the eternal scheme of things, the ordinary stresses that cause many marriages to break up seem insignificant. A serious illness in one spouse is a very small part of the entire marriage, and so the families weather it together.
In order to create a very strong family, Mormons make family life a priority. The survey showed few Mormons considered successful careers and high incomes to be a priority. Nor did they worry a great deal about personal free time. They are happiest in the family setting.
One evening a week, Mormons are taught to stay home with just their own families and to spend that time in a family-only meeting called Family Home Evening. Most Family Home Evenings run in a manner similar to other meetings. Each family member has an assignment and rotate their responsibilities, allowing children to learn how to plan and carry out various parts of a meeting. They usually start with a song and prayer, followed by family business. A short lesson on some aspect of religion or family life is given and then the family plays games or does a service project. Most meetings end with another song and prayer and a special dessert. This allows parents to share their beliefs with their children and to increase the bonds between them. In a time when most families are very busy, this sets aside a few hours just to be a family.
Mormons also teach the gospel in the home. Although they attend church, the programs for children and teens are meant to assist the parents, not to replace them. Parents are considered to have the primary responsibility for teaching their children the gospel. To this end, Mormons hold daily family prayer and scripture study. In addition, most couples pray together without their children and, of course, family members also pray and study scriptures individually.
While Mormons live in ordinary communities, not in isolated groups, and have busy careers and community service, they know these things are only for this life. Family and God are forever, so Mormons focus their priorities in this area of their lives.
In an article in the Deseret News on this aspect of Mormonism, several real-life Mormons are interviewed, including Jane Clayton Johnson:
"'Family is at the core of our faith," says Jane Clayson Johnson, a Latter-day Saint and former anchor of CBS's "The Early Show" who prefers the title of mom to two young children and stepmom to three older ones. "There are so many distractions today that all force us outward, away from core relationships. What our faith does is turn us back toward deep, rich, meaningful relationships in families."

"'It teaches us that families are where we find meaning," continued Clayson from her home in Boston. "The work I do in my family is the most important work that I'll ever do." See "Mormon focus on marriage, family highlighted by Pew survey," by Sara Israelsen-Hartley; published: Thursday, Jan. 12, 2012 7:24 p.m. MST in Deseret News
Pew Research Center's Forum on Religion & Public Life recently completed an in-depth survey of Mormons in the United States. While the press has often evaluated the nation's impressions of Mormon, there has not been an extensive study of how Mormons perceive themselves done by a non-LDS organization. The study, "Mormons in America: Certain in Their Beliefs, Uncertain of Their Place in Society," surveyed more than 11,000 people who self-identify as mainstream Mormons. Mormon is a nickname sometimes used to describe members of The Church of Jesus Christ of Latter-day Saints. All are members of the mainstream church and not the various breakaway sects. They have varying levels of activity and testimony, with about 65 percent holding Mormon temple recommends. Temple recommends require someone to have been a member of the Church for at least one year and to be living at a high level of obedience to the commandments, as well as to have a testimony of the essential aspects of the religion. They permit a person to enter the Mormon temples, which are different from the ordinary meetinghouses.
74 percent of those surveyed were born into LDS (Mormon) families. Previous Pew surveys have shown some variation in cultural beliefs between those born into Mormon families and those who joined later. 77 percent attend church at least one day a week.
The study showed that the surveyed Mormons are more religious than the general public. 82 percent said that religion is a very important part of their lives, compared to 56 percent of the general public.
"In terms of religious beliefs and practices, the survey makes it clear that Mormons are highly religious — again, not a big surprise. Eighty-two percent say that religion is very important in their lives, and 77 percent say they believe wholeheartedly in all of the church's teachings. Fully 83 percent say they pray every day, 79 percent say they donate 10 percent of their earnings to the church in tithing and 77 percent say they attend church at least once a week. According to Pew, "Mormons exhibit higher levels of religious commitment than many other religious groups, including white evangelical Protestants."

"Looking at basic, core religious beliefs, 98 percent say they believe in the resurrection of Jesus Christ, 94 percent believe the president of the LDS Church is a prophet of God, 95 percent believe that families can be bound together eternally in temple ceremonies, 94 percent believe that God the Father and Jesus Christ are separate, physical beings and 91 percent believe that the Book of Mormon was written by ancient prophets." (See "'Mormons in America' Pew survey explores beliefs, attitudes of LDS Church members" Published: Wednesday, Jan. 11, 2012 10:00 p.m. MST by Joseph Walker, Deseret News.)
73 percent said working to care for the poor was an essential part of being a good Mormon. The Church offers an extensive humanitarian aid program world-wide, serving people without regard to faith. It also offers humanitarian services specifically designed to help church members through temporary difficult times. Individual congregations do extensive community and congregational service through their auxiliaries.
The survey demonstrated that Mormons are overwhelmingly optimistic, with 87 percent happy with their own lives and 92 percent with their communities.
Despite common perceptions that all Mormons are conservative, the study showed that sixty-six percent consider themselves conservative and 74 percent consider themselves Republican or lean towards it.
The study confirms things that have been in shown in previous Pew studies and things that Mormons always believed about active members of their faith. The strong religiosity compared to other religions is an oft-found statistic in studies, and one that Mormons themselves recognize. Mormonism is not a "show up on Sunday and forget about religion until next Sunday" sort of religion. It calls for active participation because it is a lay church with need for everyone to volunteer. It asks for a high level of obedience to the commandments of God. It is expected to be a religion one lives every moment of the day and night, and this tends to lead to stronger testimonies, stronger commitment to the faith, and a stronger sense of identification with the religion and the culture that builds up around it.
The results may be surprising to non-Mormons, who didn't realize Mormons shared conservative religious values with the majority of Christian faiths, but the results are likely to surprise very few Mormons themselves. That 97 percent of Mormons consider themselves Christian and 98 percent believe in the resurrection of Jesus Christ might surprise some non-Mormons, but the only surprise to Mormons is likely to be that both answers weren't 100 percent. (If the study had been only of temple recommend holders, it would have been, since these are requirements for a recommend.)
The full Pew Forum report on Mormons is 125 pages. A six-page summary of the report, far less time consuming, can be found here:
"'Mormons in America' Pew survey explores beliefs, attitudes of LDS Church members" Published: Wednesday, Jan. 11, 2012 10:00 p.m. MST by Joseph Walker, Deseret News.
In the Bible, we read of Ruth offering to glean the fields. After the harvesters were finished, the gleaning were left for the poor. These were much harder to gather and took significantly more work, but those who were hungry were willing to do this in order to get what they needed.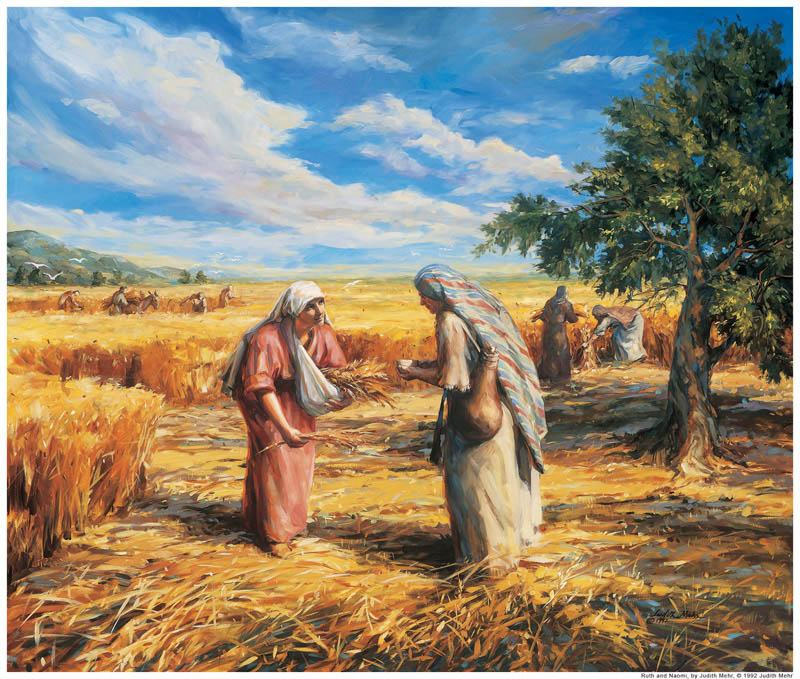 We can apply this concept to our study of the scriptures. Most people study the scriptures rather casually and some Pew forum research has shown most people can't answer even simple questions about the Bible. They look up the scriptures they're taught in the Sunday School class or in a witnessing class, but they often don't take the time to read them in context. Many people have never read the entire Bible from cover to cover, allowing them to understand the flow and growth of the gospel of Jesus Christ. Those who do are often meeting a challenge to read it in a certain amount of time and thus don't have time to get past the surface teachings. The Bible is rich with information that can only be found by gleaning—gathering information slowly, piece by piece, and taking time to reflect on it.
I have been taking a scripture study class this year. Meant for students college age or older, we are spending the entire academic year on only sixty-three pages of scripture. We spent several months just on the creation, taking apart nearly every sentence in those few verses. At the beginning of the course, I wondered how we could take so long to study so little; now I am amazed at how much was in those sections that I missed when I was doing the initial harvesting. I have read the Bible all the way through multiple times, but I had not done this level of gleaning. Recently, I decided to counter the common goal of reading the scriptures quickly and am instead, setting a goal to read them slowly, gleaning from them all I can. Some days I read only a few verses, pondering what I learned and what those verses mean in my own life. Sometimes I stop reading to do some research. What are the other translation possibilities for this word? What other teachings are offered about this subject in other parts of the Bible? What do experts say about these verses?
In the Book of Mormon, a prophet named Nephi tells us that we should "liken" the scriptures. This means to ask ourselves, "What does this have to do with my life today? What did God want me to learn from this verse or story? How can I apply these teachings in my own life?"
Likening can be applied to the study of the Bible as well. Although the people of the Bible lived long ago, their lives and teachings have a great deal to teach us. If we read the stories just as stories, we miss the entire purpose of the Bible. Each one has something to teach us about our own lives. Noah built an ark because he was commanded to. First, though, he honored God's command to preach repentance to the people and endured the mocking that came from both the preaching and the ark-building. Today, we don't need to build an ark, but there is still a message for us in that story. As I study about Noah, I recognize in it the importance of listening to God's messages, of the reason God sends prophets, of the importance of doing what God tells us to do even if others mock us. I learn that we need to know how to tell what comes from God, because if we don't recognize His prophets, we will suffer the consequences.
I have spent a lot of time lately thinking about the Tower of Babel. It's a very short story in the Old Testament, and yet I've discovered there are important messages tucked into the story. It's most often told just as an explanation for why there are so many languages, but gleaning from the scriptures means to go beyond the obvious lesson. The people worked together in complete harmony to build this tower. Normally, harmony would be considered a good thing, as would cooperation and working towards a purpose. However, the purpose of the tower was not in keeping with God's teachings. It was a very self-centered project, designed to make a name for themselves and to get into Heaven without meeting any of the requirements. They didn't want to keep commandments, have faith in God, or honor Him. God destroyed the harmony by taking away their shared language. Unable to communicate, the workers began to argue, mistakes happened, and the project fell apart. The people dispersed, unable to figure out how to live together when they didn't speak the same language.
Wanting to glean all I could from this small piece of the Bible, I read the few verses many times. Then I did some research and looked at the Jewish stories about the tower. I researched what my own religion taught on it. I am a member of The Church of Jesus Christ of Latter-day Saints, whose members are sometimes called Mormons, and the Book of Mormon has more to say on the Tower of Babel. The Book of Mormon tells of a small group of people who refused to participate in building this tower, understanding it was not a gospel-appropriate activity. When the languages were changing, two brothers prayed to have their language remain and also to preserve the languages of their friends. They left the area and eventually ended up in what is today called the Americas.
Then I spent some time thinking about it. Even when I moved on, I continued to think about this story and to write down my thoughts about the lessons to be learned. Here are some of my personal gleanings from this story. Your own gleanings might be different because they would be based on what is meaningful to you. They aren't official Mormon doctrine; they are my own thoughts on the subject. Read them, however, might help you understand the process of gleaning even from a few small verses. You might want to start by rereading the story in the Bible yourself. It is found in Genesis 11 and is only nine verses.
What I pull from this story is that the Tower of Babel was, in essence, a pagan temple. They wanted to make a name for themselves, which might have been vanity or it might have meant taking on God's name—but not doing it through God's chosen procedures. They were building a temple without authority and in the Old Testament, we know that building a temple required authority and the supervision of a prophet.
From this, I learn that everything in God's kingdom must be done with authority and permission from God. We can't take it on ourselves to do something. All through the Bible, we see the importance of having leaders—prophets—chosen by God who have the authority to speak for God. No one working on the tower had that authority. They were simply taking charge on their own.
I learn that while cooperation and harmony are important, these things must be used for righteous purposes. Taking it a step further, I understand that everything we do in life must be done for righteous purposes. Doing good is a great thing, but only if done for the right reasons and only if it is done to honor God.
Some historical sources believe the builders of the tower were afraid of another flood. This was only a few generations after Noah's ark was built. The bricks were a new invention, made of baked clay, and were waterproof. If a flood came, they could climb the tower to escape. The lesson here is that they did not trust God and so they went to elaborate lengths to try to avoid punishment for sin, but also to escape something God had already promised He wouldn't do. If they had trusted Him, they wouldn't have been afraid. If they had just been willing to keep the commandments, they wouldn't have needed a tower. There are ties here to the story of Jonah trying to hide from God and ending up as fish food. We can't hide from or escape God. If we are willing to keep the commandments, we don't have any need or desire to hide from God.
One way to make your gleaning more useful is to write the findings down. Keeping a scripture journal, in which you write your thoughts about what you are reading, is a great way to get the most from your reading. Not only does it force you to slow down, but it also allows you to remember the thoughts you had as you read and to reference them when you read more on the same subjects. In future years you can return to those entries to see if you have any new ideas about the scriptures and stories you read.
Here's a challenge for the new year: Read the scriptures from cover to cover…slowly, gleaning from them all you can. If you learn some life lessons from your reading, post them here. We'd love to hear what they are.
Personal response by Terrie
When I was a teenager, I had a number of experiences that left me convinced I had lived before this life. Since I didn't belong to a church yet, I started searching for an explanation for these experiences, which often involved meeting people I'd never before known and yet "remembering" them, or hearing an entirely new idea and yet knowing I'd heard it before somehow. Brand new ideas would come to my mind and yet seem entirely familiar.
As I searched, it seemed as though reincarnation was the only explanation anyone could offer for this, but in my heart, I knew this wasn't the right answer. Something didn't fit. But if that wasn't the answer, what was?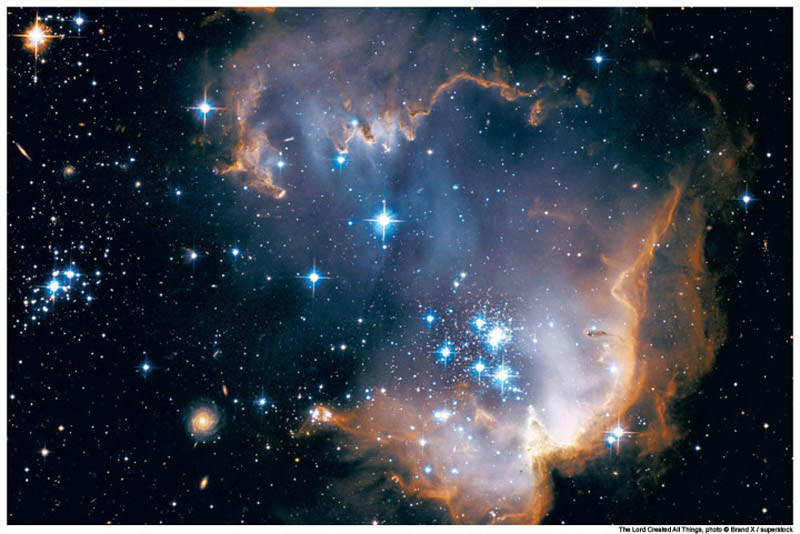 When I was sixteen, I began investigating The Church of Jesus Christ of Latter-day Saints. Their members are often nicknamed Mormons (although it is incorrect to call the church itself the Mormon Church.) From them, I learned there was indeed an explanation for this feeling that I had lived before.
Mormon beliefs center around a plan of salvation. This plan has at its heart the atonement of Jesus Christ. While reincarnation had no room for Jesus in its description, and no correlation to Bible teachings, this plan taught by Mormons was Biblical in nature and included Jesus Christ. It felt right to me.
The reason I sometimes heard a truth and recognized it as feeling familiar to me, even though it was new, was that I had indeed lived before, not as another person, but as myself. This life before life occurred with God, in what Mormons call a premortal existence.
Mormons believe God created our spirits and allowed us to live with Him for a time before coming to earth. We don't know how long we lived there or even much about that time, but we know it was a time to learn about God and His truths, to shape our personalities and values, and to make some choices about our future lives.
The Bible reveals that we had life before life:
Before I formed thee in the belly I knew thee; and before thou camest forth out of the womb I sanctified thee, and I ordained thee a prophet unto the nations (Jeremiah 1:5).
This verse tells us that God knew Jeremiah so well that He knew he would be worthy to be a prophet. He knew this because when we lived with God, we spent time with Him. He got to know us and we got to know Him. Jeremiah appears to have been so exceptionally valiant in his premortal life that God knew that even when Jeremiah lost the memory of this special time, he would still be the man he had been before he was born.
"The spirit shall return unto God who gave it" (Eccl. 12:7).
The Bible tells us we once lived with God and promises we will someday be able to return to Him. We can also see from this verse in Ecclesiastes that we lived there as spirits. This means we did not have a body, even though in other ways we were ourselves.
We were allowed to have agency there, which means the right to make choices for ourselves and our futures. When God gathered us together to tell us He was creating an earth for us to live on, we were so excited we shouted for joy.
4 Where wast thou when I laid the foundations of the earth? declare, if thou hast understanding.
5 Who hath laid the measures thereof, if thou knowest? or who hath stretched the line upon it?
6 Whereupon are the foundations thereof fastened? or who laid the corner stone thereof;
7 When the morning stars sang together, and all the sons of God shouted for joy? (Job 38)
Job was asked this by God, who didn't take time to answer the question, because Job knew where he had been before he was born. He was one of the sons of God who shouted for joy, just as we all are.
 Most of us understood God's plan for mortality. He planned for us to receive a body and a family, to have experiences and trials that would help us reach our full potential, and to find and choose God.
There were risks, of course, as there always are when we're trying to stretch and grow. If only justice were to be served, we would have to live a sinless life in order to return to God. However, God understood that would not be possible for mortals. He tempered justice with mercy by promising us a Savior who would come to earth voluntarily, atone for our sins, and die for us, rising from the dead to overcome the bonds of death. Jesus Christ offered to be this Savior. While grace would allow all of us to rise from the dead and to be able to repent, we would need to voluntarily activate the full measure of the atonement. This would involve accepting Jesus Christ as our Savior and agreeing to keep the commandments of God: "Not every one that saith‍ unto me, Lord, Lord, shall enter into the kingdom of heaven; but he that doeth‍ the will‍ of my Father which is in heaven (Matthew 7:21)."
There were some who didn't like the risks involved. Lucifer tried to convince everyone to refuse God's plan and to instead choose him as their savior. He wanted, however, to do it in a way that required no suffering or sacrifice on his part. His idea was to force everyone to be obedient and to accept him as their savior, thus eliminating the risk of failure. Of course, it also eliminated the entire purpose of coming to earth. There could be no test of faith, no personal growth, under such a system.
One-third of the spirits went for what they thought was the safe route and chose to follow Lucifer. While following God's plan was optional, the plan itself was not. If someone wanted to come to earth, it had to be on God's terms. For this reason, Lucifer was cast out of heaven (see Isaiah 14:12) and his followers had to go with him. They lost the opportunity to come to earth and are denied the blessings of the atonement they rejected. Denied eternal happiness, they have just one goal—to make all of us as miserable as they are. This is why Satan, as Lucifer is now known, works so hard to make us fail in our mission.
The rest of us began taking our turns on Earth. Our memory of our former life has been erased, but every now and then God allows us, through the Holy Ghost, a glimpse of that life, to help us know who we once were and what we promised God we'd do.
I've written about our life before life here before. It's one of my favorite parts of the gospel because it really helps emphasize how much God loves us. Before He sent us to this complicated life, He spent time with us personally, helping us prepare. It reassures me that God really does know me—not just as someone He watches from a distance, but as someone He has talked to one-on-one. He knows who I was and who I am capable of becoming. It tells me His love is personal.
This life-before-life also tells me how much Jesus Christ loves me. He also knew me personally in that past life, and when He atoned for my sins, He was doing it for someone He personally knew and loved. It holds the promise that when we leave earth, we won't be going off to yet another earth life, but to a heavenly life. This life we're in now is the one in which we are to prepare for eternity.
Reincarnation is not true and doesn't mesh with the eternal plan of God. It can offer nothing as powerful as life in a premortal existence in the very presence of God. That premortal life is our promise that we really are God's literal children and that He knows us and loves us.