In the previous article on commandments, we learned that a young man asked Jesus how to achieve eternal life. Jesus told him to keep the commandments and the man asked which ones he had to keep. Jesus' answer disappointed him and he decided he preferred a fake form of conversion to the sacrifices required by true conversion.
Mormons—a nickname for members of The Church of Jesus Christ of Read more
One of my favorite stories of Jesus' many services to those in need is that of his healing of the blind man, Bartimaeus.
46 And they came to Jericho: and as he went out of Jericho with his disciples and a great number of people, blind Bartimaeus, the son of Timaeus, sat by the highway side begging.

47 And when he heard that it was Jesus of Nazareth, he began to cry out, and say, Jesus, thou Son of David, have mercy on me.

48 And many charged him that he should hold his peace: but he cried the more a great deal, Thou Son of David, have mercy on me.

49 And Jesus stood still, and commanded him to be called. And they call the blind man, saying unto him, Be of good comfort, rise; he calleth thee.

50 And he, casting away his garment, rose, and came to Jesus.

51 And Jesus answered and said unto him, What wilt thou that I should do unto thee? The blind man said unto him, Lord, that I might receive my sight.

52 And Jesus said unto him, Go thy way; thy faith hath made thee whole. And immediately he received his sight, and followed Jesus in the way. (Mark 10)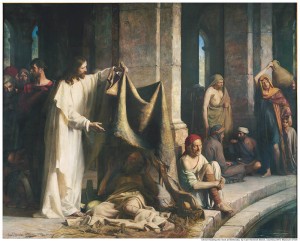 We usually read this story and focus on the healing, but it's the other parts of the story that capture my attention. To fully understand the power of this moment in the Savior's life, we must remember that Bartimaeus was begging because a man who was blind was not normally allowed to earn a living in those days. Treatment of those with special needs was very different then. They were believed to be unimportant and incompetent to do anything of value, and so they begged and relied on others for their care. It was for this reason, this lack of perceived importance, that people tried to stop Bartimaeus from "bothering" Jesus as he came through town.
We can see his great faith, however. He didn't stop calling to Jesus because he knew Jesus could give him his sight, and his sight, in that day, was not just physical vision, but a way into dignity and a life of purpose that society wouldn't give him otherwise.
Jesus heard his call and asked his disciples to call the man to him. Bartimaeus may have hesitated because he had to be reassured that it was okay to approach. Notice what the Savior did when the man came to him. He spoke to the man respectfully, probably not something commonly done to him, and asked, essentially, "How can I serve you?"
Then, Jesus said, and certainly many were listening to his words, that the man's faith had made him whole. Remember this is a man society felt to be unimportant and incapable of great things. Jesus informed those around him that Bartimaeus did indeed have value and skills—he had the gift of faith so great it could heal him. This gave the man instant credibility to those around him, and perhaps caused those who watched to wonder about their previous assessment of the blind man. Did they go home and feel guilty about how they had treated him in the past? Were they sorry they'd tried to keep him from approaching the Savior? Did they treat the next blind man they saw with greater respect because of the example the Savior set for them that day?
There is much more to this story than a healing, as great as that healing was. We have here a powerful example of how the Savior expects us to treat everyone around us, whether or not we can see their value. The Savior sees it and God sees it. The Savior is no longer on earth to walk up to the modern day Bartimaeus'. It's now up to us to treat everyone with dignity and respect and to see in them what God sees.
One of the great inhibitors to true happiness is a failure to realize our true potential.
There are a lot of reasons why we settle for less—from ourselves, from others, from life. We can't do much about what others do, or about how life turns out, but we can—and we must—make the best use of our own life, of our own talents and abilities.
Members of The Church of Jesus Christ of Latter Day Saints (or Mormons) talk a lot about talents as gifts from God. You will see many Mormon men and women who seem to have it all—success in their careers as well as obvious talents that they readily share with the people around them. This is because we believe in the parable of the talents as told in Matthew, that the more we make use of those talents, or gifts, that God has given us, the more we will receive (Matthew 25:15-16, 20, 22, 24-25, 28.)
Learning to recognize your talents can be difficult. Sometimes we are not blessed with a remarkable musical talent, or the ability to disassemble and reassemble a car engine in record time. Sometimes are gifts are of a more subtle nature—perhaps we are able to discern when a friend really needs a listening ear, or a kind word.
In the Book of Mormon, we learn about the ways we receive talents, or gifts of the Spirit, and how you should use them:
And again, I exhort you, my brethren, that ye deny not the gifts of God, for they are many; and they come from the same God. And there are different ways that these gifts are administered; but it is the same God who worketh all in all; and they are given by the manifestations of the Spirit of God unto men, to profit them.

And to another, exceedingly great faith; and to another, the gifts of healing by the same Spirit;

And all these gifts come by the Spirit of Christ; and they come unto every man severally, according as he will (Moroni 10:8, 11, 17.)
I have long been a fan of Mother Theresa—a more giving and truly charitable person I've never known. But did you know that she suffered from pangs of doubt and feelings of inadequacy? Who would ever have guessed that this remarkable woman every doubted herself or in what she was doing? Yet, she did.
She hung a poem on the wall of the orphanage she founded in Calcutta. One can only assumed that she posted it there as a reminder to herself—a reminder to keep on keeping on, even when doubt assailed her.
Our Heavenly Father loves us and He has blessed us with many gifts and talents, many opportunities, to fulfill the measure of our creation. When we are being all that we can be, we grow closer to God and our hearts are filled. It is then that we can find true joy and experience happiness in all that we do.
And so I would like to encourage you to search your heart for those things that bring you joy, because perhaps they are a priceless gift that you have yet to fully appreciate. And when life's trials seem insurmountable and the obstacles before you loom above you, remember who you are—a child of God, an individual with unlimited potential.
Mother Theresa's poem … "Anyway"

People are often unreasonable,
illogical and self-centered;
Forgive them anyway.

If you are kind,
People may accuse you
of selfish, ulterior motives;
Be kind anyway.

If you are successful,
you will win some false friends and
some true enemies;
Succeed anyway.

If you are honest and frank,
people may cheat you;
Be honest and frank anyway.

What you spend years building,
someone could destroy overnight;
Build anyway

If you find serenity and happiness,
they may be jealous;
Be happy anyway.

The good you do today,
people will often forget tomorrow;
Do good anyway.

Give the world the best you have,
and it may never be enough;
Give the world the best you've got anyway.

You see, in the final analysis.
it is between you and God;
It is never between you and them anyway.
(Author Unknown)