With so many people struggling financially, it may seem overwhelming to think of how to help. There are people who are in financial trouble who have never struggled in the past and others who have experienced poverty all their lives. What is the best way to give so you can make a real difference?
There are two types of needs people have when they are struggling financially. The first is to develop long-term skills that will help them leave poverty and succeed in the future. The other is to get through right now until those long-term plans begin to work.
The short term is often centered around immediate survival–food, clothing, and shelter. In addition, there is usually a call for spiritual and emotional support, particularly if poverty is new for the person experiencing it. Becoming poor after a life-time of being comfortable, particularly if you were always sure it couldn't possibly happen to you, or even if you looked down on those who have struggled previously and now find yourself in that position, is hard on one's self-esteem. Read more
In this year's Christmas devotional, the president of the Church of Jesus Christ of Latter-day Saints, (nicknamed the Mormons), President Monson, talked about the innkeepers who turned away Mary and Joseph as they sought a place for Jesus to be born. He thought that later, the innkeeper might have been sorry, and might have chosen differently had he known who the baby was to be. But he didn't get a second chance. Jesus Christ was born and the opportunity to serve was over.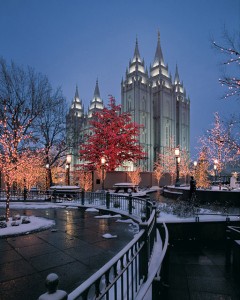 In Jesus' own life, he never missed a chance to serve another person. When someone needed healing, or a blessing, or words of wisdom, he stopped and took care of it right then. He didn't just preach service; he lived it.
The Bible tells of a group of children who were brought to see him. It was at the end of a long day, and the Savior was tired. His apostles tried to send the children away, but Jesus stopped them. He called them over and spent time with each child, serving them and showing them love. He had just one chance to show the children what the love of the Savior meant, and to serve them, and He took it, even though He was tired. Read more