Jane Elizabeth Manning is perhaps the most famous black Mormon pioneer. Mormon is a nickname for members of The Church of Jesus Christ of Latter-day Saints. She was the daughter of Isaac and Elizabeth Manning and was born in the late 1810s or early 1820s. She was never a slave but was a servant, sent to live and work in the home of a wealthy white farmer when she was only six years old. The home belonged to an elderly man, Joseph Fitch and his wife. Their daughter raised Jane.
Jane became a Presbyterian when she was fourteen years old, but felt unsatisfied with all they taught. She converted to Mormonism a year and a half later after hearing Charles Wendell teach about Mormonism. She had attended the sermon in direct defiance of her pastor's order to her to not attend. She helped to convert other members of her family. At that time in Mormon history, Mormons were encouraged to gather in one place due to the need for protection during persecution and also due to difficulties in communication at the time. With a newly growing faith, it was easier to have everyone together where they could be taught by their leaders and enjoy the support of others who shared their faith.
Mormon polygamy was discontinued more than one hundred years ago, but it is still associated with Mormonism and Mormon history, and sometimes incorrectly associated with modern Mormonism. Mormon is a commonly used nickname for The Church of Jesus Christ of Latter-day Saints.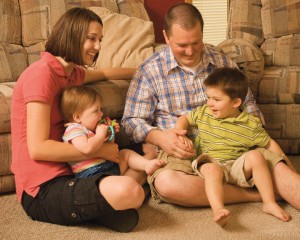 Polygamy—or more correctly polygyny (the proper term for one man having multiple wives) was first practiced in the Old Testament. In Genesis 16, we learn that Sarai asked her husband Abraham to marry her handmaiden in order to produce heirs. This was very difficult and stressful for all three, but God sent an angel to help the handmaiden through the trials that followed. Abraham is the first recorded case of polygamy. Later, Jacob took additional wives, as did Gideon, Elkanah (the father of Samuel), and others. The Bible gave instructions  on the treatment of additional wives and the resulting children. If polygamy were immoral in all situations, God would not give instructions on how to responsibly practice it. Instead, he would have instructed them to end the practice. (See Deuteronomy 21:15-17 and Exodus 21:10-11 as examples in the Old Testament of Biblical instruction on the appropriate practice of polygamy.) Since some practitioners were prophets, it is clear polygamy was acceptable to God. However, it should be noted that polygamy was not the rule in all time periods. It was practiced only when approved by God and for His purposes. Read more
Ezra Booth, a former minister, became a member of The Church of Jesus Christ of Latter-day Saints, whose members are often called Mormons, in 1831, when the church was still new. He had seen Joseph Smith heal the arm of a church member, and this was his reason for joining. However, Mormons know miracles don't really convert people. The miracle must be followed up with appropriate steps to gain a true testimony, including study and prayer. However, Booth did not do this and so he had only the single miracle to bolster his thin faith.
In the early days of the church, adult men, even those married, could be sent out on missions and often did so when they were quite new to the church. This is not the case today, where missionaries must be well-versed in their religion and have strong testimonies. Ezra Booth left on his mission only a few months after joining. This mission demonstrated his lack of true testimony as he faced his first necessity to sacrifice for his faith. He was angry over having to walk to his destination instead of being given transportation, even though the young church had no money for such things and neither did he. He began to feel upset that he didn't see a continual stream of miracles, not understanding that miracles are miracles precisely because they are rare. Missionary work wasn't the glamorous task he expected it to be.
In this series of articles, we are studying the principles taught in a talk by Ezra Taft Benson. At the time the talk was given to students at Brigham Young University, he was an apostle, one of twelve men who form a governing body of the church. They lead with the First Presidency, which consists of the prophet, who is also the president of the Church, and his two counselors. The First Presidency is the highest ranking leadership in the Church and the apostles are just below them. In time, Ezra Taft Benson would become the president of the Church. As an apostle, he was called Elder Benson, so that is how I will refer to him in this article.
Read the introductory article in this series: Follow the Prophet: An Introduction
Read called Fourteen Fundamentals in Following the Prophet.
The first principle The prophet is the only man who speaks for the Lord in everything.Every person has a right to receive revelation for his own life and for any area in which he has responsibility. For instance, a person might have inspiration in choosing a career that will fulfill God's plan for her. That person can also receive personal revelation pertaining to raising his or her own children. However, a man who thought he knew a better way to run his Mormon ward (congregation) could not announce he had received revelation concerning this unless he was the bishop (lay pastor) because it is not his responsibility to run the ward. A bishop could not receive revelation for the entire church, but could receive it for his own ward.
The Mormon Church has several governing bodies, each with its own sphere of responsibility. Members of those bodies can receive revelation only for the governing offices they personally hold.
The Mormon Church has at its head a prophet who also serves as the president of the Church. He alone receives revelation for the entire church. New doctrine must come through him. He is assisted by two counselors and together these three are known as the First Presidency. Below them is the Quorum of the Twelve Apostles. Since members of the First Presidency are also apostles, there are actually fifteen apostles, but only twelve operate in the Quorum.
The Church is a theocracy with God at its head. God selects certain people to act in His name and with His authority. We see this in the Bible, where Moses, Abraham, Noah and others were chosen not by men, but by God. No man can decide for himself to become a prophet. He must receive that calling from God. Every person is then free to either accept or reject that prophet. We saw in Noah's time that many chose to reject Noah. This was their right, but of course, it came with a terrible price. They were warned of the price and could have chosen to accept Noah, thus gaining a place on the ark. The same is true today. Each person has the right and responsibility to pray and find out if someone who says he is a prophet really is one. Not doing so puts us on a plane with the people of Noah's time. Since there can only be one prophet on the earth, it is important to find out who that prophet is.
Throughout history, many religious leaders, including Protestant leaders, have sought for a prophet and called for one. Elder Jeffrey R. Holland discussed some early reformers who spoke longingly of the need for a prophet:
"One of the most famous of the New England preachers, Jonathan Edwards, said, "It seems to me a[n] … unreasonable thing, to suppose that there should be a God … that has so much concern [for us], … and yet that he should never speak, … that there should be no word [from him]." [Source: 9. The Works of Jonathan Edwards, vol. 18, The "Miscellanies" 501–832, ed. Ava Chamberlain (2000), 89–90.]
Later, the incomparable Ralph Waldo Emerson rocked the very foundations of New England ecclesiastical orthodoxy when he said to the Divinity School at Harvard: "It is my duty to say to you that the need was never greater [for] new revelation than now." "The doctrine of inspiration is lost. … Miracles, prophecy, … the holy life, exist as ancient history [only]. … Men have come to speak of … revelation as somewhat long ago given and done, as if God were dead. … It is the office of a true teacher," he warned, "to show us that God is, not was; that He speaketh, not spake."  In essence, Mr. Emerson was saying, "If you persist in handing out stones when people ask for bread, they will eventually stop coming to the bakery." [Source: 10. The Complete Essays and Other Writings of Ralph Waldo Emerson, ed. Brooks Atkinson (1940), 75, 71, 80.] (See Jeffrey R. Holland, "Prophets, Seers, and Revelators," Ensign, Nov 2004, 6).
The prophet is given the keys of authority over the church. These are not literal keys. They represent the right to direct the Church and operate through the priesthood. The prophet holds all the keys and may completely use them. The apostles are also given all the keys but can use only those delegated to them by the prophet. So, the apostles, called as special witnesses of Jesus Christ, operate under the direction of the prophet and the prophet operates under the direction of God. The Mormon prophet may not do anything himself just because he wants to. He may want a specific revelation, but he can't just announce it, no matter how badly he wants it. He can plead with God for it but must wait for the revelation to come before acting on his desire. If he doesn't receive it, he can't act.
This rule that there can be only one prophet allows God's church to operate smoothly and without confusion. Everyone knows who the prophet is and who they should listen to. There is no discord as several prophets compete to lead the Church.
This pattern of authority is repeated in every level of the Church. I assist in the toddler nursery. I can make suggestions to the nursery leader, but I can't decide to make any changes without her permission, except within my own specific responsibility. Nursery-wide changes are her perogative. This prevents any type of conflict or confusion. There is only one person in charge.
"Speaking as a member of the Quorum of the Twelve, Elder Harold B. Lee said:
"It [any item under consideration] becomes our business when the President of the Church delegates to us some of the keys which he holds in fulness. Until he gives us the authority, it is not our business and we do not have the right to take his place." ("The Place of the Living Prophet, Seer, and Revelator," in Charge to Religious Educators, p. 108.)
In performing the duties given them by the President of the Church, the Twelve, as prophets, seers, and revelators, are entitled to receive revelation and guidance from the Holy Ghost as needed for the proper completion of their assignments. President Joseph Fielding Smith explained:
"There is only one man at a time who holds the keys of revelation for the Church [see D&C 43:3–7]. The Twelve Apostles may receive revelation to guide them in their labors and to assist them in setting in order the priesthood and organizations of the Church. When they are sent out into a stake by authority they have all the power to receive revelation, to make changes, and to conduct the affairs according to the will of the Lord. But they do not receive revelations for the guidance of the whole Church, only wherein one of them may succeed to the Presidency" (Doctrines of Salvation, 3:156–57) (from "Teachings of the Living Prophets Student Manual.")
October 6, 2010 by
Terrie Lynn Bittner
·
Leave a Comment
Filed under:
Basic Beliefs of Mormons
,
Basic LDS Beliefs
,
Church Organization
,
Counsel from Church Leaders
,
Finding Truth
,
Gospel Principles, Practices & Precepts
,
LDS Q&A
,
Prophets
,
The Restoration
In June of 1981, Ezra Taft Benson, who was then a Mormon apostle, gave an often-quoted talk called Fourteen Fundamentals in Following the Prophet. It outlined what Mormons and non-Mormons need to understand about Mormonism and what it means to follow a prophet. In this series, we will evaluate each of the fourteen points in more detail. In this first article, I will first introduce the concept of modern-day prophecy and what Mormons mean when they say they follow a prophet.
As a child, I visited many churches because my parents had decided I should choose my own religion. I quickly became confused because every church claimed to be teaching God's word and yet each denomination contradicted the others, even on important topics. I soon felt there ought to be a better way to know what is true than to listen to a lot of people taking guesses. One summer I attended vacation Bible school in my neighborhood. The theme was Judaism and the Old Testament. (This was a Protestant Church.) When I learned about the Old Testament prophets, I became very excited. This was it—the solution to the whole problem. One person, a modern-day Moses, could go ask God what was true and then come back and tell us, just as Moses delivered the Ten Commandments to his people. I excitedly asked who the prophet today was and was told that after Jesus came, there was no more need for prophets. Read more