The January 2013 issue of the Ensign, a magazine for adult members of The Church of Jesus Christ of Latter-day Saints, contains an interesting article on the subject of faith and intellect. This magazine serves those who are sometimes called Mormons and most of the articles are written by church members who share how they practice their beliefs in ordinary life.
Faith and Intellect is written by Melissa Wei-Tsing Inouye, who has a PhD in Chinese History. She traces her struggles to unite her intellectual studies at Harvard University with her faith as a Mormon. The issue first came to her attention in high school, when a teacher asked her to provide a rational explanation for her faith. At the time, she was unable to do so and in fact, still lacked a strong personal testimony. She still leaned on the testimony of her family. However, Mormonism teaches its members that this is a good starting point, but that in time each person needs a personal testimony not dependent on others. Melissa wondered if faith and intellect were compatible. Could a smart person also be a person of faith?
A recent Pew Forum study showed that unlike practitioners of other faiths, the more educated a Mormon is, the more committed he is to his faith. This demonstrates that the faith is intellectually compatible and that in fact, the education that is strongly encouraged among members actually strengthens that faith.
When she entered Harvard, she was relieved to discover there was an active Mormon community of both professors and students who successfully integrated their intellectual lives with their spiritual lives. They mentored her to show her how this integration worked and to understand that God gave us our intellect and expects us to use it. Mormons believe that secular and spiritual learning are not exclusive. Mormons believe that the glory of God is intelligence and that we are to seek learning out of the best books—and that doesn't refer just to religious books.
Melissa served a Mormon mission after her junior year. When she returned she finished college and began her doctoral work. As she studied many different religions as part of her work, she came to realize there are different ways to learn different types of subjects. Just as you wouldn't take scientific facts only on faith, you wouldn't take religious facts based solely on experiments. Religious knowledge requires a combination of the intellectual and the spiritual. She has found that she doesn't have to know all the answers. There will always be things she does not understand and she is fine with that. "For me, it is the personal experiences of the good fruits of the Spirit that are the most precious, the most difficult to come by, and the most real."
Russell M. Nelson, who was a surgeon before becoming a Mormon apostle, said, "In the Church, obtaining an education and getting knowledge are a religious responsibility. We educate our minds so that one day we can render service of worth to somebody else. Being educated is the difference between wishing you could do some good and being able to do some good" (Russell M. Nelson, Focus on Values, Liahona, February 2013).
Mormons believe that all things are spiritual. God created the world and the science that keeps it running, for instance, so studying science helps us to understand God's work more effectively. History is a history of what we've done with God's gift to us and studying it helps us understand the positive and negative consequences of our choices. Every academic subject has a spiritual component and, as Elder Nelson said, helps us to serve others. He mentioned that being a surgeon gave him the opportunity once to operate on the Mormon prophet. A well-chosen career, while allowing us to care for ourselves and our families, also allows us to serve others. This makes choosing a career particularly important, since it is a part of the complete program of serving God.
Mormons believe you should not compartmentalize your life, being a Mormon on Sunday morning, an employee Monday through Friday, and a family person in the evening. You should be all one person all the time and that means your intellectual studies are meant to enhance your spiritual life.
Mormons aren't afraid of intellectual pursuits and, as the Pew study shows, education is less likely to harm a Mormon's testimony that it is to harm the faith of people in other religions. This may be because of the intellectual character of Mormonism, where students attend religion classes during the week that approach their scriptures from an academic as well as a faith-based approach. A new curriculum for teens encourages teens to ask hard questions and then research the answers. By using their intellect wisely, they are better prepared to live their faith while building their intellectual knowledge.
There are times and seasons for everything, and sometimes it's not our time to go back to school. This is especially true for mothers of young children. This doesn't, however, mean we have to turn off our brain until we have the time and money to continue our formal education.
One thing I learned from homeschooling my children was that education doesn't have to happen in a classroom. If you have young children, you can use the principles of homeschooling to educate yourself. Children don't just learn from workbooks and textbooks. Their best learning comes out of their own passions, and happens in a variety of ways.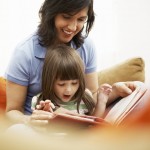 While educating my children, I learned the subjects I taught them myself. If they were interested in dinosaurs, we read books on the subject and watched videos. We traveled to museums to look at bones, and had pretend digs in the sandbox. We decorated bedrooms with dinosaur pictures and quizzed each other on their identities. We even pretended to be dinosaurs. In order to answer their questions, I often found myself reading more grown-up material on the subject.
As your children develop passions, learn right alongside them. Learning with your children is fun. You'll share a common knowledge that can be talked about over dinner or in the car and the time you spend together on activities related to the new hobby will bring you closer together and create memories. While they subjects they're passionate about may not be what you'd choose, you'll find it easier to justify the time when it's for the children.
When you have time to study something on your own, choose a subject you're passionate about. Whether it's something practical, like French cooking, or something strictly academic, you'll be refreshed by your personal learning time and find yourself looking forward to each day. If you go back to school someday, you may find you're able to test out of some classes because of your personal studies.
Right now, I'm learning Portuguese. There are Brazilians in my congregation who help me out and answer my questions. I started by tracking down free lessons on the Internet and now have an actual college textbook to study. In addition, I'm reading the Book of Mormon in Portuguese. I only have a few minutes each day to put into the project, but little by little, my knowledge is growing. Because languages are very hard for me, I'd be too afraid to take a class, but working at home with the help of friends makes me feel safe about tackling something that has always seemed impossible. I can work at my own pace each day.
To begin your personal university, decide what to study. Choose something you think you'll stick to and have the resources to learn. Next, find out what help is available. Search for books, websites, field trips, and knowledgeable friends. Make a list to use when you lay out your plan.
Next, decide how you like to learn. I prefer to learn most subjects by reading and writing about them. However, with the Portuguese, I soon learned I needed a formal curriculum, with actual grammar. The trend today is to learn naturally from context, and this is how the courses I tried worked. It didn't work for me. I tried several courses before choosing a textbook instead. If you find you aren't learning fast enough, it probably isn't the subject, but the method you've chosen. Experiment until you know how you learn best.
Schedule your study time. If you don't schedule it, it probably won't get done. I study for an hour before I go to bed at night and carry flashcards in my purse for those moments when I find myself waiting in the car or a doctor's office for someone.
Know where to go for help when you are stuck. Today, you can find someone who knows almost anything on the Internet. Your church or clubs may also have resources. When my children were homeschooling, they contacted Ask-a-Scientist websites for their questions that were over my head. Having experts to turn to give you confidence and make the study more fun.
Don't wait until your children are grown to start learning something new. If you have just fifteen minutes a day, you can start to learn new skills. You can write a novel by writing just one page every single day. You can learn a new subject by reading about it for fifteen minutes a day.
Make a plan and get started!