Back to school is an exciting time for some children and a stressful time for others. Some children have anxiety with change, and a new school year brings lots of changes. Other children just get so overly enthusiastic that it boils over into anticipatory craziness for parents, which can cause stress in marriage.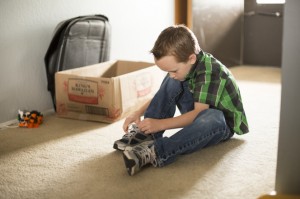 The summer sunshine and fresh air seems to make children grow several inches—at least it did mine. By the end of summer, it always seemed nothing in their closet fit. Back to school also can mean a strain on the budget. In addition to clothing, there are backpacks, lunch boxes, and endless school supplies to purchase. Believe it or not, this does not have to crunch your budget.
First, it is important that these expenses are placed in your budget well in advance of the beginning of school—plan for it as a recurring annual expense. Second, be realistic about what actually needs to be purchased. It might be helpful to read an article I wrote a while back, "Don't Let Finances Defeat Your Marriage."
Let's talk about what is really important to your children when it comes to back to school issues. First, children need to know that you love them. That should go without saying. Second, they need a good education. Everything else is just not relevant. They don't need all new clothes. They don't need a brand new backpack every year. They don't need a new lunch box every year. They don't need to look like fashion models on magazine covers.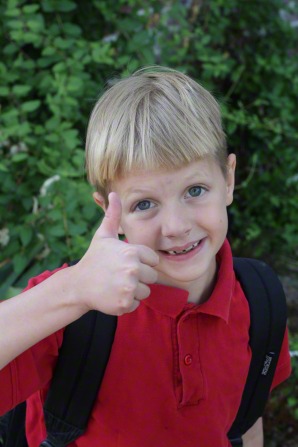 I kept a large box on the top shelf of my children's closet containing hand-me-down clothing from relatives and friends. Every August (and any other time my children needed clothes or shoes) I took the box down and we went "shopping." If what they needed could not be found in the box, then I made a list of what the kids needed. Second-hand thrift stores were next on my list. I tried to give each child one special outfit to start school on the first day—which is not to say that it was purchased new. Whether it was from "the box", from a thrift store, or purchased brand new, it was something that the child felt special wearing for the first day of school.
When I was a kid, backpacks had not yet been invented. We wrapped waxed paper from the inside of bread bags around our books to keep them dry from the elements. (Yes, I know, I'm old, and most readers won't even know that bread bags used to contain wax paper.)  Then we put an extra wide rubber band over the stack of books, tied a piece of clothesline rope to the rubber band, and threw them over our shoulder. I'm not suggesting that we go back to that system. I just bring it up here to make the point that a brand new $40-$80 backpack each year is simply not necessary. Look around your home and see what might be used in place of a backpack. My kids used canvas shopping bags much of their time in elementary school. Backpacks may be more of a help as they get older and have more books to carry.
There is absolutely nothing wrong with sending a child to school with a paper bag lunch. As a matter of fact, a bag lunch will fit better into that canvas bag (or backpack). If a lunch box is purchased, make sure to purchase one that will last more than one year. When a lunch box is lost on the playground, the answer is, "Oh well, I guess you need to learn to be responsible."
In cold climates, coats are necessary; but brand new coats are not. Coats often can be purchased from thrift stores, and then passed around the family for years. We don't live in snow country, so most of the time my kids preferred to wear sweatshirts or sweaters anyway.
School supplies are important. Your children need the basics for the first week, and the teachers will send home a laundry list the first day of things to purchase later. It is often wise not to purchase too much before you get the teacher's list. You do want to pick up things on sale prior to the start of school that you know for sure they will need. There are times, however, when you come in contact with a teacher who is completely out of line in the types of supplies they want you to purchase. I remember a particular teacher who wanted us to purchase a $17 art kit from the local art supply store when a box of crayons and maybe a few cheap markers would have done the trick. I simply went to the teacher and told her that I didn't have $17 to throw at an art kit, and I was willing to bet that there were other families that didn't either. It turned out that the teacher had never even considered the economic struggles of some of the families until I brought up the matter.
Here's the nuts and bolts of this thing. If you don't need the stress in your marriage from the financial woes of the back to school sting, don't get stung. Use your imagination and work the problem. Your children will survive (and actually benefit from) not keeping up with the Joneses. If you give your children everything they want, they will never understand the meaning of the word no, and they will never understand how to work for what they need.
Today's society is all about my rights. Little is said about my responsibilities, but a lot about my rights. I would like to focus today about not just my responsibilities, but our responsibilities, as parents to teach the gospel to our children.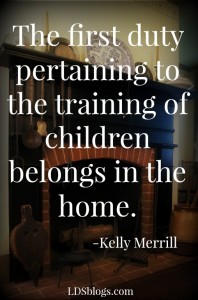 This is not one of those articles where I run the gambit and tell everyone what lousy parents they are for deliberately neglecting their children. I won't tell you that you have been derelict or malicious or anything of the sort. If I did any of those things I would have to be looking in the mirror when I said them, and I'm not so comfortable with the subject as to put myself through that kind of guilt trip. Instead, I would like to take a short behavioral inventory of my own life as a parent. My children are all grown and out of the house, so I am in a perfect position to play a little game of Retrospect.
In this day and age in America we tend to look at all institutions outside our homes as being responsible for the influence they have on our family. Unfortunately, we rarely hold them accountable for the effects of their influence. Examples include the power many of us give the public school systems to teach our children about life, behavior, attitudes, and about the world. We take our children to movies sometimes, because we believe it has a good message. But I would whisper in your ear, "But what about all the other messages that same movie teaches about attitudes towards values we as Latter-day Saints don't accept?" We ship our children off to a sitter, in many cases, so we can earn that second income and have a better standard of living. We don't always require a second income, and the Prophet has told us to stay home to raise our children unless we cannot survive without that income. But many times we convince ourselves that the cable, the second car, the Internet speed boost, the nicer clothing, or even the private school, whatever it might be, are all, basically necessary for us to live, and breath, and be happy.
These are excuses we make to ourselves about how we live our lives, and often they come, not because we are bad people, but we believe these things are necessities because the world around tell us they are, and, well, how would it look if we actually didn't have those things? What would the neighbors say? How embarrassing. I wouldn't be able to hold my head up in the grocery store. We are not necessarily trite, but sometimes our excuses sound a little bit so.
Words of the Prophets
I am a man, so I will focus my remarks to the men, trusting that the women who read this will already have their heads on straight. After all, it is usually the men who need to catch up with the women in spiritual things, right? (There is a wink that should be inserted in here somewhere.) The quotes from this article all come from Teachings of Presidents of the Church: Joseph Fielding Smith, published by the LDS Church.
 My father was the most tender-hearted man I ever knew. … Among my fondest memories are the hours I have spent by his side discussing principles of the gospel and receiving instruction as only he could give it.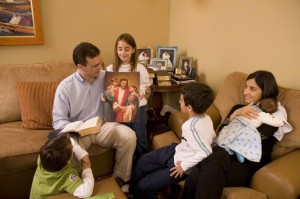 I am sorry to say that example did not exist in the home I was raised in. We were active in the Church. We all held callings from the time we were old enough to have them. But what would I have given for my father to bring up a gospel-centered topic for discussion? My father was active, in more than one Bishopric, etc. But I never really knew where he stood in the gospel. I had no doubts about my mother. Everything I ever learned about the Church and kingdom of God was from her. My father never really participated in any gospel conversations. He was just in the room when they happened. I never realized how odd this was until long after I had grown and left home.
What a powerful example it must have been for young Joseph Fielding Smith to see that a man, such as his father, one accepted of God, cherishing the principles of faith and virtue he also learned about at Church. Isn't it magnificent that he learned those things at home before Church taught it to him?
Brethren, how willing are you to let your children see you moved by the power of the Spirit or by tender feelings? When was the last time your children (or wife) saw you physically moved by someone else's sorrows? What exactly are you teaching your children about the power of a man to be both strong and tender?
We cannot control which moments our children will remember when they grow up, but most of what they will remember are those moments that were most meaningful to them. What is important to your children? Do we read to them? I read to my children all the time. We read the cartoon scripture stories from the Church until the covers fell off, but when they got older one of them told me they were sad that I never taught them the stories of the Old Testament. I nearly fell over. Yet they do remember me reading the stories to them from some of the children's books that meant a lot to me as a child. Perhaps that says something about how I approached the gospel back then.
 He taught us at the breakfast table as he told us stories from the scriptures, and had the ability to make each one sound new and exciting though we had heard it many times before. The suspense I felt wondering if Pharaoh's soldiers would find the gold cup in Benjamin's sack of grain is real even today. We learned about Joseph Smith finding the plates of gold, and the visit of the Father and the Son. We walked past the [Salt Lake] Temple on the way to school and he told us about the Angel Moroni … He taught us by the things he prayed for in our family prayers when we knelt by our chairs before breakfast and again at dinner time. …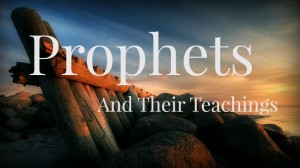 I'm not saying that we all need to learn to be story tellers, but what others remember about us comes from what we have the most passion for. The genuine concern for a topic makes a big difference in how a story is delivered. If we are bored with a story, we can't expect our children to find it exciting.
Conclusion
The first duty pertaining to the training of the children of the Church belongs in the home.
We all have busy schedules, but we need to remind ourselves from time to time that when we accept the responsibility of having a child, we also accept the responsibility from God to train up that soul in the way he/she should go. We will answer to the Lord for how seriously we take that responsibility. The Church is a resource. The public schools are a resource. Unfortunately, the sitter is sometimes a necessary resource. Our children should be hearing about life, eternity, sharing, good behavior, the Savior's love, forgiveness, and all things the Lord loves from us, before they hear it from someone else. No one else can do the kind of job of raising that child the parent can do. Anyone else's opinion of these things is out of your control. , or do we want our children to reflect our deeply passionate views of all things good about this wonderful time in mortality?
At age 18 my Down syndrome son functions at about age 4 or 5, which is a beautiful age if you think about it. He has no yesterday or tomorrow; there's only right now, and everything in the world is new and interesting – at least for a few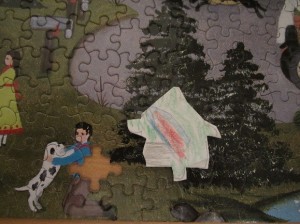 seconds. So he can entertain himself, but you never know what he is going to come up with. On one occasion I unrolled a pair of socks that he had put in my older son's backpack and found a full size light bulb. If you put something down in the common areas of our house, you'd better be willing to never see it again. Like a 4 or 5 year old, he's only sporadically considerate of the concept of "yours" and "mine". Curiosity and creativity are the culprits. The quickness and stealth with which he can pick things up and put them down again in a different place is truly remarkable. Pencils at school, important papers on the kitchen table . . . nothing is likely to be where it once was if he has passed by.
One habit that used to make me crazy is his bringing home rocks from almost everywhere we go.  It's not really a messy habit, but one you have to watch out for when it comes to laundry . . . rocks in the dryer, over and over again, till I clued in. We also end up with bunches of rocks throughout the house. He knows where he puts everything so he must purposely put them where he wants them, but just to cut down on numbers I used to throw a few into the yard from time to time – until one day I realized that some big 6-inch ones had come from the grounds keeping décor outside a local store. I took those back after he went to school. They mean more to him than they do to me obviously; they're rocks. Pile after pile, wash after wash: and then the payoff – - I was about to step over the latest stack in the middle of a common walkway in our family room when I saw this: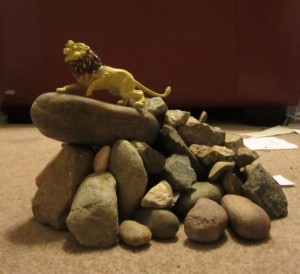 Could Disney himself have created a better replica of Pride Rock? It is an engineering feat; it must have taken him a very long time to build it. He must have known where he intended to go before he got started. I was very impressed and proud of his ingenuity. I could have stepped over this for weeks if I had to, but then one day it was gone. I love it when I am able to get a snapshot into his mind.
There are also times when the picture is there waiting to be seen but I fail to see it.
It took someone from the outside to get me into the loop during the time of his habit of encasing his toys, cups, stuffed animals . . . everything . . . with scotch tape. We showed a visiting friend a 12"x17" box completely covered over with tape. The strips were perfectly straight and narrowly connected all across the top, leaving the toys inside untouched. Again, quite an accomplishment but I must have rolled my eyes or expressed displeasure at the amount of tape being squandered because in admiring his creative interest our friend said "I'd be buying him tape!" (Hmmm, I had been hiding it.) I don't know if one is supposed to be able to actually feel a paradigm shift happening but at that moment scraping across the floor of a room in my mind was the new concept: these are not resources being wasted, these are the tools of his life. Not just miles of tape I will have to unwind if he's ever going to play with these toys again, or piles of rocks underfoot – - this is the way I am going to get to know him, this is the way – - the only way – - he is going to be able to show me what he's thinking. He has a very, very creative side; I need to celebrate that he has found an outlet! He's not going to cost us a lot of money in music lessons or sports teams . . . what's the price of a little scotch tape against the chance to find out who my son is?!
Since that time we've gone through paper by the case. Scotch tape and staples, every crayon in sight, they are all his constant companions and he will set up shop anywhere. I could never have gotten him to practice writing numbers and letters if I'd asked him, but leave him on his own and he has copied every Pokémon card from every book. He has created paper figures and animals, a full-size "Beast" costume from bits of paper held together with tape covering even his shoes and some gloves, and when a puzzle piece went missing he used his considerable skills to craft a pretty sweet replacement.
He is always going to be found doing things we'd never expect and there are always going to be surprises (but fortunately the surprises aren't as destructive as when he was younger). He will likely always be prone to picking up things that don't belong to him (that I will have to return and apologize for). But that same curiosity has lead us to see into who he is, what's important to him, and what he is capable of. The depth of these things we might never have known if I had continued to battle for "normal" rules of the house and hadn't adapted, with the help of a friend, to my son's way of working in the world.
A few weeks ago I took my son to the optometrist and she made a passing comment, "For healthy vision you have to regularly spend time outside". She suggested a few minutes every hour. I started thinking about how once we step outside our eyes work to focus on faraway clouds, what we are holding in our hand, the horizon, the nearby butterfly. All of that variation is critical for the health of our eyes. When we spend most of our time in closed spaces, there are limits on what our eyes need to focus on. When we sit in front of a screen for large amounts of time, we focus on set, close distance. Our eyes don't receive the diversity of input they require for their health! Going outside to smell the roses and look at the sky affects your vision! These thoughts led to a series of discoveries and memories about the incredible health benefits of going outside.
That line of thinking reminded me of a phone call with my mom a few years ago. We were talking about a new therapy counselors were using. Dirt therapy. Children weren't getting enough time playing in the dirt and prescribing it, setting it up and having them play in contained dirt areas…helped them. The thought of a child's main exposure to dirt being scheduled and contained is crazy to me. Consider really how much time your children have to play in the dirt. How much time do you have to play in the dirt? Now, I know dirt means laundry and my goal in life is not to increase the laundry I have to do. Then I stumbled on this little tidbit. There is a strain of bacterium called Mycobacterium vaccae. It improves brain functioning, elevates your mood, decreases anxiety, and … decreases cancer! This bacterium is found naturally in dirt. Playing in the dirt affects your immune system in amazing positive ways! Is that motivating to get you and your children outside?
How about this? You've probably already heard that sun exposure produces vitamin D, the only vitamin that isn't regularly obtained from what we eat. Vitamin D helps us absorb calcium which strengthens our bones. Although we hear about skin cancer, did you know that an increase of Vitamin D and calcium reduces rates of all cancers? Increased sun exposure also increased the chance of survival of those who already have cancer. Children who are vitamin D deficient are four times as likely to develop diabetes. Morning exposure to sunlight increases your production of melatonin, which helps you fall asleep easier.
As I was reading all of this information I stumbled across another article that talked about the importance of movement in children: merry-go-rounds, climbing trees, rolling down hills, and other normal childhood play. To develop balance we need to be on surfaces that are naturally random. Core strength is developed naturally as a child learns to balance through play. Imagine a treadmill compared to running on a dirt path. Your body doesn't need to constantly adjust on a treadmill, and those little adjustments develop core strength. Consider how a child naturally runs in a game of tag, darting back and forth, changing directions, and starting and stopping. Think of all of the core strength and balance that is developing. That balance affects their entire sensory system. For a child to ever be able to sit and listen and learn, they need to spend hours a day playing outside. Hours!
Yesterday I went for a wander with my children. We stopped at flowers and proceeded at the 1-year-old's pace. We talked about why we are not going to bring the rolly pollies into our home, which was followed a child running back home to rescue the little colony of rolly pollies she had living in an Easter egg in her room, "I bet they'll be so happy to be with their family again, Mom!". We raced to the end of the block, we were up and down to look at bugs and clouds and cracks in the pavement. I had gone for the walk because the baby was sad and nothing works like nature. The goal was a little park a few blocks away. For a parent, a walk can be scary, with a child who runs ahead or into the street. It can feel mind-numbing as you match the pace of a young child or wait for them to follow a snail. I generally end up carrying a child at least part of the way. My mind can easily rush off to my-to do list, instead of staying in the moment with my children. Thanks to all of my recent research, I was able to see what else was happening on our little explore: we were developing our vestibular systems, keeping our vision healthy, collecting some fabulous vitamin D, improving our mood, and a host of other amazing things. We returned home ready to be creative and productive. By small and simple things are great things brought to pass.
I'd like to start off and tell you a little more about Baby Girl. She will be 3 next month. She has been potty trained since 2 , had maybe 4 accidents ever, and was potty trained in 3 days. She can set her own table for meal times, pour her own drink, and clean up after herself. She has a very good vocabulary and is very loving, strong, determined, and very compassionate. She doesn't like seeing anyone sad. She can brush her own teeth, pick up her toys, dress herself, and make her bed with little help. OK, so why am I telling you all this? You must be thinking by now, wow, is she bragging! No, I'm not bragging, I promise. I am telling you this, because there are days, I barely acknowledge that she did any of these things. I have more lately, because I am trying a lot harder, but there have been moments where I didn't. What I did mention was how she spilled her water again because she won't sit still…and I remembered to mention that she didn't eat all her food and I also had to remind her that while she dressed herself she forgot to put her clothes in her hamper.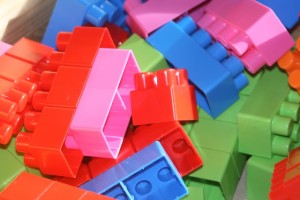 My name is Krystal, I am guilty of being a negative Nancy. To be fair, I grew up with similar upbringing in the sense that my parents, especially my dad had very high expectations of us and there were moments we didn't quite feel we ever reached them. I love my dad dearly and I wouldn't have him any other way, but part of being a parent now, is learning from the mistakes your parents made then. This is one thing that I am seeing I am passing down and it's not something I want to continue. I've had many conversations with my husband about how to fix this because I do not want my daughter to feel that she is not good enough, a trap I tend to fall into even with my own husband. Bless his heart, he helps me in the kitchen and does the dishes every night. The old me would have said "You made a big mess, there's water everywhere!" Not nice, and not effective. The new and better me says "Thanks for washing the dishes tonight. I appreciate you." End of story. While my husband is a grown adult, and can take me being negative from time to time, my daughter does not know the difference. She is learning from what I tell her.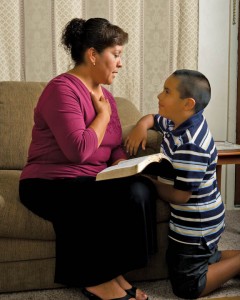 Confession time. Want to know my biggest fear with my kids? My biggest fear is that my daughter will not feel good about herself on my account. That scares me more than any accident, any bump or bruise. I don't want to break my daughter's spirit. I am afraid by focusing on the negative I will miss out on all the positive, wonderful, beautiful qualities she has and therefore, she also will not see those qualities she possesses. I have seen this pattern of negativity happen in marriages, friendships, all forms of relationships, and even with myself. I focus on everything I'm doing wrong, instead of what I'm doing right. Those qualities I listed in the beginning..those accomplishments and milestones Baby Girl has reached..she didn't reach them by magic. Somewhere, she must have had a mother or a father or both that guided her and taught her, right? I guess that means me and Yes, that person is you. It's so easy to overlook this. I do it all the time, but every once in awhile, Heavenly Father reminds me, I am doing the best I can, and Baby Girl's compassion, her spunk, is a reflection on me, and what I am teaching her. Everything we do, everything we don't do, everything we say, and everything we don't say filters down to our children and ultimately makes them who they are. I have heard the quote that says something along the lines of how you speak to your children becomes their inner voice. This is a scary thought for me because I do not always have the best way of getting things across. But hearing that and reminding myself is motivation to be better.
So, how can we stop focusing on the negative and be more positive? Let it go. So, your child didn't do it the "right way." What is the right way anyway? Does it matter? Not really. What matters is the effort. So what if they made a mess? They tried. There have been times where I am frustrated Baby Girl won't nap, and I go upstairs to "lay down the law" and I walk in, and she has built a block tower she made "special for me" So, she didn't nap. The old me could holler and yell for playing instead of napping, or, I can focus on what she did, and thank her for the beautiful tower she made me and either try to lay her down again, or get down and play with her and LET IT GO. My favorite quote (I know I'm just full of them) is from Glennon Melton, a fellow mommy blogger who said,
"Don't let yourself become so concerned with raising a good kid, that you forget you already have one."
That is so me. I do have a good kid. She's an awesome kid! She is my biggest challenge to date, yet my biggest blessing I could ever want or have. If I could sit and write a list, I could go on forever at how amazing she is. I really and truly am blessed. I talk a lot about the hardships of being a parent and while they are all true, I am afraid you might think I don't enjoy being a parent. I really do. When I can let go of the negative, and let go of all the things Satan puts in my way, I can see the good. The good is always there, we just need to learn how to see it. In my effort to be more positive, when we are putting our sweet Baby Girl to bed, we talk about our day, and I tell her 3 things I love about her.
I also make a more conscious effort to recognize her in the moment. For example, today, we played outside and I told her that we needed to come in for lunch. I went inside to start, and when I noticed she still hadn't come in, I went to see what she was doing. She proudly ran to me squealing "Look mommy! I cleaned up all the toys outside!" I went out to look, and sure enough she had neatly placed them all back in the box. I was actually impressed with how neatly she put it all away,
something I could have missed if I was focusing on the negative. Instead, I made a conscious effort to tell her right then and there how awesome she was for putting it all away without me even asking! These kind encouraging words are what make our child who we want them to be. Nagging them or getting on them for not doing it right will not. My challenge for you is remind yourself what you love about your kids. Focus on the positive, and let go of the negative. In a General Conference talk President Eyring (a General Authority for The Church of Jesus Christ of Latter-day Saints) spoke of gratitude. He talked about a gratitude journal he had where every day he wrote something he was grateful for. The same can be applied to our children. You can make a journal and write what you're grateful about your children for, or something they did that you loved. Better yet tell them, like I am striving to do! Not only does it remind me of the positives, but it also lets your children know that Mommy may have had a rough day and maybe even yelled a lot, but I still love you, and this is why.
Summer. What fond memories that brings. Long lazy days. The beach. Relaxation. Friends. That's the children version of summer. As a parent it becomes a different sort of feeling…fear of what to do with the darlings for 24 hours a day. Oh the pressure! I'm not up to the pressure of "best summer ever". How about a recipe for one beautiful summer day?
Ingredients:
1 generous cup of dirt and/or sunshine
A sprinkling of music
A heaping spoonful of creativity
Shredded, pureed, boiled to 135 degrees hard work and service
A dash of rational flexibility
1-20 good books
1/4 cup of screen rules
Bedtime as needed
Optional: duct tape, pipe cleaners, or goop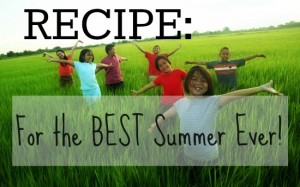 Don't preheat, mother nature does an excellent job with the preheating…in fact if possible keep your oven off!
Even if it's just to stare at the clouds or go get the mail, nature is amazing. It is healing and it's powerful. It refreshes and rejuvenates. Memories are made in nature. Grow a garden, or just one plant. Go for a walk. Get to the skate park. Go for a bike ride. Walk around the block. Explore different parks. Just get outside every day. The sun is magical…and hot, so handle with care. And dirt is…dirty. Sorry about that.
Don't wait for your children to be all plugged in or taking over the stereo. Take this summer as an opportunity to sprinkle upon your darlings all of your fabulous and frightful musical favorites. Then, dance like your teenager's embarrassment is a renewable energy source. This is the most critical ingredient in summer mood. Do not neglect music!
Now is your chance to have a big stretch of time to create! Buy a huge canvas, make some play dough, learn how to knit, make brownies or bread or jewelry. Have a family art show. Write music, learn an instrument or get out the sidewalk chalk. No rules, no assignments…just all of the joy without the deadline.
The one simple key to make a summer day memorable and turn attitudes around? Hard work and service. Nothing works the same. There are no substitutes available. That bread you just made? Give away. That seventh picture your child painted–mail it to a missionary or a friend. Find a grandma to adopt. Find a children's hospital with a need. Weed or help clean a local park. Just do one little thing. Put a cooler in your car with cold water bottles and hand them out to policemen directing traffic, or beggars or whomever looks hot. If all else fails, smile at everyone you see like it's a game to see how many smiles you can get in return. Do that family project you've been neglecting. You may be tempted to not include this because of the difficulty involved. I assure you it is a completely necessary ingredient.
Sometimes in our attempt at perfection, or even fun, we get a little overenthusiastic. If you ever feel that you need Captain Von Trapp's whistle or possibly a drill sergeant's discipline-inspiring powers…consider flexibility. Sometimes the best part of the summer is the part you didn't plan or schedule or produce a detailed minute by minute program for.
To last an entire summer go for rhythms. We wake up, then do x before breakfast, y before lunch and z before dinner. A little structure gives children an idea of what to expect without making mom crazy. A little structure gets things done and allows for play. A little structure is easier to be flexible with when spontaneous moments of fun present themselves. A watched pot will boil eventually, and an overly planned day may be fun at some moment…but you may be too stressed
Books, as needed. Don't let the variable quantity confuse you into thinking that the quality of the book is not critical. The book will flavor the summer. One good classic may provide the delicate hint of thought you are looking for better than 30 "we finished the summer reading program" brain candy quick reads.
I know it's tempting to skip this step. Your children may beg. Resist. Don't throw away the screen rules. We all have rules during the school year about how much screen time is appropriate. Relax them a little, but don't throw them out. There is so much to do and learn and be and do. It's very easier to throw away hours at a time into the black hole that is the internet. They will never really remember fondly that one summer in which they sat with their eyes glazed over for weeks on end.
Last, but certainly not least… Although this recipe is recommended for one day, summer doesn't work that way. It's not a sprint, it's a marathon. So please. Don't throw out bedtime completely. It's a great temptation. We want to stay up late and watch movies. We hope our bunchkins will sleep in. We want to relax. Don't sacrifice the happiness of rested people for week after week, of summer excuses. Give on bedtime a bit, but don't throw it out. Relax bedtime an hour, and we wake up at at a reasonable time. It keeps people generally happy and functional, while still allowing for parties and movies and fun. Morning will already be more relaxing because we don't have to get the children somewhere specific by any set time. Wake them up and relax with them to make for happier children.
Optional ingredients: When all else fails…there will be a day or days this summer when everyone has cabin fever, it's too hot, there isn't anything to do, and little fights start to creep up. If your day isn't shaping up like you'd like consider these options: duct tape, pipe cleaners, water or goop…or anything else you can think up.
Bake (like you have a choice).
We don't recommend poking a fork in your summer day to check if it is well done. Don't measure too early. Instead, take multiple pictures and enjoy it as it is. If your husband gets grumpy at your constant attempts to check for doneness, put down the camera and take someone's hand instead. Expect the day to be uneven. Consider it a success if you can find that beautiful moment that grabs your attention and amazes you.
Baby Girl and I are spoiled! Every other Friday my husband gets the day off! We love those weeks because it's a 4 day week for us, and a 3 day weekend Baby Girl and I get to spend with Papa, as she calls him. However on those weeks that he doesn't have the Friday off the week feels sooo long for us! I try my best to have a little routine for us every day so we don't get bored, but by Friday we are both spent and sometimes even tired of each other!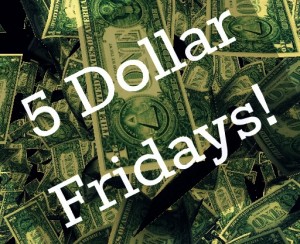 This past Friday was one of those weeks where we were just out of ideas and bored! We get tired of watching movies, tired of playing with the same toys, and we try and spend time outside, but being pregnant, it is hot and just uncomfortable for me. I live in a small town, so sometimes it's hard to find activities to do, and the ones they do have cost money and they aren't always cheap! Eventually that adds up! So Baby Girl and I have come up with Five Dollar Fridays! We find activities to do that are $5 or less! We have had a lot of fun with these, and, as the baby's due date is approaching, it's been nice to really bond together before we have a baby thrown into the mix.
Just remember to keep it simple. Sometimes we think we need to do big extravagant activities but, at least with Baby Girl, I have found she doesn't care what we do as long as we do it together, which leads me to my other lesson I've been learning. I tend to forget this a lot! I feel like I have so many other things to do…house duties, cooking, cleaning, etc, that I forget some days I just need to let it go and just play with my daughter. Sometimes she can get so cranky that it makes it hard for me to want to play with her, but then I have to ask myself why she is acting up. I realize that when I spend time with her and just her, she is a lot more relaxed and less cranky. All she needs and wants is some Mom time. I love this poem I have seen floating around…not sure the origin but I saw it on Pinterest (of course!) and had to share!
Cleaning and scrubbing

Can wait until tomorrow,

for babies grow up,

we've learned to our sorrow.

So settle down cobwebs.

Dust go to sleep.

I'm rocking my baby,

and babies don't keep.
What a great reminder that our babies do grow up so fast! While it is important to have a well-kept home, if you leave it for one day, it won't be the end of the world! Especially when we dedicate that time to our children instead! So here is a list of five of our favorite things we like to do that cost very little or nothing at all!
Goodwill Game Hunt. Baby Girl loves playing board games, but have you seen the prices these days for a simple game like Chutes and Ladders?? That's when the Goodwill comes to the rescue! We have found some great games there for $1 and they are mostly complete! The one we go to lets us take a peek inside to see if all the parts are there and surprisingly most of them are. Baby Girl loves going and looking for games and puzzles. It's hit and miss but we have still found some great games and we come home and play with them for hours! I will never buy a game "new" again!
Pet Store Perusing. Most every town or city has at least one PetSmart or Petco or some form of pet store! We love to go and look at the fish and all the animals. The best part is its free…and so far, Baby Girl hasn't asked us to take home any new family members. I explain we are going to just look and she's OK with that. It's actually really relaxing. Sometimes we take a snack and just snack and watch the fish swim around.
Visit the Library. We love the library. I used to go out and buy books, and then one day, my friend kept mentioning the library and I was reminded, duh! Why am I spending money when I can just check them out! If it's something I really want in my or my daughter's collection I will buy it for a birthday or Christmas. If not, we just check them out! Sometimes we get by theme, sometimes I let her pick our random ones, and sometimes we just go and sit and read there! It gives us a change of scenery and I am not distracted by housework, phone calls, or computers! We just sit in a cozy corner and read! On a creative week, Baby Girl and I will find an art activity that goes along with the book and that makes it a lot more fun!
Make Art! This may take a little prep time, but it can be so fun and rewarding for your child. If you have babies, find some pudding and let baby "paint." It's great for their sensory skills. If you have a toddler, mine loves coloring, finger painting and play dough! You can find a lot of fun and easy art projects at your local dollar store or do a little searching online and you can find homemade recipes for play dough, paint, and so much more! If you have older kids, sign them up for a painting class. I have seen classes offered at Michael's or Home Depot for fun crafts and projects for a fairly reasonable price! If that is not in your price range, just taking interest in your child's hobbies can go a long way. If your children like to make those super popular loom bracelets, sit and ask them to show you how to make one and make them together!
Just Dance! When all else fails, crank up the music and just dance! Baby Girl loves, loves, loves music and

dancing, and sometimes, when I am just at my wit's end, we both take a deep breath, turn up the music, and dance. Instant better mood. Bonus points if you do silly dances! We dance like elephants and tromp around, or dance like a kangaroo and hop, hop, hop! It doesn't matter if you think you are good. It's supposed to be silly. Watch your child's face light up! It's so fun for them to see Mom can be silly too!
Hopefully these may help you on those days where you're bored, or just need to set everything aside and just have quality time! I also want to point out that these activities can be for children of all ages. It's never too early or too late to make traditions and spend time with your little (or big) ones. Enjoy!

Whenever Mother's Day creeps around, I think of my mother and what an amazing person she is. She has always been there for me through the good, the bad, and the ugly! I would not be here if it wasn't for her and I am so grateful for the strong, beautiful, example she is. As I think about her qualities, I asked myself, "What is a mother?" I asked some friends to give me some attributes of a mother, and these were the responses I received.: nurturing. loving. caring, teacher, giving service, a curer of owies, patient, and creative. As I thought about these and so many others I was given, I realized that we, as women, are given these attributes whether we have children or not. The definition of motherhood is not just defined by bearing and raising children, but by the divine qualities we as women inherit.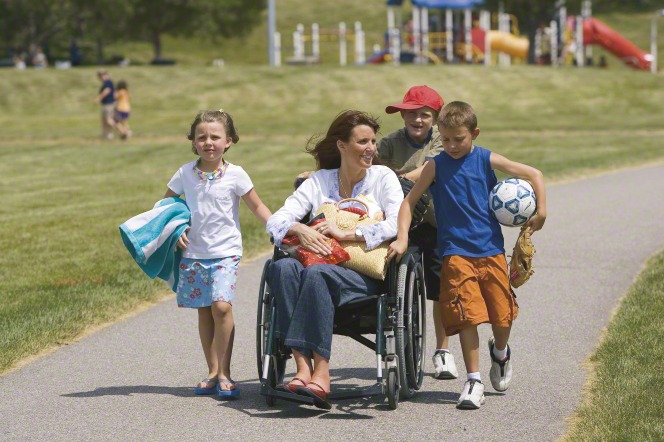 I have a great mother who can never be replaced, but I also have had many, many women around me who were mother-like figures, who helped raise me and who taught me so many lessons. I have had aunts, friends, grandmas, and so many other women in my life who have been "like a mother" to me throughout the different stages of my life. I remember, as a teenager, thinking my mom didn't know anything (sound like your teenagers?) and I found comfort in her friends or a neighbor as I sought for advice on making it through the new territories of boys, dating, girlfriends, and high school! Then I moved on to college, and had a whole new set of mother-like figures around me helping me in my biggest life's decisions–where to go to school, what to study, and finding the one I'd spend my life with. Yes, I have been truly blessed to have a wonderful mother, but to also have so many wonderful women who have helped mold and shape me into the mother and women I am today. In fact I am still meeting women who are blessing my life with their wisdom and experience. Not all of them have their own children, but they are compassionate, loving, nurturing, and kind. They fill a mother role for me.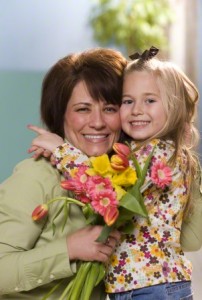 I have also learned a lot of life's lessons from the women in the scriptures. We begin with Eve, the mother of all living. One thing that has stuck out to me was that she was named Eve, the mother of all living, before she ever bore children. She was strong, independent, and faithful, and to me, it confirms to me our calling as a mother is not always the number of children we have, but the qualities and divine nature our Heavenly Father has given each and every one of us. These attributes are present in so many other women in the Bible, such as Ruth, (one of my favorites), who showed great love and loyalty to her mother-in-law when she decided to stay with her and not return to her land in Moab. Then, of course, we have Mary, who became a mother when she bore our Savior, and did so with such faith and humility.
I am so very thankful and honored I am a mother. It is a divine role and gift my Heavenly Father trusted me with. I look in my daughter's eyes and can feel and see the great love my Heavenly Father has for me to send me such a beautiful and sweet daughter. It's definitely not an easy job, but it is the best job in the world. There is nothing more fulfilling than being a mother and I am grateful I have the opportunity to be one in this life and for eternity. I do cherish my role as a
mother, but I also cherish the role and divine nature of being a woman. I am so grateful for the women examples in my life who have cherished their roles and have been huge blessings to me.
This Mother's Day, celebrate your mothers, but don't forget to celebrate all the women in your life who have been there for you. They have played such a special part in who you are today. Remember, if you are a mother yourself, Heavenly Father would not have given you your sweet children if He did not know with all his heart you could do it. You have a sacred calling. Cherish it. If you do not have children for whatever reason, we are celebrating you too! Because motherhood is so much more than just having children. It is being a strong, loving and nurturing woman; motherhood is yours too. Happy Mother's Day to all the women out there, and a very special Happy Mother's Day to my beautiful mother.
I've written and rewritten this post. I have so many different thoughts as I come towards Easter- thoughts of grace and gratitude and love and hope. Each time I sat down to write, none of those ideas spilled onto the page. I could force them there, and I did, but only when I started this subject, did everything fall in line.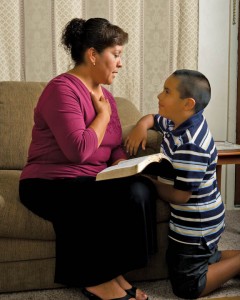 This is a post about why we indoctrinate our children. We do indoctrinate them.  On purpose. I don't mind people calling it indoctrination. I want the doctrine in. We plan specifically to teach our children our religion. We try to read scriptures with them daily. We share stories of our ancestors living religion. We go to church every week. We pray. We talk about Jesus when we are on walks or camping or shopping or cooking. They've heard it enough that it comes out of them. I've overheard imagination games including  scripture stories. They sing hymns spontaneously. They play pretend baptisms in the bathtub. There have been pictures of Jesus, and one creative child made a nativity out of breadsticks (do you eat those?).
We teach the high standards connected to our religion. We teach the principles behind the standards. We don't date until we're sixteen – bless my oldest daughters for keeping that standard and setting that example. We wait until marriage for sex. We don't drink or smoke or do drugs. We dress modestly. We consider what they hear and watch. Sunday means focusing on Jesus, not football or shopping. We try to be kind and serve those around us. We take people dinner, chop down trees and weed. This is how my husband and I both lived our young lives. We teach our children because this is who we are. Even if we never said a word about our faith, we can't help but live it.
Why all of this effort? It isn't easy. It does make us different.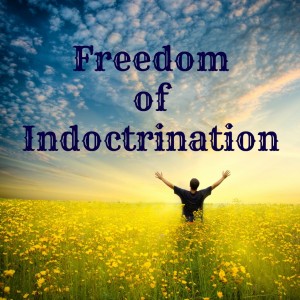 We believe it's true. We do love Jesus. And we have found that trying to keep these rules brings a huge amount of freedom. We want to give that freedom to our children. So we indoctrinate them.
Teaching any ideal is a challenge. We, as parents, are shockingly imperfect. Our children have noticed this! We don't suggest our children be like us. We encourage them to be like Jesus. He is perfect. There is a pattern they can follow.
Ideals can be painful to teach. Frequently while I teach an ideal I am reminded of just how far I am from that ideal. The more important the ideal, the deeper the pain. When we teach about something as critical as the family, for example, we can all feel how far we are from the ideal of a loving. Yet without the ideal, without the standard, we all drift.
Standards are like anchors. Yes, they limit movement. Yes there is tension and struggle. Without an anchor you are left to the current and winds. Anchors are most important during a storm.  Generally a vessel carries its main anchor at the bow of the boat.
Standards are like kite strings. We can see clearly how the string is holding us back and limiting how high the kite flies or where it goes. It makes for tension instead of easy floating. Yet if the kite string breaks…what happens? It does flow freely, briefly. Then it falls.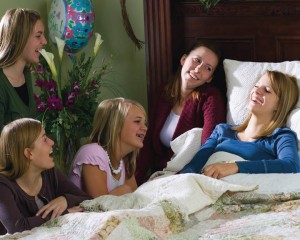 Freedom always requires discipline and knowledge. It is far easier to raise a child in freedom than to reclaim them after they are caught in addiction, or life changing choices. It's far easier to lead them to adulthood with ideals and standards and rules and then let them choose their own. They cannot choose freely when they are young, when they are surrounded by a cacophony of voices and opinions and have very little wisdom or maturity to create their own standards. We try to give our children a knowledge of standards and a family culture of obedience so they are free to choose for themselves.
We don't let children choose what they eat by leading them to Walmart and turning them loose. What would they chose? Can you imagine learning to be healthy by this method?  Would they learn moderation? Would they ever learn to leave the candy aisle?
In all of this discussion of why I indoctrinate. In all of this discussion of standards, I don't want to overlook the most important portion of what I give my children: my understanding of grace. All of these standards, all of this obedience does not save. We do not get to heaven if we are obedient enough. It's not a pass/fail situation with possibility for extra credit. It's heaven. It is only for people who can be perfectly loving. That's none of us, no matter how many times we've read our scriptures, or how capable we are at saying no.
We have our children do chores, but it doesn't pay the mortgage. How could our works earn us a far greater reward? Only Christ. Only his sacrifice. Only His life and death and resurrection.
In my experience, obedience doesn't gain us heaven, but it does increase our desire to be there. It increases my desire to receive heaven. Obedience also reminds me constantly of all that I lack and how fully I need Jesus.
So this week, we'll talk about Jesus, listen to more hymns, read more scriptures and go to church, even during "school" time. We will indoctrinate our children because we love them. We indoctrinate our children because it seeps out of us without us even trying. We indoctrinate our children because we want them to be free.
Last week I was having a frustrated day. I don't think I've shared this but our family is expecting our second baby! We are so excited and can't wait for its arrival this summer. Along with this great blessing comes lots of other not-so-great things..gas, sleepless nights and mood swings. Oh, the mood swings! The first part of my pregnancy I thought I was doing really good as far as my hormones. I wasn't crying over every little thing, and I wasn't getting too upset, and then it came into full swing. I already tend to be a little "Dr. Jekyl and Mrs. Hyde," as my husband describes me. I get frustrated easily, am impatient, and boy, can I be stubborn! Since then, I have grown out of some things, and some I still struggle with, but being pregnant, it all has been harder to control.
My daughter, being 2 (almost 3), tends to get frustrated, too, which makes for some exciting times at our house. It's hard being a two-year-old. She isn't sure how to express her feelings or use her words but we try and practice this a lot. In our home when she gets frustrated we have adopted the "take a rest method," (similar to "time out") She has a small chair where she goes and sits until she cools down. Sometimes we use calming music and she watches her fish for a minute. We don't have a timer, so she takes as long as she needs until she is ready to continue to play! Surprisingly, for my daughter (who we have lovingly nicknamed the energizer bunny because she doesn't slow down!), it works! When she gets frustrated with a toy, she will come to me and say "Mommy I am frustrated, I need to take a rest!" and she sits until her frustration passes. I am glad she has taken to this since I have a hard time dealing with my emotions!