In their book "The Crucible of Doubt," Terryl and Fiona Givens propose that faith and belief are a matter of personal choice. With exhaustive reference to philosophy, prose, and poetry they combine their own perspective with historic and global authors to lay out the case that internal doubt is a universal state of being for those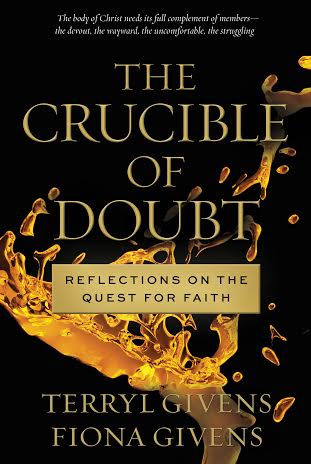 who explore the spiritual nature of mankind. Subsequent chapters use the same method to address specific topics that frequently result in spiritual questioning. The main premise seems to be that there are many places one can and should go for instruction and spiritual enlightenment when searching in the course of doubt. Through the process of understanding the many points of view presented, the reader is challenged to choose for him or herself how to settle doubts about the topics, or to choose as acceptable a continued state of doubt or uncertainty.
The many perspectives offered leave the reader great freedom to choose to agree or disagree as the schools of thought unfold. At the end of the book I felt that I had come back to where it began, namely that every person must choose from competing models that which they accept as "truth." The current work inputs much variety to the consideration of a few specific topics but leaves readers to make their own ultimate individual choices.
I left the book, as I believe other LDS readers might, with a broader view of others' enlightened ideas, but also having reviewed my own faith journey to find that there are certain things that I do know, things about which there is no longer doubt. I have had the rescue that is born of spiritual crisis and results in undeniable witness of truth. These witnesses are conveyed by the Holy Spirit and are authored by God himself. I believe that doubt is a fair place to being learning – but also that spiritual crisis is not an unhealable wound.
This book gives the reader opportunities to explore ideas from outside their own realm, to see where and how others have pondered and doubted. The reader will reflect on that condition of questioning and if some of the topics discussed are unresolved in his or her life, perhaps at last find pathways of thought from which to choose their own way.
About Jane Thurston

Twitter •