Before arriving in Israel, we mapped our travel plans.  From Jerusalem, we planned to go north to the Sea of Galilee. I thought it might be better to avoid driving in the occupied West Bank, so planned to drive way out of the way east and then head north to Galilee. I felt responsible for the safety of my parents and sister and I wanted to avoid any conflicts.
But, our plans changed.  We wanted to head back to the Dead Sea and also visit Jericho. We'd missed the chance on the day we arrived in Israel because our exciting bus and taxi adventure from Cairo, Egypt, to the Israeli border delayed us several hours.
While waiting for me finish the car rental in Jerusalem, the parking lot attendant asked my family where we were going. After they told him, he said they should travel highway 90 through the West Bank.  We were excited to save some time and know that we could travel that route.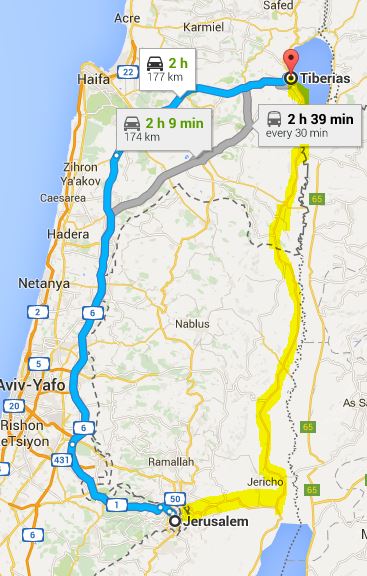 So, we rode the mountain tram in Jericho and swam in the Dead Sea and then headed north through the West Bank on highway 90. The drive was peaceful and gorgeous. We passed date palm farms growing in the desert. Then, quickly grass and wildflowers swallowed up the desert sands. We couldn't get enough of the views of Jordan's mountains.
As a student, I visited Israel during July.  The land was hot and desolate. But I heard about the beautiful wild flowers that grew in the springtime, and I wanted to see them. We saw miles of wildflowers on highway 90.  The whole way we rejoiced that we took that route.  It was a favorite experience—probably because it almost didn't happen.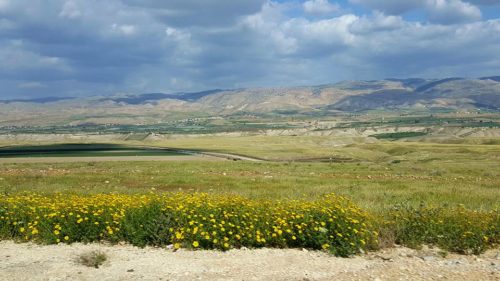 The wildflowers and the blues of Jordan's mountains blurred as I jolted back to the reality of angry screaming. My friend and I stood on a dark doorstep making a weekly house call to a struggling family.  "WHAT DO YOU WANT??? WHY ARE YOU TALKING TO ME???" The woman screamed at the top of her lungs to her mother beyond the doorway.  Her husband pushed his way out of the door and sat in the truck behind us on the driveway and then blared some angry music.
The woman turned back to us frazzled and deflated. No one understood her. No one heard her. No one appreciated her efforts. She was at the end of her rope.
And suddenly, a wildflower appeared. Her 9 year old daughter joined us on the doorstep, shining, smiling, dancing like a wildflower in a desert breeze. I hadn't met her before. When I asked her name, she smiled and said, "Blessing." That wasn't the name on my list, but it fit her perfectly. She is a marvel, a flower in a dark, conflicted space. I felt compelled to acknowledge her gifts, to let her know she was seen and felt.  While her mom continued her story, I had intermittent conversations with Blessing about lip gloss smells, school, happiness, dancing.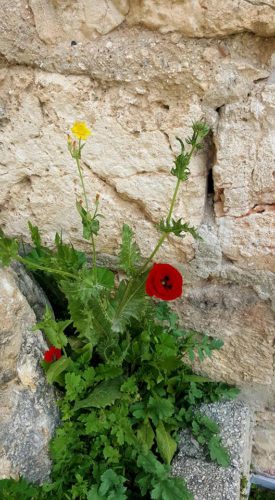 As we drove away, another memory blurred into clarity. I'd found her in the ER. She'd been beaten by her husband so badly she was hospitalized. I'd never met her before that night and still wasn't really sure what she looked like when I left her bedside. I got to know her at the women's shelter. She conquered addiction and domestic violence with fearless courage and undaunted optimism. Her fierce determination and faith stood her on her feet.
She blossomed into who she always was. She found safety, love, and scatters sunshine all around her. She is shiny, smiling, and happy, a wildflower who grew in a sea of conflict.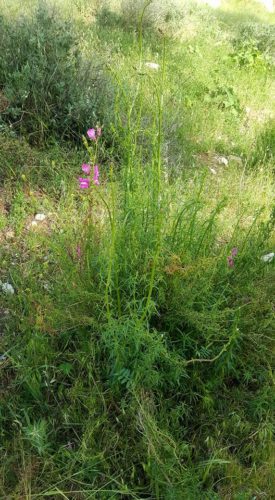 Another wildflower appeared at my door announcing she was my visiting teacher. She said she hated that "title" and didn't want to be my visiting teacher, but wanted to be my friend. And she was. Neither of us had children, and our stories were quite different, yet the same. She'd felt she followed divine promptings for medical procedures that all ultimately failed. The multiple experiences shook her confidence and faith in God. But, despite her heartbreak, she kept doing the basics—even befriending the new girl.
She taught me how to shake off other people's criticisms and to chase sunbeams. She thrived in the sunshine and laughed with her whole body. We took long walks regardless of the season and stopped to smell the trees and flowers. Her eyes always sparkled on the trail. She is sunshine to my soul, a free, dancing wildflower in barren, rocky soil.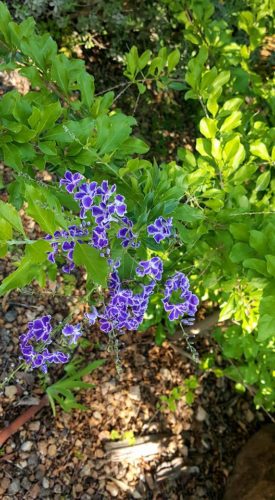 "Well, it looks like we've got just a bit to do," my friend said laughing as we met to clean a hoarder's home. I'm sure I looked absolutely dumbstruck as we wound our way through the house on a teeny path created by piles of stuff taller than me. My friend and I had thought we could knock it out in a couple hours after work. We called for reinforcements and muscle. She lightened my mood and we got to work.
My friend had recently moved into a friend's garage after discovering that her drug addicted, and insanely brilliant, husband had drained their substantial resources and left her penniless. She'd taken financial precautions, but somehow he managed to find every dollar. She'd told me about driving around the city to various crack houses to find her husband, her beloved. She told me how his most creative breakthroughs in his scientific field generally happened when he was high.  He was a highly functioning addict. But, eventually, she got the call. He'd killed himself in another state and she was asked to go there and identify his remains. She was fearless and fiercely loyal.
Her compassion and mercy blew fragrant through our sisterhood. Once instead of trying to console my heartbreak, she wrote me a note that said, "Coupon to punch anyone in the nose who says [unhelpful advice]."  I laughed so hard. And because of her, I didn't actually punch anyone in the nose. At the beginning of my service, she gave me Carol Lynn Pearson's Good-bye I Love You (Sister Pearson's personal story of love and commitment to her gay husband) to open my perspective to life circumstances I hadn't yet encountered, but have since. The book taught me to see people as individuals and not clouded by my preconceived judgments.
She saw and understood how others blossomed. She was one of my greatest teachers. She lives very simply and says she'll be working until she dies, but she lives devoid of bitterness. She is a fortress of faith and strength. She is a sparkling, witty wildflower who bloomed where she was planted.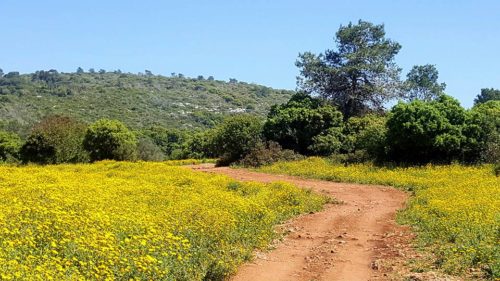 I almost missed fields of wildflowers by choosing a different highway. I would have missed fields of wildflowers in my life had I been unwilling to step outside of comfort zones. Experience teaches me not to fear the unknown in dark doorsteps or hospitals, or new faces at church.  I see the impact of the Atonement in our lives, the evident difference of applying Jesus Christ's mercy and grace versus struggling in our own puny strength.
Because of these women, and others like them, I find courage to explore the dark doorsteps and ER rooms of my own mind. As I've faced my darkness and fears, I've discovered that I am a wildflower, too.  I've blossomed because Christ promised "My grace is sufficient for thee: for my strength is made perfect in weakness."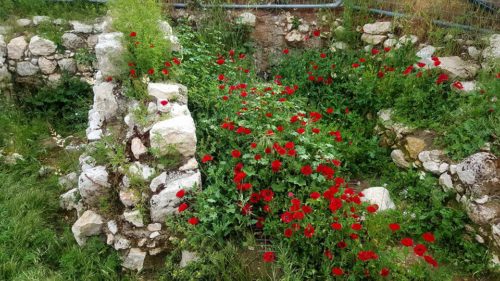 Isaiah promised a glorious garden of wildflowers who will repair and heal the desolations of generations!
"To appoint unto them that mourn in Zion, to give unto them beauty for ashes, the oil of joy for mourning, the garment of praise for the spirit of heaviness; that they might be called the trees of righteousness, the planting of the Lord, that he might be glorified…and they shall repair the waste cities, the desolations of many generations.  
And their seed shall be known among the Gentiles, and their offspring among the people: all that see them shall acknowledge them, that they are the seed which the Lord hath blessed.
I will greatly rejoice in the Lord, my soul shall be joyful in my God; for he hath clothed me with the garments of salvation, he hath covered me with the robe of righteousness, as a bridegroom decketh himself with ornaments, and as a bride adorneth herself with her jewels.
For as the earth bringeth forth her bud, and as the garden causeth the things that are sown in it to spring forth; so the Lord God will cause righteousness and praise to spring forth before all the nations."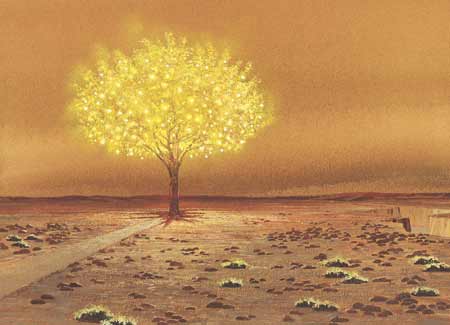 We have the ability to blossom in the darkness and conflicts in our lives. We just need to remember who we are and whose we are. We are children of God and He has sent us here to follow Him.
Lehi taught us the pattern of following God through darkness to joy. In his vision of the Tree of Life, Lehi saw a man who commanded him to follow.
"And it came to pass that as I followed him I beheld myself that I was in a dark and dreary waste. And after I had traveled for the space of many hours in darkness, I began to pray unto the Lord that he would have mercy on me, according to the multitude of his tender mercies.
And it came to pass after I had prayed unto the Lord I beheld a large and spacious field. And it came to pass that I beheld a tree, whose fruit was desirable to make one happy.
And as I partook of the fruit thereof it filled my soul with exceedingly great joy; wherefore, I began to be desirous that my family should partake of it also; for I knew that it was desirable above all other fruit."
From darkness to light, sorrow to joy, our weakness to the Savior's strength, we rise from ashes to beauty and from death to eternal life.
About Delisa Hargrove
I am a member of The Church of Jesus Christ of Latter-day Saints. I have moved 64 times and have not tired of experiencing this beautiful earth! I love the people, languages, histories/anthropologies, & especially religious cultures of the world. My life long passion is the study & searching out of religious symbolism, specifically related to ancient & modern temples. My husband Anthony and I love our bulldog Stig, adventures, traveling, movies, motorcycling, and time with friends and family.