Weigh the sentiment that the unknown can be fearful against finding things to be thankful for (since this is November) and perhaps we can see how giving birth to a child with Down syndrome brought me to what might be similar conclusions to those of the original pilgrims on that first Thanksgiving:  all the troubles aren't over, there is a lot of hard work yet to do, but it is by the hand of God that we have gotten through some dark days, so let's give thanks for the bountiful things we see that He also provides here.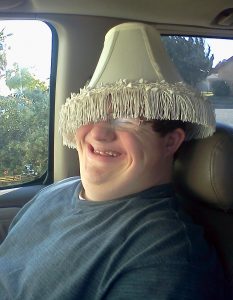 My Down syndrome son has been a blessing to me.  There was so much unknown going into it but after he was born we knew immediately that, come what may, he would be a treasure to us.  When people would say they were sorry about it upon hearing the news we would feel sorry that they felt that way.  Sure, our lives would be different because of this, but what if your biggest trial could also be something you are absolutely crazy about?
There are a lot of parents who know that.  There is something that people from the outside think is their biggest trial, and maybe it is a very big trial, but which is also part of someone that they love very much.  A child doesn't have to have a handicap for that to be the case.  Amid mixed emotions, love and hope seem to always rise to the top.
With our Down syndrome son, we have our struggles and apprehensions.  There were the tantrums and getting lost in public places, health issues, decisions about education programs, lack of reasoning power (in another word: unreasonableness), and lots of surprises. We wonder how he will be treated by people he meets.  How will he be taken care of after we are gone?  Will we be able to leave financial means to endure through his lifetime?  And how will that burden rest on our other children?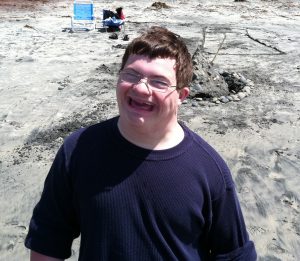 We do have optimism and sunshine too.  The simple things he enjoys make him very happy.  He is not demanding at all for things that drain finances.  His health is good.  And our other children have proven that they love him as much as we do.  He blesses our life with his sense of humor and with the ability to be surprised and delighted.  He brings the simple joys of a childlike, uncomplicated life into our home.
These happy things would be harder to see if the worries and uncertainties dragged us down.  
When outcomes are unknown they can seem awfully daunting.  They could become overwhelming.  So, along with all the other troubles in life we have prayed for help with the challenges of Down syndrome in our family.  For those on the outside it may seem irrational, but because of the answers to those prayers it is easy for me to take the counsel to "live in thanksgiving daily, for the many mercies and blessings which he doth bestow upon you" (Alma 34:38).  
I know what it feels like to have pains and fears lifted — to literally feel like the destroying angel is passing over me.  I know where that feeling comes from.  It is because Jesus Christ has felt that pain or worry already so He knows how to lift it from me when I ask.   I am so thankful for that.  If I always remember that, I can always stay above the fear of the unknown.  That one thing is always known.  
I don't have much else in common with the Pilgrims.  But I guess these things are timeless:  pressing on, finding joy in building, and seeing that there are bounteous things to be enjoyed.
About Jane Thurston

Twitter •