An interview with my daughters, ages 13 and 11
What qualities do you think are important in a mother?
Patience, loving, responsible, organized, takes care of kids.
Honesty, kindness, helpfulness, they shouldn't only be selfless. They have to think about themselves, too. Enjoyment in being a mother. Good language.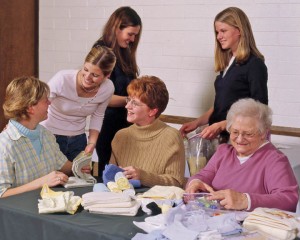 What is the hardest thing about being a mother?
Having to do everything for the kids when they are younger, like feeding them and making sure that they're not into any trouble and that they are doing safe things.
Having to clean up after kids. Having to make meals.
What is the easiest thing about being a mother?
Getting to be around your kids and getting to know them and becoming closer to them.
Playing with babies.
How would you finish this sentence?
I wish my mother had more time…
To do more activities with the kids.
To play with us.
What is an important gospel principle for mothers to teach daughters?
That having a family is important.
Honesty.
How can a mother best teach that?
Studying scriptures about it and teaching about what would happen if we didn't have families.
Talking to daughters about it and doing it themselves.
How should mothers show that they support their daughters?
Letting them know that they're doing a good job and that it's good that they do it.
Not teasing them hurtfully.
How should mothers get to know their daughters better?
One-on-one talks and going to do mother-daughter activities, things that only they would enjoy like something that focuses on just the two of them and that benefits both of them.
Sit and talk with them sometimes. Spend time with them.
How can mothers help their daughters to dress modestly?
Getting rid of immodest clothes, like clothes that are too small, regularly. And making sure that the clothes they get are modest by coming with them when they go shopping. Teach them the negatives about dressing modestly and what the prophets have taught about dressing modestly.
Buy them modest clothes. Or make them. And talk to them about it.
How can mothers help their daughters gain testimonies of Jesus Christ?
I would think one-on-one scripture study, just the two of them. And praying together and having conversations together about the gospel.
Sharing their testimony with them.
What do mothers expect of daughters that is unreasonable?
The mother telling the daughter to do a series of chores when the daughter might have plans.
To clean a room with somebody who doesn't like to clean.
Among your friends who have good relationships with their mothers, what do you see that makes it work?
The daughters are responsible and mothers are understanding. They both want to make their expectations and plans work out.
They do family activities often. They spend time with each other.
You know, I have to admit that much of how I think of myself as a woman–and to be honest, about womanhood in general–is wrapped in the idea of being a wife and mother. I met my husband when I was 19 and married him when I was 20. Before I was 22, I had my first baby. All but 2 of my years as a woman have coincided with my years as a wife and mother.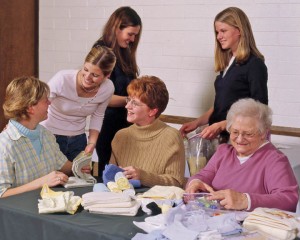 And yet, I know that there must be more to Womanhood than being a wife and mother. Lately, I've been wondering what exactly that is? What are the characteristics and purposes that we as women, as daughters of God and sisters in the gospel, share despite our family circumstances? What makes a woman a woman?
We know from the Proclamation on the Family that we were created in the image of God and that we are daughters "of heavenly parents, and, as such, each has a divine nature and destiny. Gender is an essential characteristic of individual premortal, mortal, and eternal identity and purpose." But what exactly does that mean? What are the innate characteristics of being feminine that existed in us even before we had bodies? And what does being female have to do with our identity and purpose? In order to answer these questions, I've collected a few quotes.
Our prophet has said:
Woman is God's supreme creation.Only after the earth had been formed, after the day had been separated from the night, after the waters had been divided from the land, after vegetation and animal life had been created, and after man had been placed on the earth, was woman created; and only then was the work pronounced complete and good.

Of all the creations of the Almighty, there is none more beautiful, none more inspiring than a lovely daughter of God who walks in virtue with an understanding of why she should do so, who honors and respects her body as a thing sacred and divine, who cultivates her mind and constantly enlarges the horizon of her understanding, who nurtures her spirit with everlasting truth. ("Our Responsibility to Our Young Women," Ensign, Sept. 1988, 11.)
President James E. Faust has said:
I wonder if you sisters fully understand the greatness of your gifts and talents and how all of you can achieve the "highest place of honor" in the Church and in the world. One of your unique, precious, and sublime gifts is your femininity, with its natural grace, goodness, and divinity. Femininity is not just lipstick, stylish hairdos, and trendy clothes. It is the divine adornment of humanity. It finds expression in your qualities of your capacity to love, your spirituality, delicacy, radiance, sensitivity, creativity, charm, graciousness, gentleness, dignity, and quiet strength. It is manifest differently in each girl or woman, but each of you possesses it. Femininity is part of your inner beauty.

One of your particular gifts is your feminine intuition. Do not limit yourselves. As you seek to know the will of our Heavenly Father in your life and become more spiritual, you will be far more attractive, even irresistible. You can use your smiling loveliness to bless those you love and all you meet, and spread great joy. Femininity is part of the God-given divinity within each of you. It is your incomparable power and influence to do good. You can, through your supernal gifts, bless the lives of children, women, and men. Be proud of your womanhood. Enhance it. Use it to serve others. (James E. Faust, "Womanhood: The Highest Place of Honor," Ensign, May 2000, 95)
On fulfilling our God-given purposes, Mary Ellen Smoot has said:
Each of us has a vital role, even a sacred mission to perform as a daughter in Zion. … It is our destiny to rejoice as we fill the earth with greater kindness and gentleness, greater love and compassion, greater sympathy and empathy than have ever been known before. It is time to give ourselves to the Master and allow Him to lead us into fruitful fields where we can enrich a world filled with darkness and misery" ("Rejoice, Daughters of Zion," Ensign, Nov. 1999, 94).

"I suggest that you … humbly ask the Lord what he would have you do and why you are uniquely suited to serve. Ask yourself questions like these: 'What can I contribute?' 'Why was I chosen to be the mother of these children?' 'What can I do to strengthen the sisters in my ward?' and so forth. We each have purpose and reason for being. Every sister has a thread to weave in the tapestry of time. Discover your thread and begin to weave" (Relief Society, the Possible Dream [address delivered at the 1998 Brigham Young University women's conference]). ("Finding Nobility in Motherhood and Joy in Womanhood," Ensign, Jul 2002, 71)
Elder M. Russell Ballard has said:
Every sister in this Church who has made covenants with the Lord has a divine mandate to help save souls, to lead the women of the world, to strengthen the homes of Zion, and to build the kingdom of God. Sister Eliza R. Snow (1804–87), the second general president of the Relief Society, said that "every sister in this church should be a preacher of righteousness … because we have greater and higher privileges than any other females upon the face of the earth" ("Great Indignation Meeting," Deseret Evening News, 15 Jan. 1870, 2).

Every sister who stands for truth and righteousness diminishes the influence of evil. Every sister who strengthens and protects her family is doing the work of God. Every sister who lives as a woman of God becomes a beacon for others to follow and plants seeds of righteous influence that will be harvested for decades to come. Every sister who makes and keeps sacred covenants becomes an instrument in the hands of God. (M. Russell Ballard, "Women of Righteousness," Ensign, Apr 2002, 66–73)
As daughters of a Heavenly King, it seems clear that in order for women to fulfill their roles and purposes in the gospel and on the earth that we needed special talents and blessings. To some degree or other, and based specifically on the tasks that we need to accomplish in our life, we women have been endowed with special power from on high: kindness, gentleness, capacity to love, compassion, empathy, feminine intuitions, creativity, charm, graciousness, natural grace, dignity, quiet strength, and more.
We need only look at the world around us to know that these very qualities are sorely in need. And whether we are single, married, widowed, divorced, mothers, grandmothers or not, we are part of a great sisterhood with a weighty work to accomplish. The specific role the Lord would have each of us play is something that we will have to prayerfully seek out. But one of the greatest clues in discovering our individual missions is to carefully take a look at the gifts he has given us and see how we can best apply them. He gave them to us for a reason.
The more I think about this, the more I think it is a waste of time to compare myself to other women. Yes, there are other women who keep a neater home than I do, who are more creative at making Halloween costumes, who are better cooks, who are more organized. Maybe other women look at me and see things that they lack. But rather than mire myself in envy and disappointment, I can rejoice knowing that if there are areas where I fall short, a beloved sister has been given a gift to help me. If there is a battle I feel ill-prepared to fight, I have a sweet spirit sister who will watch my back if I let her. Instead of letting our differences be sources of division, they should knit us in unity and make us stronger.
We women were born to be queens.
Sister Beck, our General Relief Society President, told us that "women should pattern their homes after the Lord's house." What does this mean? And how can we accomplish it?
In the Doctrine and Covenants, section 109, it reads:
Organize yourselves; prepare every needful thing, and establish a house, even a house of prayer, a house of fasting, a house of faith, a house of learning, a house of glory, a house of order, a house of God;

That your incomings may be in the name of the Lord, that your outgoings may be in the name of the Lord, that all your salutations may be in the name of the Lord, with uplifted hands unto the Most High…
Let's begin by just breaking it down into the eight steps listed above.
1. Organize yourselves, prepare every needful thing. In Doctrine and Covenants (D&C) 88:119, these verses are repeated. The footnote for "organize" refers us to search in the topical guide of the LDS scriptures the subject "Family, Managing Finances in." This verse reminds me of Pharoah's dream which Joseph interpreted to show Pharaoh what he needed to do during Egypt's 7 years of plenty to prepare for the 7 years of famine.
Our prophet counsels us to have 72 hour kits prepared for emergencies, a 3 month supply of food and other items that we would need to survive and, where possible a 12 month supply. We are advised to stay out of debt and to have a savings of several months worth of income to sustain us in case of unforeseen circumstances. It's the whole idea of working through the summer so that we can play in the winter. Being prepared gives us a measure of peace and comfort when hard times arise. Sometimes it can be overwhelming. At least for me, just trudging through my day to day responsibilities is almost too much. But there are some great ideas here on LDSblogs.com that can help us get started taking the little steps we need to do to be prepared. And if doing it all seems just a bit too much, just remember that being prepared for some things is better than being prepared for nothing.
2. Establish a house, even a house of prayer. When I think of this line, I imagine all the formal prayers that should be going on in our homes. Imagine that you and all the members of your family are having morning and evening personal prayers, then you and your spouse are having a couple's prayer once or twice daily. And let's not forget family prayer morning and night. Then there are the blessings on the food for three meals a day. In addition to that, there are special times of prayer such as to open and close Family Home Evening or a family council, before a priesthood blessing, or just because a child had a nightmare. And then there are the informal prayers. Singing hymns can be a prayer. In D&C 25:12, the Lord says that the song of the righteous is a prayer unto him. Alma(34:27) tells us that when we are not formally praying, "let your hearts be full, drawn out in prayer unto him continually for your welfare, and also for the welfare of those who are around you."
3. A house of fasting. Members of the Church usually join together in fasting on the first Sunday of the month. But to me, establishing a house of fasting might require more effort than that. We should not be afraid to fast at other times when we feel that we need to seek a particular blessing for ourselves or others. The Law of the Fast also includes donating money for the poor and needy. I'm sure that there are times throughout the day when we can set aside our personal comforts and conveniences to serve others and bless their lives through our sacrifice. What is our attitude about fasting? Is it something that we dread or cut short or dismiss as unimportant? Or do we love and look forward to fasting? Is it a sacrifice that we are happy to make, a cross that we willfully carry in order to make us more like the Savior? What and how are we teaching our children about fasting? We, as a people, are entitled to much more of the fullness of the Spirit of God and I think we need that Spirit in our homes. But it will require this effort from us, to give up the things of the physical world for two meals that we might enjoy the benefits of added peace and love in our homes.
4. A house of faith. I envision a house where the gospel is taught and discussed. It is a house where the teachings of the Savior are a normal part of every day life and behavior and not just relegated to the Sabbath. This type of house would be full of people trying to improve themselves by acting on what they know to be right, thus exercising that faith. And if someone's faith falters, it's the type of home where the family would give loving support and quiet prayers on their behalf. It would be a happy home where no matter life's circumstances, there would be joy and peace because of the firm assurance in their hearts that Jesus had overcome the world and redeemed them.
5. A house of learning. This type of house would include learning things of the spirit as well as learning about the physical world. It begins with the woman learning all she can about those things that interest her. We know that as women we should further our education. It is a life long endeavor. How and what we choose to learn will be different for each of us and we may all take different paths. But we need to seek out knowledge "by study and also by faith" (D&C 109:7) and learn "of things both in heaven and in the earth, and under the earth; things which have been, things which are, things which must shortly come to pass; things which are at home, things which are abroad; the wars and the perplexities of the nations, and the judgments which are on the land; and a knowledge also of countries and of kingdoms— That ye may be prepared in all things…" (D&C 88:79,80).
But creating a house of learning doesn't stop with us. How can we encourage and support our husbands? The more they learn, it will not only enrich them personally but help them to better be able to support their families.
And creating a house of learning is so important for children. It might begin with something as simple as stimulating their curiosity and trying to always to take the time to answer their questions with an appropriate answer. It might involve having them take formal classes or just providing them with books to read about their favorite topics. I think a wonderful way to create a house of learning is to work on family projects together—something fun that you can teach them yourself or that you can all learn together.
6. A house of glory. What exactly is glory? I think it is resplendent beauty and magnificence. Glory is the adoration and praise and thanksgiving we show to God. So a house of glory would be a home that is a reflection of heaven, a beautiful place that by it's very existence bears testimony that there is a God and he is good. But I don't think that it necessarily needs to be a beautiful home by the world's standard. The world would have us think that to be glorious, our home must be palatial. Christ himself had neither "form nor comeliness; and when we shall see him, there is no beauty that we should desire him" (Isaiah 53:2). So I would think that a house of glory is more a humble home that is made beautiful by the righteous people who live there and the work that occurs within its walls.
7. A house of order. I think this type of house would not necessarily be constantly immaculate. But it would be a house where each member of the family knows their responsibility and participates willingly in maintaining a functioning home. It would be a neat and tidy place, free from as much filth and unnecessary clutter as possible. It would be a place where beleaguered family members could come to relax and find peace.
8. A house of God. A house of God is a temple. It is the place where heaven and earth meet, a place of such cleanliness and purity that God can dwell there for a time. In the Bible Dictionary, we read that "only the home can compare with the temple in sacredness." If we can follow the above 7 steps, I have no doubt that we will have succeeded in creating a house of God and our incomings and our outgoings will be in the name of the Lord.
The Apostle Paul was a great missionary for the Lord. His mission was very demanding; it covered many countries and traveled many menacing miles. His ministry began on the day that the resurrected Lord Jesus appeared to him on the road to Damascus. While preaching the gospel to King Agrippa, here's how Paul recounts the story of his conversion:
"Whereupon as I went to Damascus with authority and commission from the chief priests, At midday, O king, I saw in the way a light from heaven, above the brightness of the sun, shining round about me and them which journeyed with me. And when we were all fallen to the earth, I heard a voice speaking unto me, and saying in the Hebrew tongue, Saul, Saul, why persecutest thou me? it is hard for thee to kick against the pricks. And I said, Who art thou, Lord? And he said, I am Jesus whom thou persecutest."

"But rise, and stand upon thy feet: for I have appeared unto thee for this purpose, to make thee a minister and a witness both of these things which thou hast seen, and of those things in the which I will appear unto thee; Delivering thee from the people, and from the Gentiles, unto whom now I send thee, To open their eyes, and to turn them from darkness to light, and from the power of Satan unto God, that they may receive forgiveness of sins, and inheritance among them which are sanctified by faith that is in me" (Acts 26: 12-18).
Key elements in Paul's conversion story are worthy of note:
1) Paul was "called" to the ministry; he was "sent" by the highest Authority–being "sent" is the hallmark of all true missionaries.

2) The mission to which Paul was called, was to turn people from "darkness to light" from "Satan unto God" by seeking "forgiveness of sins" through "faith that is in [Christ]."
Some observers might imagine that if Christ could only appear to them in great glory, then they would become a great missionary like Paul. But this is not necessarily true! It is not a glorious appearance from God that changes hearts and minds (though such is a compelling invitation), instead it is answering the Lord's call and humbly yielding to that call that is the tipping point of conversion.
Many people have been visited by angels, and yet failed to heed Heaven's call–Laman and Lemuel are prominent examples from Book of Mormon history (1 Nephi 3: 31). And besides angelic visitations, even more people have seen mighty miracles, and yet failed to follow God's mighty call–Pharaoh and his court saw dozens of miracles and their hearts were not softened (Exodus 7: 8-10).
Thus, it is possible to disobey the call of angels and deny the call of miracles; further, the harsh reality is that denial and disobedience to spectacular manifestations is the more probable trend (Matt. 7: 13). Now, consider the gentle call of the "still small voice" (1 King 19: 12), and how often this call goes unheeded. As it is for all, the tipping point for Paul's conversion was the choice to hear and heed the call:
"Whereupon, O king Agrippa, I was not disobedient unto the heavenly vision" (Acts 26: 19).
Paul's mission call was not an easy one. His labors for the Lord led him through much trial and tribulation:
"in labours more abundant, in stripes above measure, in prisons more frequent, in deaths oft. Of the Jews five times received I forty stripes save one. Thrice was I beaten with rods, once was I stoned, thrice I suffered shipwreck, a night and a day I have been in the deep; In journeyings often, in perils of waters, in perils of robbers, in perils by mine own countrymen, in perils by the heathen, in perils in the city, in perils in the wilderness, in perils in the sea, in perils among false brethren; In weariness and painfulness, in watchings often, in hunger and thirst, in fastings often, in cold and nakedness. Beside those things that are without, that which cometh upon me daily, the care of all the churches" (2 Cor. 11: 23-28).
So goes the life of a missionary–its hard work. And while shipwrecks and stonings are not the common cross to bear for most missionaries, still there are many hardships to endure. But through them all, we have the opportunity to reflect upon the suffering of our Savior and know that our burden is light compared to His. Because Paul was keenly aware of the Savior's suffering (Philip 3: 10), he saw his own plight as a "light affliction."
"For which cause we faint not; but though our outward man perish, yet the inward man is renewed day by day. For our light affliction, which is but for a moment, worketh for us a far more exceeding and eternal weight of glory; While we look not at the things which are seen, but at the things which are not seen: for the things which are seen are temporal; but the things which are not seen are eternal" (2 Cor. 4: 16-18).
Any church that claims to be Christ's Church must necessarily be an organization dedicated to doing missionary work. The Savior said:
"And this gospel of the kingdom shall be preached in all the world for a witness unto all nations; and then shall the end come" (Matt. 24: 14).
By the "still small voice" a call is sent to the hearts of all humanity, to take up the cross and follow Him (Mark 8: 34). And to follow Him faithfully, we must all heed the call to be missionaries.
A census is a periodic count of a population. Whether it be human, plant, animal or other. In the genealogical context of course we are referring to a count or enumeration of the human population.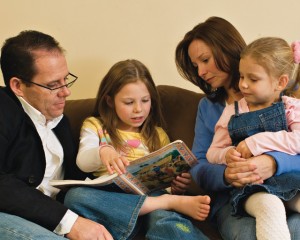 The first known census was taken by the Babylonians in 3800 BC and thereafter are a relatively small number of other known census takings until the practice became more common in more areas in the late eighteenth and early nineteenth centuries. One old but widely known reference to a census taking is found in Luke, Chapter 2, Verse 1″And it came to pass in those days, that there went out a decree from Caesar Augustus, that all the world should be taxed."
Taxed, meaning to be enrolled or registered. Though many early censuses were implemented largely for the purpose of collecting taxes, they could also be used to identify men of an eligible age for service in the military or work for the government. Though because of the desire to shirk these responsibilities, many censuses, even those considered more modern may often contain incorrect information.
Today census data is useful for general population statistics, economic statistics which may influence economic policy, and social and housing information which is useful to the government at all levels.
To ensure adequate privacy, census information is not released to the public for a number of years. Though this may not be the case in all countries. The United States of America has enacted a 72 year privacy law, meaning that census information will only be released to the general public 72 years after it was first taken. Censuses released in the U.S. span 1790-1930. The 1940 census will be released in 2012 and many genealogist's anxiously await it's arrival as they did the 1930 census which was released in 2002.
The census is one of the most widely used sources for genealogical information. And it can give you a variety of information on your ancestors that may vary from year to year. Some census information includes years of birth and death, how many years they've been married, how many children have been born, where each person was born, what occupation a person followed, the birth place of a persons father and mother, native language and more. In upcoming posts we will be talking about the censuses available from different countries and the valuable information they can give you in your search to know more about your family roots.
Ok. Winter is coming. For many, this means below-freezing temperatures. If your house's heating system is working great, no problem. Your home will stay nice and toasty.
But what if your furnace goes out? What then? Or even worse, as has happened in various parts of the country (and the world), sometimes there is a larger crisis. A cold snap strikes an area and the power is suddenly out.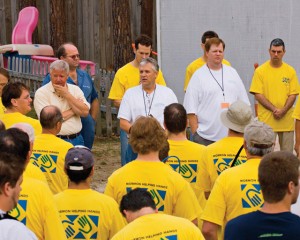 As a result, now there are hundreds, if not thousands of homes without power. Perhaps if you are of the lumberjack make, this becomes quite the adventure. It's a chance to pull out your little camp stove and toast marshmallows (remember never to do this inside), all the while telling the family about the cold snap of some previous year.
But for many, a cold snap can spell disaster. For those with fragile medical conditions, this becomes a dire situation. If you live in a location where temperatures drop like rocks, are you ready? Even if every previous year has been fine, what if this year isn't? Start discussing this week your family plan, even chatting with local city officials about various options.
To pass through a situation like this as an adult is one thing, but if you have small children, you must take care of their needs carefully to avoid potentially serious illnesses.
One of the best things you can add to your preparedness supplies are some sub-zero sleeping bags. This way, if your heating goes out this winter, you can unroll the bags out on the beds and snuggle down deep into their at-least-some-what-toasty interiors.
Better yet (if you purchase carefully), some sleeping bags will actually zip together, thus enlarging the space. Just know that even though each sleeping bag usually comes with a temperature rating, what is comfortable for one person might not be for another. So remember, you can always unzip a bag to cool down a bit, but it's rather difficult to make a sleeping bag get warmer. So buy warmer than you think you might need.
Finally, you get what you pay for with sleeping bags. Thus, you'll want to start watching for sales, keeping your eyes out to learn the range of prices available. But come a cold snap, you'll be glad to have made the investment. Thus, since Christmas is coming up, why not consider adding sleeping bags under your tree? Your family may quite thank you if you ever experience a heating outage.
Remember, even if you're not a diehard camper, sleeping bags can become one of your most valued items in your preparedness supplies!
The world seems to be tilting ever more out of control. From violent video games to ever-increasing porn sites, we live in a world of burgeoning filth. From fragile economies to drought-ridden areas, indeed the world can be a tempestuous place.
This is why I'm grateful for men such as President James E. Faust, a member of the First Presidency for the Church of Jesus Christ of Latter-day Saints. He just recently passed away, but he was a strong man, strong in the gospel of Jesus Christ. His valor for that which is right was known by many. His mild ways were balanced with a vigor for truth.
Read this quote of his from nearly nine years ago and ponder on its still-urgent meaning:
"It is my testimony that we are facing difficult times. We must be courageously obedient. My witness is that we will be called upon to prove our spiritual stamina, for the days ahead will be filled with affliction and difficulty. But with the assuring comfort of a personal relationship with God, we will be given a calming courage … we will receive the quiet assurance … " (Ensign, Jan 1999, p 5).
President Faust referenced several key terms: courage, obedience, stamina, relationship, calm, assurance. Let's look at each one a bit closer. For after all, if we are to face the future in faith, it would be good to know how we can do it successfully!
COURAGE = the state of mind that helps you face danger or pain
OBEDIENCE = the act of conforming to an expressed standard
STAMINA = power to endure privation or fatigue
RELATIONSHIP = an emotional connection
CALM = free from agitation
ASSURANCE = freedom from timidity
Thus, as we ponder President Faust's thoughtful statement, he seems to express great desires that we as God's children will have the state of mind to face difficulty and still be obedient. To do this will require a stamina (that in my mind) will only be sufficient if it is based upon God's ways.
As we incorporate this spiritual stamina (that the Lord stands ever ready to bestow), we in the process will grow in an emotional connection to our God. We will find calm amidst the storms of life and an assurance that He indeed can be trusted.
I'm grateful for President Faust's statement. One need only be tapped into the economic alerts that come ever more shrill, or be privy to the pending crisis in the housing market, to understand that we live in difficult days. There also is much filth available in the media, from ever more violent and pornographic video games to even more seamy movies and internet sites. Our world seems on a fast pace to self-ruin.
But in it all, the Lord gives us His prophets and leaders to guide us safely home. So one of the best forms of spiritual preparedness we can incorporate into our lives is simply to heed their words and live the teachings of Christ they share.
It is an awesome thing to be married. Or at least it can be. It is even better to be married in the temple of the Lord.
Temples are mentioned in the Bible. Many on the earth are not aware, though, of current day temples. Our current prophet and President of the Church of Jesus Christ of Latter-day Saints, President Gordon B. Hinckley, has said (click here for the full text):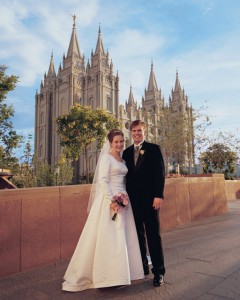 "Was there ever a man or a woman who, in a time of quiet introspection, has not pondered the solemn mysteries of life?
"Has he or she not asked, 'Where did I come from? Why am I here? Where am I going? What is my relationship to my Maker? Will death rob me of the treasured associations of life? What of my family? Will there be another existence after this, and, if so, will we know one another there?'"

President Hinckley then goes on to explain that the answer to these questions are held by God and that He has revealed them through His word. The temples are "sacred structures in which these and other eternal questions are answered. Each is dedicated as a house of the Lord, a place of holiness and peace shut apart from the world" (Ibid.)
I remember my wedding day, begun in one such building. My husband and I were married in the Oakland Temple, in Oakland, California. I remember waiting in those sacred hallowed halls for that beautiful ceremony. It is difficult to describe the transcendent peace and calm that attends those who visit the temple. My wedding day was no different.
Yes, indeed, to begin my marriage in such a beautiful edifice, full of the spirit of God, was a hallowed start indeed. Others can attest to a similar experience, whether they were married in the Oakland Temple, the Washington, D.C. Temple, or the Seoul Korea Temple (currently there are more than 120 temples in existence throughout the world).
But what about the day after such a sacred experience? And the month after? The years after? What can be done to continue such a beautiful start, extending it into the years that stretch ahead?
My husband and I have found several things that have helped to retain those quiet feelings of peace and serenity that surrounded our wedding day.
1. We always pray before retiring to bed each evening and upon waking each morning.
2. We always worship the Lord on the Sabbath day.
3. We attend the temple as frequently as possible, returning to worship the Lord and to give thanks for the gospel truths contained within the temple.
4. We study His word throughout the week, not just on Sundays.
5. We seek to serve those around us without complaint (including each other), as much as possible.
My husband and I are grateful to be married. Even better, we're grateful to have established a marriage in the best place possible – the house of the Lord. This indeed is what the Lord would have for all His children, every single one of them. For more information, visit The Purpose of Temples.
When was the last time you thought about you and your personal development? Chances are you've been so busy helping, serving, and working for others that perhaps it might be said that "you" could be seen amongst the lost-and-found!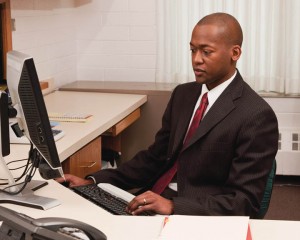 Well, never fear, here is a little quiz to help you get to know "you" a little bit better. It might have been a while since you've asked yourself these questions, so go easy on yourself if you find that you lack an opinion initially.
And before you get started, remember that the Lord loves you. He created you to be you. You have special gifts, talents, and abilities in a unique package. And as you begin to understand your unique blend of "you," then He will be able to lift you to Him and help you create of yourself beautiful things in His service.
So here goes. Get a piece of paper and begin jotting down the thoughts, ideas, and impressions that come to your mind as you answer these questions. The first ones are the easiest, on purpose! :0)
1. If you were decorating a house, what would be your first pick as the predominant color?
2. When you clothes shop, what color do you like best for your own clothes?
3. What is your favorite color overall?
4. If someone were to make a complete dinner for you, what would you ask them to create?
5. Do you have a favorite desert? If so, what is it and why?
6. Who was your best friend in grade school? Why?
7. Who was your best friend in middle school? Why?
8. Who was your best friend in high school? And why?
9. If there were one thing you would change about your high school years, what would it be? Why?
10. As you think back over your life, who influenced you the most for good? Why?
11. Who influenced you the most for ill? Why?
12. What one trait do you have that is a good thing you have? How does it help you today?
13. If there were one ancestor that you'd love to get to know and ask questions of, who would it be? What would be three questions you'd ask right away?
14. What one quality would you like to change in yourself immediately? Why? How does it benefit you? Or is there no benefit at all?
15. What are your feelings about God? Who influenced you the most in these feelings in your life?
16. If there were one question you would ask the Lord today, what would it be? Why not ask Him now?
Hey, you're on your way to a pretty awesome life story just by having answered these few questions. Why not get a journal and re-record your answers, taking care to listen for any additional thoughts that may come your way.
You have a Father in Heaven who loves you. He is the Father of your spirit and you are created in His image (Genesis 1:27). As such, He cares greatly about you. As you seek to get to know yourself better, seek also to get to know Him. He wants your happiness and as you approach Him in prayer, He will lead you to great comfort, peace, and understanding!
Congratulations on a job well-done.
When was the last time you thought about your education? In the uncertain world we live in, keeping your education up-to-date is a choice full of wisdom.
Men and women alike, it is in the best self-interest of all to seek learning. For example, President Hinckley stated to women: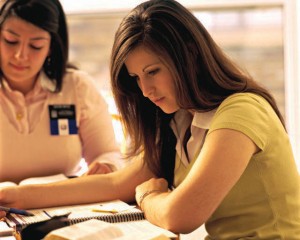 " … women today are afforded the same opportunity to study for science, for the professions, and for every other fact of human knowledge. You are as entitled as are men to the Spirit of Christ, which enlightens every man and woman who comes into the world … "
Of course the Lord desires that women keep family and marriage as first priorities, because children need their mother's nurturing now perhaps stronger than at any other time in the history of the world. But President Hinckley did instruct women that where applicable to "pursue educational programs" and an "appreciation of the arts and culture" (Ensign, Nov 1985, 89).
Whether for women or men, there are many options to increase your education. Perhaps your company offers financial aid if you go back to school. Some companies do this, if the courses or degree you pursue will aid you in your company job. What better way to increase your education for little to no money!
One way to pursue education is to look for the time-cracks in your life. In other words, do you have your summers free? What about going back to school during the summer term? You could start slowly by taking one class, as a way to test the water and see where your interests might lead you. Remember, the Lord blesses those who are proactively bettering their lives.
What about night classes. This might feel very comfortable when you discover how many adults are in your class. It's an enjoyable way to wiggle back into the academic world, because oftentimes the classes will just meet once a week. The schedules tend to be shorter and the homework assignments sometimes are abbreviated for night-time students.
Another option is that of correspondence classes. Even BYU offers these. I've participated in these. You can find a broad range of opportunities, from photography classes to science classes to even complete degrees offered through long-distance programs!
The Lord teaches us:
"seek ye diligently and teach one another words of wisdom; yea, seek ye out of the best books words of wisdom; seek learning, even by study and also by faith" (D&B 88:118).
It takes faith to initiate education; it takes study. Both please the Lord. And you never know when pursuing additional education will come in handy – when you need it most!