LDSBlogs.com (this website) is looking for enthusiastic, dedicated, and passionate volunteer bloggers.
Elder Neil L. Anderson said:
"For those using the Internet and mobile phones, there are new ways to invite others to 'come and see.' Let's make sharing our faith online more a part of our daily life. LDS.org, Mormon.org, Facebook, Twitter—all provide opportunities." (See Elder Neil L. Andersen, It's a Miracle, April 2013 General Conference.)
Have You Tried Blogging?
Blogging is a great way to share the gospel. You can take your time and craft just the right message. People who read what you write simply because they're interested in the topic will also receive a gentle gospel message that can eventually lead to conversion. Most people don't join the church after just one Mormon encounter—it takes time and numerous contacts with the gospel message. A blog gives readers a new gospel message every week, coming from someone they grow to trust.
But It's a Lot of Work to Set Up a Blog!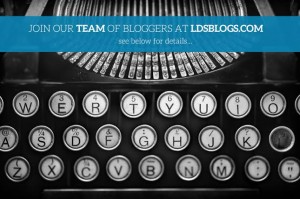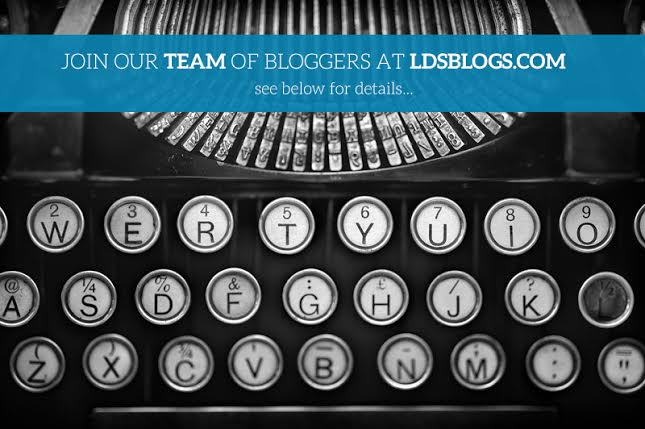 If you become a volunteer gospel blogger with LDSBlogs.com, we'll do all the hard, non-writing parts for you. All you have to do is write a good blog post—about 700 words or so—and submit it. Then we'll do the final edit, add images, and post it online for you at a site that has other bloggers and lots of traffic..  Then you can share with your friends on social media to get them to your post.
We'll help promote your blog. Getting traffic is one of the hardest parts of being a solo blogger. With LDSBlogs.com, you'll be part of a dedicated core of member missionaries all sharing their own blog posts with their audience—and that audience can become your audience as well.
We are also have a few columns specifically for Mormons. They must always approach the gospel in a positive way and the blogger should remember that a non-LDS person might read it.
One of our newest goals is to get people from countries outside the United States. We are beginning to search for bloggers to write a column called, "Mormon in _______" with the empty line filled with your country's name. We will shortly be launching one from South Africa and would like to find writers who live in other countries.
Posts must be written in English and will help people learn gospel principles by tucking them into information about a country. For example, a writer might post about their country's battle over an issue of morality and also tuck in what the Mormon teach on that subject. Another might write about an inspirational moment in her country's history and find a way to tie it into a gospel principle.
I Don't Really Feel Comfortable Writing a Religious Article Every Week
Sharing the gospel doesn't mean always sharing a sermon. Our bloggers are writing on one specific topic and some of those topics are about ordinary things like gardening, parenting, emergency preparedness, or self-improvement. Choose one of those topics, which, although not seemingly religious, do teach gospel principles. Every now and then, explain the gospel principle behind the topic. It's gentle missionary work—and it works.
What You Will Be Doing if Chosen

If you're chosen, you'll be asked to write one blog post a week, around 700 words or so. You will not be able to use articles that are already online elsewhere, even if you wrote them yourself. They must be written just for this site and not used anywhere else. Edit it and submit it. Let us do the final edit, the graphics, and the posting for you. We handle all the technical parts of blogging. When it goes live, tell your friends about it. That's all!
How to Apply
Choose one of the topics below that interest you. Name a second choice just in case other people apply for the same topic at the same time.
Write a sample blog post (around 700 words) for us on your first choice topic and list ten other articles you might someday write on the same topic. (Example: Single Parenting future articles might include how to find time for yourself, staying on a tight budget, and coping with Christmas when it's not your turn to have the children.) Teach something interesting. Include your personal experiences with the topic. People like stories. Remember that most topics are aimed at people who are not LDS. Explain any gospel terms or principles in a way they will understand. Please don't use a bio as your first article—we'd like to see how you address the topic normally. Submit it in Microsoft Word, as a Google doc, or in the text of the email.
Tell me a little about yourself. Include a few things that demonstrate you're really a Latter-day Saint.
Email it to:

[email protected]

We'll get back to you as soon as possible to let you know if you've been accepted.
Patty Sampson, blogger for the Living a Christian Life Topic says:
Do you like to write?  Do you have a family blog you update for Grandma? Wanna expand your horizons?  I have to admit when I first agreed to write for LDS Blogs, I was nervous. I wondered what I could have to say that hadn't been said already.  But so much like in life, if you open your mouth the Lord will put in the words. And I am so glad I took a chance and signed up!  I'm having so much fun writing!  And the topics are so uplifting that I feel like I am on a spiritual high with each article.  I've written three this week.  I was worried about writers block, but it seems to be the opposite.  I just may finish out the year before it really gets started. Sign up, it will change your life.
This is a very "follow the prophet" sort of site–we don't criticize the Church here.
Available Topics: 
Single Parenting
Grandparenting
My  Big Mormon Family (A daily life and inspiration blog focusing on large families–we're looking for a mother or father of at least five children still at home. Should help parents learn to be better at parenting, but every article doesn't have to be serious–if you want to do humor, you can–just make sure there are lessons mingled in most of the time.)
Food (recipes, nutrition, inspiration…)
Gardening
In the world, but not of it.
Preparedness
Music
Family Night Lesson plans (most designed for people who are not LDS)
Stories from Mormonism (stories from Mormon history and of modern Mormons, famous or otherwise, written in a storytelling style.)
Mormon Women (issues and lifestyle from a strict, conservative "Follow the prophet" perspective. No female ordination support)
Becoming Wise (Talking about how to overcome trials by making hard decisions, teaching children to be wise, and anything else that can help people become wise.)
Crafting with Kids
Family Activities (encouraging families to spend more time together and showing them how.)
LDS Married Men (By a man–we have a woman writing for wives currently).
Happy Marriages–aimed at non-LDS men and women but helping them learn to carry out happy marriages. Periodic articles about what Mormons believe about marriage can be placed among the regular how-tos.
Mostly for Mormons: What it means to be a Mormon past and present. A nice variety of articles on culture, doctrine, and living the Mormon life.
http://youtu.be/kXi8bYMjZok?list=PLDA1B3FAAD04DE08E
(407)
About Terrie Lynn Bittner
Terrie Lynn Bittner is the author of two homeschooling books and numerous articles, including several that have appeared in LDS magazines. She is married to Lincoln Bittner and is the mother of three grown children and grandmother to two girls. Terrie became a Mormon at the age of seventeen and has been sharing her faith online since 1992. She can also be found blogging about being an LDS woman at LatterdaySaintWoman.com.