Members of The Church of Jesus Christ of Latter-day Saints, known as the Mormons, believe that Joseph Smith was a prophet. That is, they see him filling the same role as Moses or Isaiah. He was called of God to teach and lead people, and to be a witness of Jesus Christ and His sacrifice.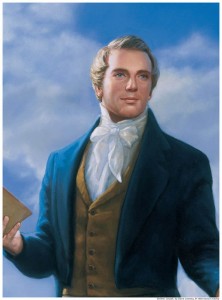 In discussing this, sometimes we are tempted to say, "Well, that is just a matter of faith," and then change the subject. The implication being that talking about God is like talking about breeds of unicorns—both God and unicorns are just fantastic creatures, so any discussion of either is merely academic. Or worse—nonsensical.
I disagree. I think these types of discussions about God can have merit, especially if done between close friends and in a relaxed setting.
Near the beginning of World War Two, Hugh B. Brown, a member of the Church who later became an apostle, had a theological discussion with a friend of his in England. They began by talking about the looming war-clouds, and then his friend, who happened to be a Member of Parliament and a lawyer, asked Hugh B. Brown to prepare a brief on his faith.
Following the advice of Peter ("Be ready always to give an answer to every man that asketh you a reason of the hope that is in you."), Brown said that he could give him the information right then and there
The discussion (which Brown said was like the process of discovery in legal proceedings) was an intellectual rough-and-tumble. They began with discussing the MP's personal beliefs, and then they debated a version of the Epicurean Paradox. Next they established God's modus operandi, which led to a discussion of prophets. The two men finally formulated what Brown later called a profile of a prophet.
Here is what they came up with:
1. He will boldly claim that God had spoken to him.

2. Any man so claiming would be a dignified man with a dignified message—no table jumping, no whisperings from the dead, no clairvoyance, but an intelligent statement of truth.

3. Any man claiming to be a prophet of God would declare his message without any fear and without making any weak concessions to public opinion.

4. If he were speaking for God he could not make concessions, although what he taught would be new and contrary to the accepted teachings of the day. A prophet bears witness to what he has seen and heard and seldom tries to make a case by argument. His message and not himself is important.

5. Such a man would speak in the name of the Lord, saying, "Thus said the Lord," as did Moses, Joshua, and others.

6. Such a man would predict future events in the name of the Lord, and they would come to pass, as did those predicted by Isaiah and Ezekiel.

7. He would have not only an important message for his time but often a message for all future time, such as Daniel, Jeremiah, and others had.

8. He would have courage and faith enough to endure persecution and to give his life, if need be, for the cause he espoused, such as Peter, James, Paul, and others did.

9. Such a man would denounce wickedness fearlessly. He would generally be rejected or persecuted by the people of his time, but later generations and descendants of his persecutors would build monuments in his honor.

10. He would be able to do superhuman things—things that no man could do without God's help. The consequence or result of his message and work would be convincing evidence of his prophetic calling: "By their fruits ye shall know them" (Matthew 7:20).

11. His teachings would be in strict conformity with scripture, and his words and his writings would become scripture. "For the prophecy came not in old time by the will of man: but holy men of God spake as they were moved by the Holy Ghost" (2 Peter 1:21).
That is an impressive list, to which many other things could be added. But the point stands that Joseph Smith meets every one of these criteria. He is on equal footing with any other biblical prophets. And that is one of the reasons why I am so attracted to him.
And it goes beyond simple attraction. It is a burning and abiding faith in his mission as prophet.
On the 200th anniversary of Joseph Smith's birth, Thomas S. Monson, now the sixteenth president of the Church, said:
"I know he was God's prophet, chosen to restore the gospel of Jesus Christ in these latter days. I pray that as we celebrate the 200th anniversary of his birth, we may learn from his life. May we incorporate into our own lives the divine principles which he so beautifully taught—by example—that we, ourselves, might live more completely the gospel of Jesus Christ. May our lives reflect the knowledge we have that God lives, that Jesus Christ is His Son, that Joseph Smith was a prophet. (Thomas S. Monson, "The Prophet Joseph Smith: Teacher by Example," Ensign, Nov 2005, 67)
I add my faith to his. I know that Joseph Smith was a prophet. The things that he said happened to him really did happen to him. I have come to this conclusion because I have read his words, his teachings, and his journals many times over. Moreover, I have also felt God whispering to my heart, affirming what I have studied and read.
Of course this is in the realm of faith, but we can all make that leap of faith and know that Joseph Smith was a prophet. That is what motivates me and that is why I blog.
We hear much in the church about the importance of leadership, but less about what Roger Merrill calls followership. There is no point in having leaders if there is no one to follow, and followership is an excellent place for new members to provide service in the church. When we learn to effectively and humbly follow our leaders, we show respect for the Lord's choices for leadership. Since we are all asked to follow the Savior, learning to follow righteous earthly leaders is good training for this.
Brother Merrill advises:
"A good follower asks what to do and is willing to receive and listen to counsel and advice from his leaders. The brother of Jared was advised by Jared and the Lord, and the sons of Mosiah were advised by their father, and by Alma, and they followed this advice.

A good follower must be willing to accept responsibility and to make recommendations that will be accepted by the leader. This means that a follower must try to learn about his leader's ways. He should try to anticipate the leader's needs in a creative way and seek constantly to do the things that the leader needs to have done. A follower needs to act on his own and to bring to pass much righteousness of his own free will. This implies that the follower must understand true principles so that the things he does will bring to pass righteousness and not wickedness. Many young people in the Church have great leadership potential, but in many cases, it will not be realized because they will not first learn to follow. A great leader is first a great follower. Become a great follower. Do what you are told. Ask what to do and listen to counsel. Accept responsibility; make recommendations, carry them out, and bring to pass righteousness because of your own free will. There are no shortcuts to confidence or righteousness. We must be willing to take them a step at a time and walk before we run. We must follow before we lead."
Although this quote refers to people in callings, it is also good advice for those of us who don't have callings, but are active members in a ward. Nearly every week our leaders give us counsel and advice, and we can accept responsibility for carrying them out. Has a leader asked that members sign up for building cleanup or participate in a community service project? Has he asked us to work harder on reverence in a meeting? Whenever a leader makes a righteous request, we're expected to act on those requests. This allows us to learn to follow righteous counsel, and prepares us for future leadership opportunities.
When we remember that each leader is called of God, it becomes easier to follow our leaders and to show them respect. This builds our testimony, our humility, and our ability to live the gospel.
Go on, admit it. Every mother's been there. It's what we do every single day of our lives. We are faced with this huge task of taking a totally dependent little bundle of joy from point A to point B (where they are a happy, productive adult member of society). Subconsciously, we just know we are failing. Subliminally, we recognize that we're just making things more difficult for ourselves. Yet, we can't seem to force ourselves to do things differently. We cling to the silliest things, and let go of some of the most practical. We secretly idolize our own mothers (whether we hate them or not) because they did manage to make it to point B, but we have no real idea how they did it. We openly fear exposure of our inadequacies and keep on going as if we know exactly where we are headed and what we are doing.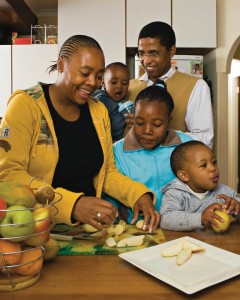 There is so much information available to us as mothers. Information that tells us: just what to expect, when to expect it, where to take our children on vacation, why we shouldn't feed them red dyes, reasons to co-sleep and reasons not to co-sleep. We are completely informed, and completely helpless. Surely, we can't be considered good mothers if we aren't reading to our children for at least 30 minutes every day, or let our 1-year-old watch television while we take a shower. Shall I continue?
For my own part, I think I have figured out at least one thing. It's all about love. I love my children so much that I'm almost desperate to make sure I don't inadvertently mess up their entire lives. The key is that love. I need to remember that love, stuff, activities and bedtime stories are different. Maybe all I really need to get to point B is simply love. Love the way my child understands it, rather than the way I think they should understand it.
Perhaps the places we need to look are really simplistic in nature.
James E. Faust gives some beautiful advice for mothers. His advice?
"May I suggest that you take your challenges one day at a time. Do the best you can. Look at everything through the lens of eternity. If you will do this, life will take on a different perspective."

James E. Faust, "Instruments in the Hands of God," Ensign, Nov 2005, 114
Then, we can get a little more specific.
"It is my prayer that the Spirit will burn within you, that you will have a greater desire to strengthen your family now and prepare for your future family. The scriptures are filled with ways to teach us how to strengthen our families. There is no greater teacher than the Savior. As you study His teachings and follow His example, you can make your family life better. Let's talk about three principles that will help you strengthen your home and family:

• Nurturing
• Sacrifice
• Prayer

To nurture means to support each other, to encourage each other, to nourish and love each other. Are we doing this in our families?

The Savior Himself taught us to nurture. Many times He said, "How oft have I gathered you as a hen gathereth her chickens under her wings, and have nourished you" (3 Ne. 10:4).

The Savior is so proud of you. He knows what you're going through. He understands how hard it is for you to make sacrifices. The Savior taught us to sacrifice. He sacrificed His life for all mankind.

As you help strengthen your family, prayer must be a consistent, daily part of your life. Prayer will protect you from the adversary, give you peace, and help your families love each other more.

How can you use prayer to strengthen your family? Because Heavenly Father loves you so, He wants you to talk to Him. Whatever struggles you may have, you can pray about anything. . .

Pray over problems that worry you! Don't give up. Heavenly Father can and will answer your prayers. I have had many prayers that have been answered. I also have prayers that have not been answered yet. Our prayers will be answered in the Lord's time when we are ready."

Carol B. Thomas, "Strengthen Home and Family," Ensign, May 2002, 94
A mother's love is desperate and eternal. We face such a great challenge trying to raise our children up to their full potential. It's often overwhelming and sometimes discouraging, but you are not left alone. Look to the simplest part of your love, the core at the very center of your heart that mirror's God's own love for you. Draw from the strength that can give and focus on the basics.
Take it one day at a time, with:
Faith
Nurturing
Sacrifice, and
Prayer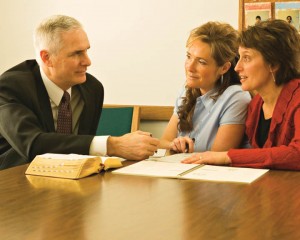 Since joining the church, you've probably become aware that we have a great need for leaders. There are many positions which require leadership, and most people get a chance to be a leader sooner or later. When I joined the church, I was certain I would not be one of them. I was most definitely a follower. It didn't work out that way, of course. I was eventually called into leadership positions and had to learn to become a leader.
You can begin this process now, even though you're new to the church and probably don't have a leadership position yet. Even if you have no leadership experience anywhere, you can be prepared when the time comes.
Watch the leaders in your ward (congregation.) Notice how they lead a meeting, so you'll understand how it's done. When you attend an event, try to figure out what the leaders might have had to do to prepare.
President Spencer W. Kimball, a former president of the church, had this advice for women on leadership: "Do you think of leadership as telling others what to do, or as making all the decisions? Not so. Leadership is the ability to encourage the best efforts of others in working toward a desirable goal. Who has more significant opportunities to lead than a mother who guides her children toward perfection, or the wife who daily counsels with her husband that they may grow together? The tremendous contribution in leadership made by women in the auxiliaries of the Church and in their communities is likewise beyond measure." Spencer W. Kimball, "Relief Society—Its Promise and Potential," Ensign, Mar 1976, 2
Anyone, male or female, can practice this type of leadership. We all know people who need encouragement. We all know people who need help managing a complicated project, or even a complicated life, and who would welcome a helping hand.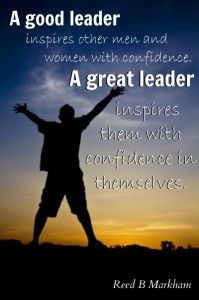 We can practice organizing our own lives as well. When you have a large project, take time to think it through and to decide what steps must be done in order to complete it. Be sure to spend time in evaluation later. This practice will help you later when you're put in charge of something important.
Become a good listener. Leaders often spend much of their time listening to others, and being compassionate. Get to know people who are different from you, so you can understand other lives and cultures, making you a more effective leader of others.
Study how the Savior led and begin using those skills in your daily life. For more on this, read "Lesson 29: Developing Leadership," The Latter-day Saint Woman: Basic Manual for Women, Part B, 247. This lesson includes an analysis of the Savior's leadership style, with suggestions on how we can apply it to our own leadership.
Don't expect perfection the first time you lead. Leadership takes time to develop, but over time, you will find many opportunities in the church to develop this skill.
Here is how a recent Sunday of mine went:
I got up at 3:30 AM to go to work. I work at a hospital, which explains both the oddball hours and why I was at work on Sunday. The Church of Jesus Christ of Latter-day Saints, known as the Mormons, affirms the Law of the Sabbath and holds worship services on Sunday. However, the Church also allows servicemen, first responders, peace officers, and so forth to do their jobs on Sunday. A hospital, of course, comes under these obvious exemptions.
By the way, if you have this odd-hour, graveyard shift scheduling, one fun hobby to pick up is astronomy. Right now the stars Deneb, Vega, and Altair make a wonderful triangle, and Arcturus is a gem!
There is a relevant passage in The Book of Mormon: Another Testament of Jesus Christ, which Latter-day Saints believe to be scripture. The prophet Alma is confronting Korihor, a wicked philosopher. The discussion turns to the topics of God's existence. Korihor says that he does not believe that God exists. He then asks Alma for a sign. Alma replies:
"Thou hast had signs enough; will ye tempt your God? Will ye say, Show unto me a sign, when ye have the testimony of all these thy brethren, and also all the holy prophets? The scriptures are laid before thee, yea, and all things denote there is a God; yea, even the earth, and all things that are upon the face of it, yea, and its motion, yea, and also all the planets which move in their regular form do witness that there is a Supreme Creator." (Alma 30:44, emphasis added.)
Astronomy (not astrology) can be a faith-promoting science.
After I finished my shift at work, I came home and made a Carnation Instant Breakfast, put on some church music, and then had a catnap. When I woke up an hour later, I put on my church clothes and went home teaching with my companion.
Home teaching is a program in the church were two men are assigned to visit a certain number of families. We deliver a spiritual message, and then see how they are doing, both spiritually and with physical necessities. It helps unify the congregation, and eases the workload of the local leadership.
The first family we visited had recently graduated from university. The husband had a summer internship, while the wife was looking for a job. I referred her to LDS Employment Resources Services. This is a job-hunting and career planning service offered by the Church. They have several senior missionaries that help people in need. They help with writing résumés, interviewing practice, internet job-hunting, and so forth. They also have resources for self-employment, small business entrepreneurs, and home-businesses. All of this for free.
We then visited our second family. They dropped a bomb on us. The husband got an education opportunity in the San Francisco Bay Area, so they were moving next month. So we spent most of the time talking about their plans: How they were getting there? Did they have an agent or any buyers? What about the furniture? We got a nice tour of the house, which was good practice in dealing with potential buyers.
We then delivered the spiritual message, which was from Thomas S. Monson, the current world leader of the Church of Jesus Christ. He began the spiritual thought this way:
"When I was a boy, I enjoyed reading Treasure Island, by Robert Louis Stevenson. I also saw adventure movies where several individuals had separate pieces of a well-worn map which led the way to buried treasure if only the pieces could be found and put together."

"I recall listening to a 15-minute radio program each weekday afternoon—Jack Armstrong, the All-American Boy. As it began, a voice filled with mystery would emanate from the radio: "We now join Jack and Betty as they approach the fabulous secret entry to the elephants' burial ground, where a treasure is concealed. But wait; danger lurks on the path ahead." Nothing could tear me away from this program. It was as though I were leading the search for the hidden treasure of precious ivory."
I pointed out that Raiders of the Lost Ark used a similar gimmick: Indiana Jones has to bring Marion Ravenwood along with him because she owned the Headpiece to the Staff of Ra, which Indy needs to find the Ark of the Covenant. The friction between these two ex-lovers adds to the comedy of the film.
I also pointed out that we sometimes get funny ideas about spirituality. We sometimes get the idea that we aren't supposed to like these adventure stories because they are not "churchy." Righteous people just don't watch these types of things. But the prophet of our church used these fun adventure stories to illustrate an important spiritual truth.
President Monson explained:
At another time and in a different setting, the Savior of the world spoke of treasure. In His Sermon on the Mount, He declared:

"Lay not up for yourselves treasures upon earth, where moth and rust doth corrupt, and where thieves break through and steal:

"But lay up for yourselves treasures in heaven, where neither moth nor rust doth corrupt, and where thieves do not break through nor steal:

"For where your treasure is, there will your heart be also."

The promised reward was not a treasure of ivory, gold, or silver. Neither did it consist of acres of land or a portfolio of stocks and bonds. The Master spoke of riches within the grasp of all—even joy unspeakable here and eternal happiness hereafter.

I wish to provide the three pieces of your treasure map to guide you to your eternal happiness. They are:

1.Learn from the past.

2.Prepare for the future.

3.Live in the present.

(Thomas S. Monson, "Treasure of Eternal Value," Ensign, Apr 2008, 4–9.)
The visits took two hours total. I came home, cooked a microwave dinner, reheated some homemade cornbread, then had a large salad. After my late lunch, I did some Sunday reading.
I am reading We Reach The Moon, a book about the Apollo 11 moonshot. Then I read a chapter in Miracle At Philadelphia, about the 1787 Constitutional Convention. I also read in a theological commentary, and then a chapter in a book on personal finance. I am also slowly plodding my way though The Life And Times Of Jesus The Messiah, by Alfred Edersheim. I got about halfway through the chapter and realized that I had not yet written in my journal.
My memory is not as good as the already written page, so I stopped reading at a convenient break, and set the book aside. The journal entry was a short one, mostly recording three dreams I had.
The journal is really a writing journal for another project I am working on. And when your mind is purring like a Formula-1 engine, your dreams can take on a creative significance. And, of course, God speaks to people by way of dreams. The Bible says, "And it shall come to pass afterward, that I will pour out my spirit upon all flesh; and your sons and your daughters shall prophesy, your old men shall dream dreams, your young men shall see visions." (Joel 2:28)
So I recorded these dreams. When I finished putting my journal in order, I then retired.
I mention this "day in the life of a blogger" for one reason: There are two reasons why I spent my Sunday this way, instead of vegging-out in front of the idiot box, or hanging out at the beach or a casino.
The first reason is my faith in Jesus Christ. I have a testimony, or a witness that He is the Son of God, and that He died for my sins, and that He resurrected.
The second reason is my faith that Joseph Smith was called of God to establish a Church, to translate The Book of Mormon, and to restore the priesthood to operate this church.
Since I actually and honestly believe these things, I change my behavior accordingly. I do what I do because I know what I know. I spent my time that Sunday in the way I did because of both Jesus Christ and Joseph Smith.
One hundred and eighty-eight years ago, Joseph Smith walked into a nearby grove and prayed. He had two concerns. One was about his sins—he wanted forgiveness. The second was about denominationalism—he wanted to know which church to join.
In response to that prayer, God the Father and Jesus Christ appeared to him. The Savior said that Joseph's sins were forgiven him. He was also told not to join any church, since they were not recognized by the Lord. He was also told that the fullness of the gospel would be made known to him at a future point.
What I did that one Sunday was a direct result of this First Vision of Joseph Smith. If you believe that God exists, that His Son died for our sins, and that there is a true church on the face of the earth, then it affects everything you do. Your priorities in life are completely different.
In this sense, I feel a close connection to Joseph Smith. Across the ages, Joseph Smith and I are coworkers and compatriots in this religious endeavor. Not in a mystical sense, but in a way that causes me to order my daily schedule in such a way to serve. It's a matter of both faith and works.
It may seem like a strange goal in life, but I want to fade into the background. I'm not one who honestly enjoys being in the public eye, on the other hand I love watching my work make someone happy. My favorite place to be is in the background, quietly finding all the little things I can to do help the project along, whatever it may be. That's my favorite place in the gospel as well.
There is a song I was introduced to many years ago that talks about becoming someone who reflected God's love so well that those around couldn't see beyond the glow. It was an honest prayer to live a life that testifies of Christ and draws people to Him. That's the life I want. I want to be the person in the scriptures who only has one line, but provides a little bit of help or knowledge that leads to greater things. I want to be the man who offered his upper room for Passover; the same upper room that would see Christ administer the sacrament for the first time. Or, the one who offered his tomb. I want to be Rhoda, who happily announces the presence of a prophet whether she is believed or not. Or Lydia, who worshiped God with an open heart. I admire Eunice and Lois, the mother and grandmother of Timothy. Eunice's letter to her son Timothy contains some of the most quoted scriptures among disciples of Jesus Christ. Though they bring us great faith and courage, we often associate them with the prophet Timothy, not his mother. What are these famous words?
For God hath not given us the spirit of fear; but of power, and of love, and of a sound mind.
Be not thou therefore ashamed of the testimony of our Lord, . . . 2 Timothy 1:7-8
These are the types of people I admire. I want to be that quiet force for good, the one who gives the council no one really remembers where it came from, but pass on to others around them. I want those around me to truly see Christ in me. I want to radiate His goodness and my love for Him. I don't mind staying out of the limelight, because that's where I can do the most good as a disciple of Christ.
The desire of a disciple's heart is to be of service, to express love for the Savior in every aspect of our lives. That role is not the same for everyone, but each undertaking is an important part of His gospel. Find your role, the place where Christ most needs you to be. Whether great or small, embrace the tasks God gives you and let Him work through you. Take the council of Eunice to heart and let God's power, love and thoughts work through you as you proudly share a testimony of the Savior. Try fading into the background and letting Christ have the starring role.
God does not just speak to the multitudes; He also speaks to us individually. In the beginning,
The Church of Jesus Christ of Latter-day Saints
(sometimes referred to as Mormons) was very small, and people had a lot of direct contact with the prophet,
Joseph Smith
. People would frequently approach the prophet and ask him to pray to God in their behalf for specific direction they were seeking, which he often did (many examples can be found in a modern book of scripture known as the
Doctrine and Covenants
).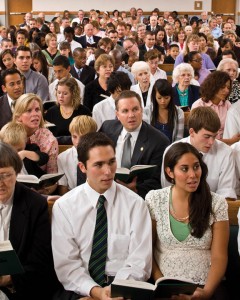 Today, with a church membership approaching 13 million members and more than half of those living outside the United States, one is fortunate to be in the same venue where the prophet is speaking, much less have a private conversation with him. But that doesn't mean that church members cannot receive specific direction for their lives when needed. The Lord guides His children primarily in three ways:
First, He has given every baptized member of the church the Gift of the Holy Ghost. The Gift of the Holy Ghost entitles the recipient to the constant companionship of the Holy Ghost provided they are living worthily. The Holy Ghost knows all things. He can guide us not only the way we should go, but also warn us against taking a path that might be dangerous.
Secondly, He has given worthy men the Priesthood, the authority to act and bless others in His name. Priesthood holders can not only bless the sick, as Christ blessed the sick, they can give blessings of comfort and direction in times of need. Typically a blessing is sought out by a close relative: a husband, father, or brother. If a relative is not able to give the blessing, families can seek out the assistance of priesthood holders in their ward (congregation). They place their hands on the head of the individual in need of a blessing and through the power of Christ utter words of divine counsel and reassurance.
In the Bible it records the blessings of fathers to their sons, to pass on the birthright, as well as give counsel and direction to those who would be responsible for protecting and maintaining the family. Today in a somewhat similar fashion, worthy members of the church may receive what is known as a Patriarchal blessing. In this blessing they receive counsel and direction regarding their individual life's mission. They also learn through which lineage of the twelve tribes of Israel they inherit their spiritual birthright. The Lord made certain promises to Abraham which are still valid for all his righteous descendants. Through a Patriarchal blessing church members learn through which tribe of Israel they receive these promised blessings. Patriarchal blessings are administered through one ordained specially to administer them, and unlike regular priesthood blessings which may be sought at any time of need, are only given once in a person's life.
We can receive divine revelation specific to our individual needs. As long as we are doing our best to live our lives in accordance with God's commandments, He is eager and willing to speak directly to us through His appointed channels.
Changing bad behaviors isn't going to happen overnight, no matter how eager we may be to make it happen. The further into sin we are, the more difficult it will be to turn around. It's important to help youth understand that making significant changes to better our lives needs to be a step-by-step process.
ACTIVITY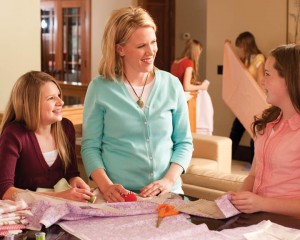 Scripture:
"For precept must be upon precept, precept upon precept; line upon line, line upon line; here a little, and there a little" (Isaiah 28:10).
Learning is a step-by-step process, whether we're learning about how to change a tire, or how to turn away from sin. To help youth understand the process a little better, try putting together some 'Stepwords.'
"Stepwords are pairs of words of equal length which can be changed from one to the other by switching one letter at a time and forming a new word with each letter switch. For example, change black to white by forming these words: black, slack, stack, stalk, stale, shale, whale, while, white. Make certain the words you choose can be changed (some can't be). Some sample stepwords include dry-wet, heat-cold, east-west, poor-rich, sick-well" (Alma Heaton, The LDS Game Book, [Salt Lake City: Bookcraft, 1968], p. 152.)
Ideas:
1. If there are just a few youth, use a chalkboard or dry-erase board and see how many sets of words you can figure out. See if there are different ways to get from dry to wet, or sick to well. Let your youth come up with their own step words and see if you can make them work.
2. If there are lots of youth, split up into teams and see who can finish eat set of words first.
3. You could make a big game of it. Trace a lot (and I do mean a lot!) of footprints. On each of these footprints you'll start with one word, such as black, and will write the changes on the other footprints until you reach white. Write a few footprints that will take you down a wrong path. It might look like it'll get you to your end goal, but will become a dead end.
Tape the footprints on the floor in a sort of maze and have the youth try the maze one step at a time (space the youth at least 30 seconds apart, or let them go in teams).
If you have a lot of room (like a gym or cultural hall), use several of the word sets. Once your youth get to the end of one (going from black to white) make the next footprint the beginning of another set.
Lesson Application:
As we make turn away from sin we need to replace bits of the bad habit with bits of good habits (like changing the word one letter at a time). For example, say you have a huge problem with swearing. You could start off by changing the words you use. Make up nonsense words like 'smag' to replace the bad word. Begin singing a hymn whenever you feel the urge to swear. As you do this you'll recognize what situations create that urge, and you can begin to avoid them.
Sometimes we think we have our goal in sight and we're on the right path, but wind up hitting a dead end. Instead of becoming frustrated, angry, and resentful, we need to learn to turn around, backtrack to where we went wrong, and then start on the right path. We might need to do this several times before we finally make it to our goal.
Other times we might have different choices of how to get to our goal, and each of them will help us make it. Just as we are all different, the path we take may be different than the one our friends will take. We have to do what's best for our own personalities and ways of living.
End with one more scripture. This one is taken from the Book of Mormon, another testament of Jesus Christ. I believe it brings Isaiah's message into better light.
"For behold, thus saith the Lord God: I will give unto the children of men line upon line, precept upon precept, here a little and there a little; and blessed are those who hearken unto my precepts, and lend an ear unto my counsel, for they shall learn wisdom; for unto him that receiveth I will give more; and from them that shall say, We have enough, from them shall be taken away even that which they have" (2 Nephi 28:30).
Have you found it difficult, since joining the church, to make some of the changes you need to make? Perhaps it's time to focus on your thoughts instead of just thinking about your actions.
We seldom do something we've never even thought of doing. Before we sin, we've tossed it around our minds and perhaps imagined it. For this reason, learning to control our thoughts is very important to learning to live without sin.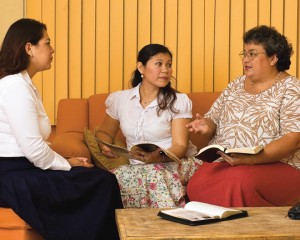 Elder Dean Larson suggested this tactic: "In order to sustain constructive thinking, it's necessary for us to have something worthwhile to think about, to have in reserve, … some items, some problems, some challenges, to which we can turn our minds, to think our way through to a solution." (Quoted in "Lesson 9: Purity of Thought," The Latter-day Saint Woman: Basic Manual for Women, Part B, 66.)
Elder Boyd K. Packer suggests memorizing church hymns you can sing when an inappropriate thought enters your mind. My mother used to help us memorize poetry we could recite during times when we needed to keep our thoughts moving in a good direction.
It's helpful to have a plan in place for such times. Memorize things you can recite—poetry, hymns, scriptures—or make a mental list of topics to contemplate when you need your mind appropriately. Is there a problem to solve, a strategy to plan, or a fun activity to dream up? Can you think of people you know and what service you might give them? Give an imaginary talk or lesson in your head. I use times when I'm alone, such as when I'm doing housework or driving, to plan my writing for the day.
The secret is to have a plan. When the negative or inappropriate thoughts come to mind, you need to know exactly what to think of instead. When you don't need to take time to figure out what to think of, your mind can go straight to work thinking and blocking out the negative thoughts.
Of course, it's also important not to put yourself into a situation that might encourage inappropriate thoughts. Monitor your media, and your surroundings. Try to avoid people and places that will send your thoughts the wrong direction. When working in the home, put on appropriate music. Surround yourself with reminders of the gospel in your home and car. Keep a small picture of the Savior in your purse or wallet, where you can look at it when you need a reminder. This will help you keep your thoughts pure, which will make it easier to keep your actions pure.
Early in my church membership I discovered I sometimes felt like the new kid in school. Members often talked of a past I knew nothing about. They had lived under prophets I didn't know and experienced church events I'd never heard of. One day, while shopping at the church owned Deseret Industries thrift store, I discovered some very old Ensign magazines. The Ensign is the church's magazine for adults. I sifted through them until I found some that were published long before I joined the church and purchased them. At home, I began to get caught up. I read the words of David O. McKay, a prophet many church members remembered and loved, and began to understand the things he had cared about. I read news stories of past events. After a while, I felt I had a better understanding of the church years I had missed by converting as a teenager.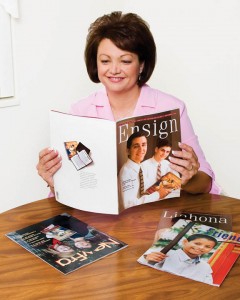 Today, of course, this process is much easier. Many old church magazines are now online at LDS.org in the Gospel Library. It can be fun to wander through the old magazines and learn about the churches history—recent to long time members, but unfamiliar territory for you.
Spencer W. Kimball was the prophet when I joined the church. He was a prophet for a very long time, so you may hear of him often. You can read some stories from his life in an article called, President Spencer W. Kimball:No Ordinary Man By Elder Boyd K. Packer. (Boyd K. Packer, "President Spencer W. Kimball: No Ordinary Man," Ensign, Mar 1974, 3)
In this article, for instance, you'll read this small story that shows you who he is:
"After his call to the Twelve he suffered a series of heart attacks. The doctors said that he must rest. He wanted to be with his beloved Indians. Brother Golden R. Buchanan took him to the camp of Brother and Sister Polacca, high in the pines of Arizona, and there he stayed during the weeks until his heart mended and his strength returned.

One morning he was missing from camp. When he did not return for breakfast, Brother Polacca and other Indian friends began to search. They found him several miles from camp, sitting beneath a large pine tree with his Bible open to the last chapter of the Gospel of John. In answer to their worried looks, he said, "Six years ago today I was called to be an Apostle of the Lord Jesus Christ. And I just wanted to spend the day with Him whose witness I am.'"
For a more organized study of church history, LDS.org has a section on the history of the church. Here you can get the story of the gospel from its restored beginnings, including the stories of all the prophets.
There is an entire website just on Joseph Smith you can explore, which includes images of original historical documents.
LDS.org is a wonderful way to catch up on the church's fascinating history. You can search it in small bits as you have time, and soon you'll understand all the references others make about our past.