When Jesus Christ created the earth under God's direction, he took only six of the allotted days to do the work. The seventh day He rested, and He commanded Adam and Eve to set aside that seventh day each week to rest and to worship.
Remember the sabbath day to keep it holy.

"Six days shalt thou labour, and do all thy work:

"But the seventh day is the sabbath of the Lord thy God: in it thou shalt not do any work, thou, nor thy son, nor thy daughter, thy manservant, nor thy maidservant, nor thy cattle, nor thy stranger that is within thy gates:

"For in six days the Lord made heaven and earth, the sea, and all that in them is, and rested the seventh day: wherefore the Lord blessed the sabbath day, and hallowed it." (Ex. 20:8-11.)
Today, that standard has become lost. Many people do consider the Sabbath to be a day of rest, but they interpret it as a day of play. Even those who attend church leave the building and head off to a restaurant, a park, or a football game. They leave God behind in the church building and don't give him any further thought that day.
The commandment given to Moses was to keep the Sabbath Day holy, meaning the entire day. Six days belong to us, to do with them as we choose, but God asks for just one of those days to be focused entirely on Him.
Keeping the Sabbath Day holy is critical to our eternal well-being. Those who do it and choose wisely how to do it find they approach the challenges of the coming week feeling more peaceful and better able to make Christ-centered choices. They use the opportunity to get to know God better and to strengthen their relationship. It can be challenging, during a busy work week, to find uninterrupted time for this, and the Sabbath, when dedicated to this purpose, allows a person to find that time.
Church attendance, of course, is an important part of the process. This allows us to be with others who share our faith and it allows us to be taught by others, giving us new insights into the gospel. If we also have church work, it allows us to learn the gospel at a deeper level than we might otherwise take the time to do, and to serve God and others. Church attendance gives us an opportunity to partake of the sacrament (communion) and renew the covenants (promises) we've made to God.
The time after church is more challenging, because we have to choose for ourselves how to spend it. We often hear so many lists of things we're not supposed to do that it becomes difficult to figure out what we can do. In general, appropriate Sabbath activities include:
Those things that bring us closer to God

Those things that serve others.

Those things that strengthen family relationships.
Now, there are things that fit into those catagories, but still don't meet the standards of Sabbath activity. For instance, going to an amusement park might strengthen our family, but it's meant to be done on a Saturday. Sabbath family time should be quiet and meaningful. Appropriate ways to spend time with the family on the Sabbath might include quiet conversation, reading scriptures together, having a family council meeting, or working together on a quiet service project.
Sabbath activities should be meaningful and peaceful, and should be done without spending money. A person who lives alone might choose to visit someone who is lonely or ill, write letters to family members, work on family history, or embark on a systematic study of the Bible.
On the Sabbath, we stay out of the world and spend our time in Godly places-our churches and our homes. The amusement parks and baseball stadiums will still be there next Saturday. Today, the television can bring those worldly places into our homes, forcing us to be even more cautious in how we spend our time.
We also dress differently on the Sabbath. We wear our nicest clothing to church, and remain nicely dressed throughout the day, in order to honor God on His day. While children won't stay in fancy clothing, they can still wear special clothing that is appropriate to wear on a sacred occasion.
Only necessary work should be done-simple meals can be prepared, or meals can be prepared ahead. Children must be cared for and entertained, but those old enough to participate in the Sabbath can be given special toys that are quieter and that focus on God, such as flannel board stories from the Bible, scripture story books, and gospel games. If these toys are reserved for the Sabbath, they help the child learn at a very young age that there is something special about the Sabbath Day.
Marvin J. Ashton warned, "Sometimes the freedoms and blessings of the Sabbath can be lost by attitudes that allow selfishness and lack of personal involvement in tried-and-true patterns. Sabbath days can be lost an hour at a time. Sabbath days can be lost an outing at a time." (Marvin J. Ashton, "'Strengthen the Feeble Knees'," Ensign, Nov 1991, 70)
To keep from losing our Sabbath for even an hour, it's important to have a plan. Keep a list of appropriate Sabbath Day activities that can be viewed and chosen from. If an item on the list turns out not to promote spiritual feelings, remove it and put another activity in its place. Teach children to consult the list as well. If you take a few minutes each Saturday to plan your Sabbath Day, you'll soon find the day is too short for everything you hoped to do.
John H. Groberg offered this promise to those who honor the Sabbath:
"Does the Lord love and bless those who keep the Sabbath day holy? I testify that he does in eternally meaningful ways. I further testify that when we eventually see things through the proper perspective of eternal truth, we will be amazed at how much we were blessed in important-though often unperceived-ways through keeping the Sabbath holy; and to our sorrow we may sense how many blessings we kept from ourselves by not consistently keeping the Sabbath day holy.

There is a direct correlation between the proper observance of the Sabbath and true reverence for God, which includes obedience to his other commandments." (John H. Groberg, "The Power of Keeping the Sabbath Day Holy," Ensign, Nov 1984, 79)
In the last General Conference before his death, Elder Joseph B. Wirthlin, an apostle of the Lord, gave a memorable talk entitled "Come What May and Love it." In this talk, he explains that the title of the talk is the advice his mother gave him at a time when he was upset over a football game he'd lost. He explained that every life has moments of hardship or sadness, and over time, he had developed several techniques for coping with them.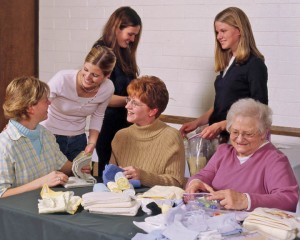 The first was to learn to laugh at mishaps instead of getting angry. He suggests this lengthens your life and makes the lives of others around you more pleasant as well. This is a lesson I learned long ago. I teach young children in church and there was a day when we found a body in the classroom-he turned out to be asleep, but looked dead-and a child asked me to explain where babies came from. The students got the giggles at the wrong moment and every carefully planned activity seemed to go awry. I could burst into tears or I could laugh. Over time, I've learned that laughter is better. When I have a bad class, I go home and search for the humor in it, and am somewhat known for my funny teaching stories. It just seems easier than crying, which is what I used to do after bad days.
Elder Wirthlin's next tip was to seek for the eternal. He reminds us no one is exempt from trials, and points to several scriptural heroes who struggled with great trials, including Abraham and Moses. While their trials were great, there were eternal blessings that came from the trials. Trials can become blessings, but we can't always see what the blessing will be just at first. God sees life through an eternal spectrum and knows things we don't know. If we can trust Him, eventually, we too will understand how our trials can bless us and what we've learned from coping with them. Elder Wirthlin taught, "Sometimes the very moments that seem to overcome us with suffering are those that will ultimately suffer us to overcome."
He next suggests adopting the principle of compensation. Elder Wirthlin explains, "The Lord compensates the faithful for every loss. That which is taken away from those who love the Lord will be added unto them in His own way. While it may not come at the time we desire, the faithful will know that every tear today will eventually be returned a hundredfold with tears of rejoicing and gratitude." This step, too, requires patience and faith, but it can help if we look at the loss and imagine what the compensation would be. Again, if we develop enough trust in God, waiting for the compensation can help us through the trials. Anticipation brings pleasure to lives.
His fourth step is to trust God and Jesus. This is encompassed in the previous steps, but it is helpful to keep it in mind as a separate step. It's easy to trust God when things are going well, but the real test of faith is to see if we still trust Him when we can't see how things could possibly work out. Reading the scriptures can help, because they are filled with true stories of people who trusted God and were rewarded for their faith.
One of my favorite stories of trust is found at the start of the Book of Mormon. Lehi, a wealthy man, was called to be a prophet. When his life was endangered, he was told by God to take his family, leave behind his wealth, and flee into the wilderness. While most of us would have serious doubts about that, perhaps even wondering if we'd really heard God correctly, Lehi didn't hesitate. He packed up a few essentials and left everything behind. He had prophesied the destruction of Jerusalem, and he had faith in those prophecies. He knew if he'd stayed, he'd have been killed, either by the people of Jerusalem, or those who would come to destroy it shortly.
While most of us won't receive direct revelation telling us what's coming up, we can learn to place our trials in God's hands and then trust Him to handle them well. In the meantime, we can train ourselves to look for the joy in every day. Even in the very worst days, there can be small bits of joy if we trust God enough to search for them.
Come what may and love it.
Read the entire talk on loving life.
All through my life I've known the importance of temples. I've known they are necessary for us to know where we came from, why we are here, and where we are going after this life, because the temple ritual is a review of God's Plan of Salvation.  Temples are also important to help family relationships extend beyond this life and last for eternity. With temples we can also make these blessings possible for our departed ancestors. These truths are taught to members of The Church of Jesus Christ of Latter-day Saints, known as the Mormons, from the time they are little and throughout the rest of their lives. I have a testimony of this but wondered why it was so difficult to attend the temple.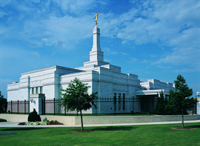 So often my good plans of temple attendance were derailed or sidetracked. Why was it that months passed between trips to the temple? Often at the end of the year I would look back and realize that I had only attended a handful of times. For awhile the nearest temple was in Dallas Texas, a five hour drive away. Then we received the wonderful announcement that we would have a temple in Oklahoma City in 2000. This cut our driving time to less than two hours but unfortunately my temple attendance did not improve.
This really started to bother me as I listened to lessons at church and heard talks in general conference reiterating the importance of temples. It was obvious that temples are important to the Lord and I wanted them to be important to me.
I came across the following words spoken at the funeral of Joseph Smith Sr., father of the prophet Joseph Smith Jr., the prophet of the restoration.
"To dwell in the house of the Lord, and to inquire in his temple, was his daily delight; and in it he enjoyed many blessings, and spent many hours in sweet communion with his Heavenly Father. He has trod its sacred aisles, solitary and alone from mankind, long before the king of day has gilded the eastern horizon; and he has uttered his aspirations within its walls, when nature has been asleep. In its holy enclosures have the visions of heaven been opened to his mind, and his soul has feasted on the riches of eternity." (History of the Church 4:194)
Why weren't my visits to the temple a "delight" and why hasn't my "soul feasted on the riches of eternity"? I decided to take my desires to my Heavenly Father. I knew He would answer my prayers, but as a wise man once said, "You can't steer a parked car." I knew I needed to get to work and "must study it out in [my] mind" (Doctrine and Covenants 9:8). I needed to see what more I could learn about temples.
I decided to start learning about the temples of old. I read about the tabernacles that the Lord commanded the Israelites to build as they journeyed through the wilderness. I read about the Temple of Solomon in all of its glory. The Temple of Zerubbabel was next followed by the Temple of Herod visited by the Savior during his earthly ministry.
In the Book of Mormon, another testament of Jesus Christ, near the beginning of its history, a prophet named Nephi built a temple "after the manner of the temple of Solomon save it were not built of so many precious things". (2 Nephi 5:16) Then I read in Mosiah about the great speech King Benjamin made from the temple in the land of Zarahemla (Mosiah 2-6). Of course, who could forget the climax of the Book of Mormon where the resurrected Savior visited the people who were gathered at the temple in the land Bountiful (3 Nephi 11-26)?
Moving my focus to the latter-days I learned about the commandments of the Lord "to build a house to me" (Doctrine and Covenants 124:33) and the intense struggles the early members of the Church had to fulfill that commandment.
It was evident that temples were central to the people of God in all ages. It seemed to me that there had to be additional benefits of temple attendance for the living—more than I currently understood.
A large piece of the puzzle fit into place as I read the words of George Q. Cannon at the Logan Temple cornerstone dedication:
"Every foundation stone that is laid for a Temple, and every Temple completed according to the order the Lord has revealed for his holy Priesthood, lessens the power of Satan on the earth, and increases the power of God and Godliness, moves the heavens in mighty power in our behalf, invokes and calls down upon us the blessings of the Eternal Gods, and those who reside in their presence" (Millennial Star, 12 Nov. 1877, p. 743).
Our loving prophet, President Gordon B. Hinckley (1910 – 2008), obviously understood this principle. Looking back to the October 1997 General Conference when President Hinckley announced the plan to build smaller temples around the world, there were 50 temples in operation. According to www.lds.org, there are currently 146 temples announced, under construction, or operating across the world. What an amazing and miraculous accomplishment in 12 short years!
I was beginning to understand. We live in a time that is becoming exponentially more evil. Heavenly Father knew this and instructed President Hinckley to build more temples. He almost tripled the number of temples in fact! I realized this was to provide the power and protection for us spiritually as well as lessen the Adversary's affects and power on the earth.
As I continued my studies, I noticed three blessings of the temple that I had not noticed before: power, protection, and spiritual refinement.
John A. Widstoe taught that temple service not only strengthens us personally but affects the entire community. He said, "Men grow mighty under the results of temple service; … the community increases in power; until the devil has less influence than he ever had before" ("Temple Worship," The Utah Genealogical and Historical Magazine, Apr. 1921, pp. 51).
President Boyd K. Packer, the president of the Quorum of Twelve Apostles for the Church, explained why attendance can be so difficult at times when he said, "Temple work brings so much resistance because it is the source of so much spiritual power to the Latter-day Saints, and to the entire Church" (The Holy Temple, p. 178).
Continuing to teach about power, protection, and spiritual refinement, Pres. Packer stated:
"No work is more of a protection to this Church than temple work and the genealogical research which supports it. No work is more spiritually refining. No work we do gives us more power. No work requires a higher standard of righteousness.

Our labors in the temple cover us with a shield and a protection, both individually and as a people.

If we will accept the revelation concerning temple ordinance work, if we will enter into our covenants without reservation or apology, the Lord will protect us. We will receive inspiration sufficient for the challenges of life" (The Holy Temple, p. 265).
"We are bombarded on all sides by a vast number of messages we don't want or need. More information is generated in a single day than we can absorb in a lifetime. To fully enjoy life, all of us must find our own breathing space and peace of mind. How can we do this? There is only one answer. We must rise above the evil that encroaches upon us. We must follow the counsel of the Lord, who said, "It is my will, that all they who call on my name, and worship me according to mine everlasting gospel, should gather together, and stand in holy places (Doctrine and Covenants 101:22)" ("Standing in Holy Places," Ensign, May 2005, 62).
I know I am "bombarded on all sides" and I know I need a "shield and a protection". I see the world around me and I know that we need to "lessen the power of Satan on the earth". All that I hold dear depend on my ability to withstand the temptations of the world and endure to the end. I have often worried about how to best prepare my young children to succeed in this world. I know if they understand the power and protection the temple affords, they will be more apt to make temple worship a high priority.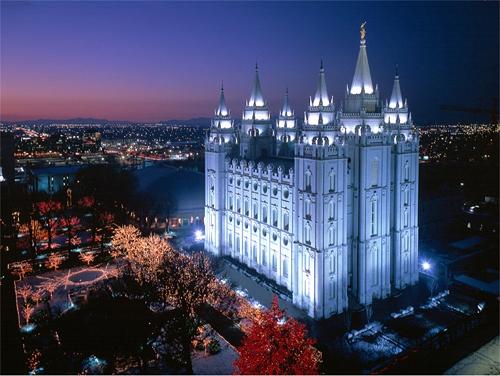 I know a lifetime of study may not be enough to fully understand everything about the temple but now I understand enough to help me realize how important it is. We have many tools to help us on our journey and the temple is a very powerful one.
Now as I prepare myself to attend the temple I am filled with excitement. I eagerly mark our ward temple dates on my calendar. The temple has become a top priority for me and attendance has become regular. The old excuses and roadblocks melt away as my priorities shift and I can see Heavenly Father's hand helping me accomplish my righteous desires. My time in the temple has become a "delight" and I am beginning to see the "riches of eternity". I feel more help and guidance in all aspects of my life as I worthily and regularly attend the temple.
I know Heavenly Father hears and answers prayers. I know He loves me and wants me to succeed. I know the things I learn and the covenants I make in the temple will provide the power, protection, and spiritual refinement essential to "peace in this world, and eternal life in the world to come" (Doctrine and Covenants 59:23).
</p
With so many people struggling financially, it may seem overwhelming to think of how to help. There are people who are in financial trouble who have never struggled in the past and others who have experienced poverty all their lives. What is the best way to give so you can make a real difference?
There are two types of needs people have when they are struggling financially. The first is to develop long-term skills that will help them leave poverty and succeed in the future. The other is to get through right now until those long-term plans begin to work.
The short term is often centered around immediate survival–food, clothing, and shelter. In addition, there is usually a call for spiritual and emotional support, particularly if poverty is new for the person experiencing it. Becoming poor after a life-time of being comfortable, particularly if you were always sure it couldn't possibly happen to you, or even if you looked down on those who have struggled previously and now find yourself in that position, is hard on one's self-esteem.
Immediate needs can be met fairly simply by those who care. A bag of food dropped off at the house, some cash quietly handed to someone, a bill paid for them, or an offer of childcare while parents work out solutions or go on job interviews provide both assistance and the feeling that others care. Of course, some people are embarrassed to have others aware of the need, and in these cases it often works best to have the service given discreetfully or tactfully. For instance, a family can be invited for dinner and sent home with left-overs the host family "won't have a chance to use up because we'll be away during dinner over the next few days." A woman who buys a large bag of apples can drop a few off at a friend's home, insisting they were a great deal, but there were too many in the bag for her family. During a particularly difficult time, I left my purse on a pew at church and went to another part of the building for a few minutes. That night, I found a large amount of money tucked away inside it. We frequently found groceries on our porch after an unexpected knock at the door by someone who knocked and ran during that time. On New Year's Eve, someone left all the supplies for a party on our porch. Those moments made me feel someone cared and wasn't judging our situation.
Long-term help usually requires more commitment. Often it's done through a church or community organization, but individuals can also offer help to someone they know.
Often education is a problem. It's very difficult to find work without an education. If you know someone facing this challenge, you may be able to help. The first step is to find out why they weren't educated and what school was like for them when (and if) they went to it for a while. Often, people who have had little education can't read well enough to survive in the workforce. It doesn't require a degree to help someone learn to read. Mormons can turn to the Relief Society's literacy program for help. Others can go onto the internet or to the library and learn how to teach someone to read.
Others need help learning to speak English, use a computer, improve their grammar, or search for work. Some might be best-served by creating a home-based business, and a person who knows how to do this can offer to mentor a neighbor through the process.
Another long-term help is to show the newly poor how to save money and still be comfortable. Because I'm not very domestic, I find the need to cook from scratch every single day during hard times to be very stressful. When someone offers to show me an easier way to do something, I'm always very grateful.
The most important service is to help without judgment or without presuming the newly unemployed person has nothing to do. During our unemployment, we both spent ten hours a day at least, searching for a job for my husband. I scoured the Internet for jobs and he wrote personalized cover letters and resumes. Because of the internet, job hunting is now a full-time job. When those ten hours ended, there were still all the regular duties of everyday life-volunteer work, family time, homeschooling, housework, and my writing. The homemaking took longer as I had to do everything without conveniences. Presume your newly unemployed friends are busier than ever and don't impose on their time or make comments about how nice it must be to have a little vacation.
Listening can be a wonderful service. Both the unemployed person and his spouse-as well as the children-are faced with daily fear and stress. A non-judgmental and sympathetic listener can make all the difference, and during the listening, you might well figure out what it is they really need.
Little things matter and will be remembered long after the crisis ends. Small acts of kindness I remember include:
–A friend who took me out to lunch often because treats lift the spirit
–Someone who casually mentioned that Thanksgiving is a bit complicated during hard times and she was curious to see how we were adapting our menu and what we were cutting out. I mentioned cutting out pie because, never having mastered pie crust, I didn't own a pie pan. She promptly went into her kitchen and gave me pie pans.
–Someone who decided to start driving my children with hers to church activities so I could save gas.
Look for the little things when deciding how to help, but at the same time, this is an excellent time to take on some long-term volunteer work to help those who haven't been as fortunate as you have been. We never really know when we'll be on the receiving end, and when we've been giving, it's easier to receive.
Mormon beliefs include the understanding that God answers prayers in one of three ways: Yes, No, and Not Yet. Mormons teach that God will answer the prayer in the way that is best. He evaluates the situation with a longer view than we can possibly have, balancing our desires against what we will need in the near and distant future, and how our request will affect others. Mormons learn to pray that God's will, not their own, be done.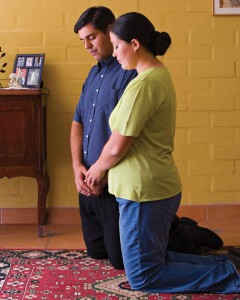 So why pray at all, if God's going to do what's best, anyway?
Letting God choose isn't the same as not praying-you don't get the same results. When you don't pray at all, you don't invite God into the process. You do all the research, make all the plans, make all the decisions, and then carry them out alone. You also accept the full responsibility for the results, which may affect others, and may include unintended consequences. Eventually, we have to answer to God for the choices we make. Wouldn't it be better to run them by Him to begin with?
When faced with a problem that doesn't involve a decision, such as a serious illness, we can also choose to let nature take its course if we want to, or we can ask God to step in and do what's best. We have agency, we can choose whether or not to seek and receive help.
Praying allows us to do several things. First, when you have to make a choice, you often consult with an expert. For instance, if you're having trouble getting your toddler to nap, you go to your favorite message board, the experienced mom next door, or your most dependable parenting book. This might be enough when an experiment or two won't really hurt anything, but often, the choices we need to make are much larger than that. They can change our entire lives, or the lives of others. In those cases, there is only one possible source of advice.
Sometimes a decision may not seem critical, but in the long run, the choice you make can have unexpected consequences or rewards. For instance, when my husband wanted to move here, closer to his job, I balked. I liked it where I was and didn't want to go. Finally, I took it to God and was told very clearly to go. Now that I'm here, I know why. I've had opportunities here I've needed and couldn't have gotten if I'd stayed put. There was no possible way to foresee those opportunities, however, on my own. I could have stayed, and maybe nothing awful would have happened, but later on, when a need arose, I wouldn't be ready for it because I'd lack some skills I needed.
Sometimes our requests involve the agency of others, and God can only plant ideas in their hearts, but can't take away their agency. It is still worth praying over, because we do want those ideas planted if they're what's best and we'll know we did the best we could, even if praying was all we could do when the problem concerned the choices of others.
Another purpose in prayer is to give us regular feedback on our choices. We need to learn how to make wise choices for our lives. Sometimes the results of our choices are obvious, but often, they aren't. When we make decisions about parenting, for instance, the results may not be known for decades. Parenting fads change often and by the time we find out what would have been best, it's too late. When we regularly go to God for help with our daily choices, we can watch for patterns in His answers, and after a while, our ability to make decisions He approves of improves.
When we put things into God's hands, we avoid the randomness of the natural world. We have a feeling of peace and security because we know the best choices are being made, even if we can't possibly understand why God made the choice He did.
We have agency, the right to choose. God won't force us to turn our problems over to Him. We can choose to do everything ourselves, hoping for the best and trusting our own wisdom, which is limited and usually self-centered, or we can opt to turn our problems and needs over to God and let Him show us the path. The results of either choose-going it alone or turning it over to God-will be very different in most cases, but the choice is yours.
When I was a teenager, it was common for young people to talk about trying to "find themselves." While this was seemingly a worthwhile project, most teenagers and young adults searched for themselves in all the wrong places. For some, it was nothing more than an excuse to experiment with sin or waste a great deal of time.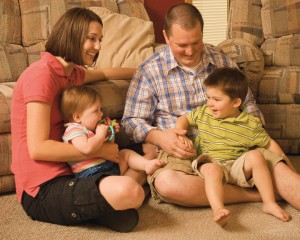 To find ourselves, we don't have to travel to a foreign country or hang out with people who frighten our parents. We need to look to our heritage. We are all children of God, and we can't find ourselves until we start looking in the places where He lives. When we begin our search with our creator, we soon figure out there really is a purpose to this life, and it's a wonderful one.
God planned for us to come to earth, and it wasn't a random science experiment. We had lived with Him before our birth, and had grown and progressed during that time. We had talents and personality and interests, some of which came with us to earth. But we needed more. We needed a body and a family. We needed to test ourselves, to see if we could keep it all together when we were away from Home. So He sent us here.
To find ourselves, we need to look at who we really are. We're a child of God. What does that mean? As children of Heavenly Parents, we have a divine and royal heritage. Did you ever dream of being a prince or a princess? God is your king, and so your dream has come true. However, being this type of a prince or princess doesn't mean dressing up in fancy clothes or waving to adoring crowds. It comes with responsibility. We have a responsibility to live up to the standards God set for us, to become everything He dreamed of for us.
So how do we do all of this? First, we have to put some work into the preparation. How much time every day do you spend learning about God and Jesus? If you aren't spending any time with them, and the time isn't meaningful, you aren't going to have any idea how much they love you or what they want from you. You need to get to know them by reading scriptures, studying the words of their chosen leaders, and praying in meaningful ways.
Only a personal prayer that is spoken in the words of your own heart can teach you how to communicate with God. Say what's in your heart and don't turn to pre-written prayers or repetitious phrases. Then sit quietly and listen for answers. They come in the form of peaceful feelings or uneasy ones, but they are the clues about whether or not you're making the right choices. If you tell God what you have planned, and you feel warm and safe inside when you're sitting quietly and waiting for the answer, you know He's pleased with your choice. If you're uneasy as you wait, or as you carry out the plans you made without waiting, you'll know you're on the wrong path. The Holy Ghost places those feelings in your heart. He can also give you a reassurance of God's love for you.
The next thing we have to do is to spend our time in meaningful ways. Visit God at least once a week in his home-go to church. Why not a Mormon church, which has a strong program for Mormon teenagers and their friends? Spend time serving his other children. Serving others helps us find ourselves more quickly than sitting and thinking does. From service, we learn to appreciate what we have. We see in those we help a model of courage, strength, and humility. We give something back for what we've received. We even learn more about how God feels when He's helping us, and we learn more about what we're capable of.
There is, of course, a place for introspection. Many people find it helpful to keep a journal. Rather than simply recording what they did, they record how those activities made them feel, what they learned from them, and how they plan to improve in what they're doing. They pay attention, in their writing, to who they are becoming. If they whine about service, they might later notice this is a place they can improve. If they do three service projects and one of them has them so fulfilled and excited they can't wait to do it again, they may have found a passion or a talent.
Identifying passions is part of finding ourselves, but it's important to find a passion worthy of a child of a royal heritage. Feeding the hungry, teaching a child, planting a garden…these are passions worthy of a child of God.
When you find your passions, and you know your God, you'll find yourself.
President Dieter F. Uchtdorf, Second Counselor in the First Presidency, described hope as one leg of a three-legged stool. The other two legs are faith and charity. "These three stabilize our lives regardless of the rough or uneven surfaces we might encounter at the time." (Dieter F. Uchtdorf, "
The Infinite Power of Hope
,"
Ensign
, Nov 2008, 21-24)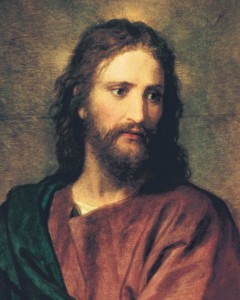 Today, the world feels pretty unstable to many people. With unemployment rising, a world at war, and crime on the rise in many areas, many people are afraid and this fear can become paralyzing. How do we keep going when things could fall apart at any moment?
Believing in God and in Jesus Christ can give us hope. It's hard to feel hope when everything depends on mere mortals who can never be sure their plans will work. But when the world is in the hands of a loving Father, we can feel secure. A belief in God gives meaning to the life we're living and a reassurance that in the end, we're being watched over and there is a reason for us to live, and even that every trial has a purpose that makes it worth getting through the trial and on to the next stage of life.
The Bible and the Book of Mormon both offer us hope. They promise us that God won't leave us alone, and in the darkest times, He will give meaning to our lives and promise us something better in the future if we hold on to our faith and try to make the right choices.
When we have a complete understanding of how God operates, we realize this life is a test of our ability to learn, progress, and make wise choices. When you play a video game, obstacles are constantly put in your way, and the challenge of the game is to learn how to overcome them. Without those challenges, most people wouldn't bother to play the game, because there would be no purpose. In real life, we also need challenges, because they push us to be more than we once were, and help us appreciate the good and easy days. Whether we win or lose the game of life is up to us, and it's largely a matter of attitude and choices. When we choose to face challenges and something to work on, and search the experience for how they helped us, we win, because we're overcoming difficulties placed in our way and becoming more fit to live with God.
The Book of Mormon tells the story of a man named Lehi who was a prophet in Jerusalem at the time of the prophet Jeremiah. He was commanded by God to take his family into the wilderness to preserve his life. His two oldest sons faced the challenge of leaving behind their wealth for a life of primitive living badly. Instead of seeing it as a great opportunity, they constantly whined and complained. On the other hand, the fourth son, Nephi, saw everything as a chance to grow. He assured his father he understood God would never give them commandments or trials without also showing them how to succeed if they asked for His help. As a result, although Nephi's life was filled with trials-many the result of his abusive older brothers-he came to the end of his life feeling he had been blessed and feeling he'd had a great life. Laman and Lemuel spent their entire lives simply fighting everyone else and complaining. They learned nothing from the experiences they had and never found the peace their younger brothers all found by facing trials with faith.
Combining hope with faith makes even the hardest life bearable. Adding the third leg of the stool, charity, keeps a person who is facing trials from feeling too picked on. When they serve others, they understand they aren't the only people with problems, and that many of the problems faced by others are worse than their own. It takes them outside themselves and keeps their spirits up.
When you're looking ahead to the economic trials and the other challenges of the world today, keep in mind the three-legged stool and look for the blessings tucked into the trials.
God isn't just a shadowy figure who created us, made a bunch of rules and then disappeared from our lives. As the creator of our spirits, and someone who knew us before we were born, He loves us and has a deep, personal interest in how we're doing. He wants us to know Him as well as He knows us. How do you get to know someone you don't remember meeting in person?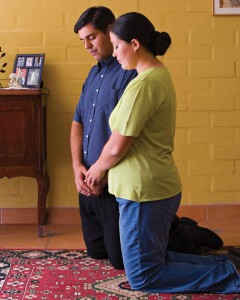 In today's age of modern technology, this might not seem as complicated as it once was. Most of us feel we know many people we've never met. However, in general, we get to know God the same way we get to know everyone we have a close, personal relationship with. We spend quality time together, we talk, we listen, and we try to find out as much as we can about the person. We invest a great deal of time in building our relationships with people in our earthly life we care about, and we must devote at least as much time building our relationships with God and Jesus Christ.
A good first step is to gather some factual knowledge. We have access to scriptures that teach us about God, and we can read them slowly and thoughtfully, not rushing through to meet a schedule, but pondering what they say. We can even start a journal of our thoughts as we read, or begin a notebook in which we record everything we learn about God as we read.
On the official church website, LDS.org there are many articles about both God and Jesus Christ. We can read the thoughts of church leaders and ordinary church members on God and Jesus, and learn their experiences with Them. These allow us to find ways to apply those insights to our own lives, and perhaps to better understand our relationship with God.
Of course, information isn't enough. It creates a knowledgeable person, but it doesn't create a personal relationship. To have a personal relationship, you must have communication. This communication comes through prayer, the way God created for us to stay in touch with Him while we're away. Prayer is not a one-way form of communication. We can talk to God, and through the power of the Holy Ghost, He can also communicate with us, a part of the process often neglected when prayer is discussed.
Here's a brief overview of how to pray: Begin by respectfully and lovingly addressing God. (Dear Heavenly Father, My beloved Father in Heaven, etc.) Then thank Him for everything you have received from Him. Spend some time in advance thinking this through, so you begin to develop an appreciation of the many blessings you have. Even the hardest life comes with blessings, but we have to pay attention to find them sometimes. Next, if you need something, ask for it. This can include a request to help build your relationship with God. Make sure what you're asking for is righteous and really needed, and that it's something you can't give yourself, unless you're asking Him to help you with the process of obtaining it. You can also spend time just talking to God about any subject that's on your mind. It's peaceful to talk to someone who really understands, and He, unlike your earthly friends, never complains you're talking too long. Then close in the name of the Savior, Jesus Christ, and finish with the word Amen.
Now the harder part begins. Most people get to this point, and jump up, rushing off to the rest of their day. However, before you close the prayer, sit quietly for a while and just listen. How can God answer you if you don't wait for His answer? The answer can come to you in several ways. One way, the least common, is through a voice. This is more common in extreme emergencies where the Holy Ghost knows you need to hear Him right away. Another way is for thoughts to enter your mind. The third way, and the more common way, is for you to experience peacefulness in your mind when you've made the right decision, and a negative feeling when you've made the wrong decision.
This, of course, means you can't just run to God with a question. You need to think the problem through and try to come up with your own solution. Then you take it to God for confirmation. God is a good parent and good parents never do for their children what their children can do for themselves.
The final step to building a relationship to God is, of course, to do His will. If we're studying and praying, but then doing anything we want, our relationship with Him is empty and meaningless. "If ye love me, keep my commandments," Jesus told his disciples. Mormon beliefs help guide its members to a close and personal relationship with God.