When Jesus was ready to begin his ministry, he went to where his cousin John was baptizing people. He requested his own baptism. John at first hesitated, knowing Jesus had no sin and also knowing who Jesus really was. John felt Jesus should baptize him, not the other way around. Jesus insisted, though. Baptism was a commandment and even Jesus had to obey the commandments.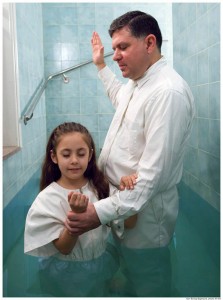 Later in His ministry, Jesus would tell Nicodemus:
3 Jesus answered and said unto him, Verily, verily, I say unto thee, Except a man be born again, he cannot see the kingdom of God.

4 Nicodemus saith unto him, How can a man be born when he is old? can he enter the second time into his mother's womb, and be born?

5 Jesus answered, Verily, verily, I say unto thee, Except a man be born of water and of the Spirit, he cannot enter into the kingdom of God. (John 3:10)
And so Jesus was baptized by immersion in the Jordon River. Immersion means to go completely under the water, and in baptism it is symbolic of the death and resurrection of Jesus Christ.