My food storage isn't quite where I want it to be yet, since we've relied on it a bit and not replenished as fast as I'd like. We have the basics to sustain life and enough to get us through for ordinary emergencies, but let's face it, when times are hard, you want more than just foods that sustain life.
This week, I've been too sick to go shopping and we've been hit with a major snowstorm as well. I haven't been to a store in a few weeks. We won't starve, since there is plenty of food in the freezer and in the pantries, but I realized the kinds of foods I want when I don't feel good are not on my shelves—I used them up within days of getting sick. Since my husband is putting in long hours at work, we're making do—but not with the foods I want.
I've been thinking lately of putting together some specialized emergency kits for specific types of situations. When our power goes out, I need foods that can be cooked on our camp stove, but most of my regular cooking gets done in the oven and tends towards casseroles, because I don't like to cook. When we're without water (which happens often where we live), I need foods that don't require very many dishes, since I don't want to use too much water for washing them. When I'm sick, I need some simple meals that don't require a lot of handling, since I am cooking for my husband as well, and that are easy, since I don't feel good. In addition, I often want gentle foods for upset stomachs or tempting foods for no-appetite days. Invariably, those are the foods I haven't stocked up on recently. Read more
The recent Japanese tsunami has brought attention to the fact that in an emergency, it is often difficult to purchase food and water. Because normal deliveries are halted and many stores are closed, people find themselves running short of critical supplies in a crisis.
Mormon beliefs include storing enough food, water, money, and other supplies to be used in emergencies. Many people misunderstand this belief, considering it hoarding or a last-days scenario. However, many people use these supplies during critical times in their lives, such as natural disasters or unemployment.
You might remember that in the Old Testament, Joseph (famous for his coat of many colors) was freed from prison after interpreting Pharaoh's dream about seven years of plenty followed by seven years of famine. He suggested the Pharaoh needed to prepare for the famine by storing food ahead during the years of plenty and that God had been teaching him this through the dream. God has often taught his people the importance of preparation.
Mormons don't stockpile the food in the basement and forget about it. They use what they store and rotate it. When grocery day comes around, they shop from their food storage for non-perishables and then replace it when they shop at a regular store. This allows them to cut food costs. Since they have everything they need, they can shop only when items are on sale. They can also purchase in bulk, which helps keep costs lower. If poor weather conditions cause the price of sugar to rise, they can use their stored sugar and not replace it until prices go down again.
Mormons have three types of storage. The first is a 72-hour kit. This portable storage has what they might need to take with them if they have to evacuate suddenly and need to care for themselves for 72 hours. This includes food, hygiene materials, blankets and pillows, scriptures, and other necessities. It can also include entertainment items for children who may get bored quickly in a shelter. Read more
When people learn that Mormons are taught to compile a year's supply of food and other necessities, they often picture paranoid people stockpiling for doomsday or a nuclear disaster of some kind. While some people have used their supplies in a crisis, such as Hurricane Katrina, most use it for much more ordinary moments, such as unemployment, illness, or even just to save money.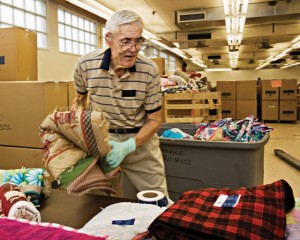 When there is no income, it is reassuring to know you have plenty of food on hand, savings, and little or no debt. This can allow you to get through a time of unemployment, or if you're paid hourly, to get through several weeks or months of illness that prevents you from working. My husband and I are both self-employed, with his income providing for most of our living expenses, so we've learned to always be prepared. When you're self-employed, you know there isn't a Friday paycheck. Clients are late, or a contract is slow in coming. You must always be ready to take care of yourself without income for a time. This has taught us to spend meaningfully.
In order to live providently, you must be willing to forego some of the things you want. When we insist on having everything we want right now, we are unable to save money and are tempted to put it on a credit card or payment plan. "No money down and nothing due until next April" is a dangerous cry. You don't know where your life will be in April, and getting caught up in too many of these deals can unexpectedly leave you with too many payments because you didn't realize how many delayed payments you had created. Read more