What is the purpose of life? We're here to gain a body and a family, to learn, to be tested, to develop faith, and ultimately to return to our Heavenly Father. However, the Book of Mormon also offers another interesting perspective on the purpose of our time here on earth: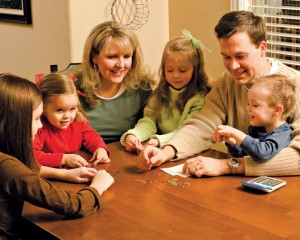 Adam fell that men might be; and men are, that they might have joy. (2 Nephi 2:25)
This is a very interesting thought. We are that we might have joy. Notice the scripture doesn't say we will have joy, only that we can have it. In a life that has trials and sorrows, how do we obtain that joy God wants us to have?
It's important to recognize that joy, happiness, and pleasure are not always the same thing. Pleasure suggests something worldly and fleeting. We might find pleasure in a walk in the park, but then go home and start arguing. Some people find momentary pleasure in sin, but this can never bring true joy.
We are often happy when things are going well in our lives. We may be happy the day our child wins an award for best student, dinner turned out perfectly, and we got a raise at work. All of this, however, is momentary and depends on things going well.
While God certainly has no objection to our happiness, what He really wants for us is to find true joy. Joy is deep inside, and is present even in sorrow and trials. We can experience joy even when someone we love has died, we're coping with unemployment, or a child is causing us heartache.
Joy is based on knowing God is our Father and loves us with all His heart. It comes from knowing who we are—children of God—and letting that knowledge fill our lives and guide our choices. It comes from trusting God even when we see no way out of our current sadness or trial. It is the result of knowing that the trials of life are temporary and that someday we'll live again with God in a perfect world.
A person grieving over the death of a loved one may not be happy at that moment, but she can be joyful, knowing the person has returned to Heavenly Father and is now living a wonderful life. She can be joyful because she knows family and love don't end at death, and so there will be a time when they can be together again. She can experience all this joy in a quiet way even as the tears fall. She knows why she is sad and that it will someday end. It's a joy based on faith.
Parents are often devastated when a child who was properly raised makes terrible choices and turns his back on the values of the family. This is a time for genuine sorrow and fear, and yet a parent, although very sad and frightened, can have a quiet joy resonating in the background because she knows she isn't coping with this alone. God is waiting to offer her comfort and hope, and furthermore, He hasn't abandoned her child, who is also His child. While He can't take away the child's God-given agency, the right to choose for himself, God can be standing by to place small promptings into the child's heart, based on the faith of the parents. When the child is ready to listen, God will be ready to step in and help the child return to his foundations.
Joy is all about faith. When we trust God and really believe He is kind, loving, present in our lives, and ready to help, we can have a gentle joy that brings us through our greatest trials. We will still cry, still sometimes be afraid, and still experience trials, but we'll always know we can turn to God to strengthen us as we're going through them. Joy is all about knowing we're never facing anything alone. We're always in the care of a loving Heavenly Father.
Is there anything that you want more than to be happy? You might list several things that you feel you need to make your life complete, but probably the overarching desire, the thing you want most of all, is just to be happy.
This has been mans' goal since the beginning of recorded history. Mans' search for happiness is the root behind any great advancement in society—as hopes rose that around the next corner things would get easier, better, and we could finally be happy.
It's not a surprise that we are so consumed with the desire to be happy. In the Book of Mormon the Lord said, "Men are, that they might have joy" (2 Ne. 2:25.) We were created to desire and search for happiness—and God means for us to find it.
Even the founding fathers of United States of America gave our pursuit of happiness prime billing in the Declaration of Independence:
"We hold these truths to be self-evident, that all men are created equal, that they are endowed by their Creator with certain unalienable Rights, that among these are Life, Liberty and the pursuit of Happiness."
The problem with a pursuit that is so all-consuming is that we tend to believe we have found it, only to discover that our hopes are false. What is happiness? Where do we find it? How do we obtain it?
Most people would claim that money was an essential element in achieving happiness. You're unhappy without it, surely you would be very happy with it. However, endless research fails to prove that to be true. In fact, research tends to indicate that money alone is seldom, if ever, our key to true happiness.
David O. McKay, then president of The Church of Jesus Christ of Latter Day Saints or Mormon Church, once made reference to a statement by John D. Rockefeller—then one of the world's richest men—who apparently had stomach trouble and had purportedly said, "I would rather be able to enjoy a good meal than have a million dollars." Then with a wink of the eye, President McKay remarked, "Of course, he had a million dollars when he said that."
It's easy to make light of the need of money when you have more than enough. But when you see no end to your money troubles and you feel that you are constantly drowning in debt, you can't imagine any happiness without money.
But beyond a sufficient amount for our needs, money has little to do with true happiness. W. Eugene Hansen, a leader in the Mormon Church wrote "Often it is the work and sacrifice one experiences in obtaining money for a worthwhile purpose that produces the most satisfaction" ("The Search for Happiness," Ensign, Nov 1993, 81.) He goes on to share a story from his father's personal history about his Grandmother's experiences growing up in Brigham City, Utah, in the late 1800s.
"Their family was very poor, having emigrated from Denmark with little more than the clothes on their backs. She wanted so much to have a pair of shoes she could wear on special occasions. To accomplish this worthy desire took a full summer's work of picking berries and tending children, since money was very scarce and labor was cheap. But the joy Grandmother felt as she obtained those shoes is indescribable, for not only was she able to wear them, but her mother did also. In fact, they had it arranged so Grandmother would wear the shoes to Sunday School in the morning, and then her mother would wear them to sacrament meeting in the evening."
William George Jordan, American editor and essayist, wrote:
"Happiness does not always require success, prosperity or attainment. It is often the joy of hopeful struggle, consecration of purpose and energy to some good end. Real happiness ever has its root in unselfishness—its blossom in love of some kind" (The Crown of Individuality, 2d ed., New York: Fleming H. Revell Co., 1909, pp. 78–79.)
Don't mistake the pursuit of riches as the pursuit of happiness. Money is a needful thing, but it is not the sum of all things. Find happiness in the journey, and you will be doubly blessed in the end.
One of the best ways to forget about your own problems is to focus on the problems of others. When you serve other people, you soon feel the weight of your own burdens lifted and you realize, almost despite yourself, that you are happy.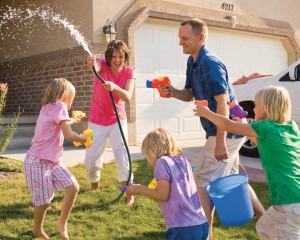 But for many of us, it's hard to know who or how to help. At least, that's often how it is for me. I feel like I can be a good helper, but I need someone else to tell me what to do because left on my own I probably won't see it. I think that's either because I'm still too absorbed in my own problems to truly see the need of another, or it's because the ability to serve is a talent. Perhaps, it is both.
Regardless, starting at home is a wonderful opportunity for all of us to practice the art of service. At home, we can feel at ease stepping outside of ourselves and looking at the load another is carrying to gauge how we might help. Service inside the home is not a cop-out. It's a necessary part of happy home life.
Mother serves her husband and children by seeing that everyone is fed and has clean clothes to wear. Father works hard to provide a safe home for his family. When one of these family leaders begins to think more of themselves than of the other family members, chaos reigns and love and happiness flee.
D. Lee Tobler, a leader in The Church of Jesus Christ of Latter Day Saints (or Mormons,) wrote, "One of the major stresses on families today is that the individual—the child or the parent—sees himself or herself, rather than the family, at the center of life. Focusing on ourselves, and not on the larger vision of bringing the family together, can lead to contention" ("Homegrown Happiness," New Era, Feb 2004, 11.) The family can only thrive when its members watch out for each other.
Service, whether in or out of the home, is a matter of heart. We have to desire it, we have to want to see another person happy. In a world that values self-preservation so much, it's often difficult for us to look outside of ourselves and put another first. But the more you serve, the more full your heart becomes—full of love for the person you have served.
This is a gift from God, a payment if you will, for putting another before yourself. The Book of Mormon reads, "when ye are in the service of your fellow beings ye are only in the service of your God" (Mosiah 2:17.) Such love and devotion for another of God's children brings Him joy and blesses your own life as well.
Elder Tobler wrote, "If the family is to be eternal, the family has to be first—the highest priority." Mormons believe that not only is the family elemental for a happy life, it is essential for a joyful eternity. Let your family be the testing ground for your new commitment to serve and to love other people more than you love yourself. In so doing, be prepared for your heart to swell, not only with an increase in love, but with happiness overflowing.
I am a member of The Church of Jesus Christ of Latter Day Saints, or the Mormon Church, as many people call it. I am what is called a 'convert' to the Church, which means that I was taught the gospel by missionaries and I joined as a young woman, of my own free will and choice.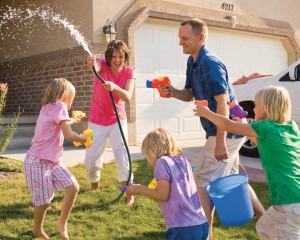 My family, who are not Mormons, strongly disagreed with my choice. Though it's been eighteen years since I made it—and they no longer question whether or not I am happy—still they regularly ask, "How can belong to a church that restricts your freedoms so much?" Because The Church of Jesus Christ of Latter Day Saints has a strong code of ethics, the Word of Wisdom which guides our physical habits, and a strict code of conduct for its members, my family assumes my freedom is also restricted and I am following the rules blindly.
But I do not choose to follow blindly, I choose to follow because in doing so I have found a greater happiness, a more reliable source of peace and contentment than I ever had before I joined the Church.
In 1987 Glenn L. Pace, a leader in the Mormon Church spoke about this very thing. When considering people who "look happy and free" he counseled:
"Don't mistake telestial pleasure for celestial happiness and joy. Don't mistake lack of self-control for freedom. Complete freedom without appropriate restraint makes us slaves to our appetites. Don't envy a lesser and lower life" ("They're Not Really Happy," New Era, Mar 2002, 28.)
Book of Mormon prophet Lehi, had an amazing dream one night. In his vision he saw a great and spacious building, which scripture teaches us represents the pride and temptations of the world:
"And I … beheld … a great and spacious building; …
"And it was filled with people, both old and young, … and their manner of dress was exceedingly fine; and they were in the attitude of mocking and pointing their fingers towards those who … were partaking of the fruit" (1 Ne. 8:26–27).
Mormons have a phrase we repeat often: "Choose the right" we say. You'll often see members of the Church wearing rings with the symbol CTR on them—they wear these to remind themselves to choose the right in every situation, wherever they may find themselves.
We need to remind ourselves to choose the right because everywhere we go there is temptation to enter that great and spacious building. It isn't always easy to choose the right, to follow the Word of Wisdom or to be obedient to the counsel of leaders. But we know that as long as we do what is right we are more free, less burdened by guilt, and free from the chains of sin.
That freedom allows us to be who we were created to be. It allows us to be happy. The prophet Joseph Smith said:
"Happiness is the object and design of our existence; and will be the end thereof, if we pursue the path that leads to it; and this path is virtue, uprightness, faithfulness, holiness, and keeping all the commandments of God" (Teachings of the Prophet Joseph Smith, sel. Joseph Fielding Smith [1976], 255–56.)
My family continues to ask why I would restrict myself so much by being a member of The Church of Jesus Christ of Latter Day Saints. And I continue to respond the way I always have. I feel more free now than I ever did before. I am happier now than I ever was before. I testify to you that if you will choose the right, to follow that path that which is marked by virtue, uprightness, faithfulness, holiness and keeping the commandments of God, you will be happy too.
Recently I read a story in the Book of Mormon, another testament of Jesus Christ, that tells of Nephi and how he and his people "lived after the manner of happiness" (2 Ne 5:27.)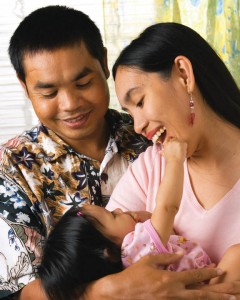 I want to live after the manner of happiness, don't you? In fact, I'd hazard a guess that happiness is the life-long goal of every person who lives. Except, I think we too often believe, mistakenly, that happiness is to be found in success, riches, possessions, admiration, or the like. But that just isn't so.
Happiness is to be found in our families, in our relationship with God, in our ability to look at ourselves in the mirror at the end of the day and like what we see. Oh, perhaps you won't like the extra weight you are carrying, or the pimples that are popping up on your face so late in life, or the wrinkles that belie your age, but you can like the light that shines from your eyes—and that light can shine brighter if we have walked in the footsteps of the Lord.
When describing the lifestyle he and his people lived, Nephi said that "And we did observe to keep the judgments, and the statutes, and the commandments of the Lord in all things" (2 Ne. 5:10.)
I can testify from personal experience, that living righteously and keeping God's commandments makes us happy. Alma, another Book of Mormon prophet, summed it up when he said, "Wickedness never was happiness" (Alma 41:10.) How many times have you done something you knew shouldn't do? And how often did you later wish you hadn't done that thing? If you're anything like me the answer would be, too often.
In an address given to Brigham Young University students, Marlin K. Jensen, said:
"From the depths of my soul I testify that Satan wants us to believe we are an exception to God's rules, that somehow our transgressions are more noble and justifiable than anyone's have ever been. But that is a lie. And not only do we offend God by breaking His laws; we also offend ourselves and others, and thereby experience heartache, suffering, and misery—the exact opposites of happiness" ("How to Be Happy," New Era, Aug 1999, 4.)
There was a time in my life when I truly did believe that I was an exception God's rules. I was a victim of other peoples' bad choices—how could I be expected to do what was right when so many in my life had done me wrong? I felt justified in being bad because being good didn't seem to get me anywhere.
I would have to write a whole book to explain how I came to see the error in my thinking, but suffice it to say, I had that precious 'aha' moment wherein I finally came to see that in choosing to continue my bad behavior, I only continued to hurt myself. It was only when I started to do what I knew was right, to follow God's commandments, that I began to feel my burden lifted, and I began to feel hope.
Now, after seventeen years of practicing righteous behavior, I can honestly say that "wickedness never was happiness." Don't get me wrong, I am certainly not perfect. Not even close. But I am somewhat further down the road of obedience than I once was and I am happier for it.
If you feel burdened by wrong choices, either your own or those of others, I encourage you to turn your face to God. Seek to do what He commands as outlined in the scriptures, and I promise He will lift your burdens and reward you with happiness to cheer your days.
Do you know where you're going?
Every day we make decisions that determine where we will end up at the end of the day. Did we overeat today, so tonight we'll feel full and bloated? Did we exercise today, so tonight we will feel strong and healthy? Did we pay our bills today so that tomorrow we will feel secure in knowing all is paid for? Did we pray today so that tonight we will feel safe knowing we are cared for by a loving Heavenly Father?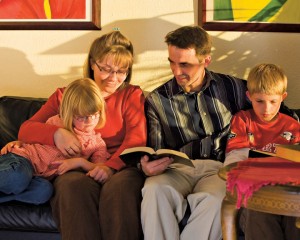 What is your destination?
I want to return to Heaven and live forever in happiness with my family and my God. That is my goal.
It's a lofty goal that requires thought, planning and constant diligence or else I am likely to veer off course.
Members of The Church of Jesus Christ of Latter Day Saints (or Mormons,) believe it is possible to be reunited with our families after we die and to live forever with our Heavenly Father. Through faithful obedience to the laws and ordinances of the Gospel of Jesus Christ, we can reach this goal.
First, we must have faith in the Lord Jesus Christ.
Faith requires constant attention. It doesn't grow if we don't feed it. Its growth is stunted if we don't use it. We must exercise faith that there is a God above us who knows us and loves us. We have to believe that He has a plan for us and that it is a good plan that will benefit us if we follow it. Faith requires that we act upon our beliefs even if we can't see where our steps will lead us.
Mormons believe that God's greatest gift to us is what yet lies in store: "For behold, this is my work and my glory—to bring to pass the immortality and eternal life of man" (Moses 1:39).
Second, we must repent of our sins.
Part of Heavenly Father's plan for us is to provide a way for us to return home to Him, even if we have been less than perfect in this life. There has been and will ever be, only one person who has lived a perfect life—and that one person is Jesus Christ. None of us are expected to live as well as He did. However we are expected to take the gift of atonement that He offers us and to use it—or else His sacrifice is for naught.
Repent of your sins, forsake them.
Dieter F. Uchtdorf, wrote:
"In the Book of Mormon Alma tried to help his son Corianton avoid unnecessary storms by explaining that "wickedness never was happiness" (Alma 41:10.) Unfortunately, sin appears occasionally attractive but hides its destructive nature until it is too late and harm is already done. We need to understand how to recognize and avoid the evil and be prepared to detour around it in time. If we do fail, however, there is hope and relief made possible through the atonement of Jesus Christ. Sincere repentance brings us forgiveness and peace in this life and puts us back on course to live again with our Heavenly Father ("Happy Landing," New Era, Mar 1995, 4.)
Third, repeat steps one and two over and over again.
Put on your to-do list today to exercise faith and repentance and repeat. If you do these things, you will stay on course for your greatest destination. Not only will the journey be one of peace and happiness but your reward will be an eternity of joy and rejoicing, happiness beyond measure.
This weekend I was privileged to spend several hours learning about Jesus Christ. At a church meeting for The Church of Jesus Christ of Latter Day Saints (or Mormons,) we devoted all our attention to that Savior Who is the center of our religion, our faith, and our lives.
Jesus Christ is as the hub of the great wheel of our lives. He is at the center, the core, of all that we do. As Nephi, the Book of Mormon prophet declared:
"And we talk of Christ, we rejoice in Christ, we preach of Christ, we prophesy of Christ, and we write according to our prophecies, that our children may know to what source they may look for a remission of their sins" (2 Nephi 25:26.)
Those few hours I spent learning more about the Savior have filled my heart with joy. I can truly say that I feel to "rejoice in Christ."
To rejoice in Him means that we go forth in life with a generally happy outlook that reflects our faith in our Savior. We know that as we follow Him and do those things that He has asked us to do, He will bless us with His comfort and His grace.
In his article, "Mom, Are We Christians?" Gary J. Coleman wrote:
"We know that "his grace is sufficient" for us to be redeemed from death and sin and to be perfected in Him (see Moroni 10:32–33). While we face disappointments and even tragedies, we know that because of Him, our eternal happiness is assured. As our faith in Jesus Christ shines through, we show others who "labour and are heavy laden" how to find rest in Him (see Matthew 11:28–30)" (Ensign, May 2007, 92–94.)
The Savior Jesus Christ is as a Light to the world. He guides us and shows us the way we should go to obtain eternal life and happiness. His offer to bear our burdens gives us hope that we don't have to face our challenges alone and in fact, there is a caring Friend who is willing to share our burden—to carry it all, in fact, if we will let Him.
If we will put Jesus Christ at the center of our lives, and let all other priorities stem from Him, then our lives will run smoothly and we will find joy within them.
Imagine a giant wagon wheel—the hub is large and solid, and all the spokes join the wheel in that center and move outward to attach to the rim. Imagine those spokes represent our families, our careers, our hobbies or interests, our friends. If one of those spokes were to break or fall out, the wheel would still function as it was meant to—it would continue to go round and round without faltering. However, if the hub were to somehow be broken, or it was not well formed or solid, then there would be nothing to retain the spokes and the wheel would fall apart.
I testify that if you will put Jesus Christ at the center of your lives and allow all other interests and priorities to stem from Him, then your life will have order and you will be blessed. Rejoice in the Lord your Savior. Remember Him in all that you do. He will bless your efforts and you will have joy.
One of the great inhibitors to true happiness is a failure to realize our true potential.
There are a lot of reasons why we settle for less—from ourselves, from others, from life. We can't do much about what others do, or about how life turns out, but we can—and we must—make the best use of our own life, of our own talents and abilities.
Members of The Church of Jesus Christ of Latter Day Saints (or Mormons) talk a lot about talents as gifts from God. You will see many Mormon men and women who seem to have it all—success in their careers as well as obvious talents that they readily share with the people around them. This is because we believe in the parable of the talents as told in Matthew, that the more we make use of those talents, or gifts, that God has given us, the more we will receive (Matthew 25:15-16, 20, 22, 24-25, 28.)
Learning to recognize your talents can be difficult. Sometimes we are not blessed with a remarkable musical talent, or the ability to disassemble and reassemble a car engine in record time. Sometimes are gifts are of a more subtle nature—perhaps we are able to discern when a friend really needs a listening ear, or a kind word.
In the Book of Mormon, we learn about the ways we receive talents, or gifts of the Spirit, and how you should use them:
And again, I exhort you, my brethren, that ye deny not the gifts of God, for they are many; and they come from the same God. And there are different ways that these gifts are administered; but it is the same God who worketh all in all; and they are given by the manifestations of the Spirit of God unto men, to profit them.

And to another, exceedingly great faith; and to another, the gifts of healing by the same Spirit;

And all these gifts come by the Spirit of Christ; and they come unto every man severally, according as he will (Moroni 10:8, 11, 17.)
I have long been a fan of Mother Theresa—a more giving and truly charitable person I've never known. But did you know that she suffered from pangs of doubt and feelings of inadequacy? Who would ever have guessed that this remarkable woman every doubted herself or in what she was doing? Yet, she did.
She hung a poem on the wall of the orphanage she founded in Calcutta. One can only assumed that she posted it there as a reminder to herself—a reminder to keep on keeping on, even when doubt assailed her.
Our Heavenly Father loves us and He has blessed us with many gifts and talents, many opportunities, to fulfill the measure of our creation. When we are being all that we can be, we grow closer to God and our hearts are filled. It is then that we can find true joy and experience happiness in all that we do.
And so I would like to encourage you to search your heart for those things that bring you joy, because perhaps they are a priceless gift that you have yet to fully appreciate. And when life's trials seem insurmountable and the obstacles before you loom above you, remember who you are—a child of God, an individual with unlimited potential.
Mother Theresa's poem … "Anyway"

People are often unreasonable,
illogical and self-centered;
Forgive them anyway.

If you are kind,
People may accuse you
of selfish, ulterior motives;
Be kind anyway.

If you are successful,
you will win some false friends and
some true enemies;
Succeed anyway.

If you are honest and frank,
people may cheat you;
Be honest and frank anyway.

What you spend years building,
someone could destroy overnight;
Build anyway

If you find serenity and happiness,
they may be jealous;
Be happy anyway.

The good you do today,
people will often forget tomorrow;
Do good anyway.

Give the world the best you have,
and it may never be enough;
Give the world the best you've got anyway.

You see, in the final analysis.
it is between you and God;
It is never between you and them anyway.
(Author Unknown)