In this series of articles on Christ in the Book of Mormon, we've spent a great deal of time exploring verses related to the atonement. 2 Nephi 2 was almost entirely on that subject. Today we will explore 2 Nephi 9, which also discusses the atonement of Jesus Christ in-depth.
In the previous article on Christ in the Book of Mormon we studied the prophet Lehi's dying teachings to his young son Jacob. In this chapter, Jacob is now grown and teaching the gospel himself under the direction of his brother Nephi, who is the new prophet. The family has separated into two groups, one led by the wicked Laman, and the other by Nephi.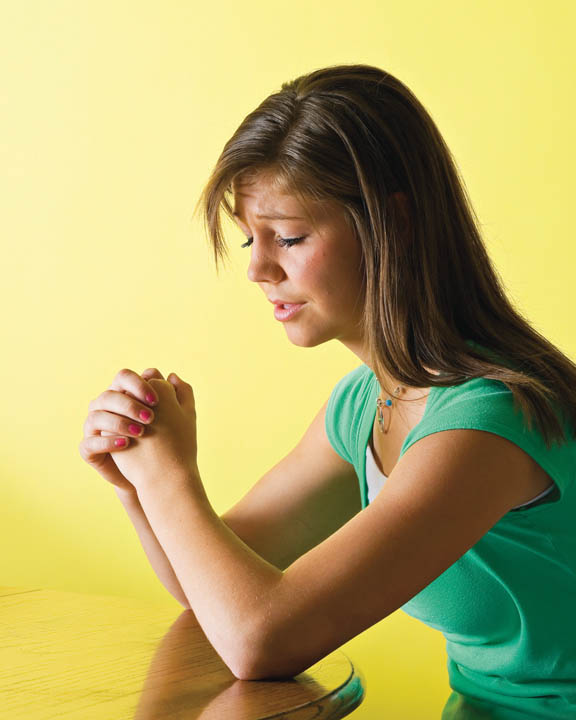 Jacob, like his father, is teaching about the atonement. Much of the Book of Mormon expounds on the topic of being saved, which is why Mormons just roll their eyes when told they don't believe we are saved by Jesus.
In verse 6, Jacob reminds his listeners that everyone will eventually die and because of that, there has to be a plan to allow them to be resurrected. The Fall of Adam had caused man to become separated from God. In the following verse, he says that because of the Fall, there is a need for an infinite atonement. If there was not an atonement, the first judgment of man would be the final one and no one would be able to rise from the dead or be forgiven and saved.
What is an Infinite Atonement?
Russell M. Nelson, a Mormon apostle, explained what Jacob meant by the term "infinite atonement" in verse 7:
"In preparatory times of the Old Testament, the practice of atonement was finite—meaning it had an end. It was a symbolic forecast of the definitive Atonement of Jesus the Christ. His Atonement is infinite—without an end. It was also infinite in that all humankind would be saved from never-ending death. It was infinite in terms of His immense suffering. It was infinite in time, putting an end to the preceding prototype of animal sacrifice. It was infinite in scope—it was to be done once for all. And the mercy of the Atonement extends not only to an infinite number of people, but also to an infinite number of worlds created by Him. It was infinite beyond any human scale of measurement or mortal comprehension.

Jesus was the only one who could offer such an infinite atonement, since He was born of a mortal mother and an immortal Father. Because of that unique birthright, Jesus was an infinite Being." (See Elder Russell M. Nelson, The Atonement, General Conference, November 1996.)
What is Our Responsibility for the Atonement?
Atonement means to be "at one" and that means it brings us to a oneness with God. It does not mean, however, that accepting Jesus Christ as our Savior gives us a free pass to be as wicked as we choose to be. That wouldn't actually make sense. The atonement came about because we are not perfect beings. It made it possible to repent, and repentance is a requirement. It is one of the things that makes the atonement infinite. We can repent as often as we need to.
(And the times of this ignorance God winked at; but now commandeth all men every where to repent: Because he hath appointed a day, in the which he will judge the world in righteousness by that man whom he hath ordained; whereof he hath given assurance unto all men, in that he hath raised him from the dead. (Acts 17:30-31)
If we repent once and accept Jesus Christ as our Savior, we are not then free to do anything we want to do. Jesus said that if we love Him, we must keep His commandments. Obedience to the commandments is a demonstration of the depth of our love for the Savior, if it is done for that reason. Those who obey without love receive no reward other than the natural rewards that come from doing the right thing. The eternal rewards, however, are for doing the right things for the right reasons. They don't save us—only the atonement can do that—but they do demonstrate whether or not our declaration of faith is real and they show a commitment to become worthy of God's presence. We will be ourselves when we die and Heaven won't be worth much if it is filled with people who prefer sin to obedience.
The infinite atonement is one of God's greatest gifts to mankind. Read the rest of the chapter to learn more about the relationship between the atonement and living a Christ-like life.
By Mei Ding Goh.
As I began to write down my thoughts for this article, as I began to type something on my computer,  I could feel my chair was shaking, my instinct told me "earthquake". I was really scared, immediately I knelt down and prayed, "Heavenly father, please forgive us of our sins, please release your grace and mercy, help us soften our hearts, help us repent". And I was amazed, how great thou art, what a perfect timing to prepare for this topic "mortality is a probationary time to enable man to repent and serve God."
I recalled a time, while I was walking to the market, I saw a little kitten, and it curled around its little brother. Its brother was dead, probably hit by a car. I could feel its grief; my heart was breaking, and I stood beside it and prayed for it, "Heavenly father, please comfort this little kitten." The kitten reminded me of my late sister who passed on few years ago due to cancer. The earthquake and the tiny kitten reminded me of how easily we take life for granted, live as though we still have endless days to come. Must we have the natural disaster or tragedy to awaken us and make us realize who we really are and what our true life's purpose is?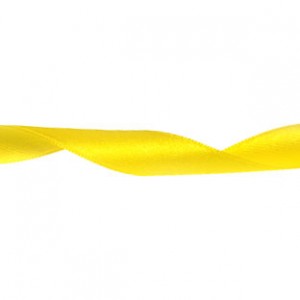 If I stretch this beautiful ribbon from one wall of my room to the other wall, if this ribbon represents the line of our lives and that one end of this ribbon represents our past and other our future. This ribbon will actually extend far beyond the walls of this room and continue forever in both directions. We cannot see anything beyond these two walls. We do not know what happened to us before we were born; we have no idea where we are going after our physical death. What shall we do? Who and where and how shall we seek help and guidance?  These are actually golden questions that lead people to The Church of Jesus Christ of Latter-day Saints (sometimes nicknamed the Mormon Church).  Once baptized, they begin to understand the concepts of faith and forgiveness, and how they pertain to our eternal existence, which had no beginning, and which will have no end.
There are laws of nature we cannot change.  Consider an ice cream cone. Regardless of who and what we are, we all know it will melt if the room temperature is above freezing. We do not decide its condition. Who determines this? Alma, a Book of Mormon prophet, wrote,
"All things denote there is a God; yea, even the earth, and all things are upon the face of it, year, and its motion, yea, and also all the planets which moves in their regular form do witness that there is a Supreme creator (Alma 30:44).
God is not only our Creator and our Ruler; he is also our Heavenly Father.
When we play a computer game, we need to learn and follow the rules of the game. We won't argue with the rules since that won't help us win the game. We are merely the players, not the programmer. In mortality, God is the ultimate creator and also the ultimate ruler. If we use a computer game as metaphor, then in order to win this game, we need to be wise and learn and obey the rules of the creator.
We are truly blessed to have scriptures as our guide, to teach us how to win this game. The scriptures are a source of revelations. They reveal Heavenly Father's teachings for His children. From them we can learn enough about who we are, what is the purpose of this life and get our bearings and get direction in our lives.
As in Alma 42:4…
"And thus we see, that there was a time granted unto man to repent, yea, a probationary time, a time to repent and serve God."
So we now have the right perspective. From it, we know that all things, all events, and all people provide us the opportunity to repent and to serve God. So just like playing computer games, though we focus on the things in the game, yet our main intention is to win. In this life, we don't just focus on the things, events or people and judge them, this is not our job. The programmer or the creator already has the rules for them. The creator will judge them. Our job is to repent, to serve God.
For example, if someone says something offensive to us, we don't focus on that person and judge how bad he or she is or spread bad things about him or her. We pray and ask our Lord, what would you have me learn? We ask ourselves have I in any way behaved like him or her. If so, we can admit our fault and apologize for it and forsake it. Not only that, if we wish that person would say something nice to us, probably it is time for us to start saying something nice. The negative experience can now help us to repent and be aware and change.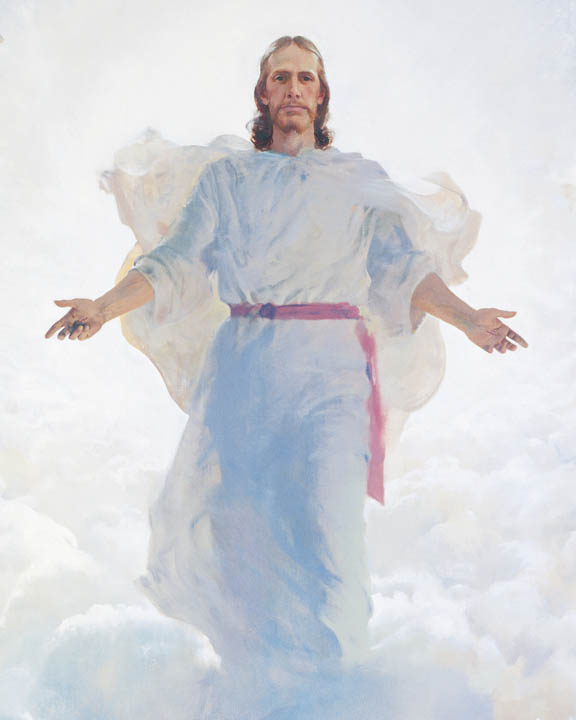 So now we can turn every encounter into a holy encounter, not because the encounter itself is holy, but the way we perceive it, the way we use it, makes it holy. And this answers the question "If God is love, why is there so much pain, so much suffering in this world?" For our heavenly father knows every element of who we are; He knows our minds, our hearts, and our souls. He will use different levels of "games" tailored to our unique characteristics to help us. For he loves us so much, he simply won't compromise who we really are, because we are His children.
When we repent and learn to be more and more like Him, we are more available for Him so we can serve people using his power and his wisdom. Although we may do the same things, that  action contains two possibilities— one is to glorify God, the other, is to glorify one's own self. And the difference lies in our heart, our intention. To repent can also mean we learn to surrender our will to our Lord's will.
Come unto me, all ye that labor and are heavy laden, and I will give you rest. Take my yoke upon you, and learn of me; for I am meek and lowly in heart: and ye shall find rest unto your souls. For my yoke is easy, and my burden is light (Matthew 11:28-30).
Jesus speaks to the disciples in Mark 8:34-35 and tells them…
"Whosoever will come after me, let him deny himself, and take up his cross, and follow me. For whosoever will save his life shall lose it; but whosoever shall lose his life for my sake and the gospel's, the same shall save it.
It is too bad that we are so selfish and all that we want is what we think we are entitled to, and we forget that when we have all, we are at risk of losing it all at some point. Jesus continued and says in verse 36,
"For what shall it profit a man, if he shall gain the whole world, and lose his own soul?"
This is where as human beings we stand – we want it all. The many options that we see out there that we thought could help us solve our problems could well be the very things that entice us and bind us.
Jesus says clearly that…
"I am the way, the truth, and the life; no man cometh unto the Father but by me. If ye had known me, ye should have known my Father also (John 14:6-7).
Jesus is the way to the solutions of our problems: If any man be in Christ, he is a new creature; old things are passed away; behold, all things are become new (2 Corinthians 5:17).
Repentance of our own sins is useless if we don't forgive others.  Unforgiveness stops our progress.  We can move nowhere, especially not closer to our Savior, Jesus Christ.  The following story comes from a conference address given by Mormon Apostle Boyd K. Packer at the April 2011 general conference:
My life was changed by a saintly patriarch. He married his sweetheart. They were deeply in love, and soon she was expecting their first child. The night the baby was born, there were complications. The only doctor was somewhere in the countryside tending to the sick. After many hours of labor, the condition of the mother-to-be became desperate. Finally, the doctor was located. In the emergency, he acted quickly and soon the baby was born, and the crisis, it appeared, was over. But some days later, the young mother died from the very infection that the doctor had been treating at another home that night. The young man's world was shattered. As the weeks wore on, his grief festered. He thought of little else, and in his bitterness he became threatening. Today, no doubt, he would have been pressed to file a malpractice suit, as though money would solve anything. One night a knock came at his door. A little girl said simply, "Daddy wants you to come over. He wants to talk to you."

"Daddy" was the stake president. The counsel from that wise leader was simply "John, leave it alone. Nothing you do about it will bring her back. Anything you do will make it worse. John, leave it alone."

This had been my friend's trial. How could he leave it alone? A terrible wrong had been committed. He struggled to get hold of himself and finally determined that he should be obedient and follow the counsel of that wise stake president. He would leave it alone.

He said, "I was an old man before I understood and could finally see a poor country doctor—overworked, underpaid, run ragged from patient to patient, with little medicine, no hospital, few instruments, struggling to save lives, and succeeding for the most part. He had come in a moment of crisis, when two lives hung in the balance, and had acted without delay. I finally understood!" He said, "I would have ruined my life and the lives of others." Many times he had thanked the Lord on his knees for a wise priesthood leader who counseled simply, "John, leave it alone."

Around us we see members of the Lord's Church who have become offended. Some take offense at incidents in the history of the Church or its leaders and suffer their whole lives, unable to get past the mistakes of others. They do not leave it alone. They fall into inactivity.

That attitude is somewhat like a man being hit by a club. Offended, he takes up a club and beats himself over the head with it all the days of his life. How foolish! How sad! That kind of revenge is self-inflicting. If you have been offended, forgive, forget it, and leave it alone.

If you are carrying some burden, forget it, let it alone. Do a lot of forgiving and repenting, and you will be visited by the Spirit of the Holy Ghost and confirmed by a testimony, the possible strength of which you had never guessed. You will be watched over and blessed—you and yours. Of this I bear witness in the name of Jesus Christ, amen.
Mei Ding Goh is a convert to The Church of Jesus Christ of Latter-day Saints.  She is a seminary teacher in the Malaysia Ipoh District and a member of the Penang Branch.
Additional Resources:
Basic Mormon Beliefs and Real Mormons
The Old Testament tells of twins, Jacob and Esau. Esau was the oldest, and according to Jewish custom, was entitled to the birthright blessing. However, one day Esau came home very hungry to find Jacob had made pottage, which is a stew. He asked Jacob for some and Jacob agreed, but only if Esau would give him the birthright in exchange. Esau, not understanding the importance of the birthright, really wasn't that interested in it. He cared more about his immediate physical needs than in God's plan for him or in his eternal life. He happily sold his birthright for a mess of pottage, a term that has come to mean something worthless. Later, of course, when he matured and understood what he had given up, he was sorry he'd done so. The pleasure of the stew was long gone and he had nothing to show for it, while Jacob's birthright had eternal blessings attached.
While most of us find it silly that someone would sell his eternal blessings for stew, many of us sell off God's blessings for things of even lesser importance than stew. Each time we choose to violate a commandment, we are choosing to sell our birthright.
Our birthright is to receive all of God's promised blessings for our lives on earth and to have the life He hopes we will have. In eternity, our birthright is to return to God to live forever. When Jesus lived on the earth, He consistently warned people they must keep the commandments if they wished to be with God after their deaths.
Not every one that saith unto me, Lord, Lord, shall enter into the kingdom of heaven; but he that doeth the will of my Father which is in heaven. (See Matthew 7:21.)
Each time we make a choice, we are prioritizing our values. If we decide to disobey a commandment, we've put that particular sin above the commandment in our priorities. We've decided the sin is worth more than the blessings associated with the commandment—in other words, we've sold our birthright for something that has only temporary benefit.
Mormons teach that we are expected to live a health code known as the Word of Wisdom. Sometimes a person will say, "I can't believe God will keep me out of Heaven just because of a cup of coffee." They are turning the problem around of course. What they should say is, "I can't believe I'm willing to give up Heaven over a cup of coffee." The same reasoning can be said of any sin we decide we value more than we value an eternity in God's presence. When Jesus was on the earth, a young man asked Him how He could follow Jesus. Jesus reminded him of the commandments, but the man said he'd been doing all those things since he was a child. In response, Jesus offered Him another commandment: that of giving up all his worldly possessions. The man went away sadly. This he wasn't willing to do. He preferred to sell his birthright for a fancy home or some other possessions. He had great possessions, and he had decided they were worth more to him than eternity.
Sometimes the mistaken priorities we set aren't sins; they're simply less important than the place we give them on our life scale. Many people put their careers or politics higher on their priority list than they do God. If being a Christian might damage their rise up the ladder to fame and fortune, they keep it a secret from those who know them. Some might decide they need the extra money they'll earn working on Sunday more than they need the blessings that come from keeping the Sabbath Day holy. (We're talking here about elective work, not essential work, or having no choice in the matter.)
When Jesus visited the home of Mary and Martha, Martha was terribly anxious about putting a good meal on the table for Jesus. It is without question important to give our best to Jesus, but when she complained about Mary, who was, instead of helping, letting Jesus teach her, Jesus helped Martha put her priorities in order. He gently told her that even though what Martha was doing was good, it was not the most important thing she could be doing at that moment. Jesus didn't care about a fancy meal; He did care about teaching Mary and Martha the gospel. At another time, doing the housework might be the best use of Martha's time, but at that particular moment, learning the gospel was the most important part. What was a feast at one time became a mere mess of pottage at this particular moment.
Take a few hours to look at how you plan and use your time. You'll find that even though you are very busy, you always find time for the things you put first in your life. The challenge then is to make sure the first things go first. You have to be at work at a certain time and stay until a certain time, so although work may not be the most important thing in your world, it is the priority during that time. But do you really have to put in the many hours of overtime that keep you from your family or prevent you from doing God's work? Do you need to earn as much money as you're earning, or would it allow you to use your time in a more eternally important way if you turned down the next promotion or accepted less of the optional overtime?
What about your hobbies? There is nothing wrong with relaxing, but where do your hobbies fit into your priority scale? Is there a way to relax and to do something good at the same time? Could you develop a new hobby that also serves a purpose—perhaps gardening or teaching someone to read? What would happen if you decided to replace the morning newspaper with a half hour of scripture reading?
Each time we make a choice that puts something else over the teachings of God, or the priorities He wants you to have at this moment, we're selling our birthright. Is what you're getting worth what you're giving up to get it?
Which gets your loyalty—pottage or eternity?
Young LDS women across the globe are calling for a return to virtue. They understand they will not be perfect every day, as they strive to emulate the Savior, Jesus Christ, but they also have the reassurance of being able to repent of their sins. Read more
People look to Christ for many different reasons, just as they did during His mortal ministry. Some came looking for miracles, some to have their daily needs met, some to try and find fault with Him, some to seek forgiveness, some to learn from Him and feel His love. What first brought you to Christ? Are your reasons the same now as they were then?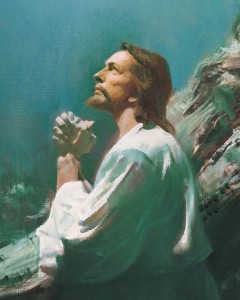 The more time that we spend getting to know Christ and emulating His behavior, the more we learn about the depths of His love for us. The more we stand in awe of what He has done for us. The more we want to share that joy with others around us. Understanding His love and recognizing the depths of our own are the elements that motivate us toward becoming better disciples of Christ.
For me, the most important part of coming to know Christ is coming to know and understand the true power of the atonement. What a wonderfully marvelous blessing. I think of Christ with His disciples, shortly after feeding the five thousand. Many began to follow Him because of that miracle. They looked for Him to feed and take care of Him. But, when Jesus tried to invite them into His presence more fully, many turned away.
And Jesus said unto them, I am the bread of life: he that cometh to me shall never hunger; and he that believeth on me shall never thirst. (John 6:35)
Hearing Christ proclaim this and express His divinity was beyond their capacity to understand. They walked away.
From that time many of his disciples went back, and walked no more with him.
Then said Jesus unto the twelve, Will ye also go away?
Then Simon Peter answered him, Lord, to whom shall we go? thou hast the words of eternal life.
And we believe and are sure that thou art that Christ, the Son of the living God. (John 6:66-69)
Those who stayed understood more fully what Christ's role in their lives was to be. They understood that no one else could do for them what Jesus Christ could do. Others have preformed miracles, other have taught great truths, others have show great kindness and mercy. No other could atone for our sins and open the doors to resurrection and eternal life for us. Jesus Christ has offered each of us with the most exquisite bread, but it is still up to us whether we accept it or turn away. Discipleship is the result of accepting the atonement, not as a one time occurrence or a blanket effect for every human fallacy that when could commit, but as a treasured gift that we will reach for again and again. Each time we express sorrow for our sins and inadequacies, each time we exercise repentance, each time we turn to Christ with our broken hearts and wounded souls, we come away filled to an extent we never thought possible. When you understand and experience that type of connection, where else would you go other than the path the Savior invites you to walk with Him? How much excitement would you feel? Who would you want to share that with? Pondering and answering these questions are the heart of discipleship. We follow because we love Him and we understand His love for us.
I think of a very clear example of the power of the atonement given in the Book of Mormon. This account by Alma the Younger is one of the most powerful testimonies of the power the atonement I have ever come across. It's long, but definitely worth the read.
And now, O my son Helaman, behold, thou art in thy youth, and therefore, I beseech of thee that thou wilt hear my words and learn of me; for I do know that whosoever shall put their trust in God shall be supported in their trials, and their troubles, and their afflictions, and shall be lifted up at the last day.
And I would not that ye think that I know of myself—not of the temporal but of the spiritual, not of the carnal mind but of God.
Now, behold, I say unto you, if I had not been born of God I should not have known these things; but God has, by the mouth of his holy angel, made these things known unto me, not of any worthiness of myself;
For I went about with the sons of Mosiah, seeking to destroy the church of God; but behold, God sent his holy angel to stop us by the way.
And behold, he spake unto us, as it were the voice of thunder, and the whole earth did tremble beneath our feet; and we all fell to the earth, for the fear of the Lord came upon us.
But behold, the voice said unto me: Arise. And I arose and stood up, and beheld the angel.
And he said unto me: If thou wilt of thyself be destroyed, seek no more to destroy the church of God.
And it came to pass that I fell to the earth; and it was for the space of three days and three nights that I could not open my mouth, neither had I the use of my limbs.
And the angel spake more things unto me, which were heard by my brethren, but I did not hear them; for when I heard the words—If thou wilt be destroyed of thyself, seek no more to destroy the church of God—I was struck with such great fear and amazement lest perhaps I should be destroyed, that I fell to the earth and I did hear no more.
But I was racked with eternal torment, for my soul was harrowed up to the greatest degree and racked with all my sins.
Yea, I did remember all my sins and iniquities, for which I was tormented with the pains of hell; yea, I saw that I had rebelled against my God, and that I had not kept his holy commandments.
Yea, and I had murdered many of his children, or rather led them away unto destruction; yea, and in fine so great had been my iniquities, that the very thought of coming into the presence of my God did rack my soul with inexpressible horror.
Oh, thought I, that I could be banished and become extinct both soul and body, that I might not be brought to stand in the presence of my God, to be judged of my deeds.
And now, for three days and for three nights was I racked, even with the pains of a damned soul.
And it came to pass that as I was thus racked with torment, while I was harrowed up by the memory of my many sins, behold, I remembered also to have heard my father prophesy unto the people concerning the coming of one Jesus Christ, a Son of God, to atone for the sins of the world.
Now, as my mind caught hold upon this thought, I cried within my heart: O Jesus, thou Son of God, have mercy on me, who am in the gall of bitterness, and am encircled about by the everlasting chains of death.
And now, behold, when I thought this, I could remember my pains no more; yea, I was harrowed up by the memory of my sins no more.
And oh, what joy, and what marvelous light I did behold; yea, my soul was filled with joy as exceeding as was my pain!
Yea, I say unto you, my son, that there could be nothing so exquisite and so bitter as were my pains. Yea, and again I say unto you, my son, that on the other hand, there can be nothing so exquisite and sweet as was my joy. (Alma 36:3-21)
While many of us will never go through this type of instant and dramatic change, we are familiar with the emotions associated with this account. We have come to know Christ. When we know Him and our hearts have been filled with joy through the atonement, we will choose no other path than His. The desire to share, serve, and follow comes not from a sense of duty, but of conversion to the love, joy, peace and gratitude of the gift of the gospel, its pearl of great price.
Yea, and from that time even until now, I have labored without ceasing, that I might bring souls unto repentance; that I might bring them to taste of the exceeding joy of which I did taste; that they might also be born of God, and be filled with the Holy Ghost. (Alma 36:24)
That's why we choose discipleship.
I've been reading a lot about Enoch in the last few weeks. If any of you have ever read the account in the Bible, you know there's not exactly a mighty gush of information to study up on.
Members of the Church of Jesus Christ of Latter-day Saints (nicknamed the Mormon Church), have been given a bit more insight, which you too can read in the book of Moses beginning in Chapter 6.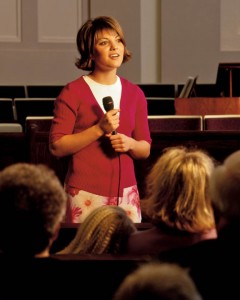 When Enoch was still a young man he was called of God to begin preaching to the people of their wickedness. Sound familiar? Satan's influence ran rampant throughout the land. There were only a few in Enoch's family who still remembered the Lord and His commandments.
Enoch was frightened by the idea of preaching to the people. He couldn't understand how he had found favor with the Lord, when he was still so young, the people hated him, and made fun of him because he was "slow of speech" (Moses 6:31). The Lord promised him none of these things would be a hindrance if he would simply have the faith, and do as he'd been told.
Enoch did just that. Can you imagine the surprise of his worst critics when this previously timid teenager suddenly spoke with remarkable eloquence? Can you picture how angry they must have been when he began calling them to repentance? Though his life was in constant danger, he continued to do what the Lord had commanded of him.
Those who chose to repent eventually formed the City of Enoch. These people were so obedient to the commandments, "Enoch and all his people walked with God, and he dwelt in the midst of Zion" (Moses 7:69). They were so righteous the Lord could be among them. In fact, they were so righteous the Lord eventually took the city up to His care and keeping.
Sounds a bit fantastic, doesn't it? Do you really think it's possible for an entire city to become so righteous the Lord can exist there? Can you picture being surrounded by utter wickedness, and still obeying the Lord's commandments to the point you're "taken up" to Him?
Keeping the commandments is a voluntary thing, but we need to remember what the consequences are when we break those commandments. Fortunately for us the Lord knows we are imperfect, and has put in place repentance to allow the chance to change our ways, and to start over. The latter-day prophet, Joseph Smith, taught:
"If Enoch, Abraham, Moses, and the children of Israel, and all God's people were saved by keeping the commandments of God, we, if saved at all, shall be saved upon the same principle.

"We have been chastened by the hand of God heretofore for not obeying His commands…we have treated lightly His commands, and departed from His ordinances, and the Lord has chastened us sore, and we have felt His arm and kissed the rod; let us be wise in time to come and ever remember that 'to obey is better than sacrifice, and to hearken than the fat of rams' (1 Samuel 15:22)" (History of the Church, 5:65).
Let us be wise. Let us remember that choosing to immediately follow the commandments of the Lord is much better and easier than disobedience. When we choose the wrong way there is guilt, there is chastisement, there is a lot of work to repent. When we choose the right way there is strength, there is joy, and there are blessings too numerous to count.
Don't forget: the City of Enoch was not built in a day. Enoch preached for many years before an entire city of people were brought back to the light. Many more years passed until the people could work together so well that they became the prime example of living a Zion life in an imperfect world.
Satan will come at you. The moment you decide to obey the commandments of the Lord He will plague you with hardships, but it does not have to mean you will fail. Pick yourself up, pray, and start again.
Is keeping the commandments of the Lord important? Of course. Is it worth the effort? I think so.
Mistakes! We've all made them. Some mistakes are easily corrected, others can take quite a lot of time and effort to fix. I've made my share of mistakes. I will probably make a few more before my time on this earth is through. Big or small, I can honestly say that I've learned from my mistakes. They've made me a better person, a better mother and wife. My mistakes and my journey to overcome those mistakes are as much a part of me as any other attribute that makes me – me.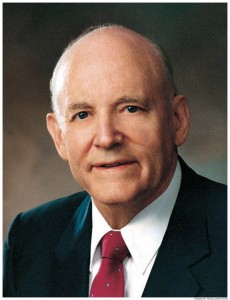 But what happens when our children make mistakes? Are we as patient or as understanding? Do we forgive? Do we look at it as an opportunity for them to grow, or do we only see the looks that we imagine our neighbors and friends are giving us? Do we view it as a reflection of our abilities (or lack thereof) as parents? Are we somehow threatened by our children's mistakes because of the way it might make us look?
One of the hardest things a parent has to do is watch their children make mistakes. It is hard to stand by and watch your child make bad choices. It's even harder to watch them suffer the consequences of those poor choices.
As members of the Church of Jesus Christ of Latter-day Saints, we are taught that each of us is given the gift of agency. Agency is the ability and privilege God gives us to choose and to act for ourselves. Our Heavenly Father loves us so much that he allowed us to choose.
And now remember, remember, my brethren, that whosoever perisheth, perisheth unto himself; and whosoever doeth iniquity, doeth it unto himself; for behold, ye are free; ye are permitted to act for yourselves; for behold, God hath given unto you a knowledge and he hath made you free.
He hath given unto you that ye might know good from evil, and he hath given unto you that ye might choose life or death; and ye can do good and be restored unto that which is good, or have that which is good restored unto you; or ye can do evil, and have that which is evil restored unto you. (Helaman 14:30-31)
He will not force us to obey Him and follow His will. Instead, He gave us the freedom to choose for ourselves. Knowing the pain I feel when I watch my children make mistakes, I can imagine how much more our Heavenly Father hurts when we make mistakes. Yet, as a loving Heavenly Father, His way is not to force, but to guide, to forgive, and to give us chances over and over again.
Can we do any less for our own children? Yes, we'd rather they didn't make some of the mistakes they made. Yes, we wish they had made smarter, better, worthier choices than they made. Yes, we hurt, we're disappointed, sometimes we're even angry. But now is not the time for "I told you so" speeches. Now is the time for love, an outpouring of unconditional love.
As a mother, I need to trust that I've raised my sons the best way I know how. I need to remember that I've taught them the word of God. I need to remember that I've tried in every way I know how, to instill in them a love for everything that is good, virtuous, and praiseworthy. Then, I need to stand back and allow them to exercise their agencies. I will always guide, counsel, and advise, but in the end, it is up to them. I need to acknowledge that they too will make their share of mistakes. When (not if) they fall, I will be there to help them pick up the pieces. When they fall, I will be there to help them find their way back. When they fall, I will forgive them.

President Howard W. Hunter, 14th President of the Church, taught:
To fully understand this gift of agency and its inestimable worth, it is imperative that we understand that God's chief way of acting is by persuasion and patience and long-suffering, not by coercion and stark confrontation. He acts by gentle solicitation and by sweet enticement. He always acts with unfailing respect for the freedom and independence that we possess. He wants to help us and pleads for the chance to assist us, but he will not do so in violation of our agency. He loves us too much to do that, and doing so would run counter to his divine character.

Given the freedom to choose, we may, in fact, make wrong choices, bad choices, hurtful choices. And sometimes we do just that, but that is where the mission and mercy of Jesus Christ comes into full force and glory. He has taken upon himself the burden of all the world's risk. He has provided a mediating atonement for the wrong choices we make. He is our advocate with the Father and has paid, in advance, for the faults and foolishness we often see in the exercise of our freedom. We must accept his gift, repent of those mistakes, and follow his commandments in order to take full advantage of this redemption. The offer is always there; the way is always open. We can always, even in our darkest hour and most disastrous errors, look to the Son of God and live.
Don't you just love that? There aren't enough words to express how grateful I am for the gift of the Atonement.
I'm thankful for a loving Heavenly Father and for His gift of Agency. The knowledge that He trusts me so much that He allows me to choose gives me the courage to pick myself up when I've made mistakes. I'm so grateful for a Church that teaches us about the wonderful principle of Agency. I'm thankful because I know that this gift is available to my children as well. It is available to all of us.
This, and other teachings of the Church, gives me eternal hope. I have hope that, whatever mistakes my sons may make, they will make it right. I have hope that when they do mistakes, they will remember that their Heavenly Father will forgive them if they sincerely repent of those mistakes. I have hope that when they fall, they will pick themselves up and try again. I have hope that when they fall, they will learn and grow and become better men because they corrected and overcame their mistakes.
Do you know where you're going?
Every day we make decisions that determine where we will end up at the end of the day. Did we overeat today, so tonight we'll feel full and bloated? Did we exercise today, so tonight we will feel strong and healthy? Did we pay our bills today so that tomorrow we will feel secure in knowing all is paid for? Did we pray today so that tonight we will feel safe knowing we are cared for by a loving Heavenly Father?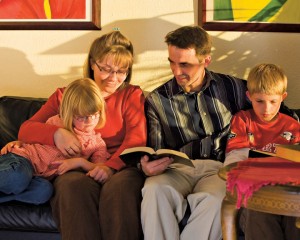 What is your destination?
I want to return to Heaven and live forever in happiness with my family and my God. That is my goal.
It's a lofty goal that requires thought, planning and constant diligence or else I am likely to veer off course.
Members of The Church of Jesus Christ of Latter Day Saints (or Mormons,) believe it is possible to be reunited with our families after we die and to live forever with our Heavenly Father. Through faithful obedience to the laws and ordinances of the Gospel of Jesus Christ, we can reach this goal.
First, we must have faith in the Lord Jesus Christ.
Faith requires constant attention. It doesn't grow if we don't feed it. Its growth is stunted if we don't use it. We must exercise faith that there is a God above us who knows us and loves us. We have to believe that He has a plan for us and that it is a good plan that will benefit us if we follow it. Faith requires that we act upon our beliefs even if we can't see where our steps will lead us.
Mormons believe that God's greatest gift to us is what yet lies in store: "For behold, this is my work and my glory—to bring to pass the immortality and eternal life of man" (Moses 1:39).
Second, we must repent of our sins.
Part of Heavenly Father's plan for us is to provide a way for us to return home to Him, even if we have been less than perfect in this life. There has been and will ever be, only one person who has lived a perfect life—and that one person is Jesus Christ. None of us are expected to live as well as He did. However we are expected to take the gift of atonement that He offers us and to use it—or else His sacrifice is for naught.
Repent of your sins, forsake them.
Dieter F. Uchtdorf, wrote:
"In the Book of Mormon Alma tried to help his son Corianton avoid unnecessary storms by explaining that "wickedness never was happiness" (Alma 41:10.) Unfortunately, sin appears occasionally attractive but hides its destructive nature until it is too late and harm is already done. We need to understand how to recognize and avoid the evil and be prepared to detour around it in time. If we do fail, however, there is hope and relief made possible through the atonement of Jesus Christ. Sincere repentance brings us forgiveness and peace in this life and puts us back on course to live again with our Heavenly Father ("Happy Landing," New Era, Mar 1995, 4.)
Third, repeat steps one and two over and over again.
Put on your to-do list today to exercise faith and repentance and repeat. If you do these things, you will stay on course for your greatest destination. Not only will the journey be one of peace and happiness but your reward will be an eternity of joy and rejoicing, happiness beyond measure.
Many of us have heard the analogy of the thread and the tapestry. In this example you learn about the relation of small things to their ability to form something large and beautiful. It can be the members of a family working together, or an even larger group. It can also be the pattern of our individual lives.
I think sometimes we focus on the big things. We try to see the whole picture and ponder and pray about the big decisions in our lives. We see these as the things that define who we are and what our tapestry will look like.
But in reality, the one who know the whole picture is the weaver and He works with individual threads not chunks of yarn or puzzle pieces. Yes, we all have big decisions to make that can change the
course of our lives, but how often do we think about the little things? There are a million little things that get woven into our tapestry every day. Perhaps what our life is like or how it might change during those big decisions is actually a result of the pattern we've laid with all the little things along the way.
Every day we make a dozen small decisions that will affect our final tapestry. As we choose, the Master weaves. When we realize we've made a mistake, He takes it out and renews the area to the beauty of the entire peace. If we do not realize, or choose not to correct, our failings and mistakes remain. When you look at the final piece these glitches might be noticeable, or they might not, but they still define who we are and who we will become.
If we are discussing the pattern and whether a mistake is visible to the eye our first argument is then revisited. Wouldn't tiny mistakes from every day living be overlooked more easily than a large wrong choice? I think the problem is that mistakes all start out small. Every mistake starts with one wrong stitch. It's those tiny decisions that dictate what our actions will be when the large choices come along.
Consider these examples:
If we find ourselves faced with the temptation to be unfaithful to our spouse, how will that decision be affected by our previous smaller choices? If we have made tiny mistakes such as looking at inappropriate images in the media, then we add the tiny mistake of dwelling on the images, then we add the tiny mistake of dwelling on the difficulties in our marriage instead of the love, then we add the tiny mistake of thinking about what it might be like to have chosen a different path or different partner – how then will our decision for a larger temptation be weighed? If on the other hand we have tried a little bit each day to love and value our partner, to avoid images that plant inappropriate thoughts in our minds, or avoid being alone with those of the opposite sex where temptations might be fed- how is that decision weighed?
If our mother provided us with music lessons, how are our future choices founded by our immediate decisions about whether or not to practice or find enjoyment in the learning?
If we casually disregard the speed limit, do we then forget other rules of the road that keep us safe?
While it is true that every decision is still up to us, we choose the path our feet will follow with each step not each mile. As we stray it becomes harder to find our way back the further we go.
May we pay a little more attention to the little things in life.
May we notice God's small blessings.
May we smile at a stranger, or drop our spare change in the donation buck instead of our wallet.
May we hold our tongue just a little longer when frustrations build.
May we choose with each step to follow Christ even if the step seems too small to matter.
If we can do these types of things the tapestry the Lord weaves from our lives will be beautiful – one thread at a time.