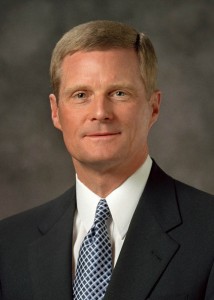 Elder David A. Bednar came to BYU this week and taught beautifully and simply how to use social media to share the gospel. While sharing the gospel online is something I feel very passionately about and support 100%; something stood out to me that I felt to share. Not only do Elder Bednar's points help us share the gospel, I believe they help us share the goodness of ourselves. As single adults these are principles that we can apply every day.
He taught to Be Authentic. It is easy to find ourselves putting on a facade or a mask to try and fool the world of who we really are. Sometimes we spend so much time trying to blend in, that we forget the value of standing out and being different. We pretend that if we act in certain ways, or do certain things that we dislike very much, that we will be a more appealing person. The truth, to me, seems that if we are authentic and do the things we enjoy doing, and embrace our quirks and differences that we will be happier, and more confident. Happiness and confidence are attributes that attract others to you.
At times we use our mask to hide our imperfections. We then try to use our real weakness and inadequacy as an excuse that we are stuck and we can never change. William G. Dyer once said, "To be an authentic person is a risk. Most of us have hidden behind a facade or mask in some areas of our behavior for so long that it would be difficult to try to be different." While it may feel like a risk to be ourselves, it is even more of a risk to submit to the natural man and become, in essence, an enemy to God. Our authentic nature is a child of God with the potential to overcome any weakness through the atonement of Jesus Christ. Because the Savior can help us change, we can't let our habits allow us to be less than a disciple of Jesus Christ.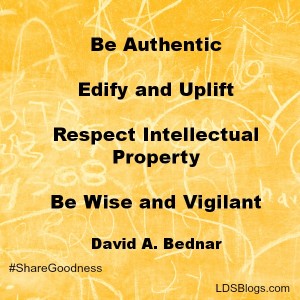 Next he taught us to Edify and Uplift. The Oxford English dictionary defines edify, in a religious use, as "To build up (the church, the soul) in faith and holiness; to benefit spiritually; to strengthen, support" (2nd Ed.,s.v. "edify", 5:71). As single adults and members of the Savior's church, we all have moments when we need to benefit spiritually from the strength and support of others. We also have moments when we ourselves need to benefit spiritually from the opportunities we have all around us to give and support others. There are two things that I have found to be true for single adults: we need to feel needed, and we need to feel supported. When these two needs are met we tend to spring forward and soar in life.
Third he tells us to Respect Intellectual Property. Respect in our relationships with God's intellectual property, ourselves, and each other, is crucial to our happiness in this life. The Family: A Proclamation to the World teaches, "Each is a beloved spirit son or daughter, and as such each has a divine nature and destiny." We are all children of God and the best thing we could do for each other is to treat each other that way. Would you really want to harm what is God's? Would you really want to misuse his greatest creations? Do we respect ourselves enough to dress
modestly, get enough rest, and develop your divine characteristics? Do we love your neighbor enough to sacrifice, serve, and bless them?
Finally, he suggest that we Be Wise and Vigilant. The first thought that came to my mind was Jacob 6:12 in the Book of Mormon, where he exhorts, "O be wise; what can I say more" To help us be wise we must be alert and aware of the dangers that are around us. There are things that will distract us from becoming what God wants us to become. What things can be vigilant of? Pornography or any other addictive behaviors should be clearly avoided. We should be vigilant in protecting against all of our temptations, or weaknesses. We should be aware that Satan wants to convince us that we aren't good enough, or smart enough, and no one like us. We should be wise in remembering the Savior's atonement in our lives, who we really are, and who we have the potential to become.
If we as single adults are authentic, edifying, respectful, wise and vigilant we can help to spread goodness that is held deep within each one of us. Not only have been exhorted to share goodness online; as children of God, we ought to also share the goodness of our lives. I invite us to pick one of these areas that isn't as strong as we would like and do one thing to share more goodness today. It may even be something that we can report on and therefore #sharegoodness on social media as well. (Two birds, one stone!)
About Ashley Dewey
Ashley Dewey is extremely talented at being single. Hobbies include awkward conversations with members of the opposite sex, repelling third dates, talking to boys about their girl problems and to girls about their boy problems. In her spare time she also has a very fulfilling school life, work life, and social life. Besides being a professional single, Ashley is also a BYU graduate with a degree in linguistics (Aka word nerd). She enjoys studying other languages, particularly American Sign Language, and finds most all of them fascinating. She is currently pursuing a masters degree in Teaching English as a Second Language. Ashley works most of the time and has often been accused of being a workaholic. Currently she works full time as a merchandiser and supervisor in a retail store, and part time doing social media work. On her day off she works (really it doesn't feel like work) in the Provo LDS temple. The only kind of work she finds difficulty focusing on is house work. Her favorite activities in her free time are reading, writing, creating social experiments, and spending time with great friends and family. Specific activities with those family and friends include: going to concerts, plays, dance recitals, BYU basketball and football games, and watching sports on television.
Twitter •