I travel across America speaking on a variety of topics, some religious, some not. But this year, I've been scheduled to speak about Joseph Smith and his beloved wife, Emma to several wards in The Church of Jesus Christ of Latter-day Saints, referred to as Mormons. Last night was one of those nights.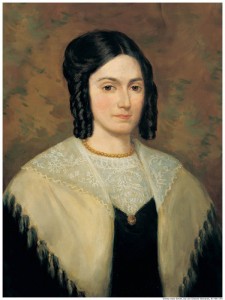 I am almost 45 years old. For the first 42 years of my life I'd been taught many negative things about Emma Smith. Not by my mother, and I cannot identify who taught this to me, but I know that throughout the years I developed a very negative attitude toward her. As I began an indepth study of her life I came to the realization that she was a horribly misunderstood woman. It wasn't long before I was on my knees to my Heavenly Father begging forgiveness for my attitude and asking that He pass on my most profuse and abject apologies to Emma. It is my hope that she has forgiven me.
In D&C 25: 2-3 we read,
A revelation I give unto you concerning my will; and if thou art faithful and walk in the paths of virtue before me, I will preserve thy life, and thou shalt receive an inheritance in Zion.

Behold, thy sins are forgiven thee, and thou art an elect lady, whom I have called.
The Lord Himself described her as an elect lady, and indeed she was.
Joseph called her "My beloved Emma—she that was my wife, even the wife of my youth, and the choice of my heart." (History of the Church, 5:107)
There is no question in my heart and mind that the Lord would not have chosen a lackluster woman to be the helpmeet of the Prophet of the Restoration. The Lord chose a woman of equal stature in life, heart, mind and spirituality to walk this mortal path with His chosen prophet.
Born July 10th of 1804, Emma Hale grew up in Harmony, Pennsylvania. Somewhat of a tomboy, she enjoyed canoing on the Susquehanna River amongst other activities common to children at the turn of the 19th century: