In His sermon on the mount, the Savior admonished: "Be ye therefore perfect, even as your Father which is in heaven is perfect."
Accounting for all that Christ has revealed about being perfect, two types of perfection appear: one we can only honor and aim for in this life, but the other, we can do today through His grace and guidance.
Apostle Bruce R. McConkie identified these two types of perfection in his book "Mormon Doctrine."
"Perfection is of two kinds–finite or mortal, and infinite or eternal. Finite perfection may be gained by the righteous saints in this life. It consists in living a godfearing life of devotion to the truth, of walking in complete submission to the will of the Lord, and of putting first in one's life the things of the kingdom of God. Infinite perfection is reserved for those who overcome all things and inherit the fulness of the Father in the mansion hereafter."
The Apostle Paul taught that attaining the highest kind of perfection, Infinite Perfection, is the great goal of Christ's Church–it is the primary reason why the Savior established His Church:
"And he gave some, apostles; and some, prophets; and some, evangelists; and some, pastors and teachers; For the perfecting of the saints, . . . Till we all come in the unity of the faith, and of the knowledge of the Son of God, unto a perfect man, unto the measure of the stature of the fulness of Christ" (Ephesians 4: 11-13).
Note how Paul speaks of a "perfecting" process, a journey of faith that continues "till" the saints come to a "unity . . . unto a perfect man."
In mortality, we can only aim for and honor this highest kind of perfection–"the measure of the stature of the fulness of Christ." Nevertheless, "line upon line" (Isaiah 28: 10), one step at a time, our earthly journey of faith can be filled with many moments of Finite Perfection–even amid human failings (Rom. 3: 12, 23).
The scriptures describe Noah, Seth, and Job as "perfect" men. Since only the Savior was sinless in this life, these three men were eventually made "perfect" by God's redeeming grace and through covenant efforts of thorough repentance and complete obedience.
Perfect Possibilities Right Now: Moments of Mortal Perfection
To realize the possibilities of perfection today, right now, a clear distinction must be made between general aims of mortal-finite perfection, which may never be attained in mortality, versus specific and inspired one-at-a-time tasks that are perfectly do-able today!
The facets of finite perfection that can be realized right now are specifically conceived and achieved one particular task as a time! I call such attainable opportunities: moments of mortal perfection. An Old Testament verse alludes to the way these moments are realized:
"Let your heart therefore be perfect with the LORD our God, to walk in his statutes, and to keep his commandments, as at this day" (1 Kings 8: 61).
Two keys for attaining moments of mortal or finite perfection are:
1) Having a perfect heart while walking in His ways.

2) Seizing inspired opportunities in the immediate moment:
taking the next step "as at this day."
The phrase "as at this day" expresses immediacy–the present, right now! This is where moments of mortal perfection are manifest, not necessarily through magnificent outward efforts, but by bringing to the altar of worship an inward offering: a broken heart and a contrite spirit. This is the sacrifice that engages God's perfecting grace.
Both King David and the Apostle Peter acknowledged the necessity of Divine intercession in attaining moments of mortal perfection:
"But the God of all grace, who hath called us unto his eternal glory by Christ Jesus, after that ye have suffered a while, make you perfect, stablish, strengthen, settle you" (1 Peter 5: 10). "God is my strength and power: and he maketh my way perfect" (2 Sam. 22: 33).
Defining Perfection According to the Lord's Revelations
It is important to examine contemporary definitions of the word "perfect" and discard those meanings that are not taught in the Lord's revelations:
Perfect – etymology from Latin perfectus = to carry out;
per = thoroughly + facere = to do or to act

Having all its parts: whole and complete
Being entirely without fault and defect
Corresponding to an ideal standard
** Completely skilled: expert **
Satisfying all requirements
Thoroughly learned
Exact; pure
Among the previous meanings, the idea of being "completely skilled or expert" does not consistently fit with scriptural definitions of perfection. In fact, a focus upon being "perfectly skilled or expert" in outward performance is often the very definition of perfection that can set up discouragement, depression, and stress.
In contrast, moments of finite perfection that are pleasing to the Lord may appear unskillful, even outwardly awkward; yet what resides inside is the sincere intent of a humble heart–a heart made perfect through Christ's redeeming miracle. Establishing a Divine definition of Finite Perfection, The Lord Jehovah put forth the primary importance of having a perfect heart:
"But the LORD said unto Samuel, Look not on his countenance, or on the height of his stature; because I have refused him: for the LORD seeth not as man seeth; for man looketh on the outward appearance, but the Lord looketh on the heart" (1 Samuel 16:7).
The scriptures define the inward attributes of a perfect heart as: submissive, sincere, childlike, non-offensive, . . . consistently pushing aside selfish will and yielding to the will of the Father–these are some of the attributes of a "perfect heart."
Christ gave the supreme example of obedience with a perfect heart. Jesus taught that obeying the Father was more important than daily food (John 4: 31-34).
As to outward efforts of perfection, all we can ever do is . . . do our best to obey specific Spirit promptings; still, if our sacrifice to God will be acceptable and pleasing, the associated inward offerings must be given with a "perfect heart" and nothing less.
It is instructive to note that the words sacrifice and perfect share the same Latin root, facere = to act. Deriving definitions from their Latin roots, sacrifice means sacred act and perfect means thoroughly done or whole act. Being perfect is a sacred act of total consecration; such complete and thorough wholeness is echoed in the way we should live the great commandment:
"Thou shalt love the Lord thy God with all thy heart, and with all thy soul, and with all thy strength, and with all thy mind" (Luke 10: 27).
Correlating what the scriptures say about perfection to contemporary definitions, the Savior's finite meaning of "Be ye therefore perfect" is fundamentally about:
1) Thoroughly obeying the Father's will with exactness
and purity of heart,
2) Becoming whole and healed, without defect,
completely clean through the blood of Christ.
There is circular synergy that occurs when penitent and obedient acts are whole and thorough: our Redeemer makes us whole and healed–complete, without defect, . . . perfect. And on the other side of this circular synergy: as we are made pure by the blood of Christ, our disposition to consistently obey the Lord is enlarged to the next "line."
Perfection Unfolds Line Upon Line, One Step at a Time
To assume that Christ cannot make you perfect through one single task in mortal time is to miserably underestimate the infinite power and compassion of your Savior and Redeemer!
Some may be surprised to realize that even the Son of God's Mortal Perfection unfolded "line upon line." The Gospel of Luke records: "And the child grew, and waxed strong in spirit, filled with wisdom: and the grace of God was upon him" (Luke 2: 40). The Apostle Paul describes how Jesus learned obedience through His mortal trials and was "made perfect" by the Father's grace:
"Though he were a Son, yet learned he obedience by the things which he suffered; And being made perfect, he became the author of eternal salvation unto all them that obey him" (Hebrews 5: 8, 9).
A latter-day Apostle, James E. Talmage, writes about the "grace to grace" growth of the Boy, Jesus of Nazareth:
"He came among men to experience all the natural conditions of mortality; He was born as truly a dependent, helpless babe as is any other child; His infancy was in all common features as the infancy of others; His boyhood was actual boyhood, His development was as necessary and as real as that of all children. Over His mind had fallen the veil of forgetfulness common to all who are born to earth, by which the remembrance of primeval existence is shut off. The Child grew, and with growth there came to Him expansion of mind, development of faculties, and progression in power and understanding. His advancement was from one grace to another, . . . from good to greater good, . . . from favor with God to greater favor."
Line upon line, one step at a time, the Son of God's Finite Perfection unfolded, and through each phase of His immaculate mortal maturation: He was always completely pure and without sin and His obedience to the Father was humble and whole–perfect.
It wasn't until Christ was resurrected that He attained Infinite Perfection. This truth is known by comparing Christ's invitation to perfection on the mount at Jerusalem (Matt. 5: 48) to the words a resurrected and glorified Christ spoke to the inhabitants of ancient America (3 Nephi 12: 48).
The Specific Steps of Finite Perfection:
Thorough Repentance & Complete Obedience with a Perfect Heart
It is clear that most mortals cannot sustain a "perfect heart" through every moment of every day of every year–we all "fall short" of the Savior's example. Further, the finite perfection of Job, Seth, Noah, and others required repentance and redemption to eventually arrive at the pinnacle of being perfectly clean and consistently obedient, like Christ.
Again, from a general view of Finite Perfection, most mortals will ever be inadequate; but from a specific view of particular opportunities "as at this day," it is completely possible to obey a single, specific promptings of the Spirit with a perfect heart–right now.
The Lord patiently invites us to take the next step in the perfecting process: learning the next gospel precept and growing to the next degree of grace. The Lord patiently waits to inspire and lift us to His Infinite Perfection.
It's amazing what two can do, when one of them is God.
The immediate possibility of realizing moments of finite perfection is illustrated in the life of a prophet in ancient America:
"I will go and do the things which the Lord hath commanded, for I know that the Lord giveth no commandments unto the children of men, save he shall prepare a way for them that they may accomplish the thing which he commandeth them" (1 Nephi 3: 7).
The Lord gave the prophet Nephi a direct, personal commandment to accomplish a specific task, not of his own unassisted mortal might, but with the assistance of Divine intervention: "the Lord giveth no commandments . . . save he shall prepare a way." Remember, it is always through Divine intercession that we are lifted to moments of Finite Perfection–"he maketh my way perfect" (2 Sam. 22: 33).
Christ taught that "without me ye can do nothing" (John 15: 5). This is precisely why we should never take pride in supposed righteousness, for all boasting is excluded. The truth is that every good deed we do happens exclusively through our faithful connection to the "true vine."
The Miracle of Forgiveness:
Perfectly Pure through Christ's Precious Blood
In addition to the real, immediate possibilities of being obedient with a perfect heart, the other do-able facet of Finite Perfection is that of today's perfect repentance: Through the miracle of forgiveness, we can be made clean, whole, and healed through Christ's redeeming blood–a miracle invoked every time we sincerely and thoroughly repent.
Would Christ accomplish a cleansing of sins in any other way than . . . complete and perfect?
Through the atonement of Jesus Christ, all who believe and faithfully follow will be restored to childlike innocence and purity. In a latter-day revelation Christ declared:
"For I am able to make you holy, and your sins are forgiven you" (D&C 60: 7).
This holy cleansing is not yet a redemption to Infinite Perfection, but a perfect cleansing to a particular level of light–a new degree of grace. In another latter-day revelation, the Lord explains that His judgments are adjusted to individual ability and knowledge:
"For of him unto whom much is given much is required; and he who sins against the greater light shall receive the greater condemnation" (D&C 82: 3).
Our finite perfection unfolds one step at a time as the Lord leads, crawling before we stand, walking before we run, milk before meat, learning line upon line, even as young Jesus of Nazareth grew from grace to grace.
"Therefore, be ye as wise as serpents and yet without sin; and I will order all things for your good, as fast as ye are able to receive them" (D&C 111: 11); "Ye are not able to abide the presence of God now, neither the ministering of angels; wherefore, continue in patience until ye are perfected" (D&C 67: 13).
"Jesus taketh with him Peter, and James, and John, and leadeth them up into an high mountain apart by themselves: and he was transfigured before them."
"And his raiment became shining, exceeding white as snow; so as no fuller on earth can white them. And there appeared unto them Elias with Moses: and they were talking with Jesus" (Mark 9: 2-7).
Matthew's account of Christ's transfiguration adds these details:
"And [He] was transfigured before them: and his face did shine as the sun, and his raiment was white as the light. . . . behold, a bright cloud overshadowed them: and behold a voice out of the cloud, which said, This is my beloved Son, in whom I am well pleased; hear ye him" (Matt. 17: 2, 5).
At the mount of transfiguration, the exceeding shine of the Lord's white light gives us a glimpse of the radiant glory in store for all who follow Jesus.
"Then spake Jesus again unto them, saying, I am the light of the world: he that followeth me shall not walk in darkness, but shall have the light of life" (John 8: 12).
In a vision of "new Jerusalem," John the Revelator foresees this shining city upon "a new heaven and a new earth" (Rev. 21: 1, 2). So powerful and bright is the Lord's exalted light, that the "new Jerusalem" is illuminated by the light of the Son:
"And the city had no need of the sun, neither of the moon, to shine in it: for the glory of God did lighten it, and the Lamb is the light thereof. And the nations of them which are saved shall walk in the light of it" (Rev. 21: 23, 24).
The very earth upon which we stand will be glorified by the light of the Lord, and will become the Celestial Heaven–the highest of three Heavens. Seven centuries before John the Revelator recorded his vision of the earth's transformation to Celestial glory–becoming like a "sea of glass"–Isaiah saw the same future vision of "new earth."
"The sun shall be no more thy light by day; neither for brightness shall the moon give light unto thee: but the LORD shall be unto thee an everlasting light" (Isaiah 60: 19-20).
It is fascinating to note that earthly opposition will cease in the Celestial heaven, to include the ending of evening as we know it–"for there shall be no night there" (Rev. 21: 25). Thus, the following words of Jesus will ultimately and literally be fulfilled in terms of spiritual and visual light:
"I am come a light into the world, that whosoever believeth on me should not abide in darkness" (John 12: 46).
Every scriptural Testament contains the theme of the Lord's light. From the Old Testament comes this delightful imagery:
"For thou wilt light my candle: the LORD my God will enlighten my darkness" (Psalm 18: 28).
In the New Testament, the Apostle Paul gives this description of Divine light:
"For God, who commanded the light to shine out of darkness, hath shined in our hearts, to give the light of the knowledge of the glory of God in the face of Jesus Christ" (2 Cor. 4: 6).
Contained in Another Testament of Christ, revelations recorded by prophets of ancient American offer this account of the Christ's clarifying influence:
"For behold, my brethren, it is given unto you to judge, that ye may know good from evil; and the way to judge is as plain, that ye may know with a perfect knowledge, as the daylight is from the dark night. . . . And now, my brethren, seeing that ye know the light by which ye may judge, which light is the light of Christ, . . . I beseech of you, brethren, that ye should search diligently in the light of Christ that ye may know good from evil" (Moroni 7: 15-19).
The guiding influence of the Lord's light is the theme of beloved Mormon Hymns:
Hymn #89, The Lord is My Light

"The Lord is my light; then why should I fear?
By day and by night his presence is near."

"The Lord is my light, His is my joy and my song.
By day and by night he leads, he leads me along."

Hymn #97, Lead Kindly Light

"Lead kindly light amid the encircling gloom; Lead thou me on!
The night is dark and I am far from home; Lead thou me on!"

"Keep thou my feet; I do not ask to see
The distant scene–one step enough for me."

Hymn #305, The Light Divine

"The light of god rests on the face Of brook and flower and tree
And kindles in our happy hearts The hope of things to be."

"The light of faith abides within The heart of every child;
Like buds that wait for blossoming, It grows with radiance mild."
The Remedy for Apostasy: The Lord's Unifying Light
In the garden of Gethsemane, the Lord of Light prayed to the Father "that they may be one as we are one." Today, with diverse doctrines taught by a myriad of differing denominations, the Lord's prayer for unity is far from being realized. But this is precisely why Christ has given light to the world: the Lord's light shines bright as a guiding beacon to "the way, the truth, and the life"–the way to unity and oneness! As we all "fall short," His light leads us back . . . to Him.
"Jesus said unto them, Yet a little while is the light with you. Walk while ye have the light, lest darkness come upon you: for he that walketh in darkness knoweth not whither he goeth. While ye have light, believe in the light, that ye may be the children of light" (John 12: 35, 36).
So that seekers of truth might be supported in their quest, the Lord of Light has revealed His truths through prophets from the beginning. However, because of the world's disbelief and refusal to receive the perfecting message of repentance and obedience, the prophets of God have been killed time after time.
During His mortal ministry, the Savior established His Church so that the "saints" would not be "tossed to and fro, and carried about with every wind of doctrine" (Eph. 4: 11-14). Sadly, the prophets and apostles that Christ called to lead His Church were murdered, just as the prophets of old.
After the crucifixion of Christ and the death of the Lord's chosen leaders, there was a gradual apostasy from the Lord's light–a "falling away" from Christ's pure doctrines. With no living prophets to preach and protect the Lord's truth, the inhabitants of the earth were eventually tossed to and fro by the doctrines of men.
Happily, The light of Christ that has shined in all the world from the beginning, continues to shine brightly today. After centuries of apostasy as prophesied by Paul (2 Thes. 2: 1-3) and Isaiah (Isa. 24: 5), the Lord of Light has begun the "times of refreshing"–Christ has commenced His "restitution of all things" (Acts 3: 19-21).
This is the "marvelous" message of the Church of Jesus Christ of Latter-day Saints (the "Mormon" Church): that the Lord of Light has personally appeared in these latter days, and has again called prophets to proclaim His unifying gospel of love and light.
Christ is called both Savior and Redeemer. As they are used in the scriptures, these two divine titles are closely related–their meanings are often synonymous. However each title sometimes expresses blessings uniquely different for the saved versus the redeemed.
Beyond the two main ways that Jesus Christ saves–from sin and from the grave–there are other ways the Son of God saves:
"Come unto me, all ye that labour and are heavy laden, and I will give you rest. Take my yoke upon you, and learn of me; for I am meek and lowly in heart: and ye shall find rest unto your souls" (Matt. 11: 28, 29).
Christ saves us from every affliction and sorrow: there is no hardship or heartache that His tender mercies cannot cure. Isaiah said this of our Savior's solace: "the Lord GOD will wipe away tears from off all faces" (Isaiah 25: 8; see also Rev. 7: 17).
Long before His birth, the mission of Jesus Christ was foreordained by the Father: The Apostle Matthew said this of Mary's firstborn child:
"And she shall bring forth a son, and thou shalt call his name JESUS: for he shall save his people from their sins" (Matt. 1: 21).
Being saved "from their sins" as opposed to being saved "in their sins" is a key distinction that is not lost upon latter-day saints (Mormons), and this is where the significance of Christ as Redeemer emerges. Through faith in Jesus Christ, every repentant soul is not only saved from sin, but is blessed with a redeeming miracle, a profound change in nature:
"Therefore if any man be in Christ, he is a new creature: old things are passed away; behold, all things are become new" (2 Cor. 5: 17).
This redeeming transformation is precisely the same phenomenon as being "born again." In Old Testament times, Ezekiel refers to this redemption and rebirth as receiving a "new heart."
"A new heart also will I give you, and a new spirit will I put within you: and I will take away the stony heart out of your flesh, . . . And I will put my spirit within you, and cause you to walk in my statutes" (Ezek. 26: 26, 27).
People who are "born again" can be clearly distinguished: because they have a new heart, they walk according to the Savior's statutes. Walking in the way of righteousness is natural for those with a "new heart"–the redemption of Christ brings about a profound change from the core.
Consider the similarities and differences between dictionary definitions of being saved versus being redeemed.
Save  - etymology derived from Latin salvus = safe.

to make safe from distress, danger, hurt, or loss;
to treat carefully, lessen wear and weariness;
to preserve from disaster or destruction;
to set free from consequence;
to keep from wasting away;
to prevent from loss;
to rescue, deliver;
to redeem,

Redeem  - etymology from Latin redimere;
re or red = again + emere = to take, buy.

to buy back, repurchase, pay off, make up for;
to carry out, make good, fulfill;
to rescue, reclaim;
to set free;
to save.

to free from captivity by payment of ransom;
to rescue from distress, danger, hurt, loss;
to release from blame or debt;
to remove an obligation;
to compensate for;
to clear.

to exchange for something of value;
to repair; restore, retrieve, reform;
to make worthwhile, fulfill;
to change for the better.
King Benjamin, a prophet of ancient America, recorded these words about the Lord's reforming redemption:
"And they all cried with one voice, saying: Yea, we believe all the words which thou hast spoken unto us; and also, we know of their surety and truth, because of the Spirit of the Lord Omnipotent, which has wrought a mighty change in us, or in our hearts, that we have no more disposition to do evil, but to do good continually" (Mosiah 5: 2).
Alma the Younger, another prophet of ancient America, speaks of the miracle of redemptive change for the better:
"And now behold, I ask of you, my brethren of the church, have ye spiritually been born of God? Have ye received his image in your countenances? Have ye experienced this mighty change in your hearts? Do ye exercise faith in the redemption of him who created you?" (Alma 5: 14, 15).
Another way to clearly perceive people who are born again–those with new hearts–is by observing their very countenance, for it will shine with His light. The redeemed do not walk in darkness, but will walk in the way of Light:
"Let your light so shine before men, that they may see your good works, and glorify your Father which is in heaven" (Matt. 5: 16).
This illuminating change of countenance has been a blessing of redemption from the beginning:
"The LORD bless thee, and keep thee: The LORD make his face shine upon thee, and be gracious unto thee: The LORD lift up his countenance upon thee, and give thee peace" (Numbers 6: 24-26).
A shining countenance that reflects His light naturally comes with conversion, a complete turning from old ways:
"Turn us again, O LORD God of hosts, cause thy face to shine; and we shall be saved" (Psalm 80: 19).
A latter-day revelation speaks specifically of Christ's redeeming miracle, His power to cause change, fulfillment, and value:
"For I am able to make you holy, and your sins are forgiven you" (D&C 60: 7).
There are two distinct blessings that come with sincere repentance and faith in the Lord Jesus Christ; one blessing comes from Christ the Savior and the other is caused by Christ the Redeemer:
1) The Savior saves you from your sins and makes you clean; and
2) The Redeemer makes you better than before;
He is "able to make you holy" and "new."
This transforming miracle is impossible to achieve through mortal might; it only comes through faith in the Savior and hope in His redeeming grace.
For some people, being "saved" refers to a particular time when Jesus is openly acknowledged as "Savior." But this moment of heartfelt conviction is just the beginning of what Christ the Redeemer has in store for His faithful followers. The prophet Malachi speaks of the Redeemer's transforming refinement, making true believers into a valuable treasure:
"Then they that feared the LORD spake often one to another: and the LORD hearkened, and heard it, and a book of remembrance was written before him for them that feared the LORD, and that thought upon his name. And they shall be mine, saith the LORD of hosts, in that day when I make up my jewels" (Malachi 3: 16-18).
Again, being "saved" is only the start of what Christ wants for His faithful followers. He wants to make you and I one of His "jewels"–He wants to Save and Redeem us.
For those who believe in Christ and follow in His footsteps, the Redeemer graciously gives a new heart and a new disposition; further, there is a radiant shine that comes with being born again. The words that honor that Silent Night when Christ was born, speak to the birth of our Savior and Redeemer:
Silent night! Holy night! All is calm, all is bright.

Glory streams from heaven afar,
Heav'nly host sing Alleluia!
Christ, the Savior, is born! Christ, the Savior, is born!

Silent night! Holy night! Son of God, love's pure light.

Radiant beams from thy holy face,
With the dawn of redeeming grace,
Jesus, Lord at thy birth; Jesus, Lord at thy birth.
Lord Jesus will save, redeem, and refine the faithful; our Precious Savior and Dear Redeemer will rescue us from danger and despair, and He will cause His true believers to become "new" and "holy," a "peculiar treasure"–thus worthy to sparkle as "jewels" in the crown of the King of Kings.
Before I left to serve a mission for the "Mormon" Church, I knew that I had not experienced the "burning" that my mother spoke of as she testified of restored truth. But I always felt good about attending the LDS Church, and I felt good about the decision to serve a mission–I relied upon my mother's testimony. I knew, that she knew.
The word "conversion" refers to a changing or a turning. Conversion manifests in many ways: a change from one belief to another; a turning from lack of belief to faith; a change from one religion to another; or a turning from selfish will to following God's will.
In the Old Testament conversion is often characterized by the idea of "turning." The prophet Joel wrote these words about conversion:
"Therefore also now, saith the LORD, turn ye even to me with all your heart, and with fasting, and with weeping, and with mourning: And rend your heart, and not your garments, and turn unto the LORD your God: for he is gracious and merciful, slow to anger, and of great kindness" (Joel 2: 12, 13).
This is the story of my first testimony, a conversion from not knowing to knowing. It is a story of receiving an unmistakable heavenly revelation concerning particular truths–a profound witness received while serving a mission in Canada for the "Mormon" Church.
The flight from Salt Lake City to Calgary, Alberta was surreal. It was like riding a rocket to another planet; luckily, the creatures at this new planet spoke English–eh! It was wintertime, and looking out the window of my rocket, I could see miles and miles of white, frozen fields below.
After three days in Canada, I wrote these words in my journal:
"I went tracting for the first time. It was kind of discouraging. My companion and I approached one lady who wasn't very nice. Sometimes I wonder if this will in fact turn out to be the best two years of my life. I learned from this experience of being rejected that a missionary needs to be constantly worthy of the Spirit. For only through the Spirit can we touch the hearts of the people."
Staying at the Calgary mission headquarters for about a week, I was then transferred to Lethbridge in southern Alberta. While teaching investigators a lesson about the restoration of the gospel, I realized just how spectacular this story of "Mormonism" might seem to someone hearing it for the first time.
The reality of the restoration is such a colossal occurrence, that the prophet Isaiah calls it "a marvelous work and a wonder" (Isaiah 29: 15). Members of the Church of Jesus Christ of Latter-day Saints, the Mormons, boldly proclaim to the world these amazing truths:
Adding to this marvelous story of restoration, there were other angels (resurrected beings) who returned to earth in direct fulfillment of prophecy–to include Elijah and others.
As I taught this story of restored truth and encouraged truth seekers to pray to the Father in the name of Jesus Christ to receive a Heaven's witness, I knew that I needed to receive my own "burning" witness, independent of my mother's testimony.
For some, answers to pray will come almost immediately by sincerely asking; for others, a sure witness comes after a trial of faith; and still others receive Divine witness only after humble repentance. I sensed that receiving my heavenly witness would require more than just "asking." The 4th chapter of James provides a guide for receiving Heaven's revelation:
"God resisteth the proud, but giveth grace unto the humble. Submit yourselves therefore to God. Resist the devil, and he will flee from you. Draw nigh to God, and he will draw nigh to you. Cleanse your hands, ye sinners; and purify your hearts, ye double minded. . . . Humble yourselves in the sight of the Lord, and he shall lift you up" (James 4: 6-10).
According to the Lord's will and timetable for me, I sensed that receiving a sure witness involved becoming pure and humble, and pushing aside "double minded" flip-flops between doing my will and following His will. Therefore, I prayed for Christ's redeeming miracle to make me clean and "new" (2 Cor. 5: 17). After faithfully preparing myself in the way the Spirit guided, an overwhelming witness from God was in store.
On a Sunday in Cardston, Alberta, I attended a Stake Conference; there, I listened to Loren C. Dunn, one of the General Authorities.
As Elder Dunn spoke, I thought to myself, "either this man is a representative of God, or he is not." A key question was directly before me: Did Loren C. Dunn possess priesthood power, restored to earth by Peter, James, and John, and John the Baptist.
I had a good feeling as I listened to Elder Dunn's message. I can't recall the subject that he spoke on, but I cannot forget his concluding words–his testimony of the living God. As he humbly expressed his Heavenly witness, something happened to me which far surpassed a "good feeling."
His testimony was simple and direct:

"I know God lives."

After a short pause, Elder Dunn said the same phrase again,

"I know God lives."

Then after an longer pause, where it seemed he was reaching into the depths of his soul to say what the Lord wanted him to say, . . . he repeated the same phrase a third, a fourth, and a fifth time:

"I know God lives!"
Elder Dunn had captured my attention after his third saying of the phrase, . . . and by his fifth saying, something happened beyond words to describe: A spiritual explosion filled my entire being; it was a magnificent feeling far beyond the experience of mortal emotion. Heaven's awesome power visited me personally and in a moment of transcendent clarity: I knew that I listening to one of God's authorized servants–a man duly ordained to the priesthood.
In that amazing moment of being lifted up by overwhelming Light, I also received an unmistakable answer to the questions I had be praying about:
Peter James and John were indeed sent from the presence of God, to restore the keys of the kingdom of heaven–the authority to perform the covenant of eternal marriage. I knew that John the Baptist was commissioned by Christ to restore the authority to baptize. And I was crystal clear that both of these priesthood restorations came through the man who communed with the Father and the Son–the prophet Joseph Smith.
This unmistakable spiritual witness was given to me from God; the same omnipotent God who created heaven and earth; and the same gracious God who hears and answers the prayers of all humanity.
More than a decade after serving my mission, a Mormon Hymn entitled "Testimony" would be added to the Mormon Hymn Book; coincidentally, the text of this hymn would be written by Loren C. Dunn (1930-2001), and the music would be composed by my own brother, Michael F. Moody.
Hymn #137 – Testimony

The witness of the Holy Ghost, As borne by those who know,
Has lifted me again to thee, O Father of my soul.

I know that thou art in the heav'n. I know the Savior reigns.
I know a prophet speaks to us For our eternal gain.

My eyes are wet; my heart is full. The spirit speaks today.
O Lord, wilt thou my life renew And in my bosom stay.

As testimony fills my heart, It dulls the pain of days.
For one brief moment, heaven's view Appears before my gaze.
From the time of my first testimony, the Spirit of Truth has blessed me with many more unmistakable affirmations.
Through graduate studies in social psychology and family sociology, I have thoroughly researched and observed how social environment absolutely shapes the thinking and actions of individuals–the most profound influence coming from the social environment we cannot see. I therefore say with informed conviction that my knowledge of restored truth is not just a function of social upbringing. While I did lean upon my mother's loving light in the beginning, I know of myself that the Lord's "marvelous work and a wonder" commenced in 1820, as the Father and His Son Jesus Christ appeared to the prophet Joseph–this I know independent of my mother's significant influence.
"Now when Jesus was risen early the first day of the week, . . . he appeared unto the eleven as they sat at meat, and upbraided them with their unbelief and hardness of heart, because they believed not them which had seen after he was risen" (Mark 16: 9-14.)
"Thomas, one of the twelve, was not with them when Jesus came. Thus the other disciples said unto him, We have seen the Lord. But he said unto them, Except I shall see in his hands the print of the nails, and put my finger into the print of the nails, and thrust my hand into his side, I will not believe" (John 20: 24, 25.)
"And after eight days again his disciples were within, and Thomas with them: then came Jesus, . . . and stood in the midst, and said, Peace be unto you. Then saith he to Thomas, Reach hither thy finger, and behold my hands; and reach hither thy hand, and thrust it into my side: and be not faithless, but believing. Jesus saith unto him, Thomas, because thou hast seen me, thou hast believed: blessed are they that have not seen, and yet have believed" (John 20: 26-29.)
Although there was momentary doubt in the heart of Thomas, and even "unbelief" among the other apostles, they all had a foundation of faith in Christ, for they believed and followed Him during His mortal life; thus, seeing the risen Lord reaffirmed their faith in Him.
In contrast, for those who fail to nurture even the smallest seed of faith, time and again the conclusion comes: seeing does not directly bring believing.
Think of the thousands who stood in the very presence of the Son of God, and yet could not perceive His divinity; they had eyes but could not see their Savior–they were spiritually blind. Consider those who have seen angels or a spectacular fireball from Heaven, and yet would not believe based upon a compelling visual witness. Isaiah explains the cause of spiritual blindness:
"But your iniquities have separated between you and your God, . . . The way of peace they know not; and there is no judgment in their goings: . . . we wait for light, but behold obscurity; for brightness, but we walk in darkness. We grope for the wall like the blind, and we grope as if we had no eyes: we stumble at noonday as in the night" (Isaiah 59: 2, 8-10).
Clear and complete spiritual discernment comes as we repent of our sins, and the separation between God and the natural man is removed; thus, He draws near to us as we draw near to Him (James 4:8); the Lord liberally gives His witness and wisdom to the penitent–He gives "grace unto the humble" (James 4: 6).
"But the natural man receiveth not the things of the Spirit of God: for they are foolishness unto him: neither can he know them, because they are spiritually discerned" (1 Cor. 2: 14).
Just as the risen Lord showed Himself to His apostles at Jerusalem; in like manner the resurrected Christ appeared to His "other sheep" of ancient America, and invited them to see and feel His body which was bruised for their sake:
"And it came to pass that the Lord spake unto them saying: Arise and come forth unto me, that ye may thrust your hands into my side, and also that ye may feel the prints of the nails in my hands and in my feet, that ye may know that I am the God of Israel, and the God of the whole earth, and have been slain for the sins of the world. And it came to pass that the multitude went forth, and thrust their hands into his side, and did feel the prints of the nails in his hands and in his feet; . . . And they did fall down at the feet of Jesus, and did worship him" (3 Nephi 11: 13-17).
These people of ancient America did not believe in Christ just because of the visual evidence of His tangible presence; these were the more righteous followers of God, whose lives were spared amid great destruction prior to Christ's glorious appearance. They were previously faithful to the witness of the still small voice, and looked forward to the coming of their Savior.
Twelve days before he died, a latter-day apostle of the Lord Jesus Christ, Bruce R. McConkie (1915-1985), gave this witness of Him at a General Conference of the "Mormon" Church:
"The most important doctrine I can declare, and the most powerful testimony I can bear, is of the atoning sacrifice of the Lord Jesus Christ. . . . I testify that he is the Son of the Living God and was crucified for the sins of the world. He is our Lord, our God, and our King. This I know of myself independent of any other person. I am one of his witnesses, and in a coming day I shall feel the nail marks in his hands and in his feet and shall wet his feet with my tears. But I shall not know any better then than I know now that he is God's Almighty Son, that he is our Savior and Redeemer, and that salvation comes in and through his atoning blood and in no other way."
As to evidence of eternal truth, better than seeing with mortal eyes is the spiritual vision given by the Spirit of truth–a sure witness revealed to faithful followers, the humble and penitent believers in Christ.
In 740 B.C., Isaiah recorded this prophecy: "The earth also is defiled . . . because they have transgressed the laws, changed the ordinance, broken the everlasting covenant" (Isaiah 24: 5).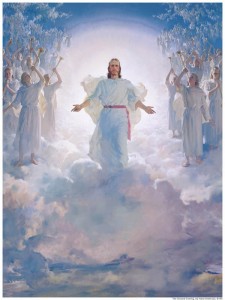 It is clear that the prophet is speaking of generations prior to the second coming of Jesus Christ, for the next verse states: "Therefore hath the curse devoured the earth, and they that dwell therein are desolate: therefore the inhabitants of the earth are burned, and few men left" (Isaiah 24: 6). The burning of which Isaiah speaks is the same that will consume the "tares" (Matt. 13: 36-40) just before the second coming.
The future time frame of Isaiah's prophecy necessarily occurs in the generations after Christ's mortal ministry, for Jesus must first establish His ordinance and covenant before it would be changed and broken centuries later.
So, which ordinance has been changed, what covenant has been broken?
A change in the ordinance of baptism is evidence in art through the ages. The painting (above) by Italian artist Sebastiano Ricci (1659–1734) has Jesus standing at a shallow edge of the River Jordan with John pouring water over His head. Why didn't the artist depict Christ's baptism as given in the gospel according to Mark:
"And it came to pass in those days, that Jesus came from Nazareth of Galilee, and was baptized of John in Jordan. And straightway coming up out of the water, he saw the heavens opened, and the Spirit like a dove descending upon him: And there came a voice from heaven, saying, Thou art my beloved Son, in whom I am well pleased" (Mark 1: 9-11).
The painting (right) by Spanish artist Bartolome Esteban Murillo (1617-1682) shows the same non-immersion method of baptism. But why did this artist also interpret the baptism of Jesus contrary to the account of Mark and Matthew?
The gospels do not describe a pouring or sprinkling method of baptism, but they do establish Christ's example of being baptized by immersion–"straightway coming up out of the water." For centuries artists have helped re-write (re-paint) history by depicting the baptism of Jesus contrary to the way it is given in the gospels.
Domenico Ghirlandaio (1449-1494) of Italy
Master of the Saint Bartholomew Altar (1470-1510) of Germany
Nicolas Poussin (1594-1675) of France
Alessandro Magnasco (1667-1749) of Italy
Henryk Siemiradzki (1843-1902) of Poland
Of course, these artists did not change the ordinance of baptism; they simply mirrored the religious traditions of their day–traditions that had broken and changed from the order set forth by the Savior.
The Bible establishes two unmistakable truths about baptism:
1) Jesus was baptized by immersion, and He said "come follow me."
2) Baptism by complete immersion under water clearly complements the symbolism taught by the Apostle Paul, of being "buried" in the grave, and then "raised" to a newness of life.
"Know ye not, that so many of us as were baptized into Jesus Christ were baptized into his death? Therefore we are buried with him by baptism into death: that like as Christ was raised up from the dead by the glory of the Father, even so we also should walk in newness of life. For if we have been planted together in the alikeness of his death, we shall be also in the likeness of his resurrection" (Romans 6 3-5).
The word "baptize" derives from the Greek "baptizein," meaning "to dip." The very meaning of the word points to pouring and sprinkling methods as a change in the ordinance of baptism–departing from the way it was originally established by Christ. Because Christian traditions strayed from the Bible blueprint, Martin Luther (1483-1546) initiated the Protestant Reformation. The religious reformer wrote:
"I have sought nothing beyond reforming the church in conformity with the Holy Scriptures. The spiritual powers have been not only corrupted by sin, but absolutely destroyed; so that there is now nothing in them but a depraved reason and a will that is the enemy of God. I simply say that Christianity has ceased to exist among those who should have preserved it."
The reformation movement led by Luther accurately pointed to the problem, but reformation was not God's final remedy. Instead, a fresh restoration of Christ's Church was God's answer to apostasy.
The Church of Jesus Christ of Latter-day Saints (the "Mormon" Church) does not rely solely upon logical interpretations of ancient scripture to understand the Lord's will and ways today; instead the LDS Church is governed by direct revelation from the head of the Church, Jesus Christ, to His latter-day prophets:
"Herein is glory and honor, and immortality and eternal life—The ordinance of baptism by water, to be immersed therein in order to answer to the likeness of the dead, . . . to be immersed in the water and come forth out of the water is in the likeness of the resurrection of the dead in coming forth out of their graves" (D&C 128: 12).
"But thou, Beth-lehem, though thou be little among the thousands of Judah, yet out of thee shall he come forth unto me that is to be ruler in Israel" (Micah 5: 2).
"And behold, there shall a new star arise, such an one as ye never have beheld; and this also shall be a sign unto you" (Helaman 14: 5).
"Now when Jesus was born in Bethlehem in the days of Herod the king, behold, there came wise men from the east to Jerusalem, Saying, Where is he that is born King of the Jews? for we have seen his star in the east, and are come to worship him" (Matt. 2: 1, 2).
"When Herod the king had heard these things, he was troubled, and all Jerusalem with him. And when he had gathered all the chief priests and scribes of the people together, he demanded of them where Christ should be born. And they said unto him, In Bethlehem of Judaea: for thus it is written by the prophet" (Matt. 2: 3-5).
Truth is revealed and becomes evident as efforts of evil seek to destroy that which is virtuous and lovely; so it was for the Babe of Bethlehem. To maintain the power of his throne, Herod sought to kill the child who would be "ruler in Israel." But the king cloaked his treacherous intent against Baby Jesus by feigning a desire to worship the Child; the king directed the magi to return and tell of the Infant's location.
"Then Herod, when he had privily called the wise men, enquired of them diligently what time the star appeared. And he sent them to Bethlehem, and said, Go and search diligently for the young child; and when ye have found him, bring me word again, that I may come and worship him also" (Matt 2: 7, 8).
The wise men proceeded to follow the star that led them to a lowly manger; but being warned of God in a dream, the magi knew to dismiss Herod's sinister request.
"When they had heard the king, they departed; and, lo, the star, which they saw in the east, went before them, till it came and stood over where the young child was. When they saw the star, they rejoiced with exceeding great joy. And when they were come into the house, they saw the young child with Mary his mother, and fell down, and worshipped him: and when they had opened their treasures, they presented unto him gifts; gold, and frankincense, and myrrh" (Matt 2: 9-11).
Truth becomes evident as efforts of evil seek to destroy that which is good; so it is today. Some souls rejoice at the sight of His star and humbly seek to follow the Light that leads to worship the Babe of Bethlehem; while others fight against His goodness with malicious motives akin to king Herod, who sought to slay the Holy Child. The immense irony of such contrary efforts is expressed in a Mormon Hymn:

No creature is so lowly, No sinner so depraved,
But feels thy presence holy, And thru thy love is saved.
Tho craven friends betray thee, They feel thy love's embrace;
The very foes who slay thee Have access to thy grace.
Those who truly adore the Son of God will come unto Him, bearing the gift that is most pleasing in His sight, the gift of love: returning good in the face of evil–following in the steps of the Prince of Peace, Jesus of Nazareth–the Babe of Bethlehem. Oh Come Let Us Adore Him, Christ, the Lord.
Imagine you are on the game show "Millionaire," and the question is asked: "What is the fruit that grows on an apple tree?" You are presented with four possibilities: a) Mango b) Apricot c) Tangerine d) Apple
What are the chances you'd be moving to the next round? Of course, the correct answer is glaringly obvious. Jesus taught the pertinent principle: "For every tree is known by his own fruit. For of thorns men do not gather figs, nor of a bramble bush gather they grapes" (Luke 6: 44).
Visualize yourself on this same game show; you've correctly answered a string of questions and now, you've come to the million dollar question:
Is the Church of Jesus Christ of Latter-day Saints . . . a Christian Church?
Here are the possibilities: a) Yes b) No c) Maybe d) None of the above.
To this question, how confident would you be, that you would win a million dollars? Let's do a little research, to make sure that your answer is right–remembering that the fruit that grows on apple trees . . . is apples!
Here is Merriam-Webster's #1 definition for the word Christian: "one who professes belief in the teachings of Jesus Christ."
With a million dollars on the line, do you think you would apply definition #1 in giving your answer, or would you risk your million-dollar prize and use a lesser definition?
Now, how might you discern whether "Mormons" (the members of the Church of Jesus Christ of Latter-day Saints) believe in the teachings of Jesus Christ?
Let's look at the LDS Hymn Book for an indication of what latter-day saints believe; the very Hymn Book that Mormons sing from every week in worship services. What can you conclude from the message of the following hymn?
Hymn #220 — Lord, I Would Follow Thee

Savior may I learn to love thee, Walk the path that thou hast shown.
Pause to help and lift another, Finding strength beyond my own.
Savior, may I learn to love thee–Lord, I would follow thee.

Who am I to judge another When I walk imperfectly?
In the quiet heart is hidden Sorrow that the eye can't see.
Who am I to judge another? Lord, I would follow thee.

Savior, may I love my brother As I know thou lovest me,
Find in thee my strength, my beacon, For thy servant I would be.
Savior, may I love my brother–Lord, I would follow thee.

Text: Susan Evans McCloud
Just from reading the lyrics, can you tell whether Susan McCloud is a Christian? What's your best guess, . . . remembering that apples grow on apple trees? And would Susan cease to be a Christian, if you discovered she is also a latter-day saint, a member of the "Mormon" Church?
The only way we could conclude that the fruit on this "apple tree" is not "apples," is by denying obvious evidence before our eyes, and invoking blind prejudice. Consider the lyrics to another Mormon Hymn:
Hymn #197 — O Savior, Thou Who Wearest a Crown

O Savior, thou who wearest A Crown of piercing thorn,
The pain thou meekly bearest, Weigh'd down by grief and scorn.
The soldiers mock and flail thee; For drink they give thee gall;
Upon the cross they nail thee To die, O King of all.

No creature is so lowly, No sinner so depraved,
But feels thy presence holy, And thru thy love is saved.
Tho craven friends betray thee, They feel thy love's embrace;
The very foes who slay thee Have access to thy grace.

Text: Karen Lynn Davidson
Just from reading the words that she wrote, can you tell whether Karen Davidson is a Christian? And would she cease to be a Christian, if you discovered she is also a latter-day saint, a member of the "Mormon" Church?
There are many lesser definitions of the word "Christian" that are contrived and published by antagonists of the LDS Church. And with each of these lesser definitions, Mormons are either included or excluded from the "Christian" category.
But why apply inferior definitions, devised by the minds of men, when we can simply apply the highest definition of "Christian" as declared by Christ Himself, and further reinforced by His apostles and prophets.
In the New Testament we read that "the devils also believe" (James 2: 19, 20) Jesus is the Son of God; so does than mean that the devils are "Christians"? They may meet the standard of "believing" but fail on the criteria of "following."
Thus, it is wise to augment our previous definition of being Christian with the facet of "following." From the World Book Encyclopedia Dictionary comes this definition: "A person who believes in Jesus Christ and follows His teachings."
Following the example of Jesus is an essential element to being Christian, for it is in "following" that "fruits" are manifest. Jesus taught that true believers are the ones that follow:
"Verily, verily, I say unto you, He that believeth on me, the works that I do shall he do also" (John 14: 12).
The Apostle Peter echoed this truth with these words:
"For even hereunto were ye called: because Christ also suffered for us, leaving us an example, that ye should follow his steps: Who did no sin, neither was guile found in his mouth: Who, when he was reviled, reviled not again; when he suffered, he threatened not" (1 Peter 2: 21-23).
The Church of Jesus Christ of Latter-day Saints spends no time in publishing literature that degrades other denominations. In regard to the beliefs of other religions, Mormons take this stand:
"We claim the privilege of worshiping Almighty God according to the dictates of our own conscience, and allow all men the same privilege, let them worship how, where, or what they may" (A.F. #11).
The LDS Church follows the example of Christ: when He was "reviled" the Savior "reviled not again." Latter-day Saints are committed to a positive and productive approach to living religion, as stated in this last of thirteen Articles of Faith:
"We believe in being honest, true, chaste, benevolent, virtuous, and in doing good to all men; indeed, we may say that we follow the admonition of Paul—We believe all things, we hope all things, we have endured many things, and hope to be able to endure all things. If there is anything virtuous, lovely, or of good report or praiseworthy, we seek after these things" (A.F. #13).
Following the example of the Savior, the Church of Jesus Christ of Latter-day Saints does not speak "guile" or "revile" against other denominations. Latter-day Saints follow Christian principles; hence, the LDS Church publishes and preaches "wholesome words" (1 Tim. 6: 3), speaks "no guile" and encourages "good conversations" (1 Peter 3: 10, 16).
In the final analysis, the proof is in the pudding–the fruit is on the tree. You can directly discern if Mormons are Christian by reading the words of three LDS leaders, Apostles of the Lord Jesus Christ: Jeffrey R. Holland, Dallin H. Oaks, and the late Neil A. Maxwell. You can examine for yourself the fruit that reveals the tree; if these men are Christians, you will easily see . . . that apples are growing on the apple tree.
"At the same time came the disciples unto Jesus, saying, Who is the greatest in the kingdom of heaven? And Jesus called a little child unto him, and set him in the midst of them, And said, Verily I say unto you, Except ye be converted, and become as little children, ye shall not enter into the kingdom of heaven. Whosoever therefore shall humble himself as this little child, the same is greatest in the kingdom of heaven" (Matt. 18: 1-4).
Jesus set forth two conditions necessary to entering into the kingdom of heaven:
1) Except ye be converted, and
2) Become humble as a little child.
What does it mean to be converted? The Cambridge Bible Dictionary offers this definition: "Conversion denotes the first conscious bending of the will of man to the will of God; it begins with repentance and ends in faith."
The Son of God gave the perfect example of yielding His will to the will of the Father. Jesus continually sought to do always those things that please Him. Because the Savior consistently and humbly submitted to the will of the Father, He had no need to repent. Differently, our conversion requires continual repentance, as well as faithful reliance upon the Lord.
One of the great benefits of being a latter-day saint (a Mormon) is that we are blessed to learn from Another Testament of Jesus Christ written by the prophets of ancient America. In 124 B.C., the prophet and leader of the people of God, King Benjamin, recorded these inspired words about becoming humble as a little child:
"For the natural man is an enemy to God, and has been from the fall of Adam, and will be, forever and ever, unless he yields to the enticings of the Holy Spirit, and putteth off the natural man and becometh a saint through the atonement of Christ the Lord, and becometh as a child, submissive, meek, humble, patient, full of love, willing to submit to all things which the Lord seeth fit to inflict upon him, even as a child doth submit to his father" (Mosiah 3: 19).
A key attribute that signals conversion to Christ is this: true believers submit and yield their will to the will of God. This submissive yielding is essential to what I call the Self-Discovery Paradox; a truth taught by the Savior:
"He that findeth his life shall lose it: and he that loseth his life for my sake shall find it" (Matt. 10: 39).
The pressing need for repentance unto conversion is understood in the contrast between the submissive simplicity of a little child and these strident descriptions of people living in the latter days:
"This know also, that in the last days perilous times shall come. For men shall be lovers of their own selves, covetous, boasters, proud, blasphemers, disobedient to parents, unthankful, unholy, Without natural affection, trucebreakers, false accusers, incontinent, fierce, despisers of those that are good, Traitors, heady, highminded, lovers of pleasures more than lovers of God; . . . lead captive [by] silly women laden with sins, led away with divers lusts, Ever learning, and never able to come to the knowledge of the truth. . . . men of corrupt minds" (2 Tim. 3: 1-8).
Consider the needless noise that clutters contemporary society, noise created by shrill and chaotic voices that consume our culture's time and attention, and then ponder the purity of a little child:
"We begin our lives in innocence. Beings of goodness, love, and light: No prejudice, no grudges, and no anxiety, . . . just joyful, playful, uninhibited happiness. From birth, not even a shadow of darkness exists in these clean and clear creatures we call 'bundles of joy.' In a new-born babe, there is only love and light. That's a child! And we all began that way. We began our lives in pure innocence; this was the immaculate motion in which we were set. The momentum of Light and Goodness was our guiding energy from the beginning" (Changing Your Stripes, p. 161).
As you repent and exercise faith in Jesus Christ, through His atoning miracle you are made "new" (2 Cor. 5: 17)–redeemed and restored to your innocence beginning as a little child, for such is the kingdom of heaven.
A millennium is a period of a thousand years. By Divine decree, the earth's temporal existence will continue for seven thousand years. The 7th millennium commences with the second coming of Jesus Christ, when the resurrected Lord returns to earth in glory.
Exactly what is God's purpose for this thousand year period? And how is the last millennium related to eternal marriage?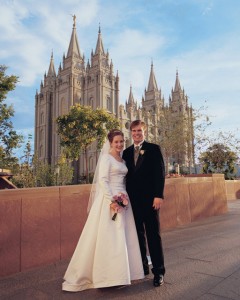 First consider what Christ taught about marriage: "For in the resurrection they neither marry, nor are given in marriage, but are as the angels of God in heaven" (Matt. 22: 30). Based upon this particular passage of scripture, some incorrectly conclude that marriage is not a union that continues in heaven; but as we read Luke's account of this same teaching, a key phrase helps clarify what the Savior really meant about marriage:
"And Jesus answering said unto them, The children of this world marry, and are given in marriage: But they which shall be accounted worthy to obtain that world, and the resurrection from the dead, neither marry, nor are given in marriage" (Luke 20: 34, 35).
When all scriptural passages pertaining to this truth are accounted for, we can see that Christ was essentially saying that marriage ceremonies do not happen in heaven. Being "given in marriage" is only for "the children of this world." The ceremony of marriage, then, is an earthly ordinance.
Now consider what happens when "the children of this world" are married by the priesthood power that Jesus bestowed upon His apostle Peter:
"And I will give unto thee the keys of the kingdom of heaven: and whatsoever thou shalt bind on earth shall be bound in heaven: and whatsoever thou shalt loose on earth shall be loosed in heaven" (Matt. 16: 19).
When "the children of this world" are married by proper priesthood authority, their marriage is indeed "bound in heaven"–in force throughout eternity. But this is not a conclusion derived by logic alone, it is a doctrine explicitly declared by Christ through a latter-day prophet:
"And again, verily I say unto you, if a man marry a wife by my word, which is my law, and by the new and everlasting covenant, and it is sealed unto them by the Holy Spirit of promise, by him who is anointed, unto whom I have appointed this power and the keys of this priesthood; . . . it shall be done unto them in all things whatsoever my servant hath put upon them, in time, and through all eternity; and shall be of full force when they are out of the world" (D&C 132: 19).
One of the central purposes of the 7th millennium, when Christ personally reigns upon the earth, is to perform the ordinances of eternal life and exaltation for those who did not have the chance to receive them during their mortal life.
Baptism is the first ordinance that opens the way to eternal life (Mark 16: 16). If people do not get the chance to hear and accept the gospel of Jesus Christ in this life, they will get the chance to receive it in the spirit world; and the ordinance of baptism can be performed vicariously in their behalf. This is what Paul was referring to when he said:
"Else what shall they do which are baptized for the dead, if the dead rise not at all? why are they then baptized for the dead?" (1 Cor. 15: 29).
Reinforcing the reality and necessity of performing vicarious baptisms "for the dead" is this truth taught by the apostle Peter:
"By which also [Christ] went and preached unto the spirits in prison; Which sometime were disobedient, when once the longsuffering of God waited in the days of Noah, while the ark was a preparing, wherein few, that is, eight souls were saved by water" (1 Peter 3: 18-20). "For for this cause was the gospel preached also to them that are dead, that they might be judged according to men in the flesh, but live according to God in the spirit" (1 Peter 4: 6).
So what does eternal marriage have to do with the 7th and last millennium?
In another latter-day revelation, Christ declared that marriage is an ordinance necessary to attaining exaltation in the highest heaven (D&C 131: 1-3). And like baptism for the dead, the vicarious ordinance of eternal marriage can only be performed in the house of the Lord.
Considering the billions of people born from the time of Adam until today and projecting the enormous numbers of people who did not have the chance to be blessed by the ordinances of eternal marriage and baptism, it is easy to see that there are many millions of ordinances that will need to be performed on behalf of the dead, during the last millennium.
The work of redeeming the dead is already taking place in hundreds of "Mormon" Temples throughout the world; a work that will be completed during the 7th millennium. Doing genealogy and performing vicarious ordinances for our kindred dead is one facet of the three-fold mission of Christ's Church.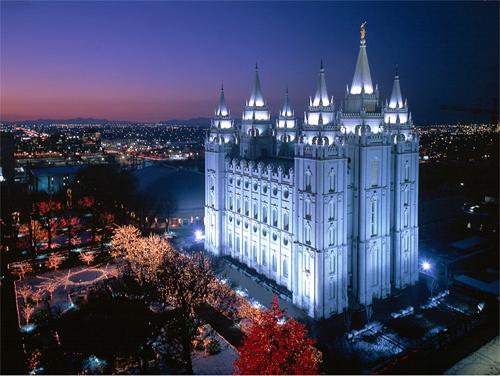 Because members of the Church of Jesus Christ of Latter-day Saint (the "Mormons") represent only 0.23% of the 6.6 billion people who populate this planet, the logistics of getting this enormous amount of work done will require many centuries of time to complete. Some argue, if the Church of Jesus Christ of Latter-day Saints were really Christ's Church, then more people would be members of it. But recall the Savior's teaching that only "few" would be able to find His strait and narrow way (Matt 7: 14).
Because God is no respecter of persons and provides an equal chance for all to partake of His richest blessings, He has decreed the last millennium to be a time when all injustices become just. The final millennium is a time for those who remain on the earth to perform the exalting ordinance of eternal marriage in behalf of their kindred dead–couples who did not have the opportunity of receiving this blessing during mortal life.