"Now when Jesus was risen early the first day of the week, . . . he appeared unto the eleven as they sat at meat, and upbraided them with their unbelief and hardness of heart, because they believed not them which had seen after he was risen" (Mark 16:9-14.)
"Thomas, one of the twelve, was not with them when Jesus came. Thus the other disciples said unto him, We have seen the Lord. But he said unto them, Except I shall see in his hands the print of the nails, and put my finger into the print of the nails, and thrust my hand into his side, I will not believe" (John 20:24-25.)
"And after eight days again his disciples were within, and Thomas with them: then came Jesus, . . . and stood in the midst, and said, Peace be unto you. Then saith he to Thomas, Reach hither thy finger, and behold my hands; and reach hither thy hand, and thrust it into my side: and be not faithless, but believing. Jesus saith unto him, Thomas, because thou hast seen me, thou hast believed: blessed are they that have not seen, and yet have believed" (John 20:26-29.)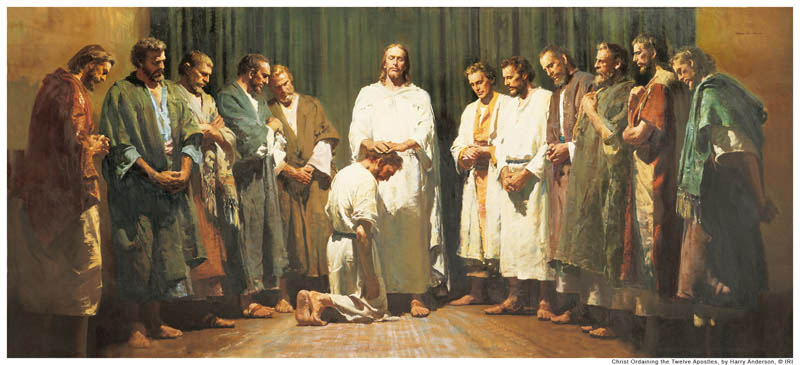 Although there was momentary doubt in the heart of Thomas, and even "unbelief" among the other apostles, they all had a foundation of faith in Christ, for they believed and followed Him during His mortal life; thus, seeing the risen Lord reaffirmed their faith in Him.
In contrast, for those who fail to nurture even the smallest seed of faith, time and again the conclusion comes: seeing does not directly bring believing.
Think of the thousands who stood in the very presence of the Son of God, and yet could not perceive His divinity; they had eyes but could not see their Savior — they were spiritually blind. Consider those who have seen angels or a spectacular fireball from Heaven, and yet would not believe based upon a compelling visual witness. Isaiah explains the cause of spiritual blindness:
"But your iniquities have separated between you and your God, . . . The way of peace they know not; and there is no judgment in their goings: . . . we wait for light, but behold obscurity; for brightness, but we walk in darkness. We grope for the wall like the blind, and we grope as if we had no eyes: we stumble at noonday as in the night" (Isaiah 59:2,8-10).
Clear and complete spiritual discernment comes as we repent of our sins, and the separation between God and the natural man is removed; thus, He draws near to us as we draw near to Him (James 4:8); the Lord liberally gives His witness and wisdom to the penitent–He gives "grace unto the humble" (James 4:6).
"But the natural man receiveth not the things of the Spirit of God: for they are foolishness unto him: neither can he know them, because they are spiritually discerned" (1 Cor 2:14).
Just as the risen Lord showed Himself to His apostles at Jerusalem, in like manner the resurrected Christ appeared to His "other sheep" of ancient America, and invited them to see and feel His body which was bruised for their sake:
"And it came to pass that the Lord spake unto them saying: Arise and come forth unto me, that ye may thrust your hands into my side, and also that ye may feel the prints of the nails in my hands and in my feet, that ye may know that I am the God of Israel, and the God of the whole earth, and have been slain for the sins of the world. And it came to pass that the multitude went forth, and thrust their hands into his side, and did feel the prints of the nails in his hands and in his feet; . . . And they did fall down at the feet of Jesus, and did worship him" (3 Nephi 11:13-17).
These people of ancient America did not believe in Christ just because of the visual evidence of His tangible presence; these were the more righteous followers of God whose lives were spared amid great destruction prior to Christ's glorious appearance. They were previously faithful to the witness of the still small voice, and looked forward to the coming of their Savior.
Twelve days before he died, a latter-day Apostle of the Lord Jesus Christ, Bruce R. McConkie (1915-1985), gave this witness of Him at a general conference of the The Church of Jesus Christ of Latter-day Saints:
"The most important doctrine I can declare, and the most powerful testimony I can bear, is of the atoning sacrifice of the Lord Jesus Christ. . . . I testify that he is the Son of the Living God and was crucified for the sins of the world. He is our Lord, our God, and our King. This I know of myself independent of any other person. I am one of his witnesses, and in a coming day I shall feel the nail marks in his hands and in his feet and shall wet his feet with my tears. But I shall not know any better then than I know now that he is God's Almighty Son, that he is our Savior and Redeemer, and that salvation comes in and through his atoning blood and in no other way."
As to evidence of eternal truth, better than seeing with mortal eyes is the spiritual vision given by the Spirit of truth — a sure witness revealed to faithful followers, the humble and penitent believers in Christ.
This article was originally published in December 2007. Minor changes have been made.