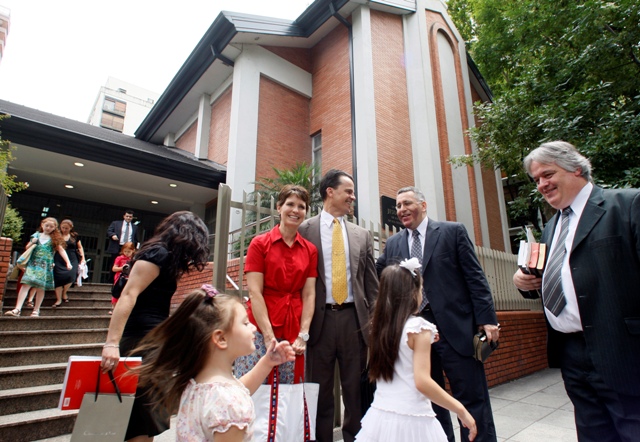 We've captured a lot of attention recently. We've had articles and headlines written about us not only in the United States but around the world as well. I'm referring of course to the increasing media attention that the Church of Jesus Christ of Latter-day Saints has received. Just a couple of days ago, an article titled "Mormons on mission to educate others about faith" ran in our local paper. The title stopped me for two reasons; obviously it had something to do with the Church and the article seemed out of place in our local paper.
We live in an area that has a very small LDS population. In fact, there is only one ward in the whole county. Mormons are definitely a minority in this region so you don't usually expect to see the kind of media coverage that you'd see in other places. When used properly, media resources can be an extraordinary tool for sharing the gospel. Those who write about the Church do us a huge favor when they choose to take the time to get their facts from those who are faithful members of the Church.
The fact that the Church is growing in prominence should not be a surprise to any of us. Current events in the political circuit as well as in other arenas do bring more awareness to the Church but this isn't the only reason. The tremendous growth of the Church around the world also brings with it increasing awareness and attention.
A revelation given to the Prophet Joseph Smith tells us that the gospel will be taken to every corner of the earth; D&C 58:64 "For, verily, the sound must go forth from this place into all the world, and unto the uttermost parts of the earth—the gospel must be preached unto every creature, with signs following them that believe." I believe that we are all witnesses to the continuing fulfillment of this revelation. It is exciting to be alive at a time where resources are so readily available that allows us to further the work that we're all charged with.
It allows us to share the gospel in ways that weren't possible before. It allows us to portray the gospel accurately. It gives us the opportunity to answer inquiries about the Church. It allows all of us to share our testimomies and possibly change the hearts of countless people. Elder Russell M. Ballard spoke on exactly this issue during the November 2007 General Conference. He taught that those who are sincerely seeking information about the Church;
deserve clear and accurate information that comes directly from those of us who are members so that they do not have to rely on the incomplete answers, half-truths, or false statements that may come from the media or other outside voices. The many misunderstandings and false information about the Church are somewhat our own fault for not clearly explaining who we are and what we believe…Now is the time for all of us to reach out and tell others who we are.
When I read Elder Ballard's quote above, I am struck by how much of what he said applied directly to me. I have always been bothered by the volume of attacks on the Church in the media and on the Internet. I've raged against all the half-truths and downright lies that are perpetuated online by those who are out to destroy everything tha I hold sacred and dear. But, I've raged inwardly. I've kept all my brilliant arguments in support of the Church to myself. I've told myself that perhaps others will take up the cause and defend my beliefs. I've even told myself that sooner or later it will go away, they will give up, they will realize the futility of their cause.
Now I know better. Now I know that they will not go away. Satan is not going to just bow out gracefully. He is actually digging in even deeper. He is in for the long haul, well – SO WILL I. I know that I have to also do my part. I can't just rely on others to do it for me. I need to defend what I love, what I revere, what I believe.
I believe in the Lord and in his Son and our Savior Jesus Christ. I believe that Joseph Smith was a prophet called of God. I believe that he was chosen to restore the true gospel of Jesus Christ on the earth again. I believe that our Lord loves us as much today as he did in the times of the ancient prophets so he has given us modern day prophets to guide us in these latter days. I believe that Gordon B. Hinckley is the living prophet today.
Now is the Time and I am ready to tell the world who I am.