Soon after beginning to investigate the church, I realized members of the church love to dance. There were church dances several times a month and even a large dance festival. I obtained a dance card (a card that allowed me to attend dances and showed I knew and accepted the rules for the dances) and learned the rules for dress and appropriate dancing. The slow dances I had done in the past disappeared from my life.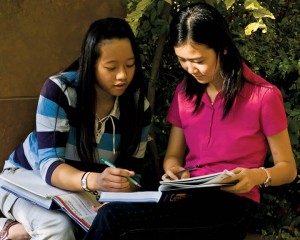 Then I attended a school dance. I attended with a group of non-LDS friends and when the first slow song started and a friend invited me to dance, I hesitated. Now what? Would he think I was a baby for no longer wanting to do what was then called "Bear Hugging" or would he respect my request for a rather old-fashioned style of dancing? I took a deep breath and explained the new rules. He looked surprised and then pleased, "I love to dance that way, but girls never want to. This will be fun." The next young man to ask didn't even have to be told. He explained he had noticed how I danced before and did I want to dance that way again? Word got around that I liked my dancing old-fashioned and the evening was a success.
The easiest way to get through the evening is to simply be upfront about your standards. Don't apologize for them or act embarrassed. Even though your friends may tease or remind you that you danced differently before, smile and say, "That was the old me. The new improved me likes something more complicated. Come on. I'll teach you how." If your dance partner tries to pressure you, take it as a warning sign. You don't need friends who don't respect your standards. Suggest he find someone who likes his style of dancing and go find someone else who likes your style.
Clothing may be another challenge you face now. It can be difficult to find modest clothing that is appropriate for school dances and your old dresses may not work. Many LDS girls learn to sew and either make their own dresses or modify the ones they have. Start early if you have to buy one off the rack. There are modest dresses, but they take time to find. If you can't sew, offer to trade services with a girl who can. Then ask her to teach you how to sew enough to modify a dress.
A third Find out what your options are when this happens. If you're allowed to leave the room, you may want to do so. If you aren't, decide if you're going to sit out inappropriate dances and talk to someone instead.
Finally, remember that dating outside the church poses great risks to your future temple marriage. You may only think it's a date, but many youth have unexpectedly fallen in love. If your non-LDS date doesn't share your standards, it can become an awkward evening. If you become a couple, you may find your new testimony waning. The time to decide you'll only date members is before someone who isn't LDS asks you for a date.
About Terrie Lynn Bittner
The late Terrie Lynn Bittner—beloved wife, mother, grandmother, and friend—was the author of two homeschooling books and numerous articles, including several that appeared in Latter-day Saint magazines. She became a member of the Church at the age of 17 and began sharing her faith online in 1992.