For many investigators and new members, the missionaries are the direct link to the church. They're in your home often and they know your family and your challenges. You trust them and when you have questions or challenges related to the gospel, you go to them first.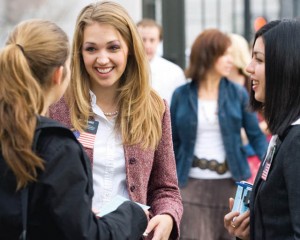 Unless you're working with ward missionaries, there will come a day when your missionaries are transferred to a new location and no longer visit you. If you've been baptized, there will even come a time when the new missionaries no longer stop by to introduce themselves to you, or the old ones stop coming, and suddenly you don't have regular contact with missionaries.
Although this is traumatic to new members, it's actually something to be proud of. You've just graduated. At first, you needed regular contact with missionaries because they wanted to watch over you and be certain you would stay active and involved. They wanted to be on hand if you faced doubts or concerns. Now however, it's been decided you're strong and ready to go out on your own. You don't need to be watched over as closely as before. You are, at that moment, a full-fledged member whose leaders have faith in your ability to live the gospel.
Of course, you haven't been abandoned. Although the missionaries are no longer visiting you each week, there are others who will always watch over you and be available to help. You have probably been assigned home teachers and visiting teachers. A home teacher is a man who visits your entire family each month. A visiting teacher is a woman who visits adult female church members. These monthly visitors will serve much the same purpose as the missionaries. Each month, they will deliver a gospel message to you and check on you to see how you're doing and what you might need. They serve as friends in the ward and can become your most important resources when you need advice or encouragement. Everyone gets these visitors, not just new members, so you are now living the life of a full church member.
You also have teachers and leaders who can be a resource for you. They can answer your gospel questions and guide you through the process of understanding the church.
If no one approaches you, take the first steps. You'll feel more secure when the missionaries are gone if you have good friends who can serve somewhat the same role as the missionaries. Friends are wonderful for helping you become an experienced church member. They can give you courage when the gospel seems hard and be a listening ear. They're your extended family and you'll need them.
Congratulations on your promotion!
About Terrie Lynn Bittner
The late Terrie Lynn Bittner—beloved wife, mother, grandmother, and friend—was the author of two homeschooling books and numerous articles, including several that appeared in Latter-day Saint magazines. She became a member of the Church at the age of 17 and began sharing her faith online in 1992.