On the first Sunday of each month, we have a Sacrament Meeting that is just a bit different. Instead of having assigned speakers, we have a testimony meeting. Any member of the church is welcome to come to the microphone and share a brief, heartfelt testimony.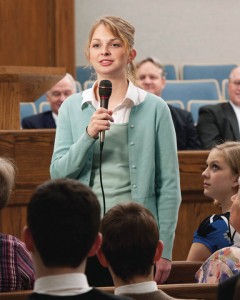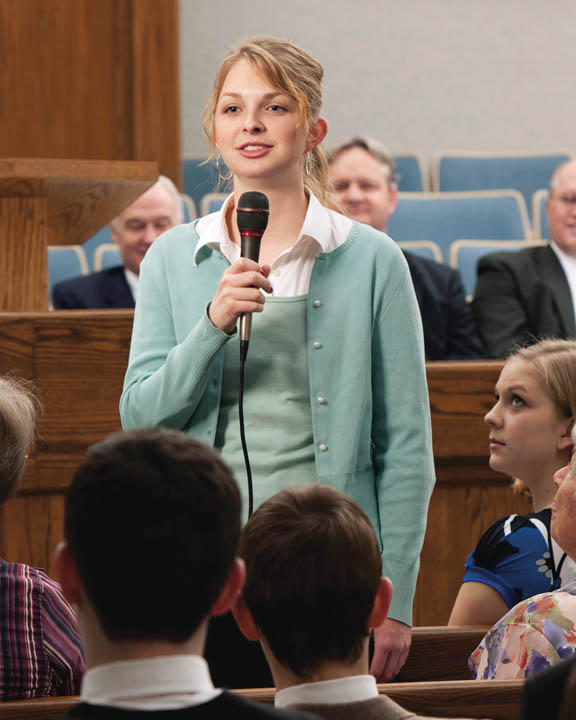 If you feel ready to share your testimony, you may want to prepare at home, first. Pray for guidance and think about your new testimony. What would you like to share that you know or believe? Even though most people will say they know certain things, it is okay to say you believe them or even just think or hope they are true. Share those things you have faith in and keep the rest private.
Give thought to what you might like to say and practice a little to give yourself confidence. You may find the spirit directs you to say something else when you're speaking, but it is easier to start if you have a plan, even if you don't follow it.
What should your testimony include? Your testimony should be about what you know, and it should include a testimony of God and the Savior. Many people spend their entire time on the stand expressing gratitude, and while it's good to be grateful and important to say so, the main focus of our testimony should be to share our knowledge of the truthfulness of the gospel and of the Savior.
Do not use your testimony to apologize to someone or thank people or to share long, complicated stories. If a story is told, it should be brief and include only what is needed to explain how you gained your testimony of this point. A Our testimonies don't directly tell others what to do, become a sermon, or serve to update the ward about your latest vacation or news. Don't reveal your sins. A testimony borne in Testimony Meeting is entirely about what the spirit has told us about the gospel. It should be short in order to allow as many people as possible to share their own testimonies.
When you're ready to take your turn, walk to the stand and take a seat. Wait until it's your turn. People normally speak in the order in which they came to the front. Then walk to the microphone, adjust it, and look around to find several friendly faces. If you find people in several parts of the chapel, you'll seem to be looking at everyone. Take a deep breath and quietly share your testimony. When you are finished, close in the name of Jesus Christ and say amen. Walk back to your seat in the chapel, not to the one you waited in on the stand.
It's natural to be nervous the first time you share your testimony, but brand new testimonies have great power. You are providing a gift to the congregation when you share what you know.
About Terrie Lynn Bittner
The late Terrie Lynn Bittner—beloved wife, mother, grandmother, and friend—was the author of two homeschooling books and numerous articles, including several that appeared in Latter-day Saint magazines. She became a member of the Church at the age of 17 and began sharing her faith online in 1992.