I learned to be comfortable praying privately and in my meetings with the missionaries. Since the missionaries were there to teach me, I didn't worry about getting something wrong. The first time I was asked to pray in class however, I was very intimidated. I didn't know the teacher or students well, and I was still sometimes using a card to remind me of the steps to proper prayer. What if I got it wrong?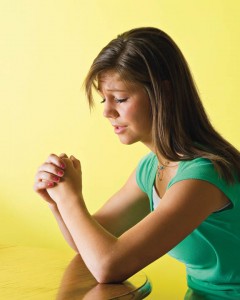 What I quickly learned was that no one got upset if I got the steps out of order, or even if I suddenly whispered, "I forget how to close the prayer." Although the steps are important, God isn't worried about perfection when you're just learning. If I forgot how to close the prayer, someone was always happy to whisper the words to me. In my years of church membership, I've heard all sorts of prayers given by new members, and the spirit always showed up in the meeting, whether the prayer was traditionally done or not.
Public prayers are somewhat different from personal prayers. Although we follow the same basic pattern—greet God by name, thank, ask, close in the pronouns, rather than singular ones. Rather than saying, "I pray that…" you should say, "We pray that…" You say the prayer as if everyone was praying in unison. Although the listeners aren't speaking, they are participating in the prayer privately.
Public prayers should be brief. They shouldn't turn into a sermon or conversation and should cover what is needed for the specific meeting. For instance, in the gratitude portion of the prayer, you might express gratitude for the instructor, for the gospel message about to be presented, and for the leaders of the church. In the petition portion of the prayer, might ask a blessing on the teacher that she will be able to present her message in a way others will understand and a blessing on the students that they will understand how to apply the message.
If you're not praying in a small group, and find you've forgotten what to do, perhaps how to close the prayer, simply do the best you can. Say what is in your heart and don't worry about the parts you've forgotten. Later, you can ask someone to remind you if you still can't remember, although you may find you remember perfectly once you sit down. It's a little scary sometimes if you aren't using to praying in public.
The more often you give public prayers, the more comfortable you will become with them.
About Terrie Lynn Bittner
The late Terrie Lynn Bittner—beloved wife, mother, grandmother, and friend—was the author of two homeschooling books and numerous articles, including several that appeared in Latter-day Saint magazines. She became a member of the Church at the age of 17 and began sharing her faith online in 1992.