The bishop is the leader of a ward (congregation), much like a pastor except he is not paid and does not work as the bishop full-time. Bishops have employment and families to take care of, as well as their wards.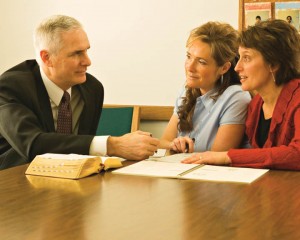 As a new member, you may find you need to meet with the bishop on occasion, or he may ask to see you. If the bishop initiates the visit, you will usually receive a call from his executive secretary, who will schedule the meeting for you. You needn't worry about the purpose of the call. He can request time with you for several reasons. He may have a new calling (volunteer church job) for you. He may just want to check up on you and see how you're doing as a new member, or to evaluate your progression towards other church opportunities.
If you want to meet with the bishop, you will also contact the secretary. If you're not sure who it is, ask a priesthood leader to tell you. Generally, bishops have set times they are at the church building, so it's important to be flexible. They must fit these meetings into their non-church life and they must also have someone else at the church during the meeting. This other priesthood leader won't be in your meeting, but will be in the waiting area or an adjoining office. Generally, bishops meet with members one night a week, usually when the youth groups are meeting, and on some Sundays. When you arrive, go to his office. There are usually chairs placed outside the office. Sit and wait quietly without knocking and the bishop will come for you when he's ready. This way you won't interrupt another interview.
If you have a concern or need, begin by evaluating whether or not the bishop is the person you need to see. For more information on choosing someone to help you, see Who Do I Ask for Help? Because bishops have a great many people to take care of, and many responsibilities, the Lord has wisely provided many others who can serve as a resource in our journey through church membership. If you determine the bishop is the best person to help you, prepare carefully and prayerfully for the meeting. Make a few notes about the purpose of the visit in case you get nervous, and to be sure you don't forget important details.
Be prepared to tell the bishop what you've already done to try to resolve the problem. We're asked to do all we can for ourselves before turning to others for help. also better advise you.
Take the time you need, but be respectful of his time, since others are likely waiting for their turns as well. Stay on topic and explain only what needs to be explained. When you've outlined the concern, stop talking and wait quietly for the bishop's responses.
When you come to a bishop, you are telling him you trust his guidance. It's important to take his advice to God and ask for confirmation if you don't feel immediately enthusiastic about the suggestion. Don't go to the bishop hoping he will tell you what you want to hear; go to get counsel from an inspired leader. It can be frustrating for a leader to take the time to meet with you, only to have the counsel ignored. God can help you find the wisdom in the advice you were given.
Boyd K. Packer, a member of the Quorum of the Twelve Apostles, said, "Bishops are inspired! Each of us has agency to accept or reject counsel from our leaders, but never disregard the counsel of your bishop, whether given over the pulpit or individually, and never turn down a call from your bishop." (Boyd K. Packer, "The Bishop and His Counselors," Ensign, May 1999, 57)
About Terrie Lynn Bittner
The late Terrie Lynn Bittner—beloved wife, mother, grandmother, and friend—was the author of two homeschooling books and numerous articles, including several that appeared in Latter-day Saint magazines. She became a member of the Church at the age of 17 and began sharing her faith online in 1992.