Now that you've joined the church, you may be wondering how your Christmas celebrations should change. The church doesn't hold special Christmas Day services, so it's the responsibility of the family to select traditions and activities that will bring the Savior to the center of the holiday.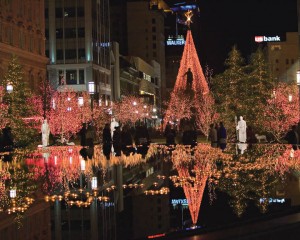 You probably don't have to abandon any previous traditions. Some members of the church enjoy the Santa tradition in their homes, and others don't. It's a personal choice. However, you will want to add new traditions if you haven't done any spiritual ones in the past.
Families spend time teaching their children to sing the spiritual Christmas carols. They want their children to remember why we celebrate Christmas.
Some families also make a special effort to do additional service during this time. They want their children to know that the Savior asked us to love others as He loves us, and so a wonderful way to celebrate His birth is by serving others. Children help to bake cookies to take to lonely neighbors, volunteer at food banks, and plan "secret Santa" gifts for those in need. Some families also invite those with no family nearby to join them for Christmas or Christmas Eve dinner.
Many families enjoy doing their own family nativity pageant, with each family member having a part. They do it for Family Home Evening, or perhaps on Christmas Eve for special guests. Playing a part in the story helps the children in the family have a better understanding of the events that occurred.
Remember that you now have two Christmas stories—the Book of Mormon also tells of special events that occurred when the Savior was born. The Friend offers a simple script that can be combined with the one linked to above to help your children learn about Christmas in the Book of Mormon, which may be new to them.
Others help their children make homemade nativity sets which can be displayed and handed down through the family or nativity ornamentsfor the tree
With a little imagination, you can do something spiritual every day of the month of December. Choose one or two things to do this year, and then throughout the remainder of the year, begin a search for other ideas you can put into place next year. The Friend, a church magazine for children, has many crafts and stories to help you teach your children the spiritual meaning of Christmas, and old editions are online and searchable.
About Terrie Lynn Bittner
The late Terrie Lynn Bittner—beloved wife, mother, grandmother, and friend—was the author of two homeschooling books and numerous articles, including several that appeared in Latter-day Saint magazines. She became a member of the Church at the age of 17 and began sharing her faith online in 1992.