Because Christians believe God created everything, they sometimes ask, "Did God create evil?"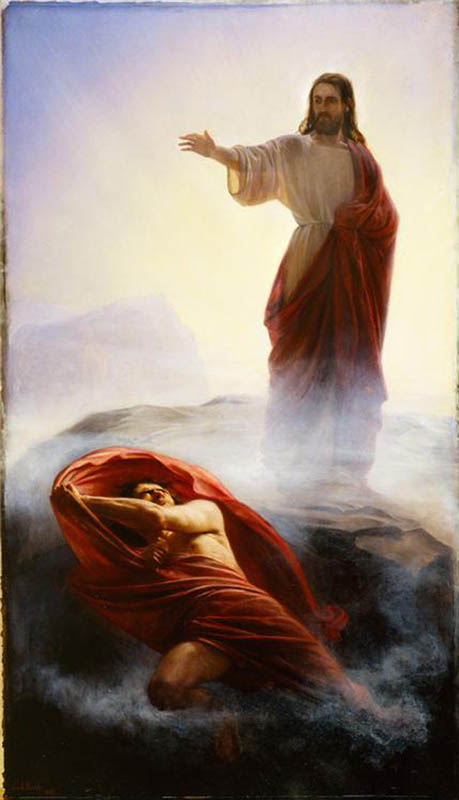 God did not create evil; everything He created was good. However, God believes in agency, considering it essential to our eternal salvation. Agency is the right to choose for ourselves. Some people choose to be evil and so evil was created through the choices of men, not by God. How we choose to use the great gift of agency tells God, the world, and ourselves what sort of people we are.
Mormons believe that we were created as spirits before we came to earth. We lived in that form for a while, and even there we had agency. We had our own personalities and began the process of deciding who we wanted to be. When it was time for us to come to earth to live, God explained the program to us. Since justice required us to be perfect in order to return, and that, of course, wasn't possible, He planned for us to have a Savior. Jesus Christ volunteered for this position. The atonement had to be a voluntary act. He was willing to live a sinless life, suffer extraordinary pain in the Garden of Gethsemane, and die on the cross for us, to be risen three days later. All this He would do out of pure love for us, and He wanted nothing in return. He asked that we give the honor and glory to God.
Satan, however, hated that plan. He tried to overturn it and to convince us to refuse God's plan for us. He suggested instead that we come to earth completely controlled by him, making no choices for ourselves. In that way, we would never sin—he would make all the choices for us. This, he assured us, would guarantee we could return to God, and do so in a way that let him suffer no pain. He was willing to work hard, but not to suffer for us, because love had nothing to do with his plan. He explained that in return, we had to promise to worship only him. This idea was all about him, not us and our eternal well-being. His way would have rendered life on earth meaningless and would have overthrown essential eternal truths and requirements. He would have tried to replace God.
Unfortunately, a third of the spirits liked his idea and were happy to give up God in exchange for what they thought was security. They declared their loyalty to Satan and so God sent them to follow him forever—but not on earth. They were denied the right to go there, to get bodies, and to benefit from the atonement they didn't agree with.
Satan is now spending eternity miserable. His goal is to make all of us as miserable as he is, so he devotes his life to getting people to fail in their life's mission. Evil is his tool.
Did God create evil? No, He gave us agency and then we choose to create it ourselves with Satan as our cheerleader. When evil is in the world, mortals have only themselves to blame, since even Satan can't make us do evil. We choose to do so.
The prophets have warned us from the beginning of time to avoid Satan's plans for evil. James E. Faust, a modern apostle who died recently, said:
"There have always been two great competing forces in the world. These began before the world was created. These opposing forces are the forces of good and evil. Between these two powerful forces each of us is caught in a tug of war. In simple terms, that which is good comes from God, and that which is evil comes from the devil. You can't have it both ways and find true happiness; some have tried, but in the long run all have failed. If any of you young men think you can have it both ways, you are only deceiving yourselves. It doesn't work that way. It never has. It never will" (James E. Faust, "The Devil's Throat," Ensign, April 2003).
Although Satan encourages the world to be evil, our responsibility is to constantly fight his advice and temptations. The more we do so, the easier it becomes to hear God's promptings to do good and to make choices that protect us from the evil of the world. As President Faust said, good comes from God and evil from Satan. Which we follow is our choice, but it is a choice with eternal consequences.
About Terrie Lynn Bittner
The late Terrie Lynn Bittner—beloved wife, mother, grandmother, and friend—was the author of two homeschooling books and numerous articles, including several that appeared in Latter-day Saint magazines. She became a member of the Church at the age of 17 and began sharing her faith online in 1992.